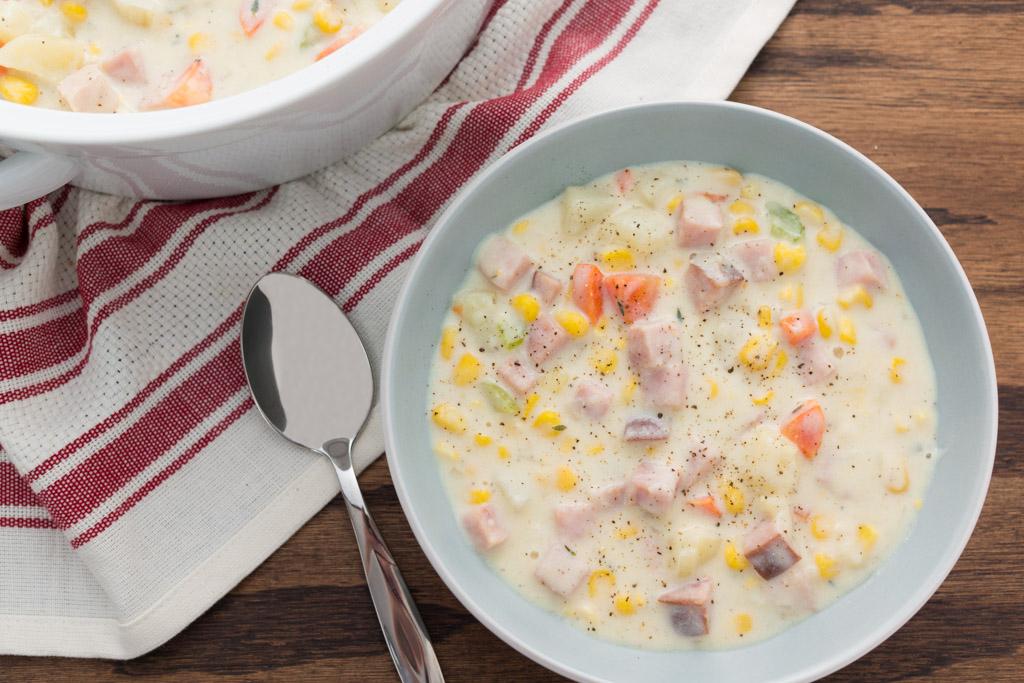 Have you ever looked in the refrigerator and found that you have a little of this and a little of that? You see a couple of carrots, some celery and leftover ham. You may already have all the ingredients for Ham and Potato Chowder in your fridge and pantry. In less than an hour, you can have tasty chowder, and a good feeling knowing you've not ended up throwing away food you bought with your hard earned money.
In my house we're not particularly fond of leftovers but this recipe isn't that. It's a good way to combine smaller amounts of ingredients and make them into a delicious meal.
You can make this Ham and Potato Chowder recipe even if you don't have leftover ham to use up. Just buy a ham steak and dice it up as you would leftover ham, using a Cutco Trimmer.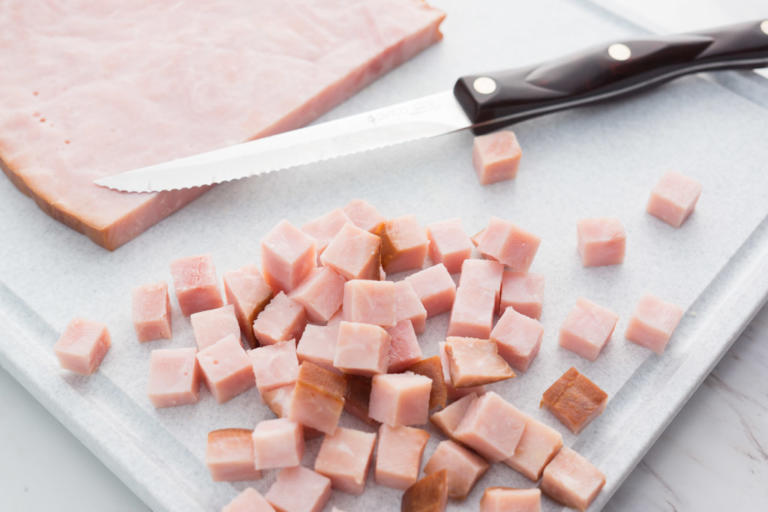 For dicing the potatoes, carrots and celery, the 7" Santoku is good choice. However, the 7-5/8" Petite Chef knife would also work well. It's really a matter of preference. The key to success is to make sure the knife is sharp and the right length for what you're cutting.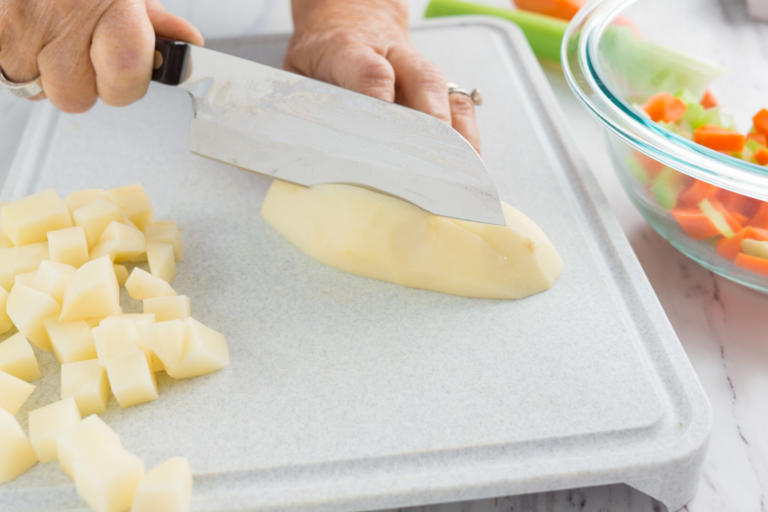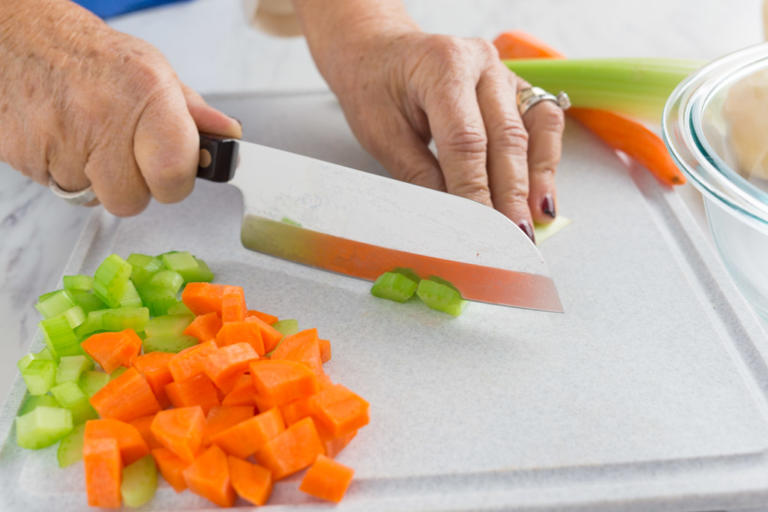 To safely dice the potatoes, take a look at our easy tutorial, How to Dice Potatoes. If the potato is particularly wobbly, make a small leveling cut on one side so that it sits firmly on your cutting board. Also, as you cut, remember to always lay the flat side of the potato on the cutting board. It's safer and allows for more even cuts.
What's nice about soups, stews and chowders is that you can adjust the consistency to your liking. If this chowder is too thick, add a bit more milk. You make the call!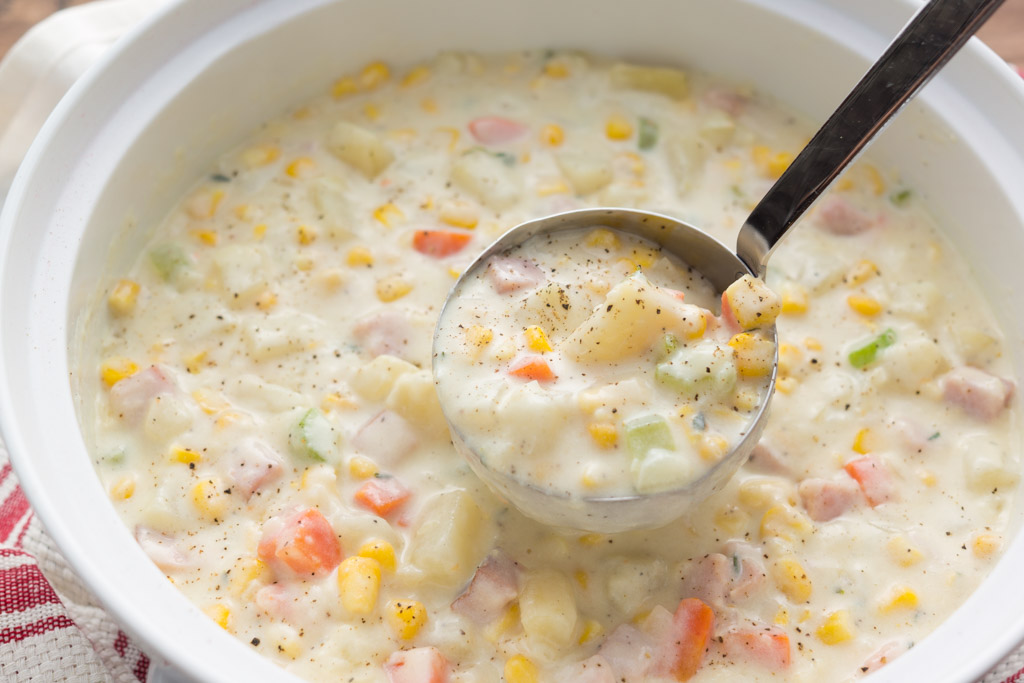 During these colder months, I crave comfort food and I don't know what's more comforting than this Ham and Potato Chowder recipe. It is creamy and rich, perfect for enjoying in front of the fire on a chilly winter night.
Originally published Jan. 20, 2017
Ingredients
1/4 cup unsalted butter
2 cloves of garlic, minced
1 onion, diced
3/4 cup diced carrots (about 2)
3/4 cup diced celery (about 2 stalks)
1 1/2 cups frozen corn kernels
2 teaspoons fresh thyme leaves
2 tablespoons all-purpose flour
3 1/2 cups milk
2 russet potatoes, peeled and diced
8 ounces ham, diced
Kosher salt and freshly ground pepper to taste
Directions
Melt butter in a large stockpot over medium heat. Add the garlic, onion, carrots and celery and cook, stirring frequently, until vegetables soften and onions are translucent, about 2 to 3 minutes. Stir in corn and thyme, cook 1 – 2 minutes.
Whisk in the flour until lightly browned, about 1 minute. Gradually whisk in the milk and cook whisking constantly until slightly thickened, 1 – 2 minutes. Stir in potatoes.
Bring to a boil; reduce heat and simmer until potatoes are tender, 12-15 minutes. Stir in ham and salt and pepper. If chowder is too thick, add more milk as needed.
Recommended Tools