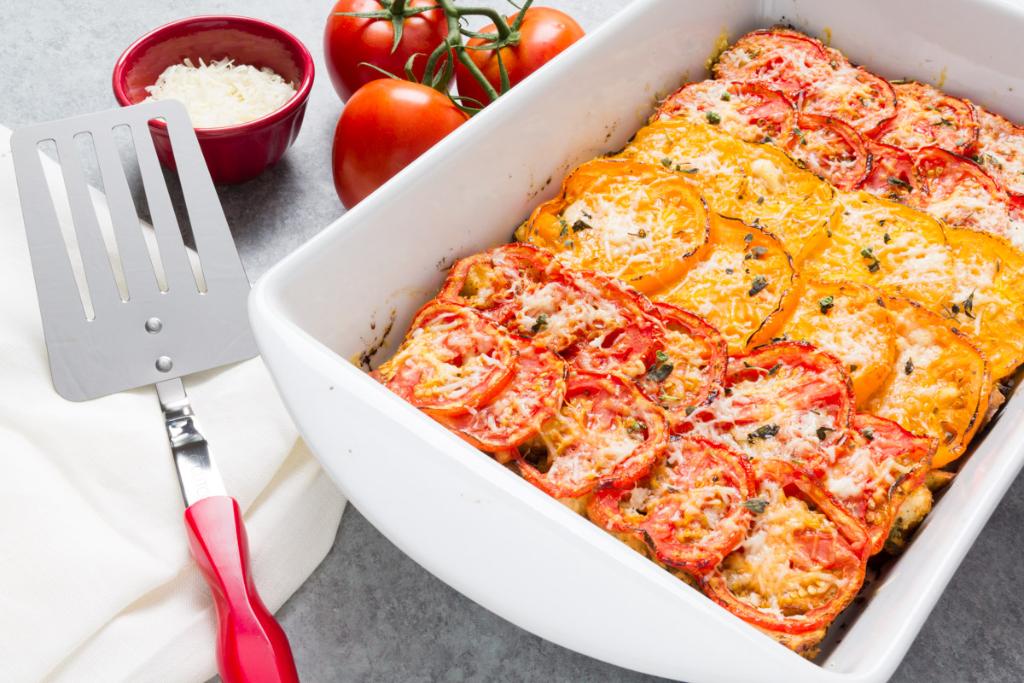 If you're looking for some good tomato recipes and you're lucky enough to have a bounty of them in your garden, give this Tomato Gratin recipe a try.
Instead of topping fresh tomatoes with bread cubes or bread crumbs, crispy cubes of bread are tossed with a mixture of heavy cream, Romano cheese, garlic, red wine vinegar, fresh basil, salt and pepper to form the base for rows of colorful tomatoes.
Preparing the bread
I bought a large loaf of Italian bread and used Cutco's 9-3/4" Slicer with its long blade and sharp edge to easily cut the bread into cubes. Keep a close eye on the bread cubes when browning. They can go from golden brown to burnt very quickly. Try to spread the bread evenly in the baking dish to form a nice base for layering the tomatoes.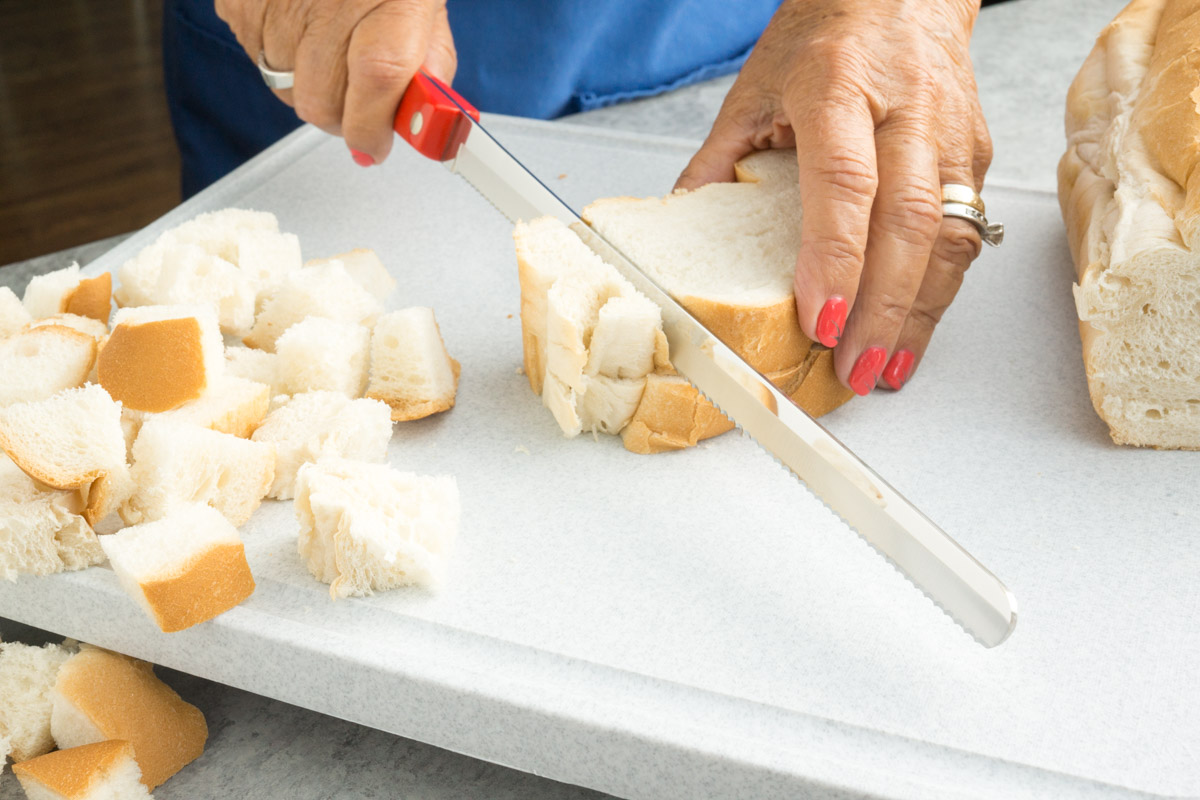 Preparing the tomatoes
To easily slice the tomatoes, a sharp utility knife, like the Trimmer, works well. Its Double-D® recessed edge slices through them without squishing them. You can also try using Cutco's Traditional Cheese Knife, which many customers say works like a dream when slicing tomatoes. Alternate the colors in the rows of tomatoes to create an eye appealing presentation.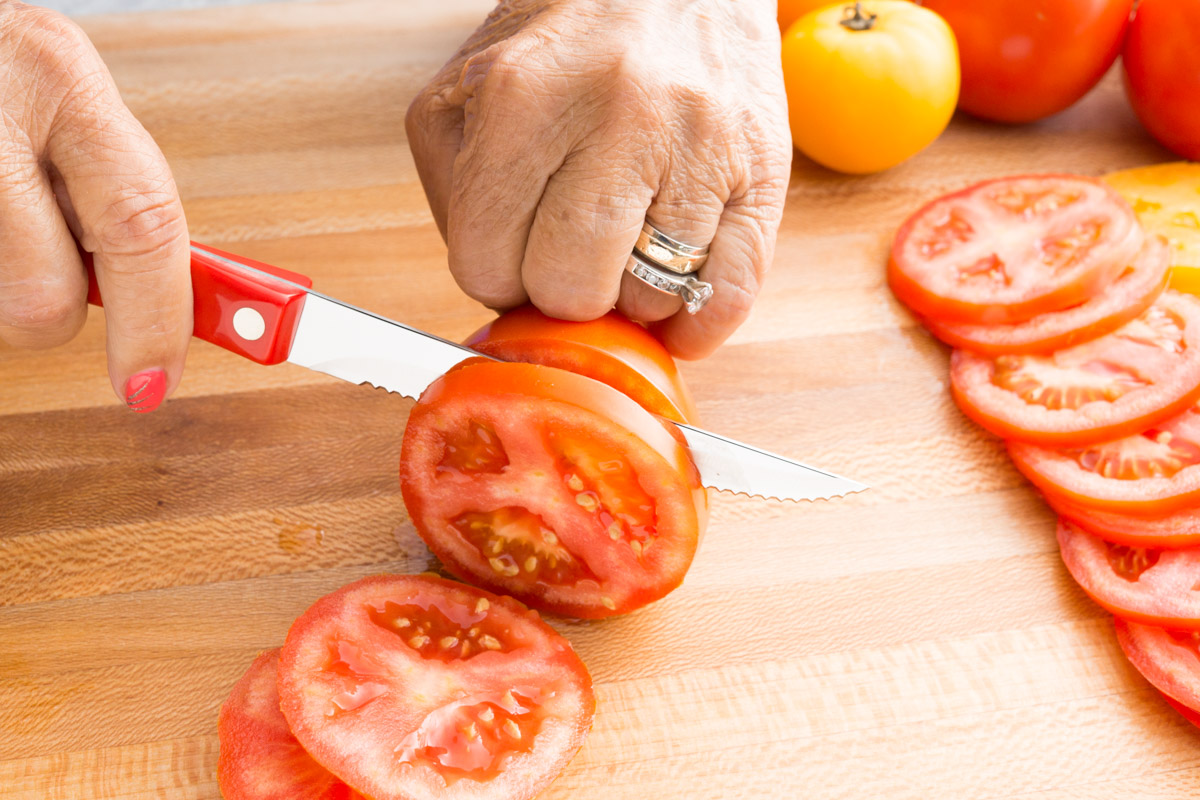 As the gratin bakes, the bread soaks up the juicy goodness from the tomatoes. By the way, I had some help in the kitchen from my oldest son, Mark, who was visiting from Denver. I think he was just hanging around until the dish was done so he could eat it.
It smelled wonderful as it baked and I couldn't wait to cut it. The sweetness of the tomatoes and saltiness of the cheese combined with the seasoned bread cubes is so good.
This one got rave reviews from my son and everyone else who tried it.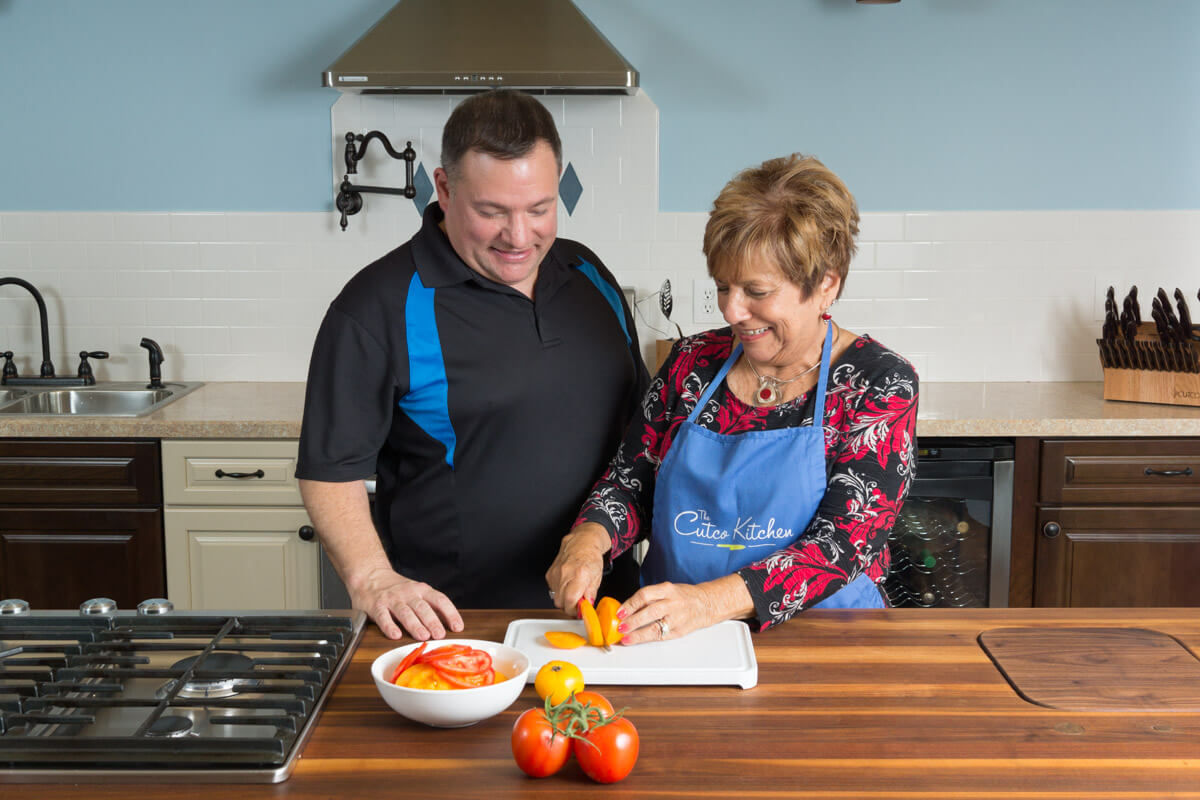 Ingredients
Large loaf of Italian bread (sliced into 4 cups of cubes)
3 tablespoons extra-virgin olive oil
1 teaspoon Italian seasoning
1/3 cup heavy cream
3/4 cup finely shredded Romano cheese divided
2 tablespoons chopped fresh basil, plus more for garnish
3 cloves garlic, minced
1 tablespoon red wine vinegar
1/2 teaspoon salt
1/2 teaspoon ground pepper
3 pounds medium tomatoes, sliced 1/4 inch thick*
Directions
Preheat oven to 400°F. Spray a 9x13 or a 3-quart baking dish with cooking spray.
Slice bread into 1-inch cubes with a sharp bread knife.
Heat olive oil in a large skillet over medium heat. Add bread, sprinkle with Italian seasoning and cook, stirring occasionally until brown and crispy, about 6-8 minutes.
Move the bread to a large bowl. In a small bowl, mix the cream, 1/4 cup of the cheese, basil, garlic, red wine vinegar and salt and pepper. Pour over the bread cubes and mix gently. Spread the mixture in the baking dish. Layer the tomatoes on top, alternating colors, and sprinkle with remaining cheese.
Bake until golden brown and crispy on top, 40 to 45 minutes. Garnish with additional basil if desired. *Heirloom tomatoes are recommended for the gratin but if they are not available use any type of red, yellow and orange tomatoes.
Recommended Tools