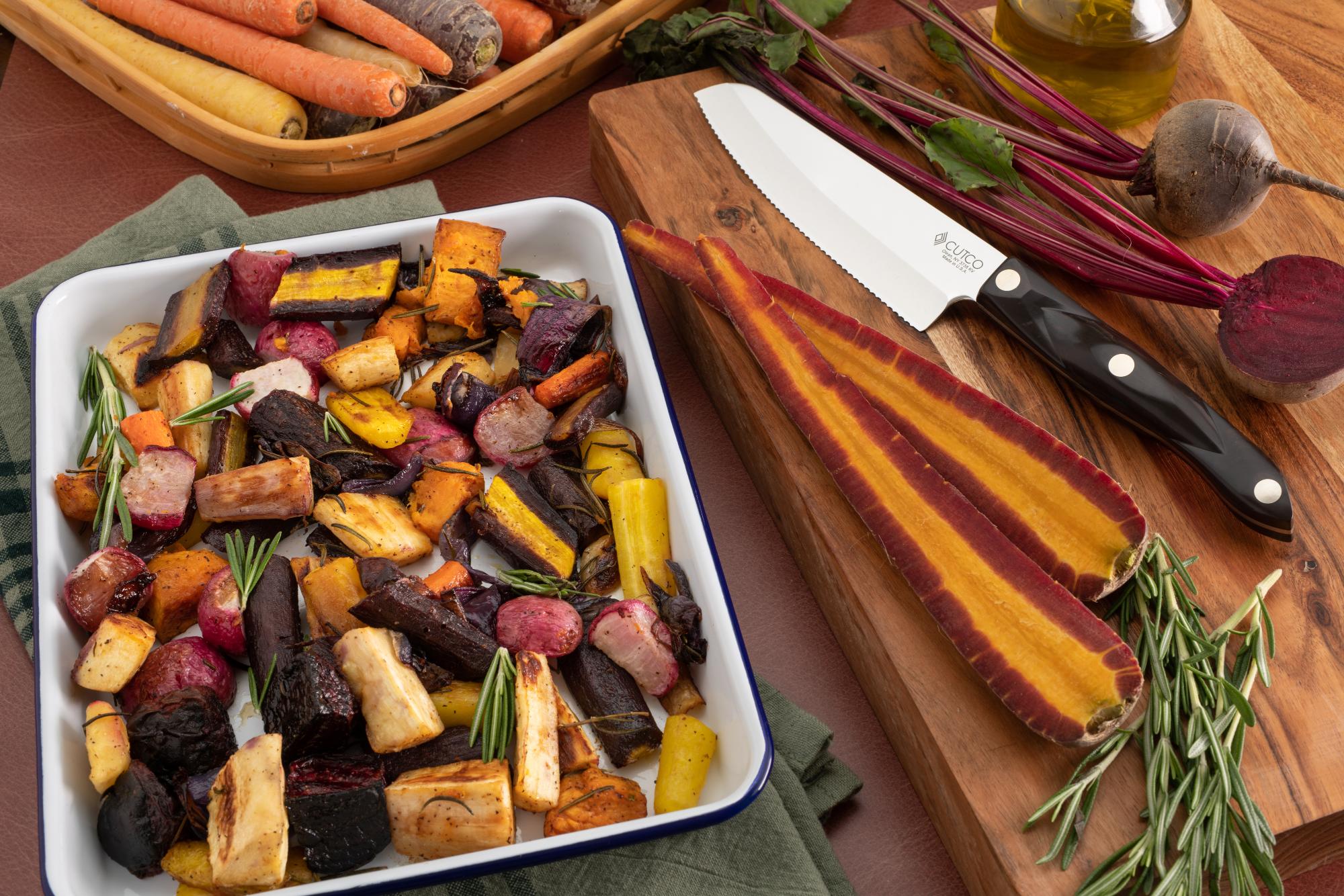 Sheet pans can be a lifesaver in the kitchen. They provide an ideal way to cook a variety of ingredients all at once, which also means easy cleanup. Try this recipe for Fast and Easy Roasted Harvest Vegetables that uses fresh root vegetables and you may never steam vegetables again.
Roasting at high heat allows the vegetables to caramelize, so you do not have to heavily season them to get good flavor. This recipe only calls only for salt and pepper, and sprigs of fresh rosemary. It's all you need as the caramelization of the veggies is what delivers most of the flavor. Roasting brings out their sweetness, while still getting hints of their earthy flavor.
Rough Chopping Ingredients
The secret to this dish is cutting all the vegetables the same size, allowing everything to roast evenly, at the same time.
To rough chop the yams, the Hardy Slicer works like a charm. Its thicker blade and sharp Double-D® edge powers through this hardy vegetable.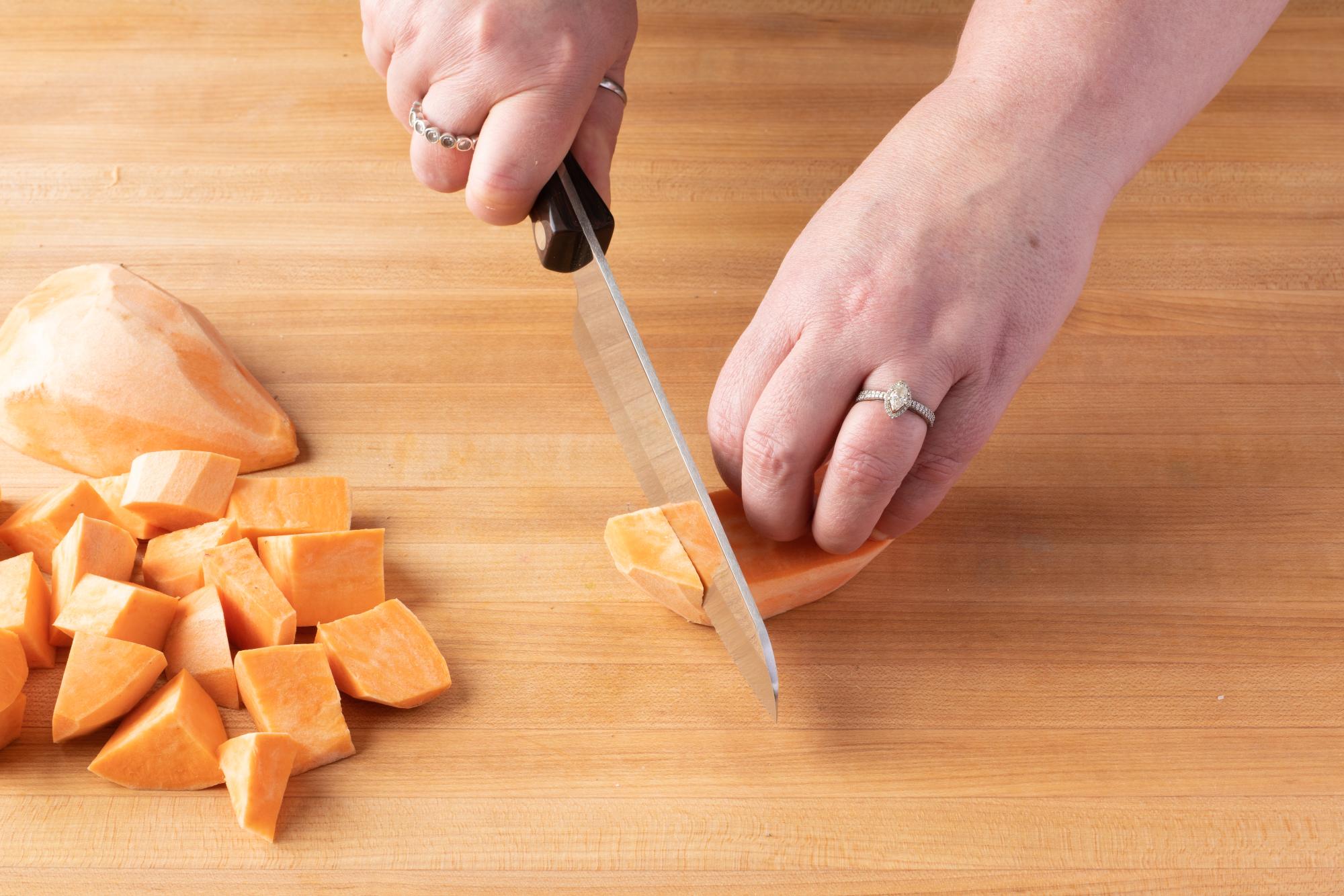 Another fantastic knife for chopping vegetables is the Vegetable Knife. Use it to rough chop the carrots.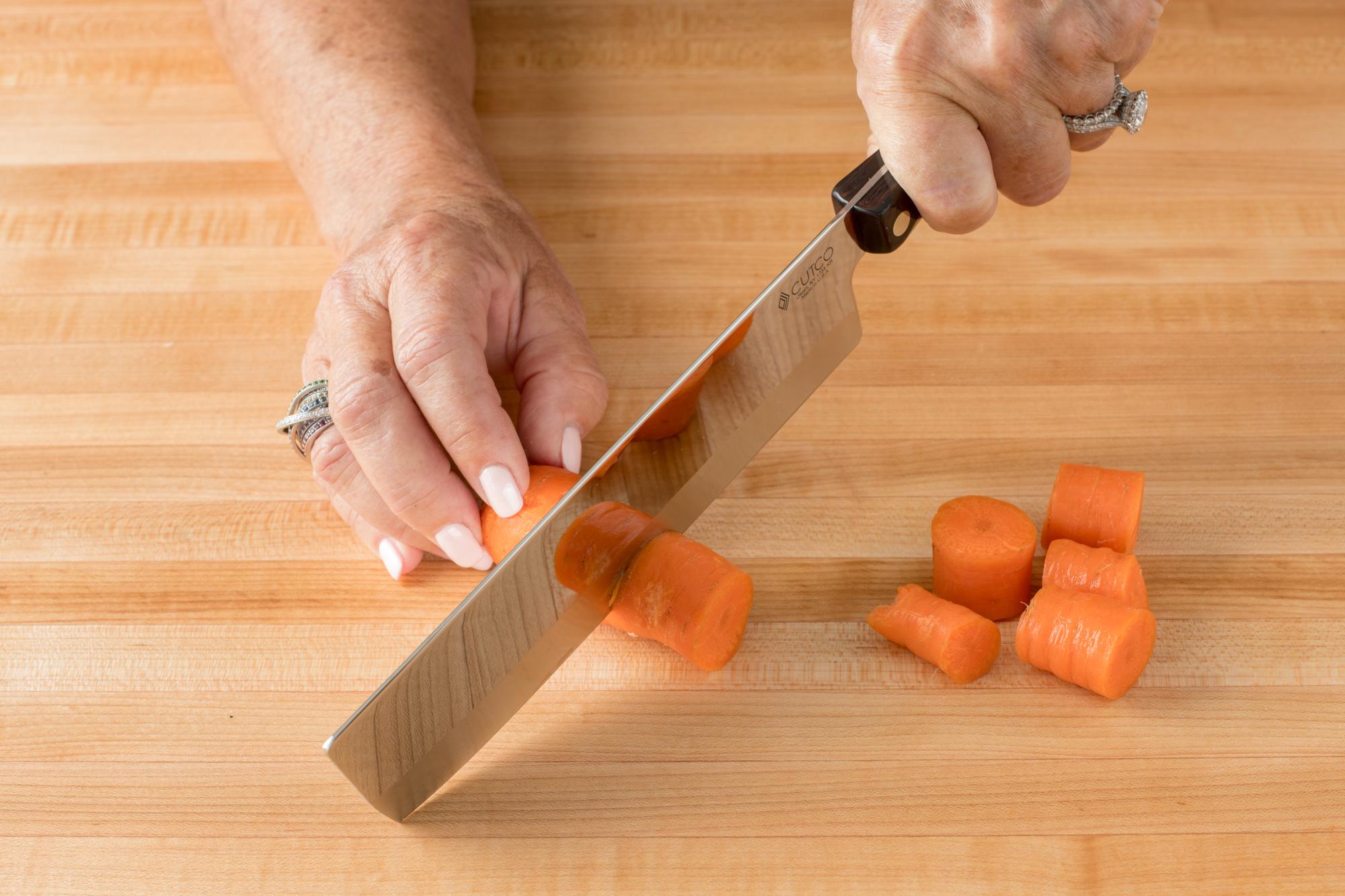 This time around I did toss in some beets (because I adore roasted beets). Be sure to scrub them before cutting and use food-safe gloves to prevent your hands from staining. Note that the beets may cause the other veggies on the sheet pan to take on a pinkish hue.
Take a look at Cutco's How to Cut Beets video to learn how to chop them.
Roasting the Root Vegetables
What's really great about this Fast and Easy Roasted Harvest Vegetables recipe is that, after the ingredients are prepped, you just sit back and let the oven do the work.
After the initial 30 minutes of roasting, pull the vegetables out and give them a toss with the Slotted Turner before returning to oven.
Continue cooking until they are tender and caramelized, about 10-15 minutes.
Roasting offers an interesting change from steamed vegetables for a week-night meal. It's also totally customizable, use whatever root vegetables you like.
Ingredients
Selection of root vegetables (carrots, yams/sweet potatoes, parsnips, beets, leeks, radishes and spring onion), about 3 pounds total
1 small red onion
6 whole large garlic cloves
1/4 cup olive oil, plus 1 tablespoon for greasing roasting pan
1 1/2 teaspoons kosher salt
1/4 teaspoon freshly ground black pepper
6 sprigs fresh rosemary (or thyme)
Directions
Place one rack in the middle of the oven and heat to 425 F.
Brush a large rimmed baking sheet with 1 tablespoon of oil. Set aside.
Peel the root vegetables, however, if you want to leave the skin on the regular potatoes scrub well.
Cut all root vegetables in rough 1 1/2-inch chunks and place in a large bowl.
Cut the small red onion into 1 1/2-inch chunks and add to bowl. Add the whole garlic cloves to the bowl.
Pour the 1/4 cup of olive oil over the vegetables, sprinkle with salt and pepper and gently toss so that all pieces are evenly coated.
Spread the coated vegetables onto the prepared baking sheet spreading evenly in a single layer. Top with rosemary sprigs spaced evenly across the vegetables. No need to add any remaining oil from the bowl.
Roast for 30 minutes.
Remove the baking sheet from the oven and toss to combine. Spread back out in an even layer.
Continue to roast until the vegetables are tender and caramelized, about 10 to 15 minutes more. Remove rosemary sprigs (some leaves will remain with the vegetables and that is OK).
Taste and add more salt and/or pepper if needed. Can be served warm or at room temperature.
NOTES: Leftovers can be stored in an airtight baggie in the refrigerator for up to 4 days.
Substitutions: Red beets could replace some of the root vegetables but remember they will give off their color during roasting causing the other vegetables to take on a pinkish hue. They will need to be well-scrubbed before chopping.
Recommended Tools