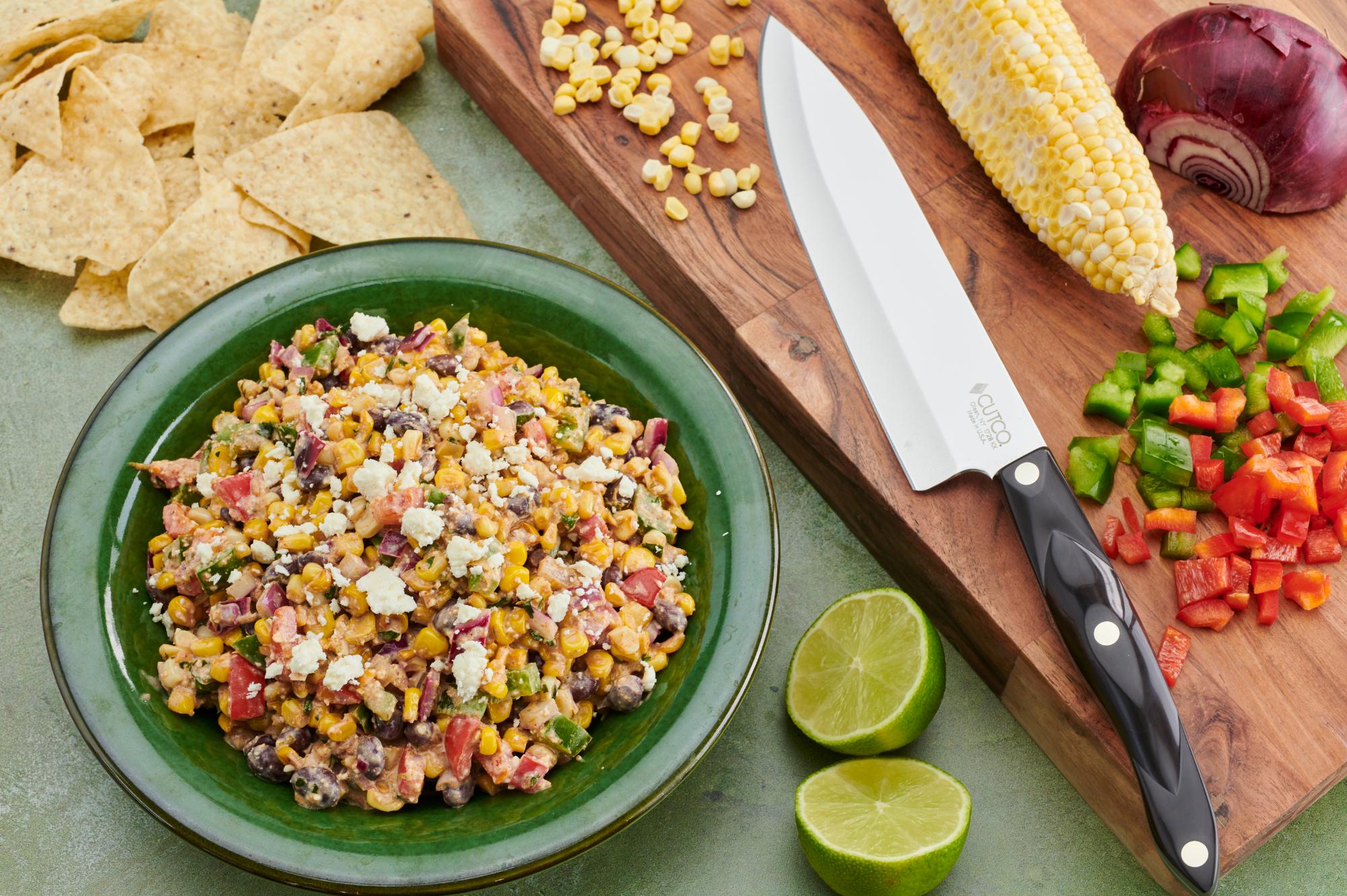 During the summer, I enjoy finding dishes I can prepare that require little to no cooking. That doesn't mean I compromise on flavor, it just means it's a lot easier to prepare. In fact, if you use ingredients that are readily available from your local farmers market, you can have something fresh that is delicious.
Elote Salad is summer in a bowl. In fact, we discovered that this dish not only makes an excellent side for a meal, but could also be a topper on grilled chicken or used in tacos. It is that good.
This recipe comes to us from New York Kitchen, our local culinary arts center that offers cooking classes throughout the year as well as summer camps. The salad is everything you can find at your local market, especially when fresh corn is in season, and the dressing is what pushes the dish over the top. Don't be afraid of the optional cayenne pepper. Just a dash will give the dish a little bit of kick!
Prepping the Ingredients
Using a 7-5/8″ Petite Chef knife, remove the corn kernels from the cob.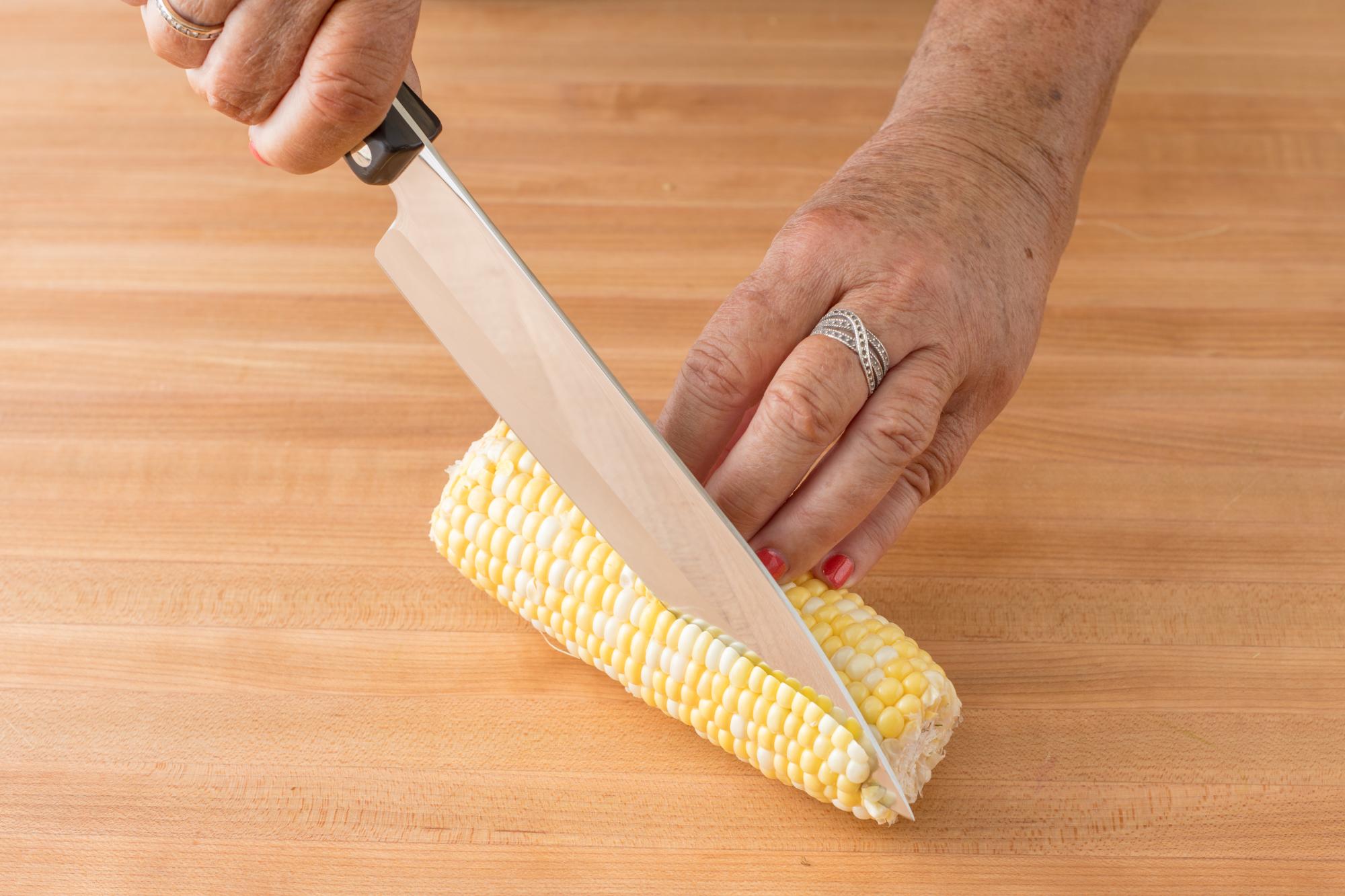 For step-by-step directions on how to easily remove corn from the cob, check out our tutorial.
Rinse and dry the knife and use it to mince the garlic and chop up the cilantro.
Dice the red pepper, red onion and green pepper, also with the 7-5/8″ Petite Chef. Make sure the dice for each vegetable is about the same size. To learn how to cut a bell pepper, view our video tutorial.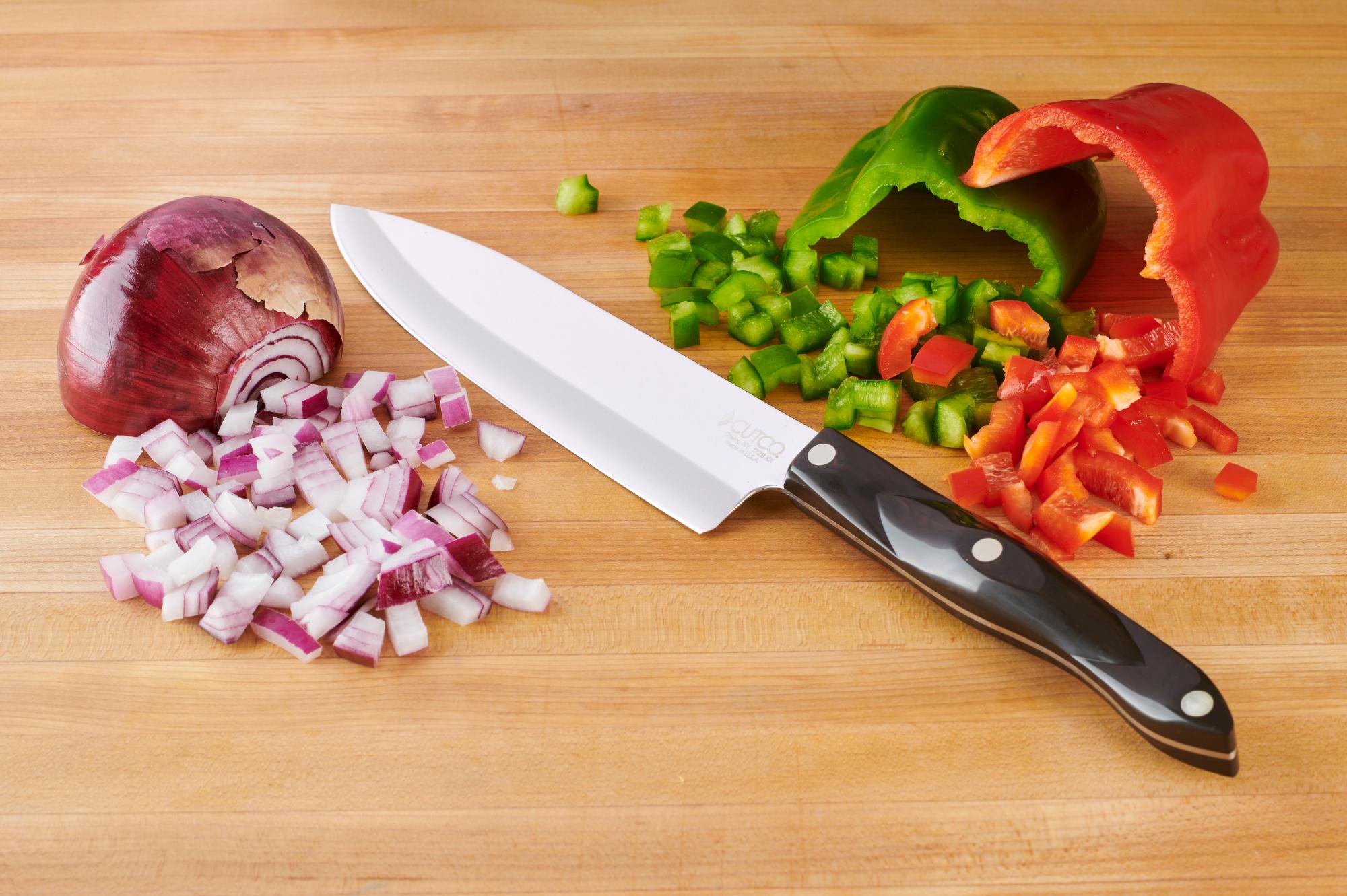 Making the Salad
In a large bowl, whisk the dressing ingredients together with a Mix-Stir. We recommend adding the cayenne pepper, but just a little dash will do.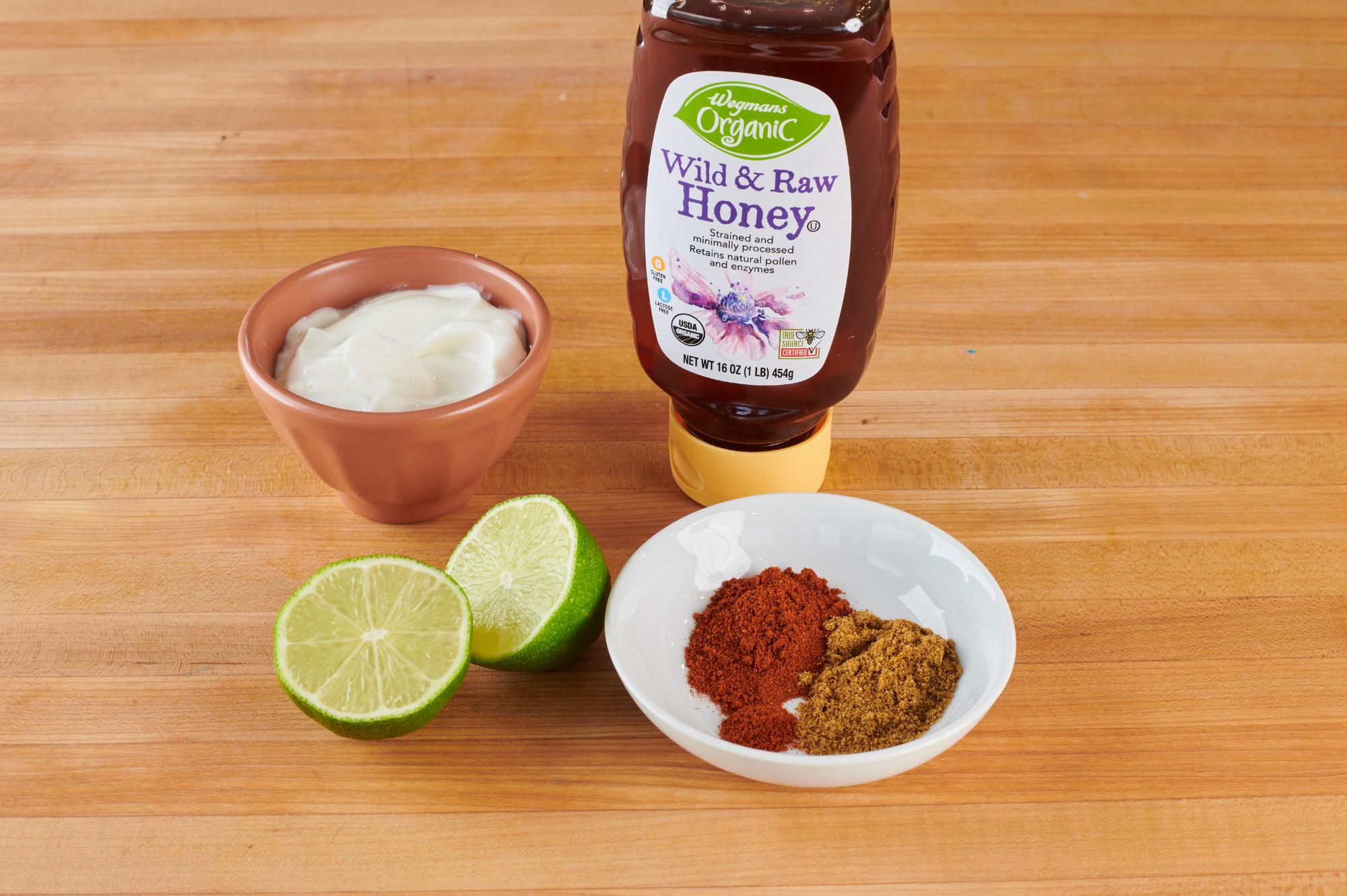 In a large sauce pan over medium heat, sauté the corn in the olive oil until the corn begins to brown. Add the minced garlic and then the lime juice.
Remove the sauce pan from the heat and add the remaining salad ingredients, stirring to combine. Pour the salad ingredients into the dressing bowl and toss gently so everything is coated with the dressing.
Elote Salad is the dish you didn't know you wanted or needed in your life until you try it - it's that good. It is packed full of vegetables with a dressing that pushes the flavor over the top.
As we ate it, we kept coming up with more and more ideas of what it could be served with or on. Straight out of the bowl is just as good and there wasn't a leftover morsel to be found. Enjoy!
About New York Kitchen:
New York Kitchen is a 501(c)(3) nonprofit organization that uses the stories of agriculture, food and craft beverage to inspire creative exploration to educate, excite and engage the world in a celebration of the incredible bounty of New York State. Each day, New York Kitchen drives this mission forward through educational hands-on cooking and craft beverage pairing classes and programs, industry certifications and professional development, Junior Chefs camps and Youth Summit, and a 100% New York State Tasting Room. Through partnerships with area farmers, wineries, breweries, distilleries, producers and entrepreneurs, we offer an array of inviting experiences which proudly highlight and promote the quality, diversity and economic impact of food and beverages that originate in the Empire State.
Ingredients
For the dressing:
1/2 cup Greek nonfat yogurt
1 tablespoon lime juice
1 tablespoon honey
1 teaspoon paprika
1 teaspoon cumin
Pinch of cayenne, optional
For the salad:
1 tablespoon olive oil
2 cups fresh corn kernels, cut off the cob
1 garlic clove, minced
2 tablespoons lime juice
2 teaspoons lime zest
1/2 cup black beans, drained and rinsed
1/2 red pepper, diced
1/2 red onion, diced
1/2 green pepper, diced
1/4 cup chopped cilantro
1/4 cup cotija cheese, crumbled
Directions
Combine ingredients for dressing in a large bowl and whisk until blended.
In a large sauce pan over medium heat, sauté corn in oil. When it is beginning to brown or char, add the garlic then lime juice.
Take off heat and add remaining salad ingredients. Add everything to the dressing bowl and mix together, coating everything.
Recommended Tools