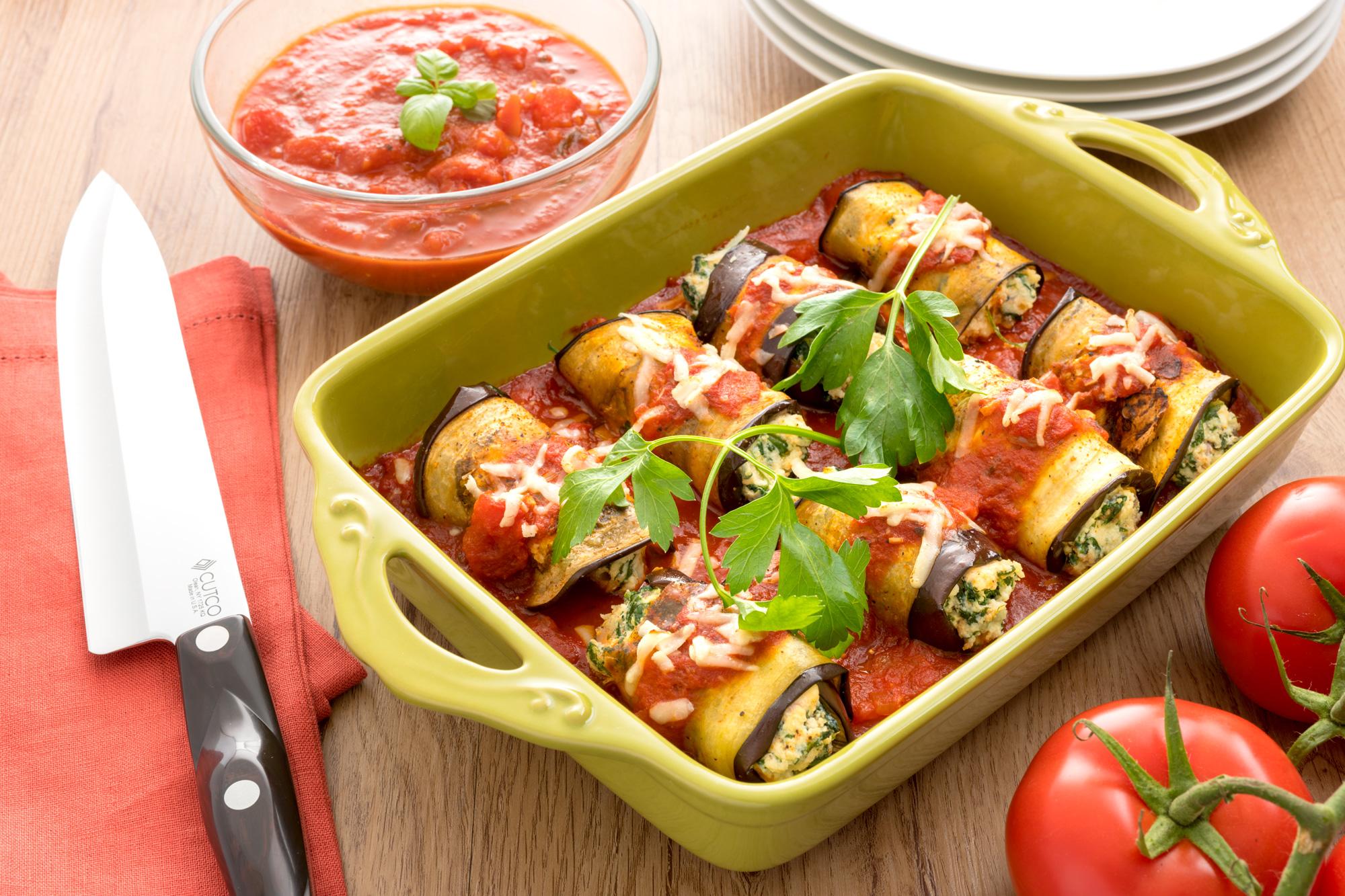 Eggplant is here! It's abundance from the garden and at farmer's market during the summer is a celebration indeed. I love its versatility. It can be cooked and flavored in a multitude of ways.
Here's a fun way to prepare eggplant. Give it a twist—literally—by rolling a flavor-filled ricotta mixture inside each pre-baked eggplant slice before topping with marinara sauce and freshly grated Parmesan. It has all the cheesy, sauce-y goodness you'd expect from lasagna, but without the heaviness. Served delicious as an appetizer or main event.
To prepare the eggplant, use a 9-1/4" French Chef or similar knife to make thin lengthwise slices. The slices will become the wrap for the rollups. To learn more about how to do it, check out Cutco's handy How to Slice Eggplant infographic.
For this rollatini recipe I also incorporated some of my artisanal spice blends, P.S. Flavor!™ Creole Kitchen and Smokey Southern, to add depth of flavor.
When selecting eggplants, choose those that have a firm, smooth, and shiny skin and feel heavy for their size. Take a peek at the stem and see if it is a healthy green. They should be free of discoloration, bumps and bruises – signs that the veggie's been damaged. Smaller eggplants are less bitter and plump, rounded ones tend to be a bit juicier.
Ingredients
1 tablespoon extra-virgin olive oil, divided
1 pound fresh baby spinach
1 medium size (about 3/4 pound) eggplant, cut lengthwise into thin slices
1 teaspoon P.S. Flavor!™ Creole Kitchen (or kosher salt and black pepper)
1/2 sweet onion, finely chopped
2 cloves garlic, minced
1 tablespoon P.S. Flavor!™ Smokey Southern (or smoked paprika, kosher salt and black pepper)
16 ounces part skimmed ricotta cheese
1/2 cup feta cheese, crumbled
2 tablespoons shredded Parmesan cheese, plus extra for garnish
2 tablespoons chopped fresh flat-leaf (Italian) parsley
1 tablespoon chopped fresh basil
1/3 cup Panko breadcrumbs
1 egg and 1 egg white, slightly beaten
4 cups marinara sauce
Fresh snipped herbs (flat-leaf parsley, basil, fresh oregano), for garnish
Directions
Heat oven to 400 degrees F.
Spray a nonstick sauté pan with nonstick cooking spray and add 1 teaspoon olive oil. Heat pan, add spinach and quickly sauté to wilt spinach. Remove from skillet to cool, drain well and roughly chop. Set aside for the moment. Wipe out skillet.
Lay out eggplant slices on a sheet pan and lightly brush each side with olive oil. Sprinkle with Creole Kitchen. Bake 10 minutes, flip over and finish baking until browned and tender. Remove from oven and set aside to cool. Reduce oven temperature to 350 degrees.
Add 1 teaspoon olive oil to the nonstick skillet; heat over medium high heat. Add onions and sauté until translucent, then add garlic and Smokey Southern and cook another 25-30 seconds. Add spinach, stir together, and then set aside to cool.
When cool, add cheeses, herbs and breadcrumbs. Mix in beaten eggs. Chill until ready to construct rollatini.
When ready to bake, spoon 1 cup of marinara sauce on bottom of a casserole dish. Place 2 heaping tablespoons of the spinach-cheese mixture on each eggplant slice. Roll up and place open-end down in casserole dish. Cover with 1 cup marinara sauce. Bake for 30 minutes.
To serve as an appetizer, place 3 rollatini on each plate and top with warm marinara sauce. Garnish with Parmesan cheese and fresh basil leaves. To serve as a delicious vegetarian course, serve with bundles of angel hair pasta and more marinara sauce. And, it's a great side dish for pork or lamb chops or filet.
Recommended Tools