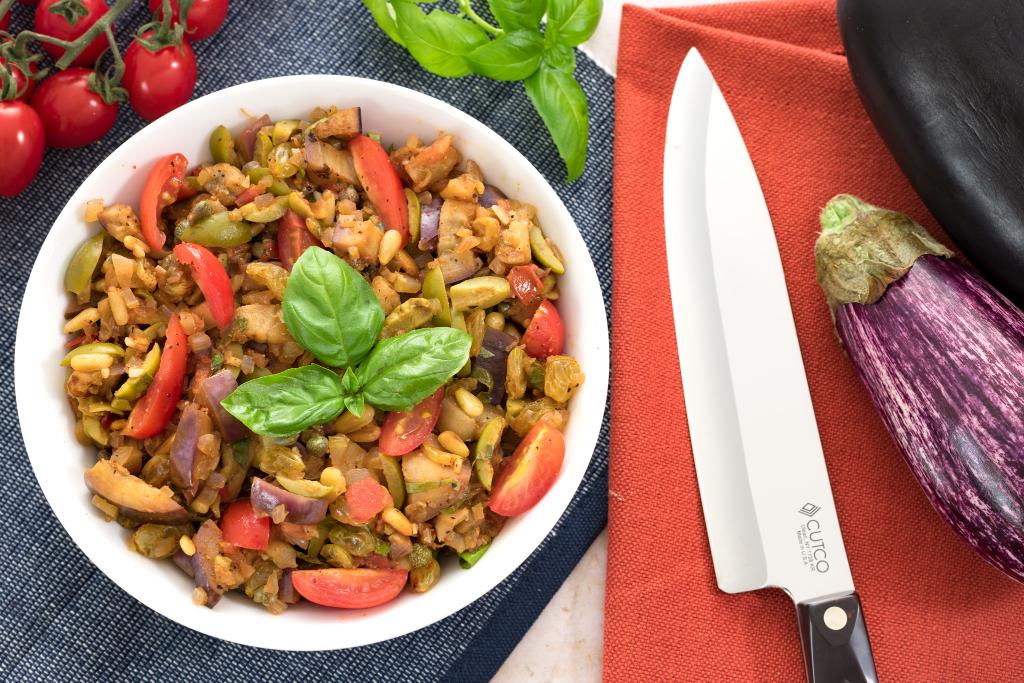 I not only love eggplant – I'm a bit in awe of it, considering it is a super-hero of vegetables. It's a multi-tasker that can be used in many ways: grilled, roasted, stewed, sautéed, whole, halved, thinly sliced, cubed, blended, Mediterranean, Asian, Israeli and Peruvian – it's a star in all farm-to-table cuisines.
I fell in love with classic Eggplant Caponata on a trip to Sicily, learning the flavor magic straight from the Nonnas. This picnic salad is loaded with ingredients that pack a flavor punch, including caramelized cubes of sautéed eggplant, capers, golden raisins and olives.
For dicing the eggplant, use a 7-5/8" Petite Chef knife, or something comparable, and follow our easy How to Dice Eggplant guide.
To prevent a cut eggplant from turning brown from oxidation, use a good, sharp knife, and, after cutting, placing it into a bowl of water with a tablespoon of milk or lemon juice.
Ingredients
2 tablespoons brined capers, drained
3 tablespoons extra virgin olive oil, divided
1 1-pound eggplant, peeled and cut into 1/3-inch dice
1 medium yellow onion, finely chopped (about 1 cup)
1 celery rib, finely chopped
2 cloves garlic, minced
1 medium tomato, finely chopped
2 tablespoons red wine vinegar
1/2 cup large pitted green or Kalamata olives, sliced
1/2 cup golden raisins
1/4 cup finely shredded basil or flat leaf parsley
2 tablespoons toasted pine nuts
Directions
In a small bowl, cover the capers with water and let soak for 15 minutes; drain.
Meanwhile, in a large skillet, heat 2 tablespoons of the olive oil. Add the eggplant and cook over moderately high heat until the bottom browns, about 5 minutes. Stir and cook until browned all over, about 8 to 10 minutes longer, adding 1 1/2 teaspoons of Creole Kitchen during the last minute of cooking. Transfer the eggplant to a bowl.
Add the remaining 1 tablespoon of olive oil, onion and celery to the skillet. Cover and cook over low heat, stirring occasionally, for 3 to 5 minutes. Add the remaining Creole Kitchen and garlic and stir an additional 30 seconds.
Add the tomato, cover and cook until soft, about 5 minutes. Next, add the red wine vinegar, Citrus Spice, olives, raisins and drained capers, and cook for 1 more minute.
Add this mixture to the bowl with the eggplant. Add basil, pine nuts and herbs; mix together. Season with additional seasoning, if desired.
Recommended Tools