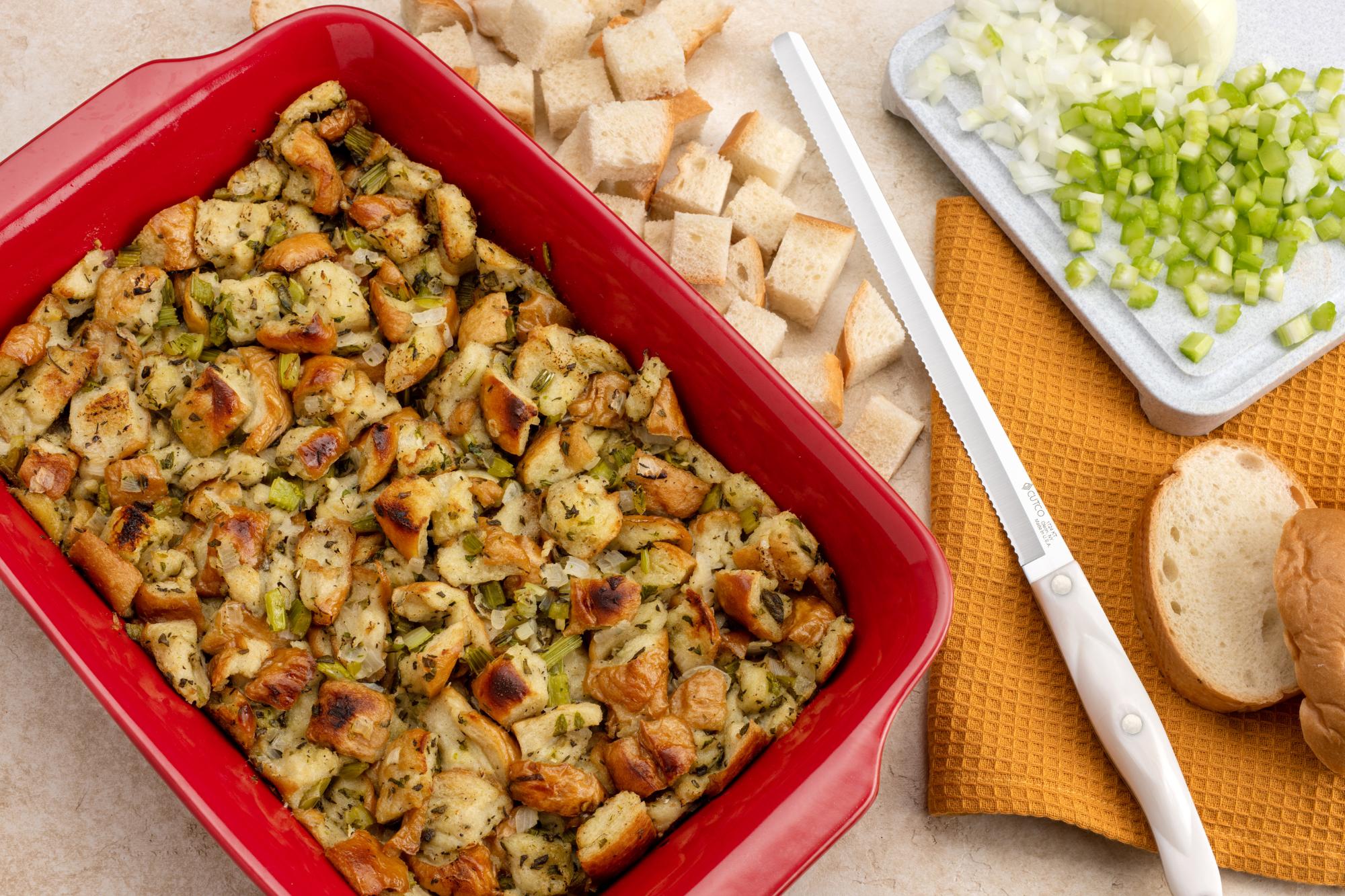 Stuffing and Thanksgiving just go together, with the largest debate being whether you cook your stuffing inside or outside of the bird. I liked my stuffing outside the turkey and for the longest time. I would just grab that bag of dried bread crumbs, add the celery and onion and some broth and pop the dish into the oven until it was golden brown.
Over the years, I've moved away from that approach and tried numerous stuffing recipes that maybe include adding apples to the mix or using cornbread (check out this wonderful stuffing approach by our culinary partner, Pam Smith of P.S. Flavor!). While all of these recipes were wonderful, sometimes you just want a simple stuffing with no frills but lots of flavor.
This Easy Stuffing with Fresh Bread and Herbs recipe is just that. It has the traditional elements of your Thanksgiving stuffing with onion and celery, but it gets a boost in flavor with the addition of dried and fresh herbs, and freshly cubed bread. Once this came out of the oven, we had a hard time not eating the entire dish between two of us because it was that delicious.
For this dish, you'll need bread, of course. I went with a loaf of French bread because that was all our store had at the time. You can use any bread you prefer and I did use a fresh bread that had not been dried out.
Cutting the bread into cubes is easy using the 9-3/4" Slicer. Fresh bread can squish when you're cutting it into cubes, but the Slicer made quick work of this task with no squish.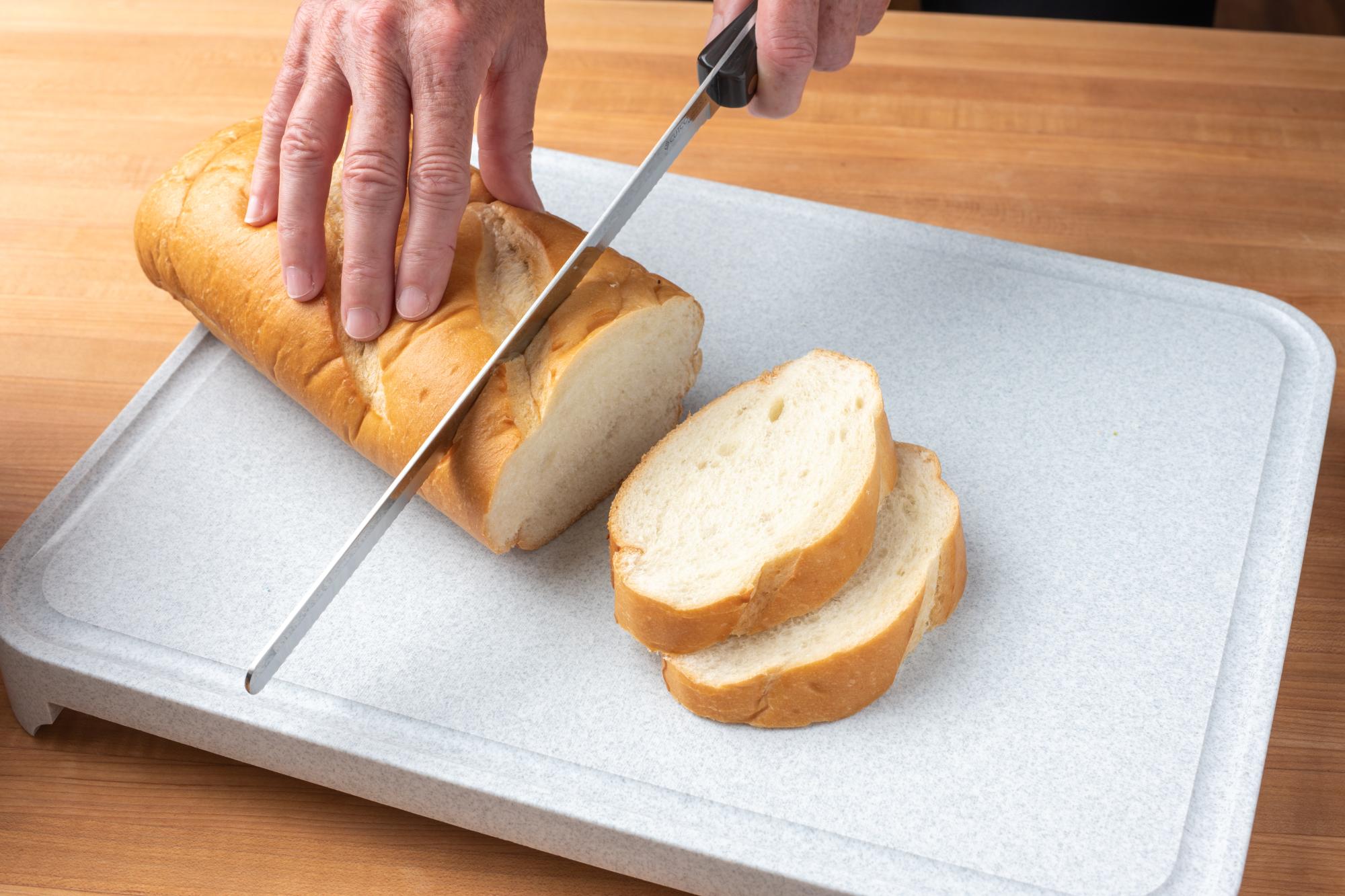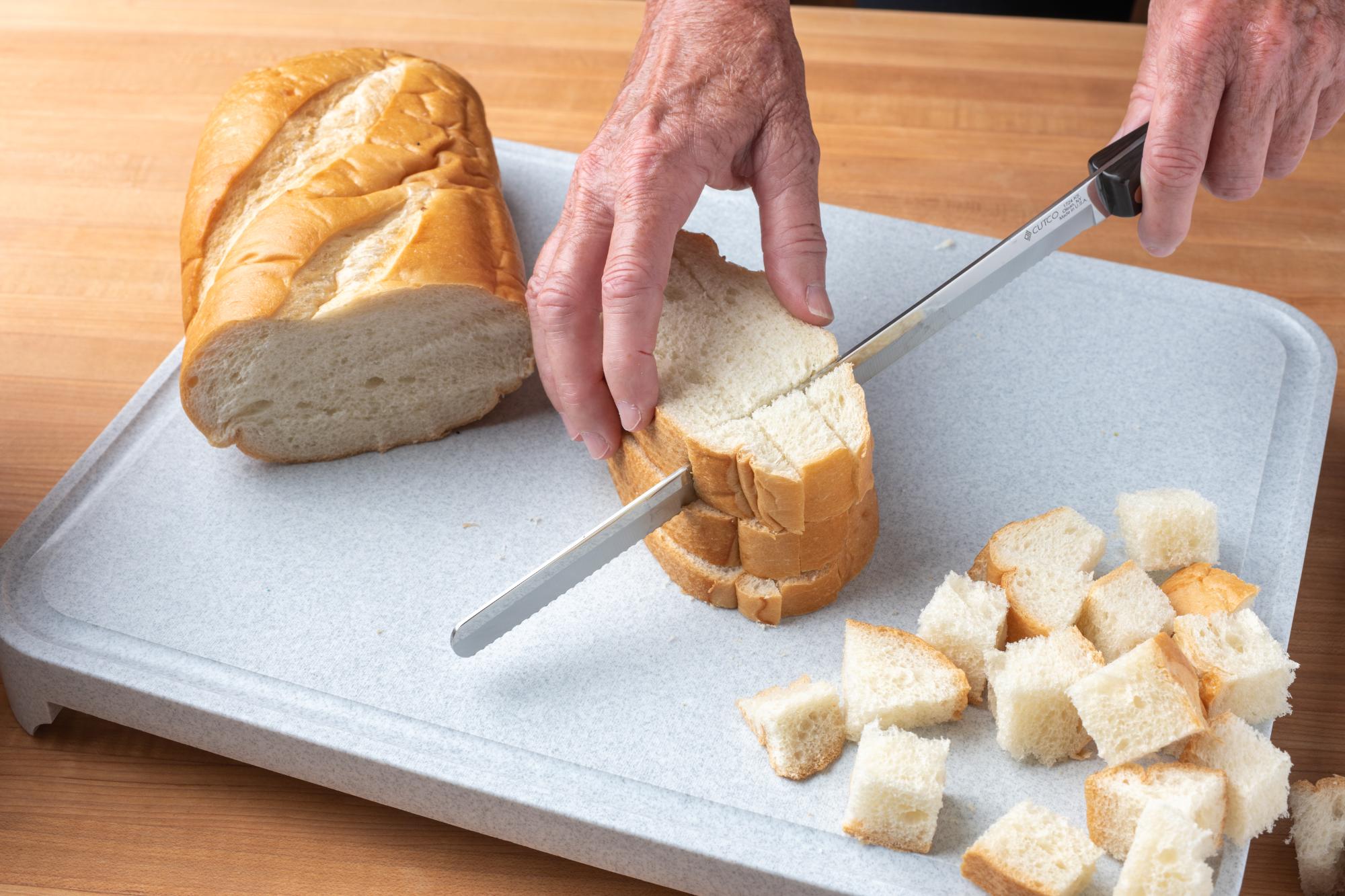 I then diced the onion and celery using the 7" Santoku. I cut the ends off of each celery stalk and then sliced it lengthwise into four strips, dicing from there. For prepping the onion, follow this great video on How to Cut Onions 3 Ways.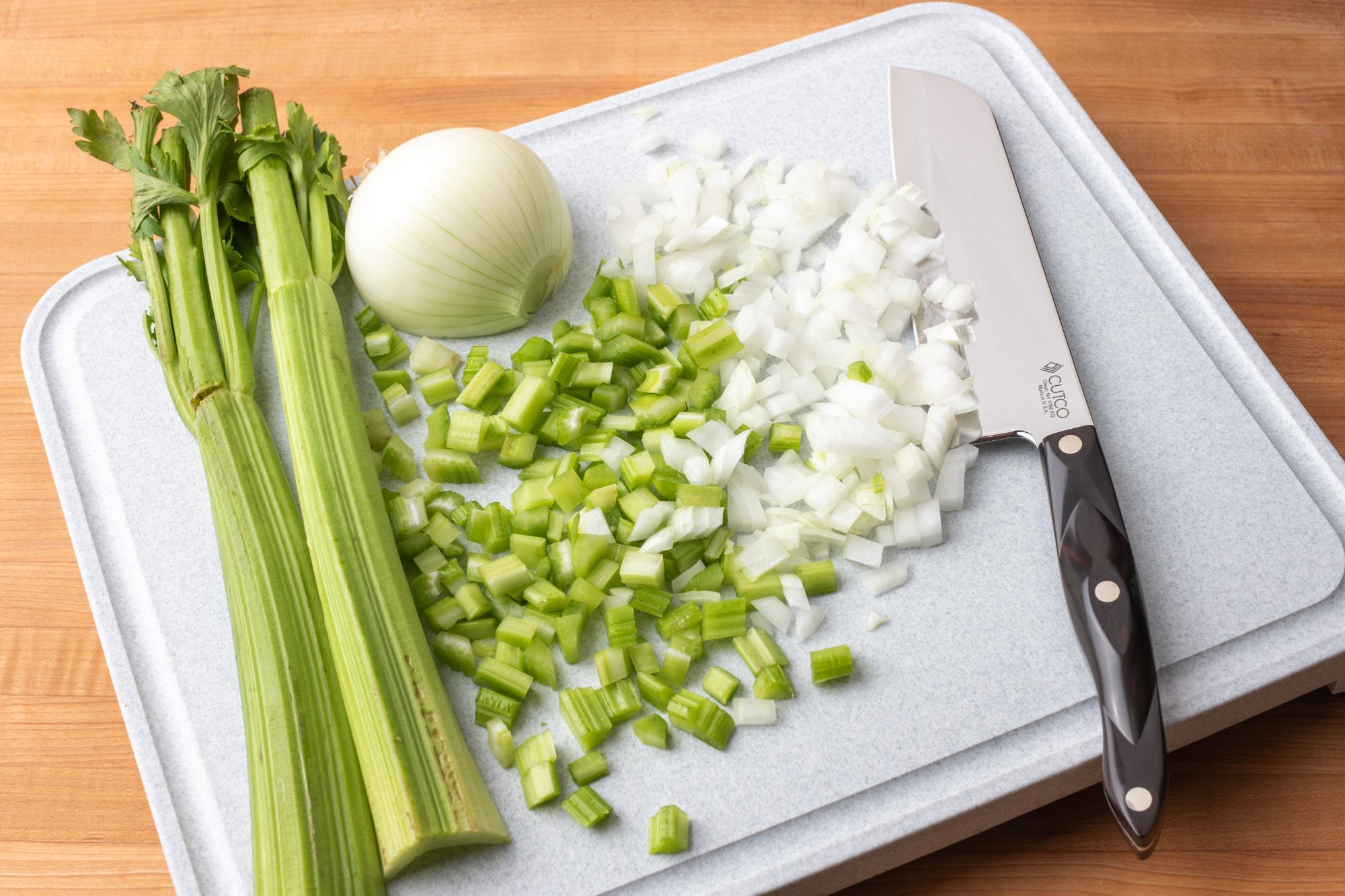 To mince the garlic, I reached for the 7-5/8" Petite Chef knife. I trimmed off the ends of the clove, smashed the garlic by laying the knife flat on top of the clove and pushed down on it with the heel of my hand to remove the skin. Then it was easy to slice the garlic and, using a rocking motion with the knife, mince. Check out this video on How to Mince Garlic for more tips.
The rest of the recipe is very straightforward. Cook the vegetables in some butter, adding the dried herbs and spices. Then add the bread cubes, coating all of them evenly and add the fresh herbs and chicken broth. Quick tip: Be careful not to add too much chicken broth. You want the bread mixture to be moist, not soggy.
Place the mixture into a baking dish, add some slivers of butter and bake. This easy stuffing took no time to put together and the end result was an oh-so-tasty side for your next Thanksgiving gathering. I know what I'm making this year and I can't wait.
Ingredients
2/3 cup butter
1 large yellow onion, diced
4 stalks celery, diced
2 cloves garlic, minced
1/2 teaspoon ground sage
1/2 teaspoon ground thyme
1 teaspoon kosher salt
Freshly ground black pepper, to taste
Loaf of rustic bread to make 12 cups of bread cubes
2 tablespoons fresh parsley
1/4 cup sage leaves, finely chopped
3-4 cups chicken broth
Directions
Heat oven to 350 degrees.
Melt the butter in a large pan over medium heat. Add the onion, celery, garlic, ground sage, ground thyme, salt and pepper. Cook until the vegetables are tender, approximately 10-12 minutes.
Cut the bread into evenly sized bread cubes and place in a bowl. Add the cooked vegetable mixture as well as the fresh parsley and sage.
Pour the broth over the bread cube mixture until it is moist (not soggy) and toss carefully. Season with additional salt and pepper if needed.
Place the bread crumb mixture into a large baking dish, add some additional butter slivers to the top and cover with foil.
Bake 35 minutes, remove the foil and bake an additional 10 minutes.
Recommended Tools