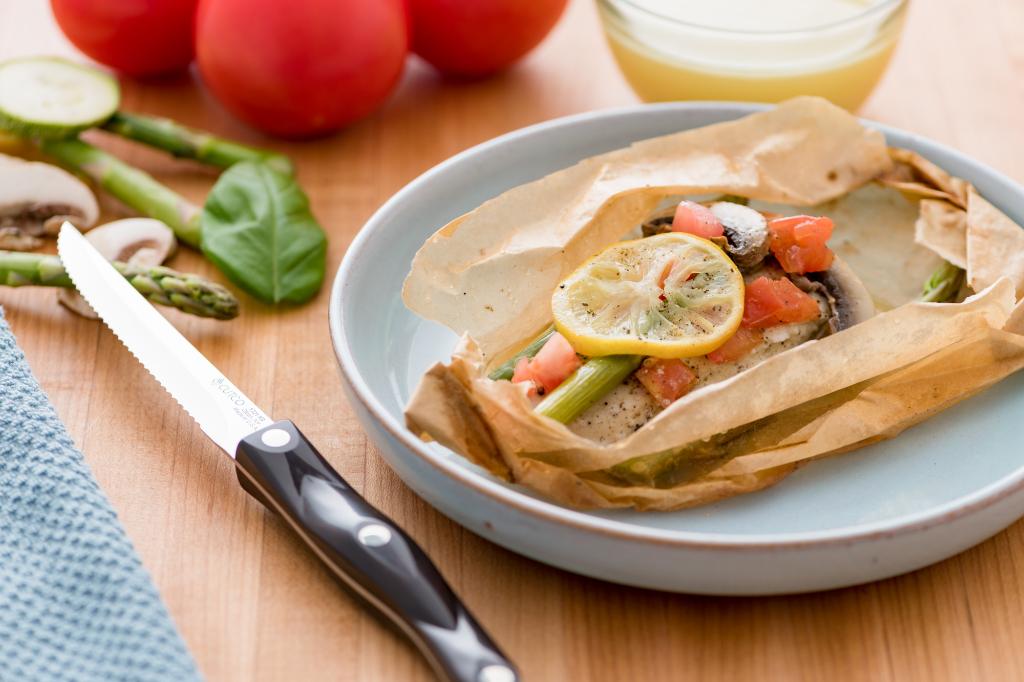 I don't often cook in paper packets – but when I do I always ask myself why not? Cooking in parchment is easy and dinner can be prepared and refrigerated in the morning so that at dinnertime, all I have to do is pop the packets in the preheated oven.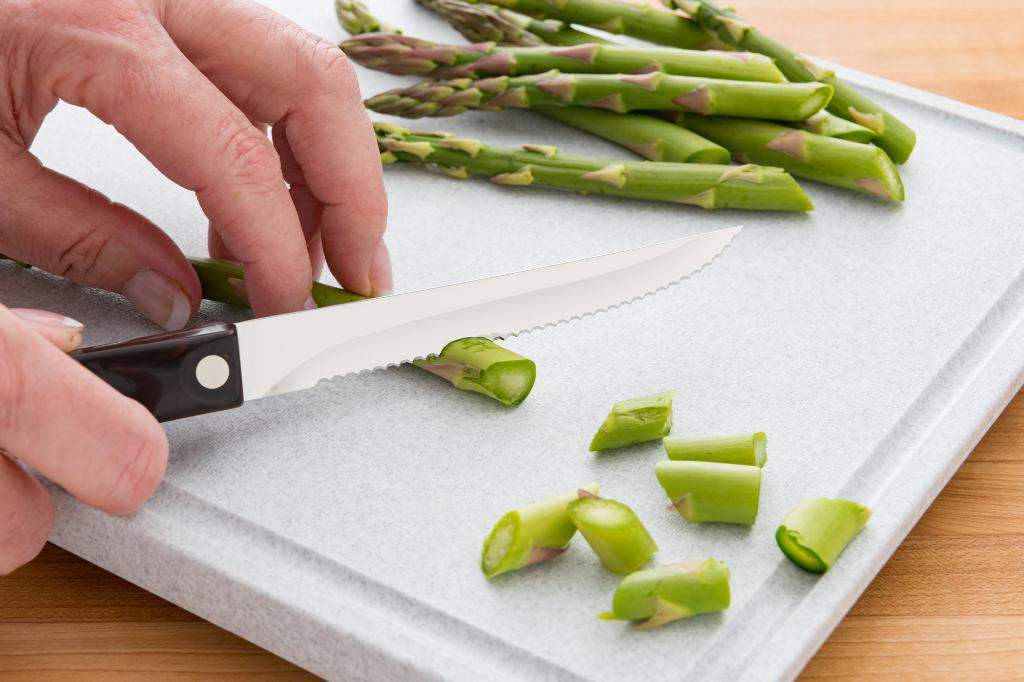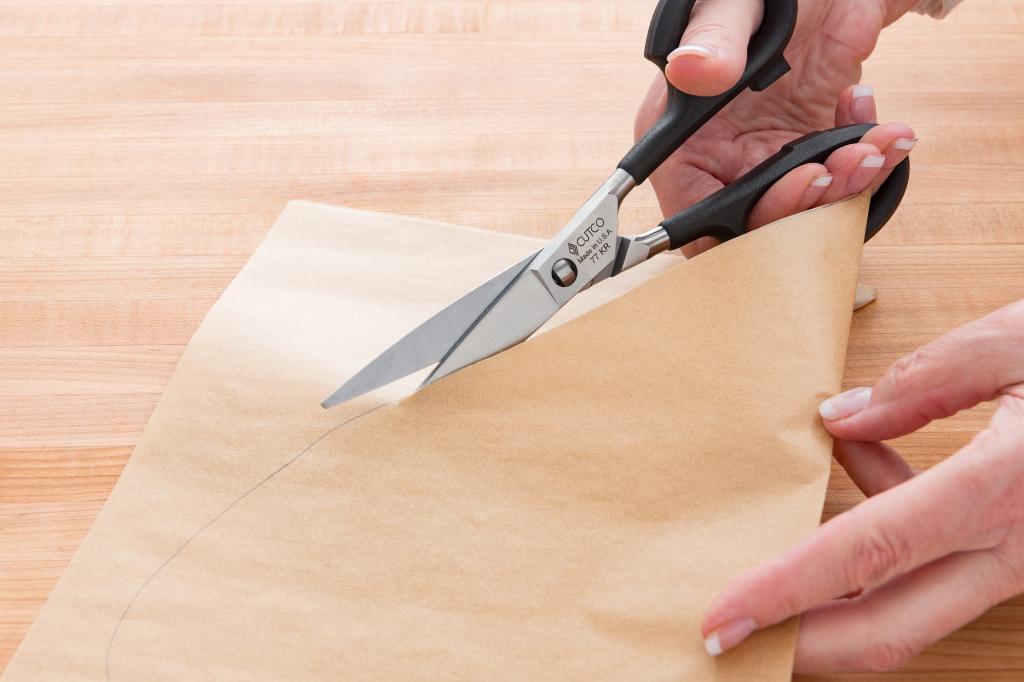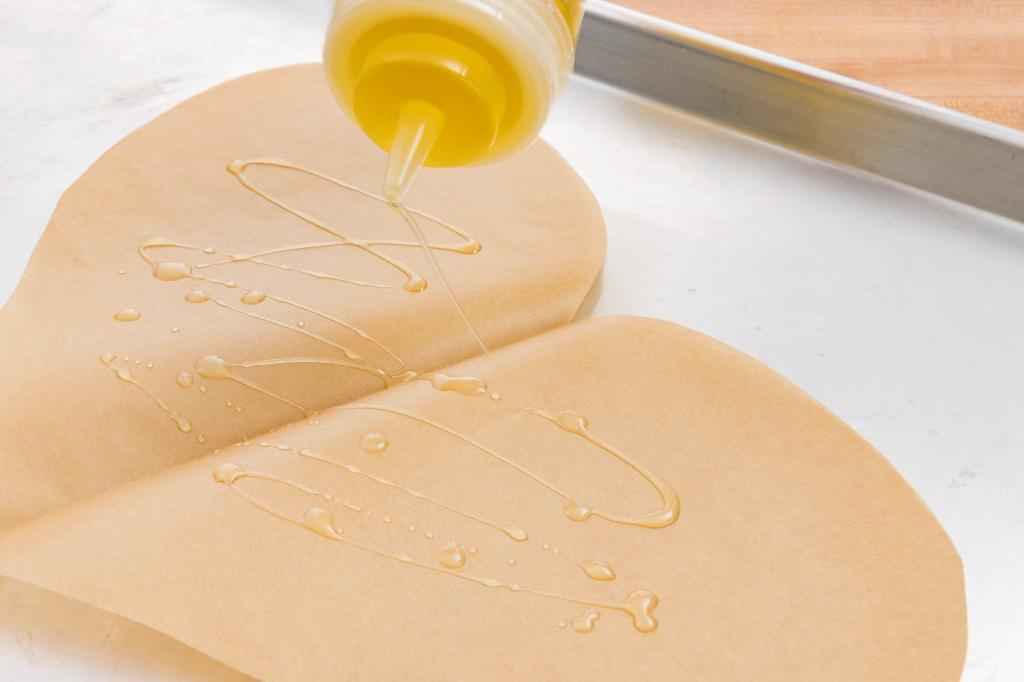 This recipe calls for a chiffonade of basil, which is easy to do. Watch our easy video tutorial to see how. It's a great knife skill to learn for making ribbons of fresh herbs and other leafy greens.
When finished, the chicken should register 160 degrees F in order to be thoroughly cooked. Use a sharp knife with a pointed tip, like the Cutco Trimmer, to safely cut open the packet. However, be careful when opening it, as there will be steam.
Just a side note here. Since all ovens are different and since chicken breasts can be different sizes and thickness, you may need to adjust the baking time in order for the breasts to reach 160 degrees F.
Ingredients
1/2 cup chicken stock
1/4 cup lemon juice
2 tablespoons olive oil
4 skinless, boneless chicken breasts
1/2 teaspoon salt
1/2 teaspoon freshly ground pepper
2 1/2 cups of seasonal vegetables (tomatoes, mushrooms, asparagus, zucchini, green beans)
Thin lemon slices
1/4 cup fresh basil chiffonade
Directions
Preheat oven to 425 degrees F.
Make vinaigrette by whisking stock, lemon juice and olive oil together. Set aside.
Lay chicken breast on a 14-inch piece of parchment paper. Season chicken on both sides with salt and pepper.
Top each with cut vegetables and lemon slices, dividing evenly between packets.
Sprinkle with basil (or other herb).
Cover each prepared chicken breast with 3-4 tablespoons of vinaigrette.
Fold parchment edges together twice to seal tightly being careful to leave a little air space between parchment and contents.
Place packets on a large rimmed baking sheet.
Bake for 14-16 minutes until parchment is browned on edges and puffs.
Allow packets to rest for 5 minutes before serving.
Recommended Tools