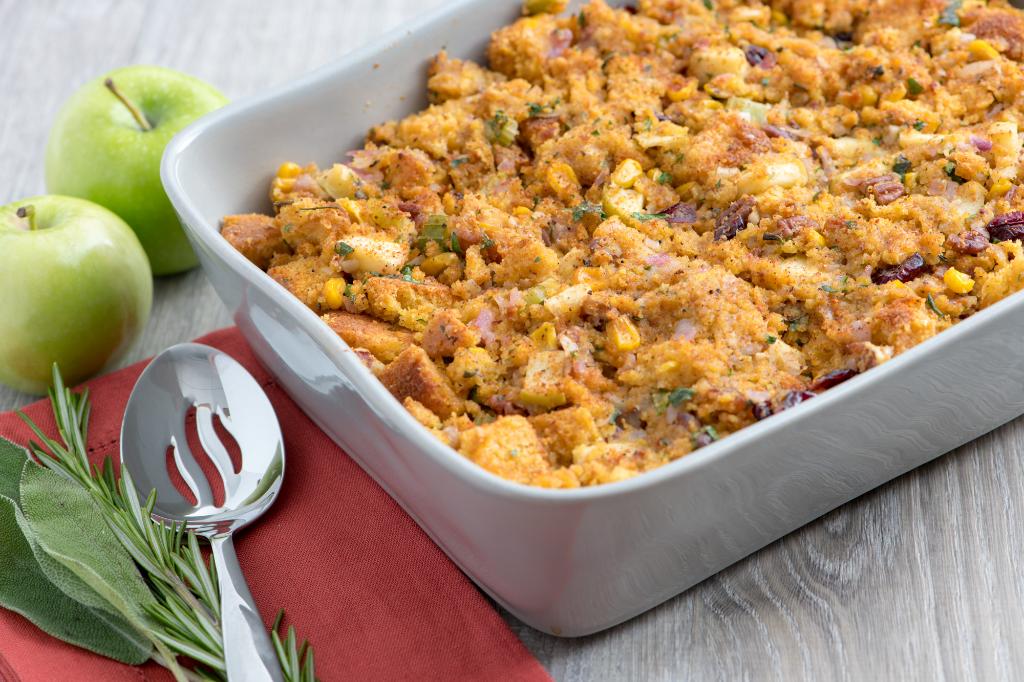 You'll love this great-tasting, better-for-you dressing to pair up with your turkey.
Using cornbread as the base adds a hint of sweetness that you don't get from other types of bread. Combined with the tart apples, celery, onion and creole seasoning, all sautéed in a smaller than typical amount of butter, and you have an easy and light Thanksgiving dressing. The dried cranberries and fresh herbs give a delightful pop of flavor and brightness. And, if there's any leftover, it can become a hero in hash the next day.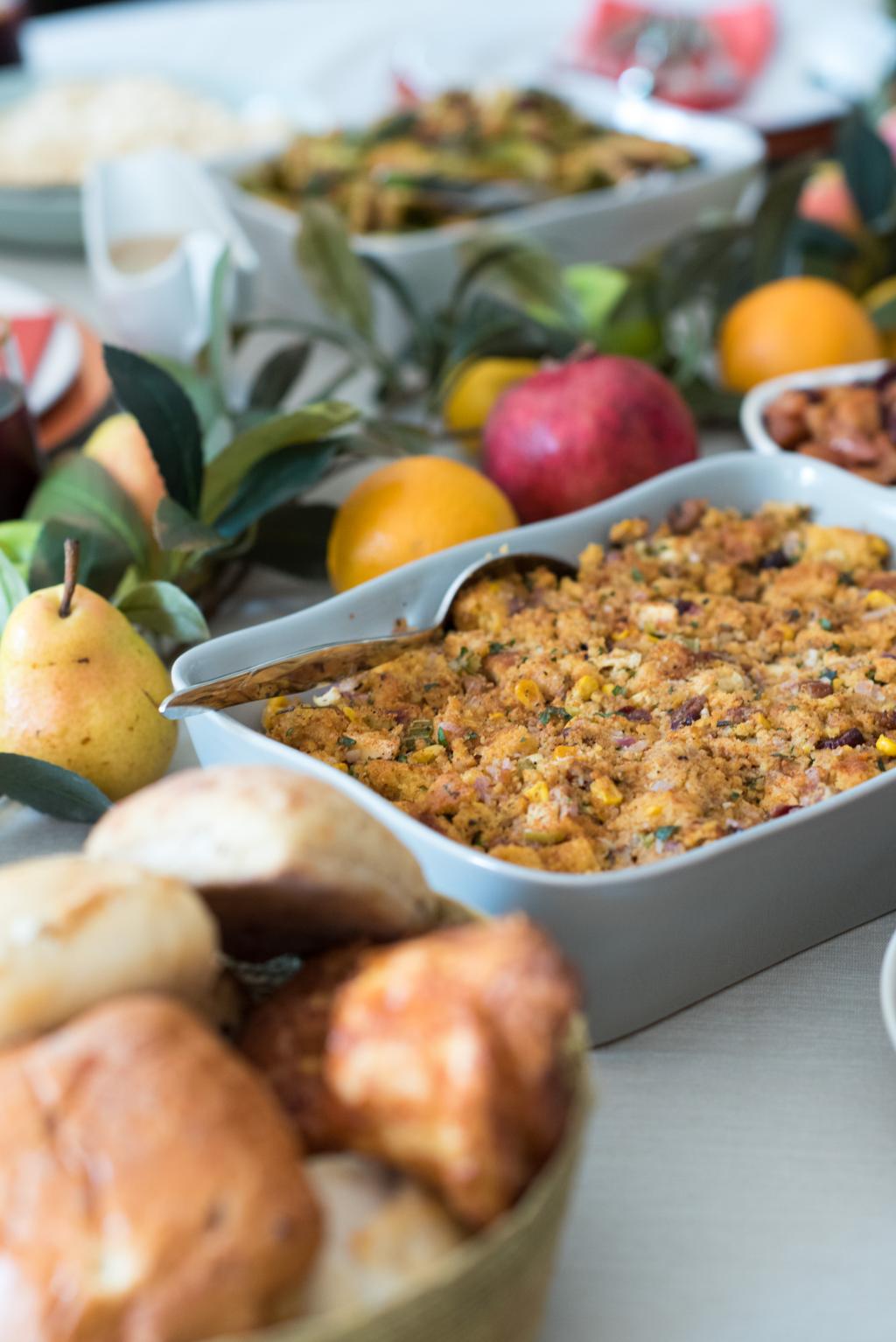 To slice the delicate cornbread, use a sharp bread knife, like Cutco's 7-3/4" Petite Slicer. The veggies and apples are easily chopped using the 7-5/8" Petite Chef.
Ingredients
10 cups of day-old cornbread (purchased is fine), cut into 1-inch cubes (or may use rustic country whole grain bread)
1/4 cup (1/2 stick) unsalted butter
2 large shallots, roughly chopped
1 medium onion, roughly chopped
2 celery stalks, roughly chopped
2 garlic cloves, roughly chopped
2 medium green apples, roughly chopped (do not peel)
1/2 cup apple cider
2 teaspoons P.S. Flavor! Creole Kitchen (alternatively, 1-1/2 teaspoons kosher salt and 1/2 teaspoon freshly ground black pepper)
1/2 cup dried cranberries
1/2 cup chopped toasted pecans
2 teaspoons flat leaf parsley, chopped
1 1/2 teaspoons sage, chopped
1 teaspoon rosemary, chopped
1 1/2 teaspoons fresh thyme leaves, chopped
1 1/2 cups turkey broth, plus more if necessary (or may use lower sodium chicken broth)
2 eggs, lightly beaten
Directions
Arrange racks in upper and lower thirds of oven. Preheat the oven to 250 F.
Scatter cornbread or bread in a single layer on two rimmed baking sheets. Bake, stirring often and rotating sheets halfway through, until dried out, about 1 hour. Let cool. Transfer to a very large mixing bowl.
In large bowl, toss the chopped vegetables and apple together.
In a large skillet over medium-high heat, heat butter. Add the chopped vegetable and apple mixture and cook, stirring occasionally, until tender and just beginning to brown, about 10 minutes. Add apple cider and Creole Kitchen seasoning and cook another 30 seconds. Add to cornbread in bowl.
Gently fold in the dried cranberries, pecans, parsley, sage, rosemary and thyme. Add additional seasoning to taste. Let cool.
Preheat oven to 350 F. Whisk broth and eggs in a small bowl. Fold gently into cornbread until thoroughly combined, taking care not to mash cornbread (mixture will look wet).
Transfer to a dish sprayed with nonstick spray or lightly buttered, cover with foil, and bake until an instant-read thermometer inserted into the center of dressing registers 160 F, about 40 minutes. Uncover and bake until set and top is browned and crisp, 10-15 minutes longer.
NOTE: Dressing can be made one day ahead, then tightly covered and chilled. Bake for an additional 15 minutes before removing foil.
Recommended Tools