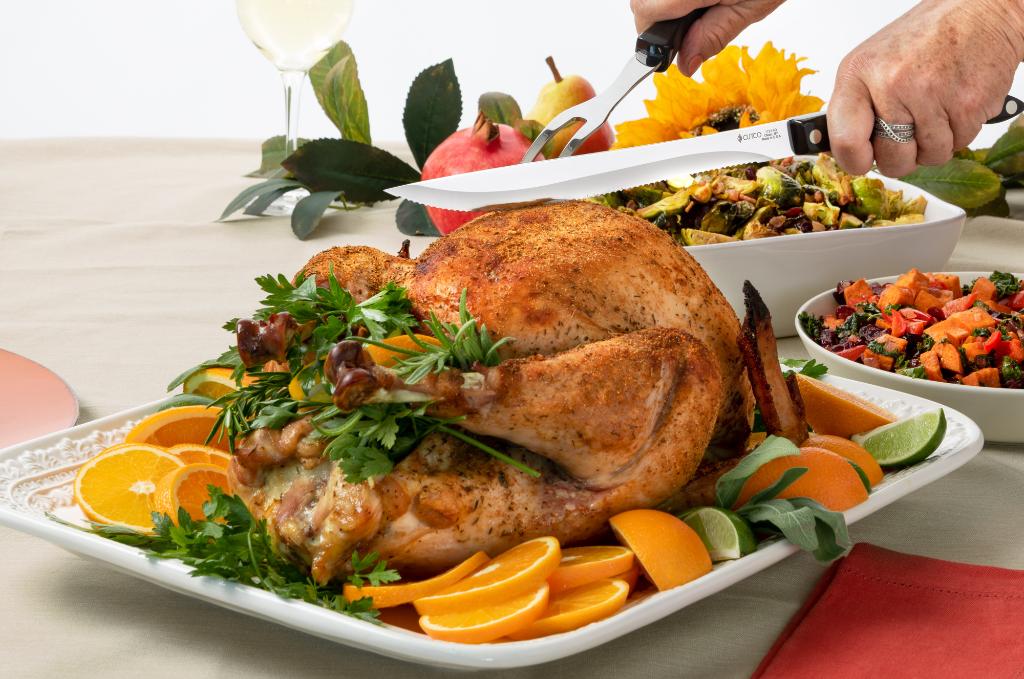 We are so excited to share with you what is destined to become your new favorite turkey. After years of using a wet brine at Thanksgiving, the first time I tried a dry rub with our P.S. Flavor!™ Citrus Spice we were amazed with just how delicious and how moist this turkey was, even as leftovers for days to come. It's safe to say we'll never turn back, and I don't think you will either - the results are phenomenal.
Without the fuss and mess of wet-brining, you still get the deep, well-seasoned flavor. And while wet-brining can sometimes lead to a slightly spongy texture, with dry-brining, the bird stays firm and meaty. The Citrus Spice rub gives a beautiful caramelized color to your bird, picture-ready for carving.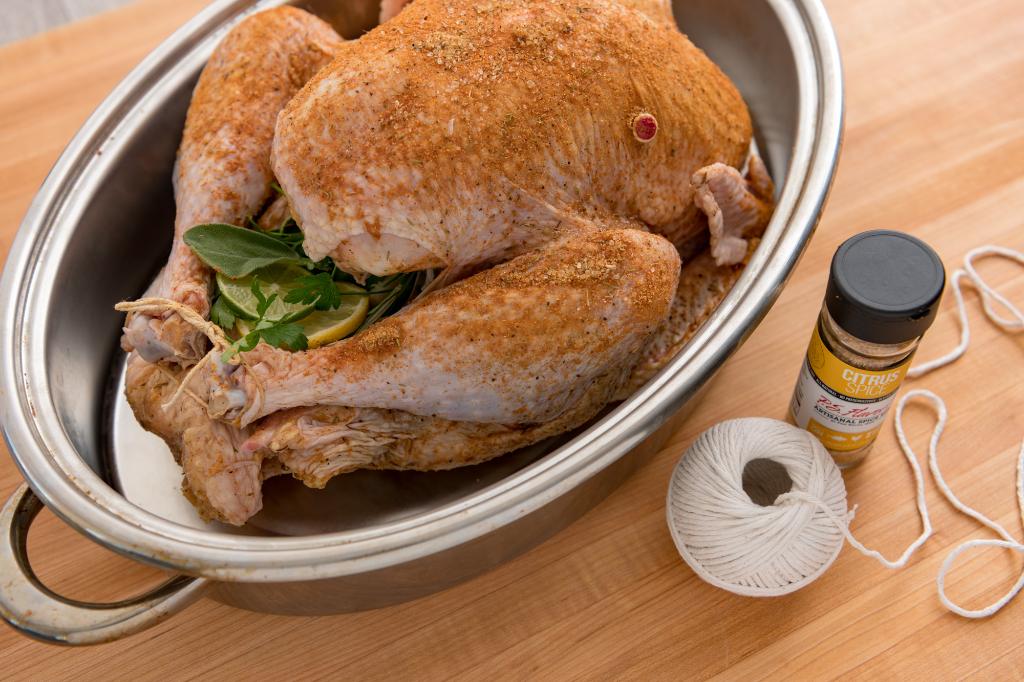 Let your roast turkey stand before carving. This is one of the great secrets of a holiday meal. For maximum juiciness and flavor, the turkey must stand at room temperature for at least 30 minutes to an hour. This rest allows the juices to relax and helps the cook relax, too. Make the gravy, finish the side dishes, and reheat make-ahead dishes in the now-empty oven while the turkey rests.
When it's time to carve the turkey, make sure you're using a sturdy Carving Fork and a sharp carving knife with a blade that is long enough to make long, sweeping slices across the breast, like Cutco's 9" Carver.
Ingredients
16-pound fresh turkey (consider a heritage or pasture- raised bird)
10 sprigs thyme
1/2 bunch flat-leaf parsley
1/2-inch knob ginger, sliced
2 onions, quartered
4 cloves garlic
1 each lemon, lime and navel orange, sliced
1/2 cup extra-virgin olive oil
2 cups white wine, such as Riesling or Pinot Gris, divided
Directions
Two days before serving, rinse turkey and pat dry. Rub all over with Citrus Spice Rub, slipping rub under skin where possible and rubbing some into cavities (Use about 1 tablespoon per 4 pounds of bird).
Wrap bird in a large plastic bag and place in refrigerator. On second night, turn turkey over. (At this point, if you have room in refrigerator, remove from bag and leave uncovered on pan).
A couple of hours before cooking, remove turkey from bag and pat dry (There is no need to rinse it first.) .Place in roasting pan and allow to come to room temperature.
Heat oven to 450 F. Sprinkle 1 tablespoon Citrus Spice Rub into main cavity of turkey; add thyme, parsley, ginger, half the onions, garlic and citrus. Truss legs with kitchen twine or back into original plastic closure. Put remaining citrus, onions and garlic in neck opening and tuck neck skin under bird.
Rub olive oil under breast skin and onto thigh meat. Sprinkle bird with remaining Citrus Spice Rub.
Roast for 30 minutes. Remove turkey from oven, reduce heat to 350 F and cover breast of bird and wing tips with foil. Add 1 1/2 cups white wine (or use water) to bottom of roasting pan and roast bird for another two hours, depending on size; figure 12 minutes/pound for an unstuffed bird. Remove foil in last half-hour so breast browns.
When turkey has roasted for 2 hours, begin to test for doneness by inserting a meat thermometer (digital is best) into two places in thigh, making sure not to touch bone. It should be at about 160 F before removing from oven.
When roasting is done, tip turkey so interior juices run back into pan. Remove turkey to a separate baking sheet or serving platter, cover with foil and then a damp kitchen towel and allow to rest for at least 30-40 minutes.
Pour fat and drippings from pan into a measuring cup, let rest and then spoon off excess fat (as much as you can.) Deglaze pan with remaining 1/2 cup white wine (or use turkey or chicken broth) and pour that into same measuring cup. Drippings can then be used to make gravy.
Recommended Tools