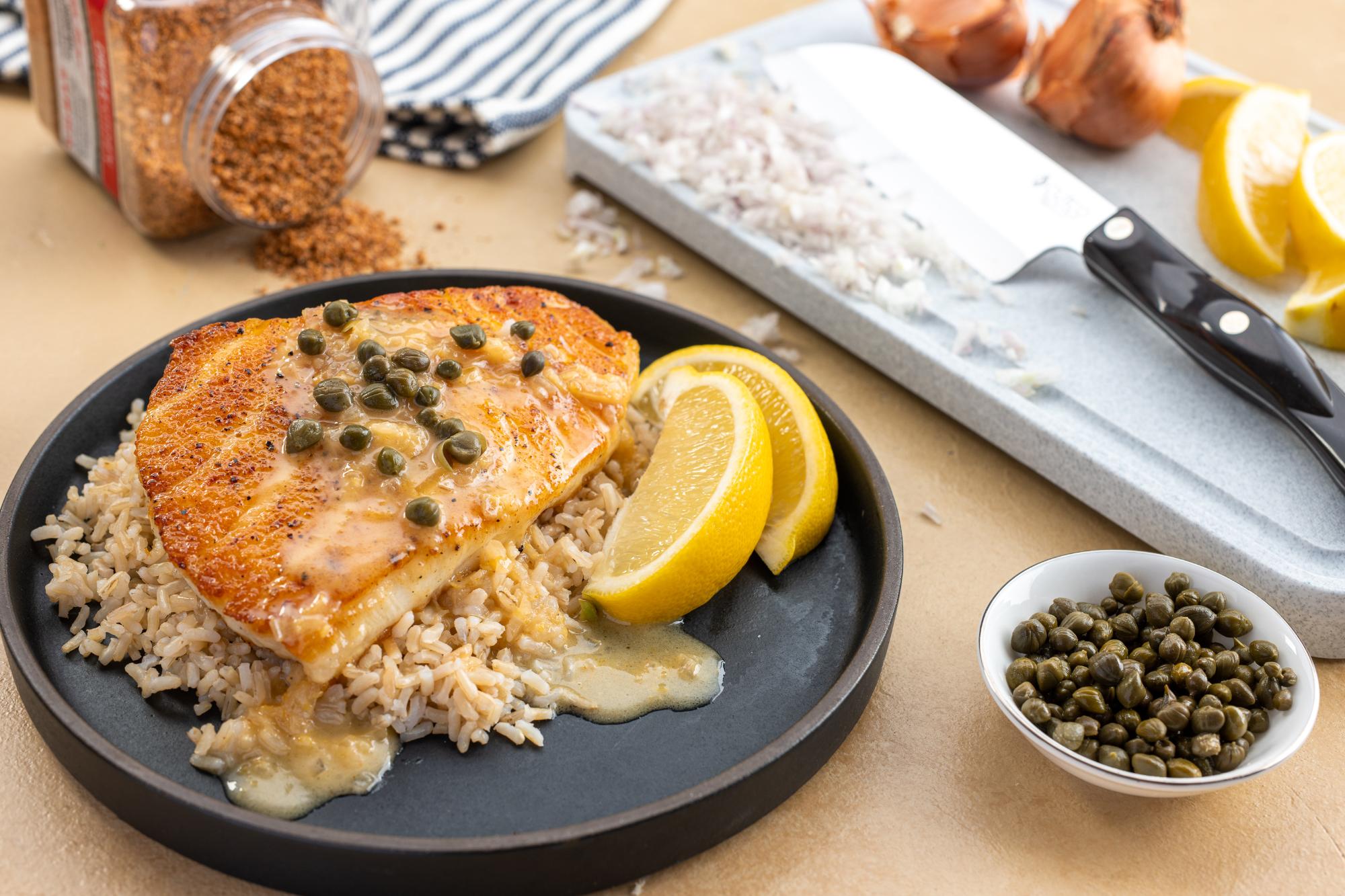 When we lived in Italy, we stumbled upon a restaurant in Bergamo that served a wonderful Chilean sea bass. It was served whole, stuffed with lemon and rosemary and encased in a salt cast that you cracked open to reveal the fish. While I love making that dish, it is a bit daunting so I figured there had to be an easy twist on the recipe that would still be as delicious. That is how this recipe for Chilean Sea Bass With Lemon Butter Sauce was created.
Chilean sea bass is now a bit easier to find, although you may still have to visit your local fish market. It's a rather thick filet and the wonderful thing about this fish, is that it is quite difficult to overcook because of its meatiness. I enjoy the buttery smoothness of it and quite honestly, it doesn't need a lot of other flavors, which is why we went with a simple lemon butter sauce to accompany the fish.
The basic ingredients of this dish are the fish, lemon, lemon zest, shallots, capers and Creole seasoning.
Add some butter and you should be all set!
The fish won't take long to prep or cook so making the lemon butter sauce first will ensure the fish does not dry out while cooking. One tip on the sauce is to make sure it is kept over warm heat while the fish is cooking so that it doesn't separate.
Start by mincing the shallot, using the 5" Petite Santoku knife.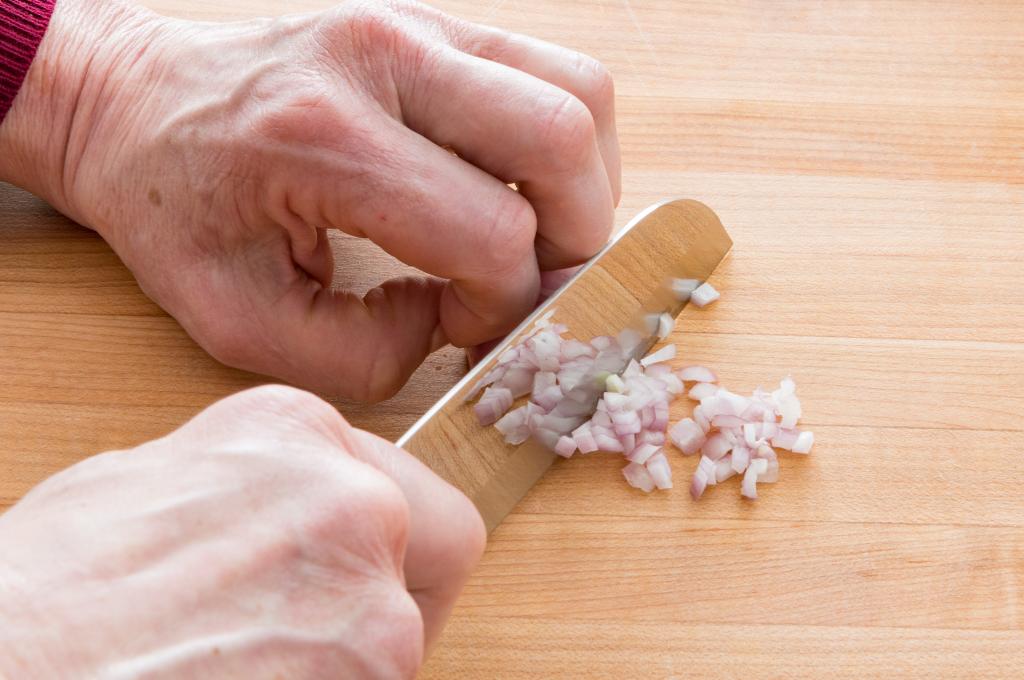 If you need some assistance in how to mince a shallot, you can refer to our How to Cut Shallots how-to.
To start the sauce, mix together the white wine, vinegar and shallot over medium-low heat and cook until reduced. Add the lemon juice, lemon zest and room temperature heavy cream, and mix gently.
Using a Table Knife, cut the cold butter into one half-inch pieces.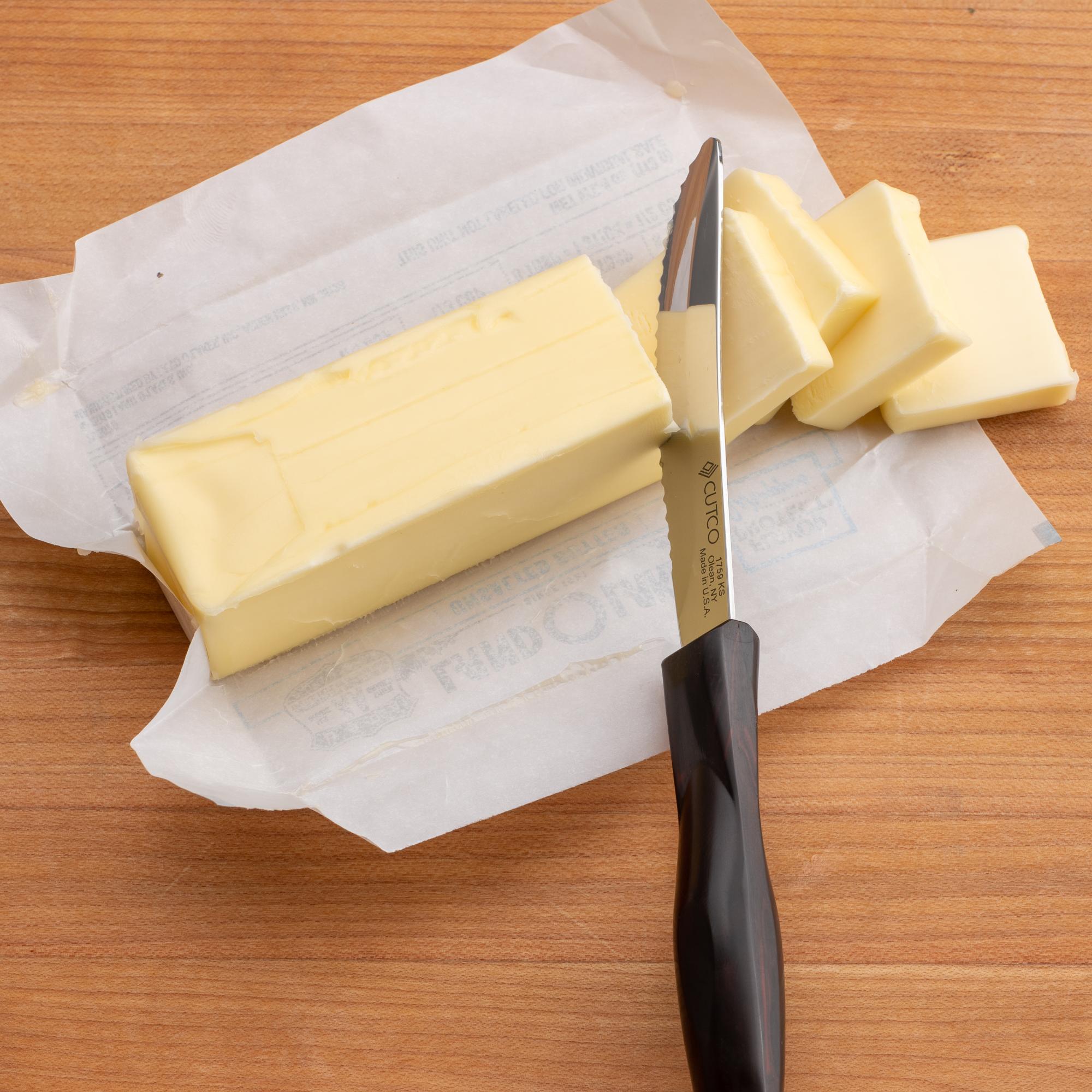 Add the butter to your sauce two pieces at a time, whisking until they melt, before you add the next two pieces. Continue this method until all the butter is melted and then add the pinch of Creole seasoning. Reduce the heat to low and set aside.
To prepare the fish, pat the filets with a paper towel to dry them and season with kosher salt and black pepper. In a large fry pan, heat grapeseed oil over high heat until almost smoking. Make sure to use grapeseed oil as it has a higher smoke point than olive oil, which can impact the flavor of the fish. Sear each sea bass fillet for approximately three minutes on each side until you have a nice golden color. Keep the fish in the pan and place in the oven for an additional five minutes of roasting time.
Serve the fish immediately over some risotto, basic rice or quinoa and drizzle with the warm lemon butter sauce, topping with capers.
This Chilean Sea Bass With Lemon Butter Sauce is amazing! The fish is not fishy, and the simplicity of the lemon butter sauce complements it perfectly, along with the additional salt from the capers. I would make this meal any day of the week, especially because it is so easy. We hope you enjoy!
Ingredients
1 tablespoon grapeseed oil
4 Chilean sea bass fillets, skin removed (about 6 ounces each)
Kosher salt, to taste
Black pepper, to taste
3/4 cup dry white wine
2 tablespoons white wine vinegar
1 medium shallot, minced
2 tablespoons lemon juice
Zest of one lemon
1 tablespoon heavy cream, room temperature
5 tablespoons butter, cold, cut into 1/2-inch pieces
Creole seasoning (or seasoned salt, to taste)
2 tablespoons capers, drained
Lemon wedges, for garnish
Directions
Heat oven to 400 F.
Pat the sea bass dry and season with kosher salt and pepper; set aside.
In a small saucepan, mix together the white wine, vinegar and shallot. Bring the mixture to a simmer over medium-low heat and cook until reduced.
Add the lemon juice, zest and heavy cream, mixing everything together.
Reduce heat to low and add the butter two pieces at a time, whisking until each butter piece melts.
Taste and add a pinch of Creole seasoning.
Keep the butter mixture warm until serving the fish so it doesn't separate.
Preheat a large skillet over high heat. Heat 1 tablespoon of grapeseed oil until very hot and almost smoking. Sear sea bass on each side for 3 minutes.
Remove the skillet from the stove and place in the heated oven. Roast for approximately 5 minutes until the fish is cooked through and is flaky.
Plate the fish over a risotto or rice, drizzle with the lemon-butter sauce and garnish with capers and lemon wedges.
Recommended Tools