Chicken With Green Olives, Tomato and Parsley
234 days ago
Skip to recipe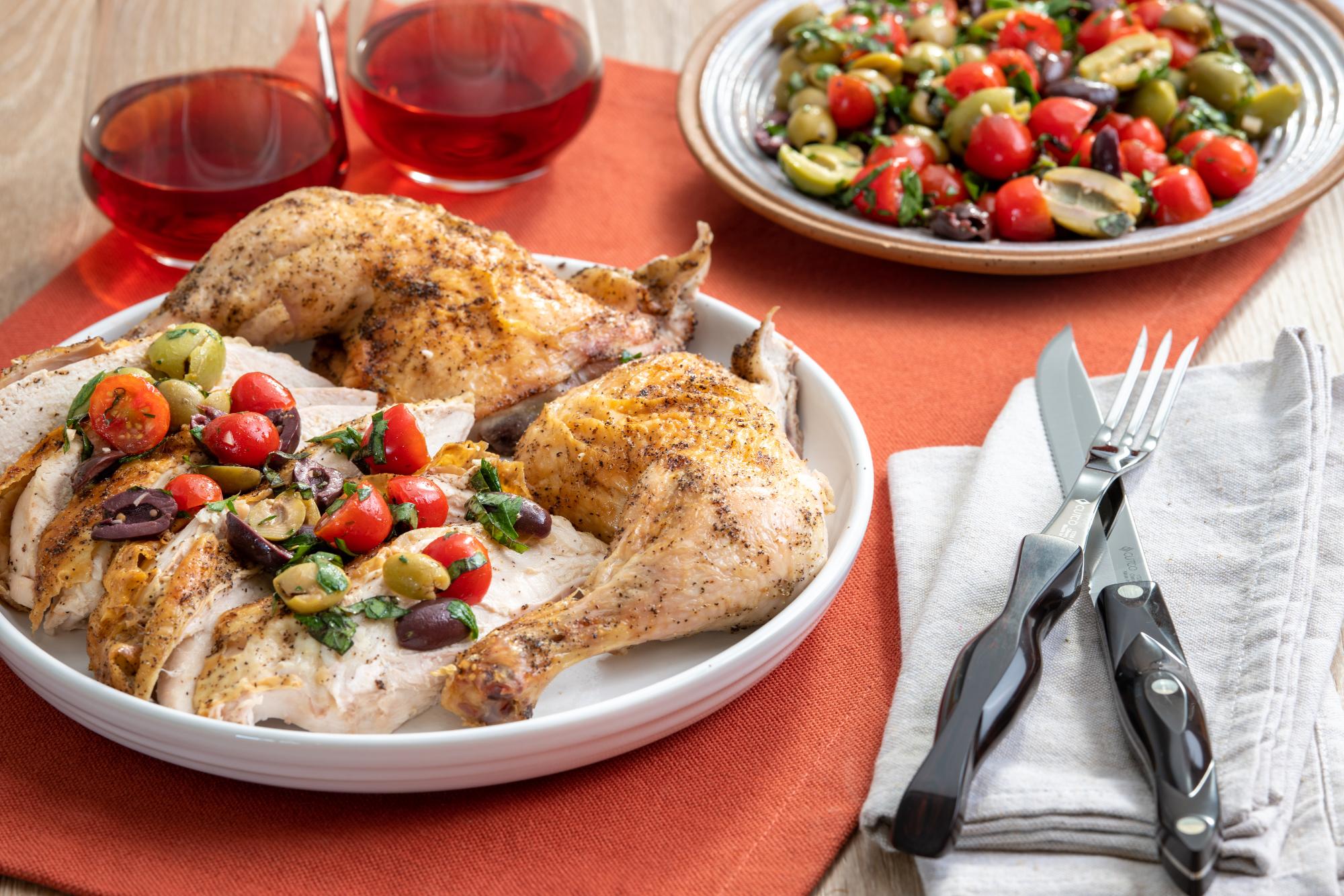 This Chicken with Green Olives, Tomato and Parsley recipe was conceived after I saw something similar in a magazine. I took the basics of that recipe, but made it a bit healthier and stress-free. Consider it a twist on roasted chicken.
Spatchcock the Chicken
One of the tweaks I made to the recipe is to spatchcock the chicken for cooking. I used Super Shears to cut the backbone out of a whole chicken, flipped it over and pressed down to make it lay flat, breast-side up. Doing this makes the chicken cook faster and results in juicier meat.
Take a look at Cutco's simple How to Spatchcock a Chicken tutorial for a step-by-step guide on how to do it.
Make the Sauce
After the chicken is cooked it is topped with a tangy, citrusy and somewhat earthy sauce made from tomatoes, olives, garlic and herbs. It adds layers of flavor, complementing the roasted chicken perfectly.
For halving the grape tomatoes give the Santoku-Style Cheese Knife a try. Its sharp Micro Double-D™ edge glides through them, making a clean cut. What I really like about it is the size. It's just the right length for grape tomatoes.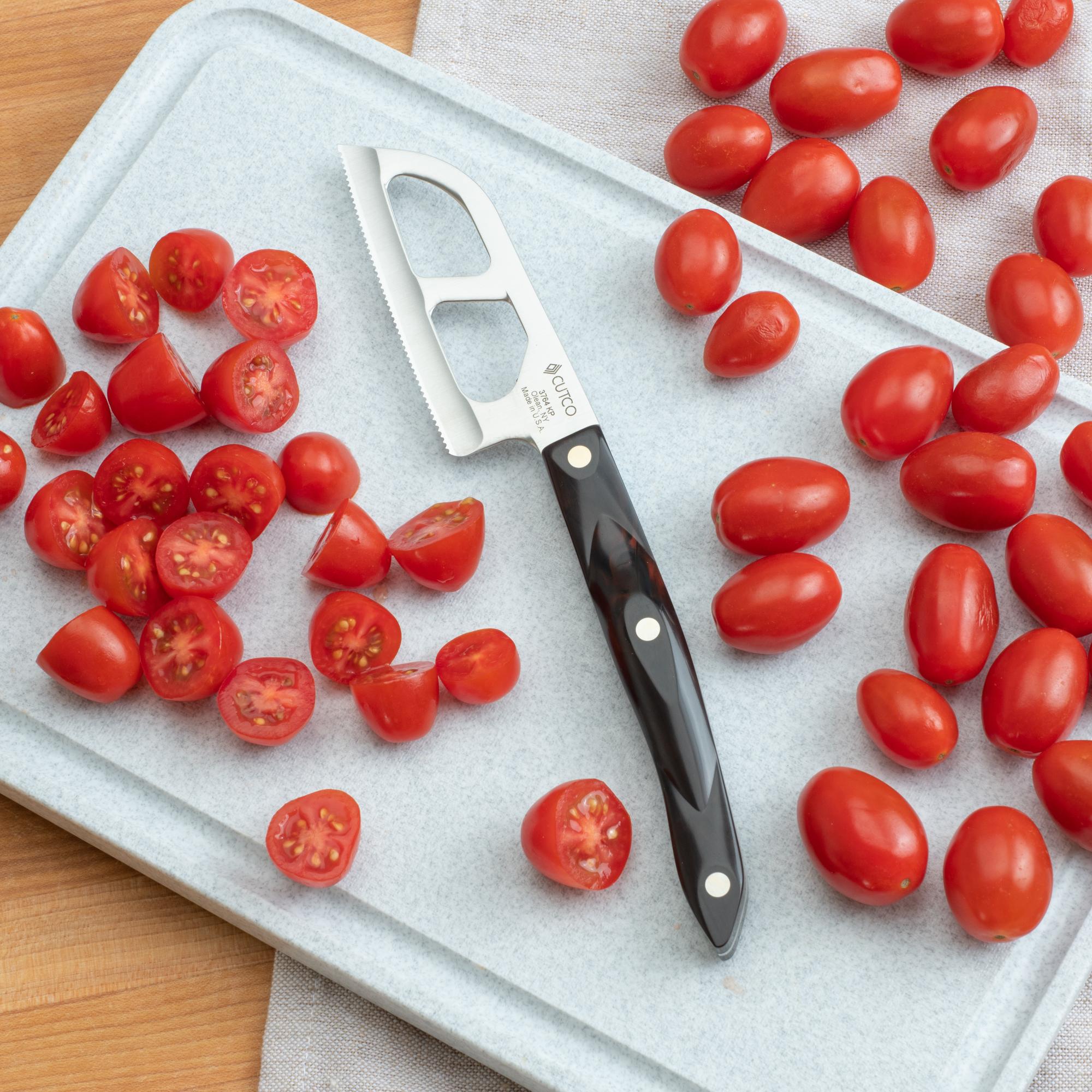 A key to this sauce's success is to lightly salt the tomatoes before you mix them in with the other sauce ingredients. This allows them to release a bit of their juice.
To mince the garlic, chop the parsley and julienne the basil with the 7-5/8" Petite Chef knife. For the basil, you'll actually want to do a chiffonade cut where you stack the leaves up, roll them up like a cigar and thinly slice crosswise.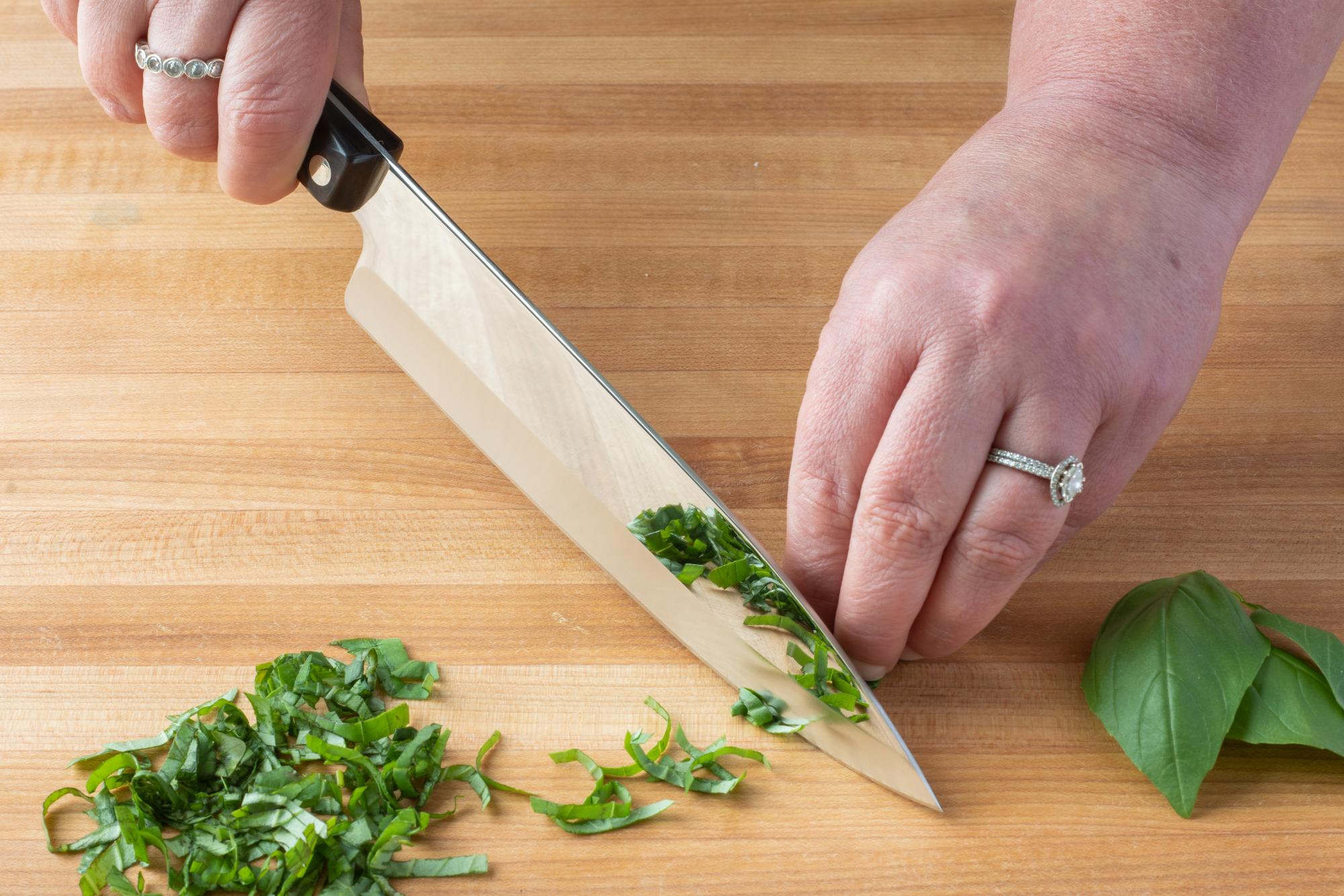 Serving the Roasted Chicken
When the chicken is done, let the meat rest for a few minutes before cutting to allow the juices to redistribute. Since the chicken is spatchcocked, carving it is easy, however it also may require a shorter knife. Cutco's 6-3/4" Petite Carver is a good length for getting smooth, even slices.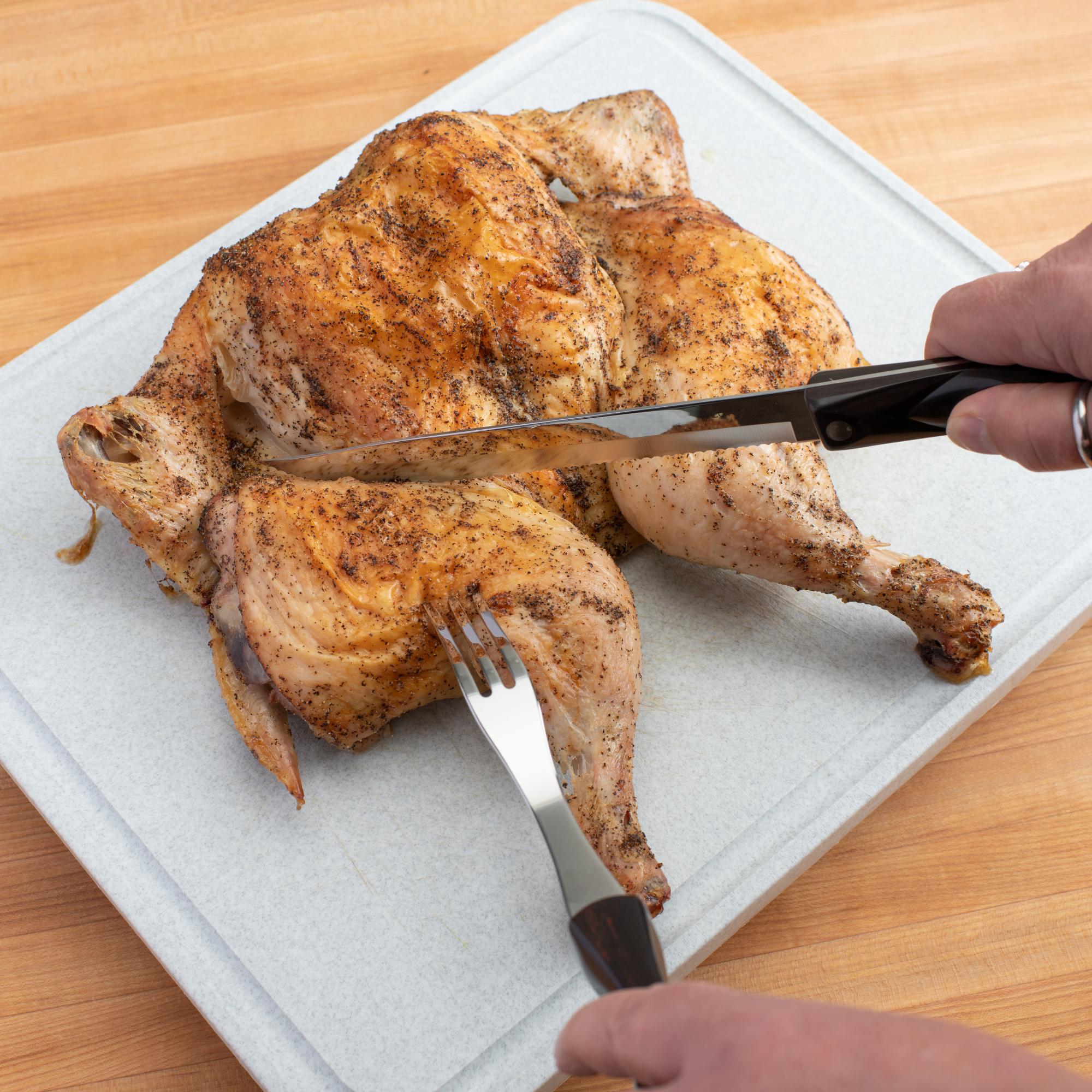 I think you'll really enjoy this Chicken with Green Olives, Tomato and Parsley recipe. To serve it, portion the chicken out on a platter and pour the sauce over the top. As you eat it, scoop up a little bit of everything for the perfect bite.
Ingredients
For the chicken
1 roasting chicken, about 5 pounds
1 cup white wine or chicken stock
2 tablespoons extra-virgin olive oil
1 teaspoon fine sea salt
1 teaspoon coarsely ground black pepper
For the sauce
1 teaspoon fine sea salt
2 cups grape tomatoes, cut in half
2 cups green olives, pitted
2 cloves garlic, minced
1 cup parsley, roughly chopped
1 handful fresh basil, chiffonade
Directions
Heat oven to 425 F convection or 450 F traditional.
Cut backbone from the chicken and discard (spatchcock). Open the whole chicken to lay flat breast-side up. Place in a pan large enough to hold the flattened chicken. Pour wine or stock around chicken.
Mix olive oil with salt and pepper and brush over the chicken. Roast until golden brown, approximately 45 minutes to 1 hour, depending on your oven.
Prepare sauce: Sprinkle salt over cut tomatoes to draw juice out for the sauce. Add in the remaining ingredients and mix together. Set aside while chicken cooks.
To serve: Cut chicken into portions and place on serving platter. Top with sauce.
Recommended Tools