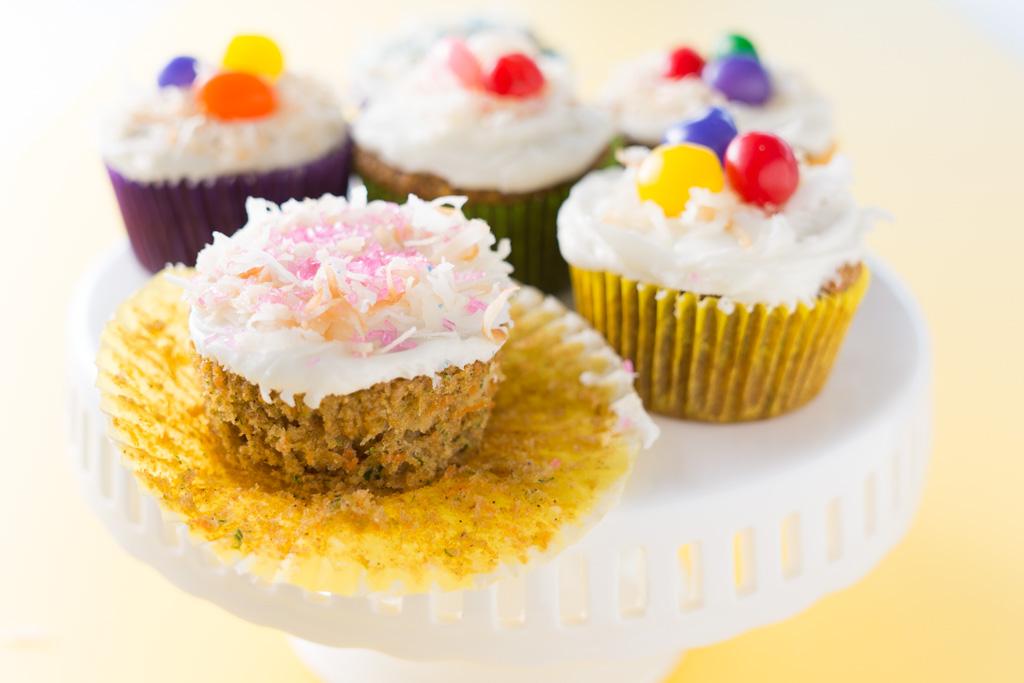 According to the calendar, it is officially Spring. We have made it through another winter.
To me, it marks the beginning of the transition from comfort foods to lighter fare and the use of more fresh vegetables and fruits in cooking and baking. Spring also signals the beginning of more social events like bridal or baby showers and casual get-togethers with family and friends.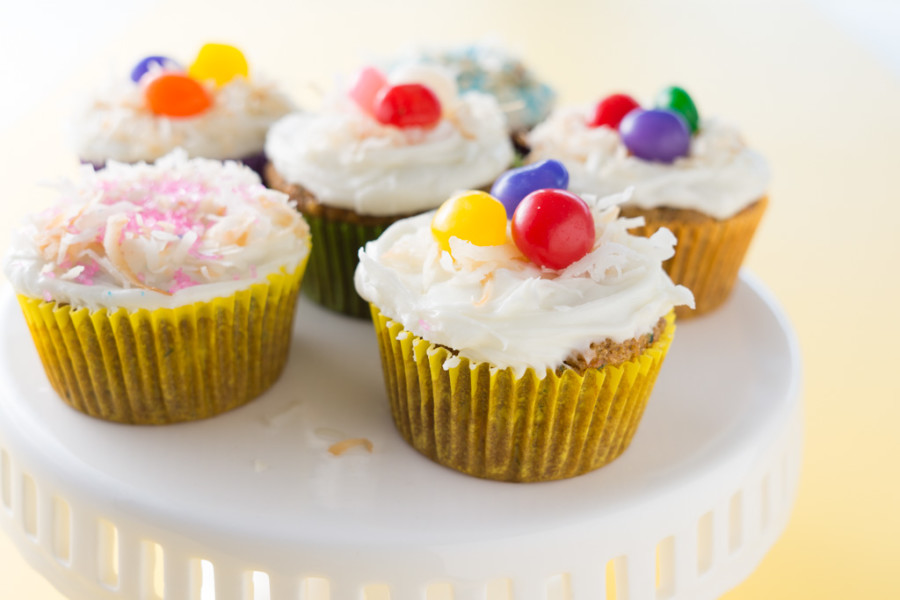 These cupcakes could be a tasty, sweet ending to Easter dinner or just served with a cup of coffee or tea when guests stop by. I like the idea of cupcakes versus cake because they are a perfect single serving size and you can garnish the toasted coconut with additional toppings like jelly beans, colored sprinkles, nuts or candy flowers.
Bonus: How to Toast Coconut
Ingredients
Cupcakes
2 cups white whole-wheat flour
1 1/2 teaspoons baking powder
1 1/2 teaspoons baking soda
1 1/2 teaspoons ground cinnamon
1/4 teaspoon salt
1/8 teaspoon ground nutmeg
3/4 cup granulated sugar
1/2 cup dark brown sugar
1/2 cup canola oil
3 large eggs
1 cup grated carrot
1 cup grated zucchini
3/4 cup drained crushed pineapple in juice
cupcake liners
Frosting
4 ounces 1/3 less-fat cream cheese, softened
1 tablespoon unsalted butter, softened
2 cups powdered sugar
1/2 – 3/4 cup flaked sweetened coconut, toasted
Directions
To make the the cupcakes. Preheat oven to 350°F.
Combine first 6 ingredients in a bowl. In a separate bowl, with a Mix-Stir whisk together the sugars, oil and eggs.
Stir carrot, zucchini and pineapple into sugar mixture.
Add flour mixture to sugar mixture; stir until moistened.
Line a cupcake pan with paper liners. Fill each about two-thirds full. Bake for 25 to 30 minutes or until a toothpick inserted in the center of cupcake comes out clean. Cool in pan about 10 minutes. Remove from pan, place on wire rack and cool completely.
To make the frosting. Combine cream cheese and butter in bowl; beat with electric mixer until smooth. Add powdered sugar; beat until smooth. Frost the cupcakes and sprinkle with toasted coconut flakes.
Note: This recipe can also be baked in a 13 x 9 pan coated with non-stick cooking spray. Bake for 30 – 35 minutes or until a toothpick inserted in the center of the cake comes out clean.
Recommended Tools