Beef and Broccoli Stir-Fry With Orange Sauce
1337 days ago
Skip to recipe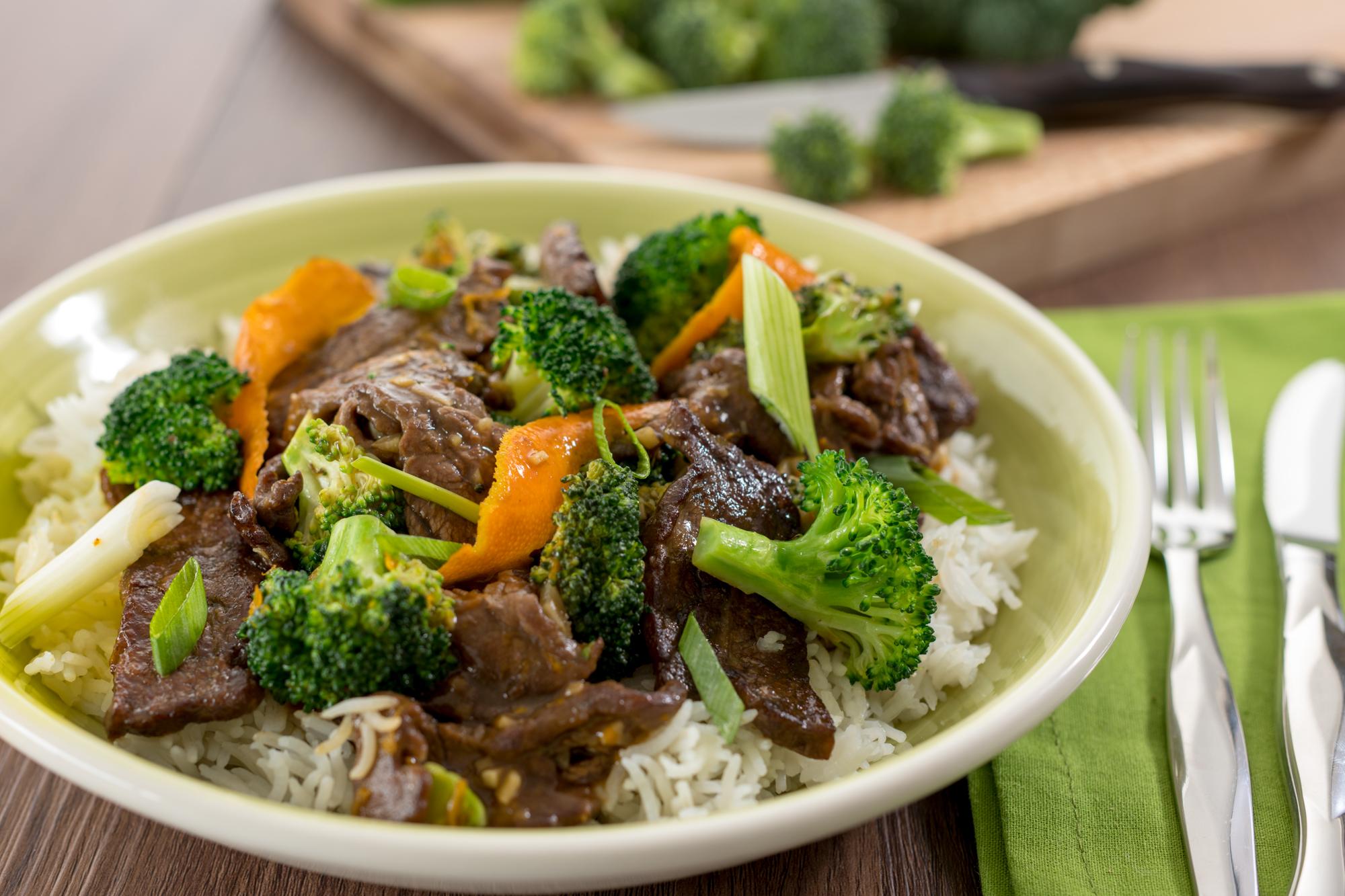 Want Chinese takeout at home? A stir-fry is a good place to start. It's easy to make and you will be rewarded with healthy ingredients and fresh flavors.
There are a few tips to making a successful stir-fry. First, prepare all the ingredients for the recipe and have all your equipment ready before you begin cooking. Once you start cooking, the action goes quickly.
Marinating the meat in a mixture of soy sauce, corn starch and rice wine vinegar for just 10 minutes gives it flavor, tenderizes it a bit, and creates a protective coating from the high heat of the pan.
A wok is not necessary. I prefer a 12-inch non-stick frying pan. You'll be surprised at how little oil you need. Be prepared to cook in batches. Cook the meat first, remove it from the pan, and then cook the vegetables. Return the meat to the pan and add the aromatics such as ginger and garlic. Then add the sauce mixture to coat everything in a rich flavorful sauce.
To thinly slice the beef, use a knife designed with smooth slicing in mind, like Cutco's 9" Carver. The long, sharp Double-D® edge easily slices the beef without ripping or tearing.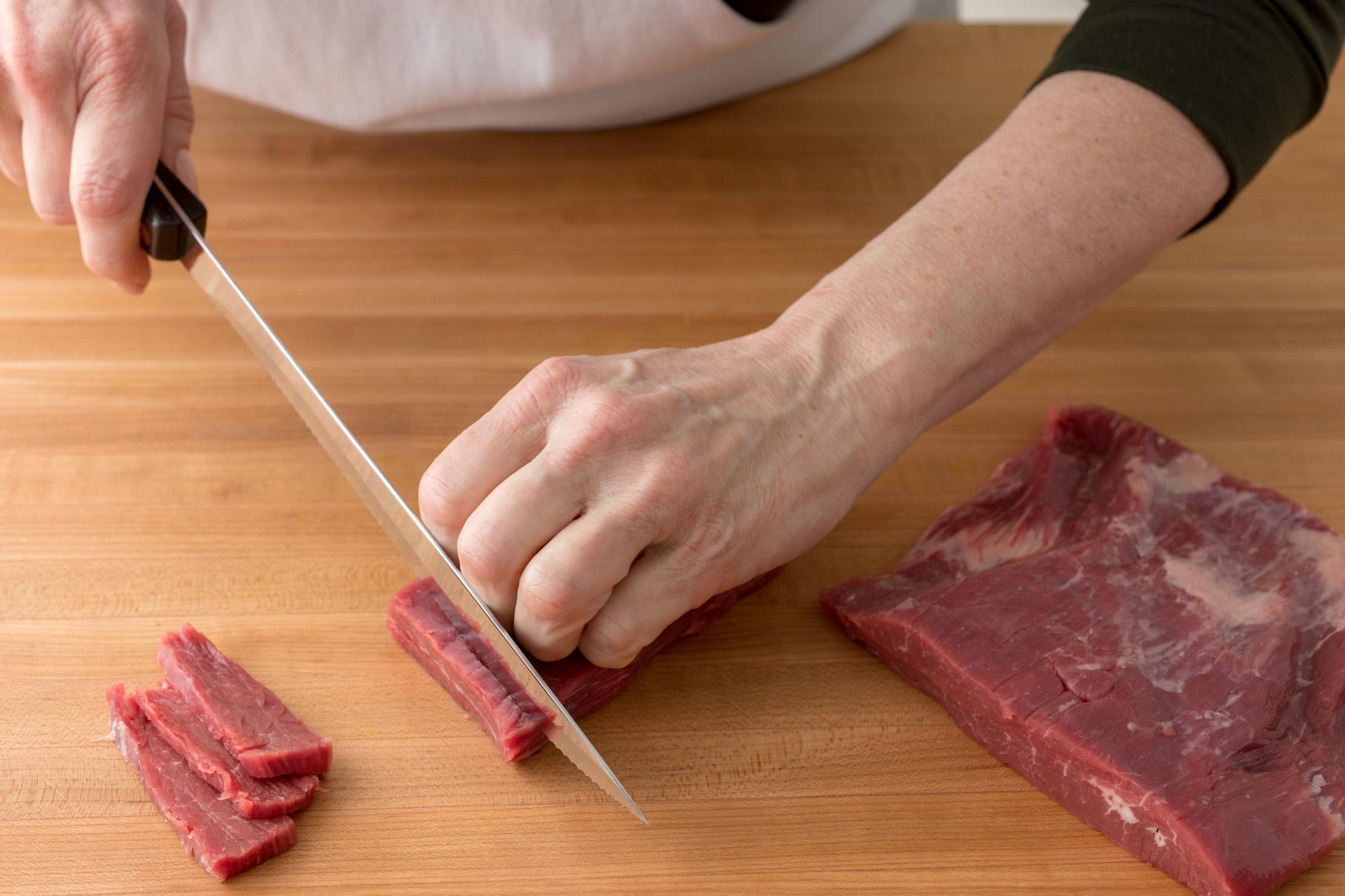 For prepping the broccoli, give the Gourmet Prep Knife a try. Its hefty sharp blade and pointed tip easily cut through broccoli's thick florets.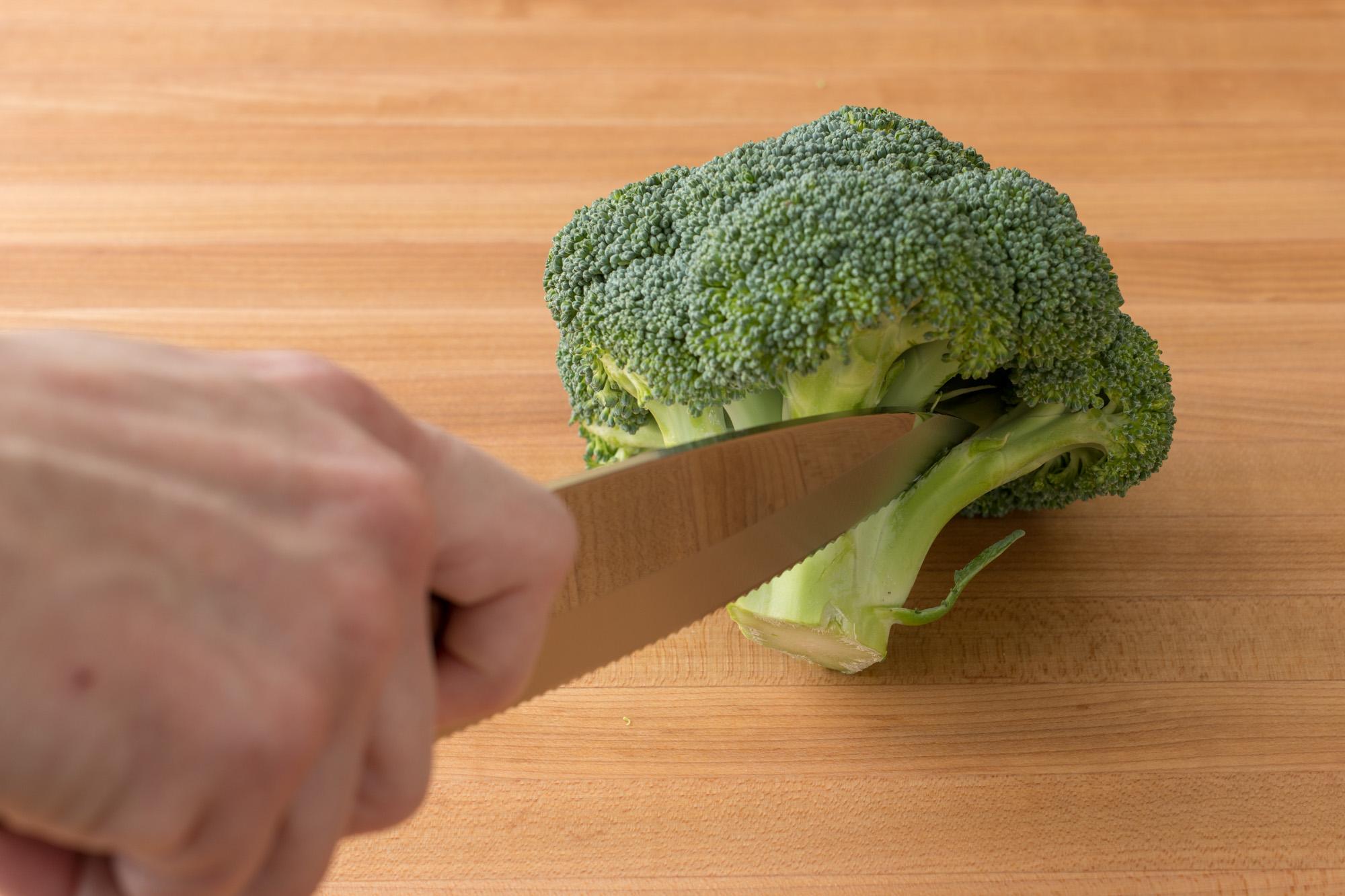 For the ginger, use a spoon to scrape off the papery outer layer and then a 7-5/8" Petite Chef to slice and mince. To learn more about mincing ginger, take a look at Cutco's How to Mince Ginger infographic.
Ingredients
Beef
2 tablespoons low-sodium soy sauce
2 tablespoons cornstarch
1 teaspoon unseasoned rice wine vinegar
1 pound beef steak (flank, sirloin, or strip) sliced ¼" thick
Sauce
2 large oranges
1/4 cup low-sodium chicken broth
2 tablespoons low-sodium soy sauce
2 teaspoons cornstarch
Aromatics
2 tablespoons minced garlic
1-inch piece fresh ginger, minced (about 1 tablespoon)
1 tablespoon toasted sesame oil
Stir-fry
2 tablespoons peanut oil or vegetable oil, divided
1 pound broccoli florets, cut into bite-size pieces
1/3 cup water
2 scallions, sliced 1/2-inch thick on diagonal (for garnish)
Cooked rice or cauliflower rice for serving
Directions
Stir together soy sauce, cornstarch and vinegar. Add sliced beef and stir to coat. Cover and refrigerate 10 minutes or up to 1 hour.
Make the sauce and prepare the aromatics: Zest one orange and remove the orange peel from the other one in thin strips, avoiding the white pith. Squeeze both oranges to yield 1/2 cup juice. In a small bowl, mix together zest, orange juice, chicken broth, soy sauce and cornstarch; set aside. In another bowl, mix together garlic, ginger and oil; set aside. Set aside orange strips.
Drain beef and pat dry with paper towels. (Discard marinade.) Heat 1/2 tablespoon oil in a 12-inch non-stick frying pan over medium-high heat until smoking. Place half of beef in pan in an even layer and cook, without stirring, for 1 minute. Then flip beef slices and cook until browned around edges, about 30 seconds. (Do not overcook!) Transfer beef to a large plate. Wipe out skillet with paper towels. Heat another 1/2 tablespoon oil in skillet and repeat with remaining beef.
Heat 1 tablespoon oil in the same frying pan over medium-high heat. Add broccoli and cook about 1 minute. Add water, cover pan, lower heat to medium, and steam for about 2 minutes, or until tender but still crisp. Remove broccoli to a paper-towel lined plate and pour out any remaining water in pan.
Return beef and broccoli to pan over medium-high heat; clear the center of the pan and add the garlic, ginger and oil mixture along with the strips of orange peel. Sauté until fragrant, about 30 seconds. Add sauce to pan, stirring mixture constantly, until sauce thickens slightly, about 30 seconds. Serve immediately over rice and garnish with scallions.
Recommended Tools