Pulled Barbecue Chicken Sweet Potato Sliders
1741 days ago
Skip to recipe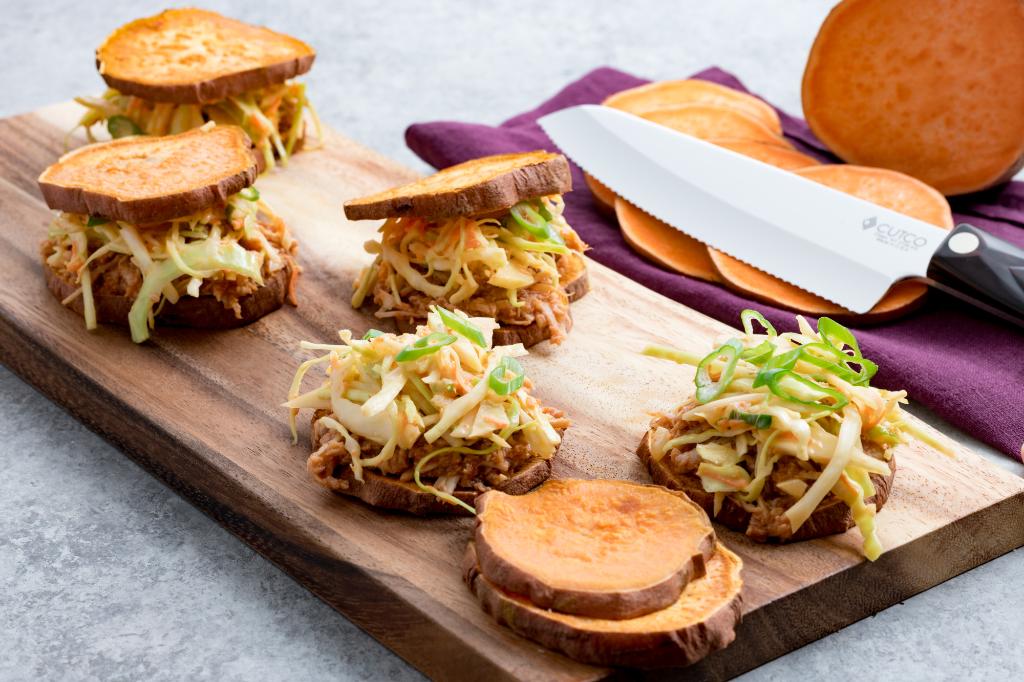 Do you love sweet potatoes as much as I do? I think they are the best vehicle for holding all of the meats that are typically stuffed between breads and buns. Hamburgers, sloppy Joes and this barbecue pulled chicken pair up so well with the sweet flavor of the potatoes.
The tasty tubers help satisfy that carby craving while providing tons of nutrients with each bite. They are filled with calcium, potassium, fiber and vitamin A and C, making them a much healthier option then your typical processed bread products.
The key to success with these Pulled Barbecue Chicken Sweet Potato Sliders is to cut the potatoes into uniform rounds so that they cook evenly. Use the Hardy Slicer to cut them, starting in the middle and working your way out, making 3/4-inch-thick slices. The knife is sharp enough and hefty enough to easily slice through the dense flesh of the potatoes.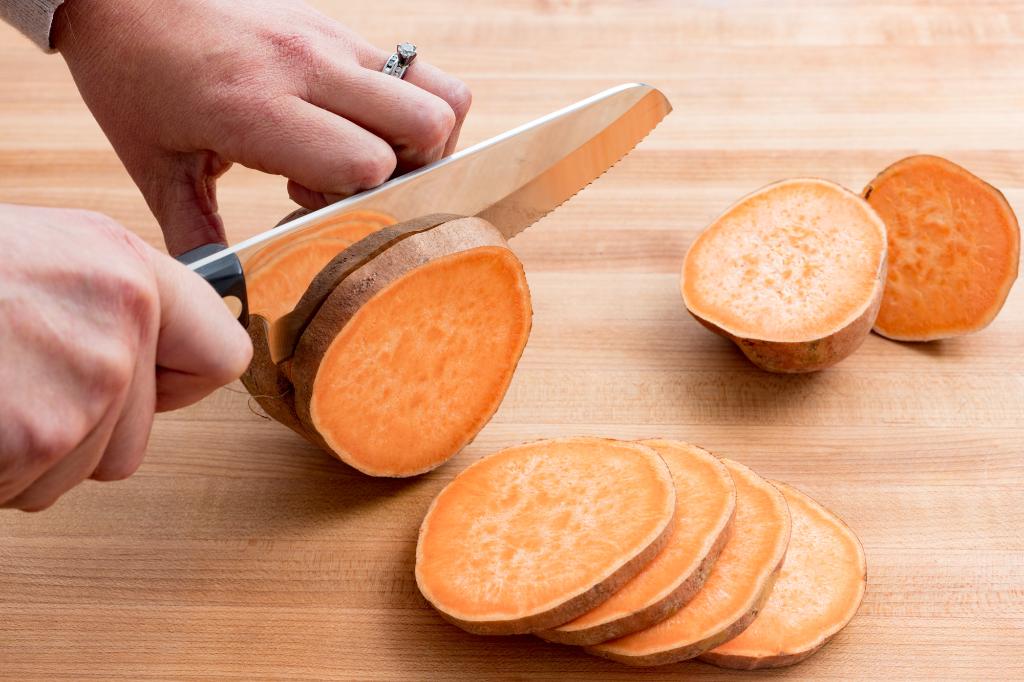 To aid with prep time, make my Prep-Ahead Shredded Chicken recipe a few days ahead of time. Pull it out of the freezer when you're ready to toss the sliders together.
If you want to top these with coleslaw, try Cutco's amazing Easy Summer Coleslaw recipe. The creamy slaw give these added flavor and a little crunch.
Give them a try. I bet you won't even miss the bread.
Nutrition: 275kcal, 13.4g total fat, 59mg cholesterol, 220mg sodium, 15.1g carbohydrate, 2.5g fiber, 23.6g protein
Ingredients
2 large sweet potatoes
1 teaspoon melted coconut oil or avocado oil
Sea salt to taste
1 pound shredded chicken
Low-sugar barbecue sauce
Coleslaw, for serving (option)
Directions
Heat oven to 400 degrees F.
Cut sweet potatoes into about ¾-inch thick slices—start at the middle and work your way out.
Brush both sides of each sweet potato slice with oil and sprinkle with sea salt. Cook in oven for 25-30 minutes, until easily pierced with a fork, then set aside until ready to serve.
Meanwhile, mix shredded chicken with your favorite low-sugar barbecue sauce.
Serve a handful of chicken on a sweet potato bun and top with coleslaw. (Try it with our Easy Summer Coleslaw recipe)
Recommended Tools