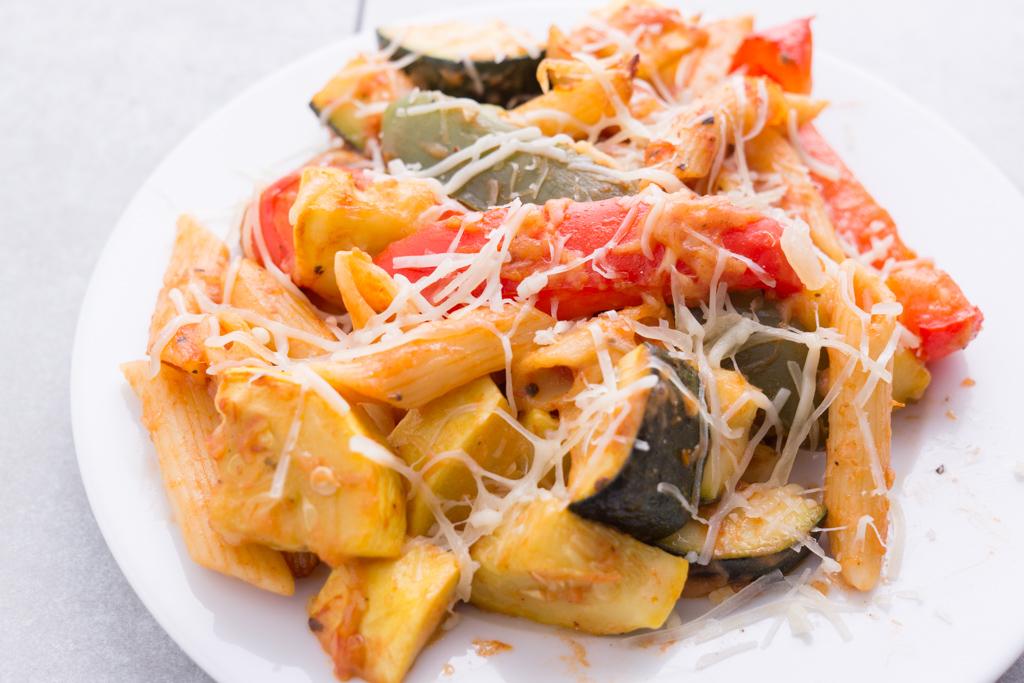 We're entering late summer and its time to harvest all the garden has provided. Hopefully Mother Nature has been good to you this year. A friend of mine brought me some fresh peas and our marketing production coordinator, Michele, has been sharing her bounty of zucchini and summer squash with us. We couldn't let that delicious squash go to waste so I headed to the Cutco Kitchen with both zucchini and summer squash to make this Baked Penne with Summer Vegetables recipe. It is a tasty pasta casserole filled with lots of roasted veggies.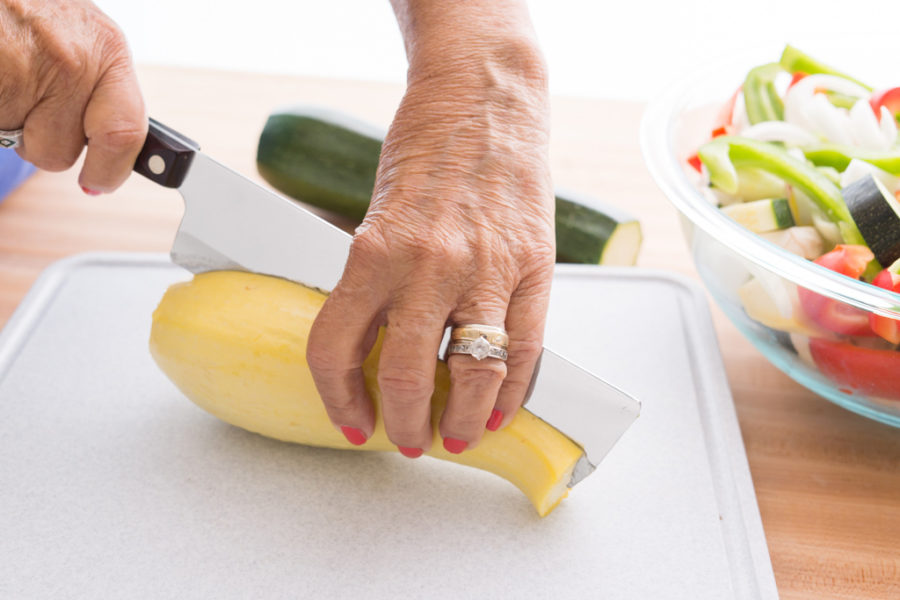 This is a meatless summer casserole but you could add some browned ground beef or Italian sausage if you prefer a hardier dish.
Grab your Cutco Vegetable Knife and start slicing and chopping. To prepare the squash, cut in half lengthwise, then lay the pieces flat to cut lengthwise again into quarters. Slice the quartered squash into even 1" cubes.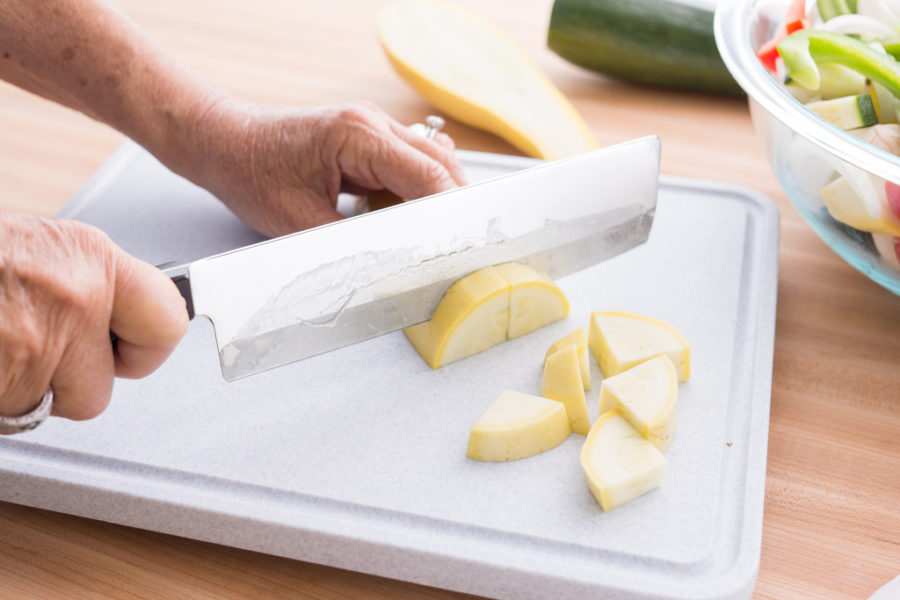 Your vegetables will be ready for roasting in no time. Once roasted they're tossed with cooked penne pasta, marinara sauce and Italian cheeses. From start to finish, you can have this on the table in a little over an hour. It's a summer comfort dish that's sure to make a regular appearance on your menu, well into the fall.
Originally published Aug. 16, 2016.
Ingredients
1 red pepper, cored and cut into 1/2" strips
1 green pepper, cored and cut into 1/2" strips
2 zucchini, cubed
2 summer squash, cubed
5-6 white button mushrooms, sliced
1 yellow onion, peeled and sliced into 1/2" strips
1/4 cup extra virgin olive oil
1 teaspoon salt, divided
1 teaspoon freshly ground pepper, divided
1 tablespoon Italian seasoning
1 pound penne pasta
3 cups marinara sauce
2 cups (8-ounce package) shredded 6 cheese Italian blend (mozzarella, smoked provolone, Romano, fontina, asiago and Parmesan)
1/3 cup grated Parmesan cheese
Directions
Heat oven to 450°F. Toss the peppers, zucchini, summer squash, mushrooms and onion on a large baking sheet with olive oil, 1/2 teaspoon salt, 1/2 teaspoon of pepper and the Italian seasoning. Roast 15-20 minutes or until crisp tender.
Bring a large pot of salted water to a boil over high heat and add the pasta. Cook for about 6 minutes. Since the pasta will be cooked a second time in the oven, you want to make sure it is still a bit firm. Drain the pasta and put in a large bowl. Add the roasted vegetables, the marinara sauce, Italian blend cheese, 1/2 teaspoon salt and 1/2 teaspoon pepper. Mix gently until all the pasta is coated with sauce and the ingredients are combined. Spray a 9x13 pan with non-stick spray. Pour the pasta mixture into the pan, sprinkle with the Parmesan cheese. Bake until the top is golden brown and the cheese melts, about 25 minutes.
To freeze and bake later, pour the pasta into the pan. Cover the dish with plastic wrap, then with foil. Freeze up to a month. To serve, thaw in the refrigerator overnight. Heat the oven to 375°F, remove the plastic wrap, recover with foil. Bake for 1 hour. Uncover, sprinkle with Parmesan cheese and bake about 20 minutes more or until heated through. Let stand a few minutes before serving.
Recommended Tools