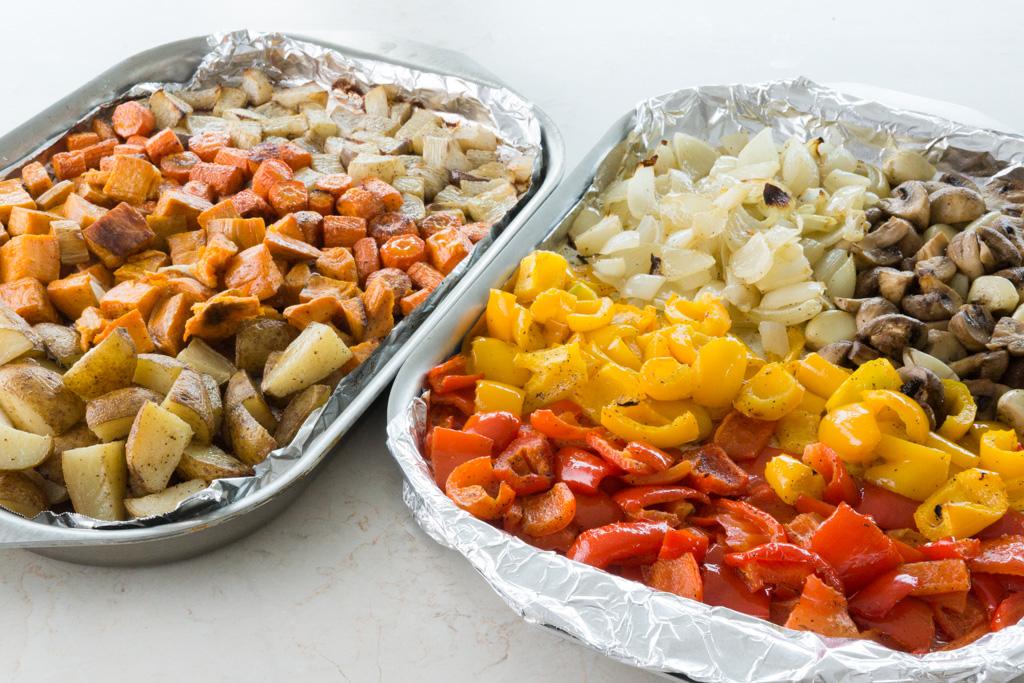 It's sometimes difficult to get enough vegetables into our diets. A lot of us have an aversion to eating them or trying new ones that we rarely break out of our comfort zone.
If you haven't done so already, try roasted vegetables. They're easy to prepare and you can use combinations that you and your family like or you can combine them with some vegetables don't usually eat. Maybe you wouldn't like turnips on their own but when combined with something else, you might discover you like them. I roasted all the vegetables in this recipe using only olive oil, salt and pepper, but you could add other spices like ground red pepper, ground Italian spices, cumin or anything else you might prefer. As noted in the recipe, you can serve these as a side dish or use them in other recipes.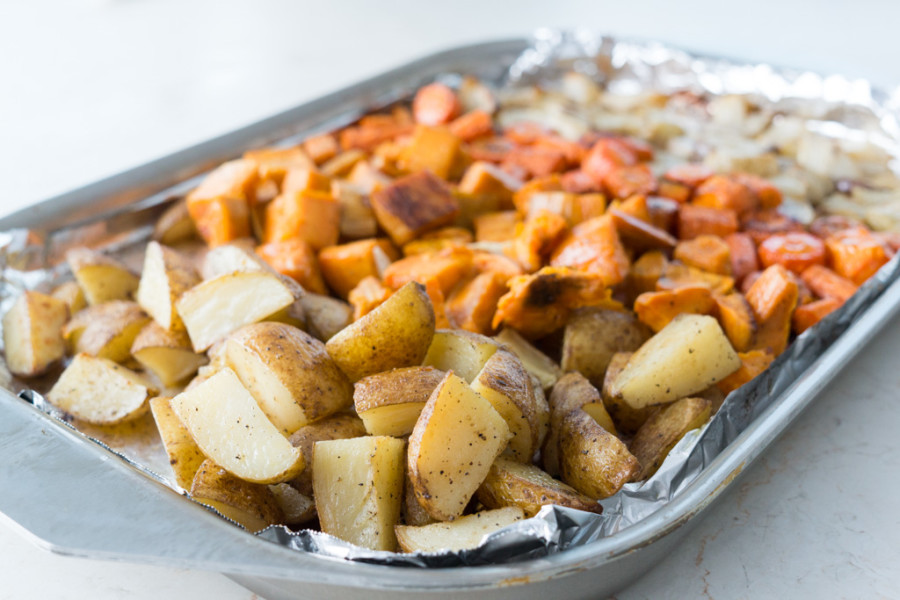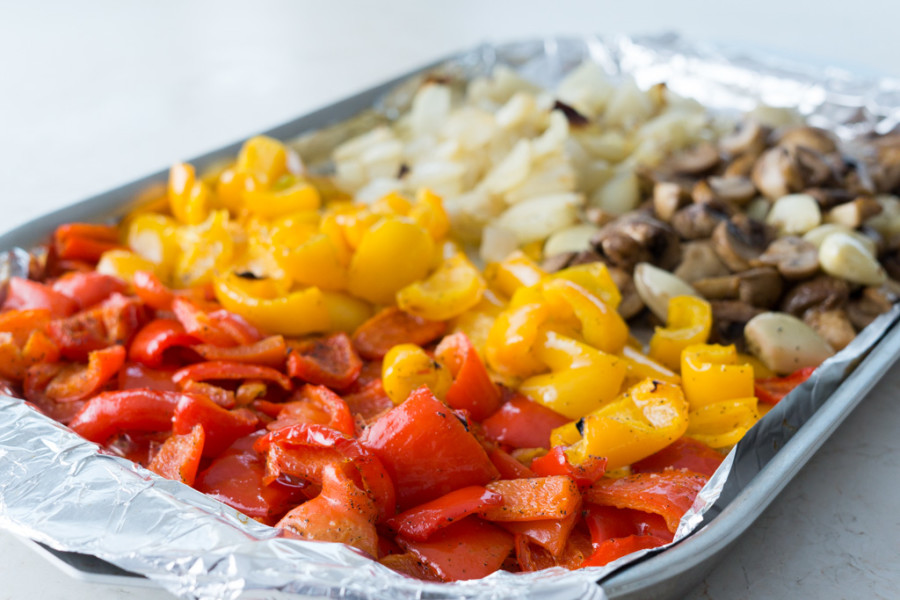 We combined our roasted vegetables with braised chicken thighs.
To make prepping faster and easier, use a vegetable knife to cut and chop the veggies.
Ingredients
5 cups of white or sweet potatoes or a combination of both, peeled and cut into 1-inch pieces
2 cups coarsely chopped onions (2 large)
1 pound of carrots cut into 1-inch pieces (3 cups)
12-ounce turnip, cut into 1-inch pieces
1 pound red sweet peppers, cut into 1-inch pieces (4 cups)
1 pound yellow sweet peppers, cut into 1-inch pieces (4 cups)
1 pound button mushrooms, cut in half (6 cups)
1 head of garlic, separated into cloves, peeled and thinly sliced
1/2 cup olive oil
2 teaspoons kosher salt
2 teaspoons ground black pepper
Directions
Preheat oven to 450°F. Line four 15 x 10 x 1 inch baking pans with foil. Spray foil with non-stick cooking spray.
Place potatoes and onions in one pan. Place carrots and turnip in second pan. Place peppers in third pan. Place mushrooms and garlic in fourth pan.
Drizzle olive oil evenly over vegetables in each pan and sprinkle with salt and pepper.
Put pans with potatoes and onions, and carrots and turnip in the oven. Roast, uncovered, for 45 to 50 minutes, stirring once. Remove from oven and cool on wire racks.
Put pan with peppers in the oven. Roast for 15 minutes. Leave peppers in the oven and add the pan with the mushrooms and garlic. Roast for 10 minutes or until vegetables are tender, stirring once. Remove from oven and cool on wire racks.
Mix all cooled vegetables in a large bowl and place desired amounts in airtight containers. Store in refrigerator up to 5 days for use in recipes as desired.
These vegetables can be combined with cooked chicken or beef, stirred into a pasta sauce, used in soup, tossed in a salad, used to fill an omelet or quesadilla or as a stand-alone side dish.
Recommended Tools