Baked Eggplant Parmigiano Stacks With Basil Spinach Cream
389 days ago
Skip to recipe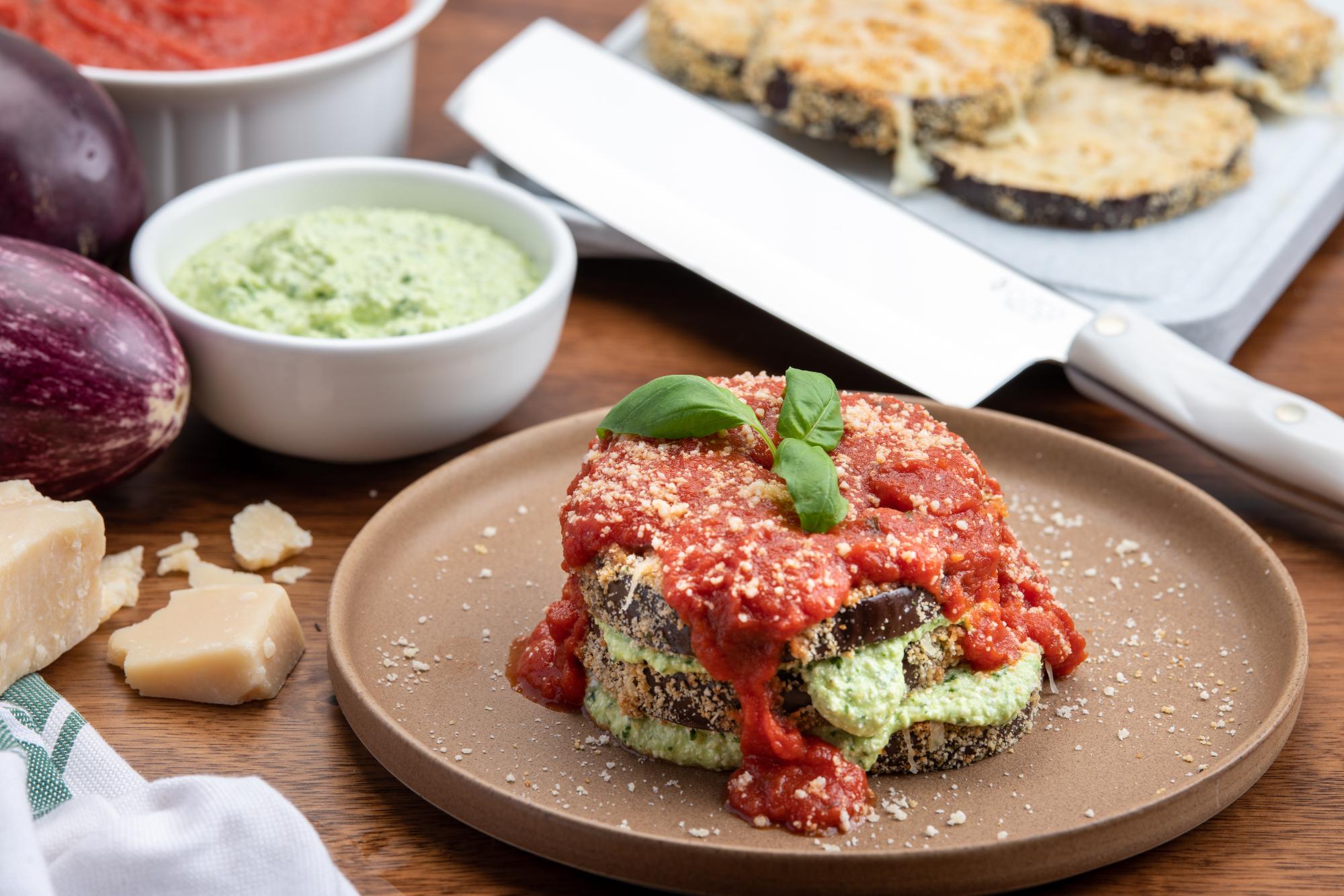 Fresh eggplant shines in this plant-based dish. I created it by combining two of my most popular recipes, basil spinach cream and baked eggplant. In the end, this Baked Eggplant Parmigiano Stacks with Basil Spinach Cream recipe delivers layers of flavor for a perfect bite every time.
Make the Basil Spinach Cream
For this recipe, make the basil spinach cream first. In fact, make it a day ahead of time to really let the flavors marry.
The 7-5/8" Petite Chef knife works well for prepping the ingredients for the cream. Use it to chiffonade the baby spinach and to mince the garlic and shallot.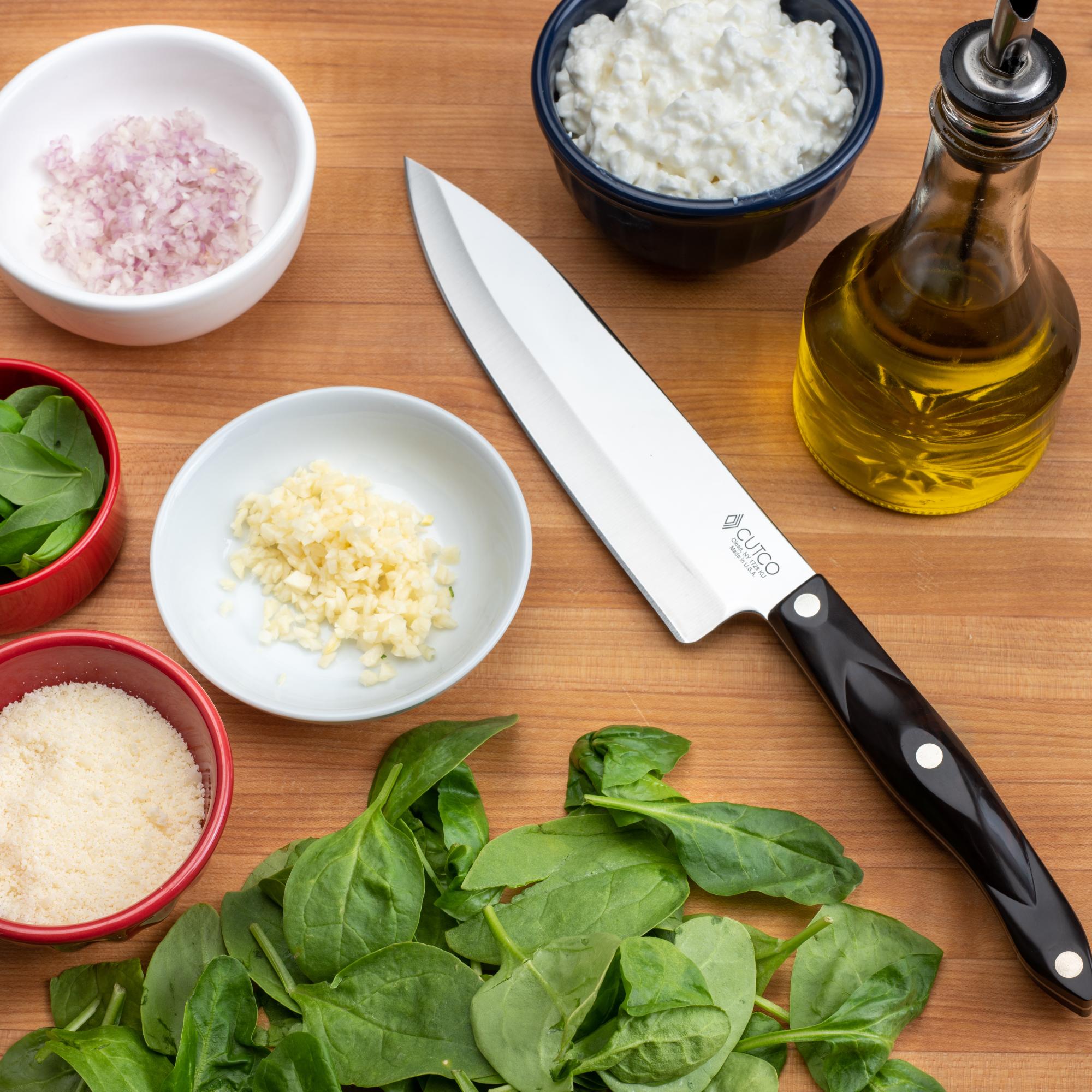 The basil spinach cream comes together quickly in a food processor by processing the spinach, garlic, shallot, Parmigiano-Reggiono and basil into a paste, and then slowly adding the cottage cheese and oil.
This cream is very flavorful and healthy. In addition to complementing baked eggplant, it can also be used as a low-fat dip or spread.
Preparing the Baked Eggplant
Prepare the eggplant by cutting it into one-half-inch thick slices using a Vegetable Knife. Try to maintain that thickness as you cut so that the slices cook evenly.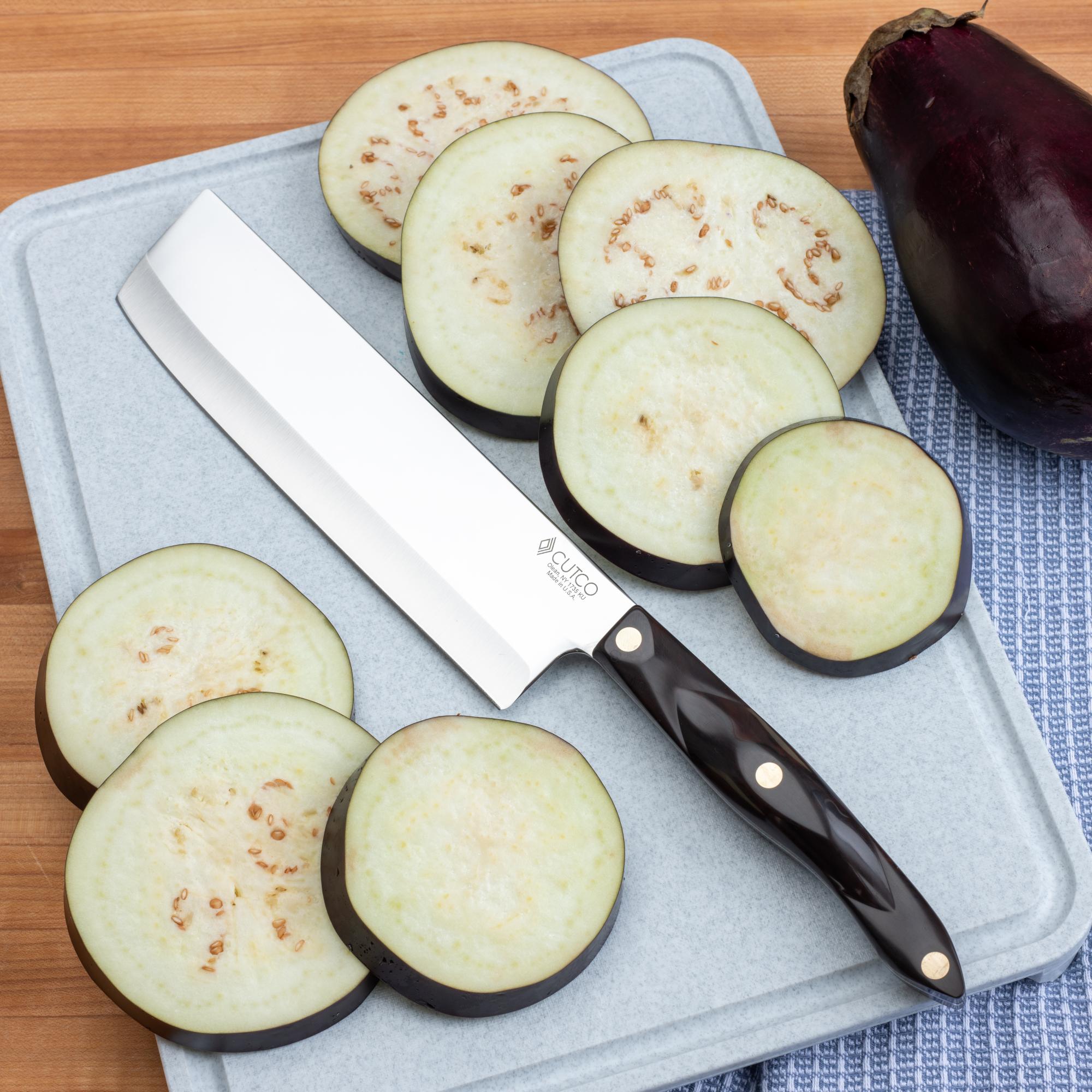 Salt the slices and let sit for 15 to 30 minutes to release some of the moisture and then pat dry. Salting the eggplant prevents the slices from absorbing too much oil.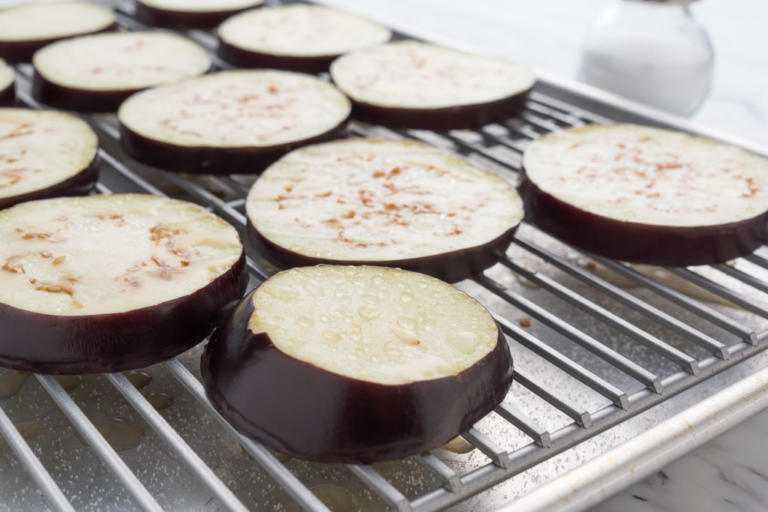 The slices are dipped in egg and then a seasoned breadcrumb mixture before baking.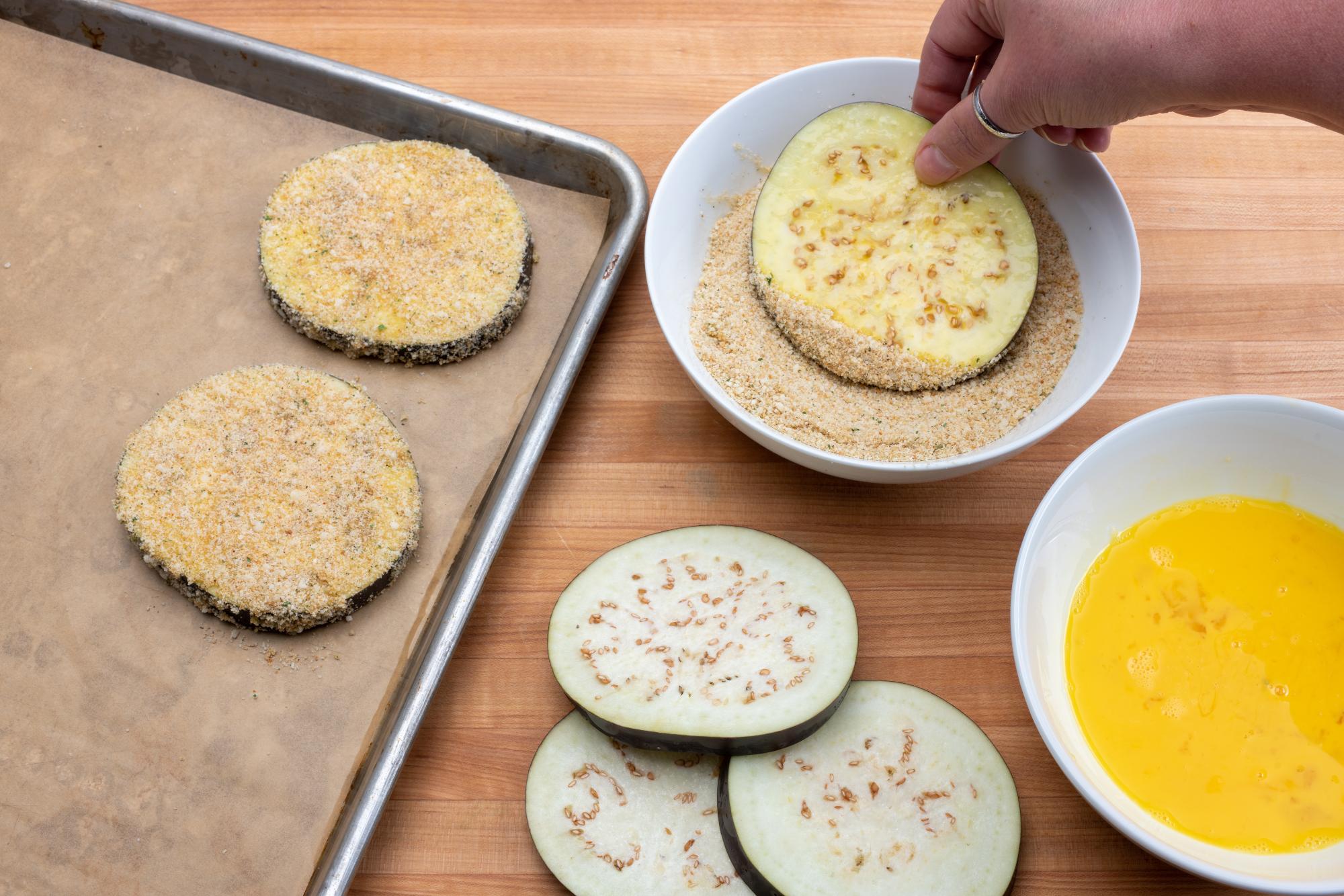 Assembling the Eggplant Stacks
Here is where the art of this dish comes into play. Serving baked eggplant Parmigiano in a stack with the spinach basil cream and the marinara sauce makes an eye-catching presentation.
Place a slice of baked eggplant on the plate and top with some basil spinach cream. Layer on another slice, then more cream and a final slice. Top the stack with marinara and freshly grated Parmigiano-Reggiano.
My baked eggplant Parmigiano stack included three slices, but you make the call. Scale back to just two slices or go big and make it a four-stacker.
Ingredients
Basil Spinach Cream
1 cup fresh baby spinach, finely chopped
2 cloves garlic, minced
1 large shallot, minced to make 1 tablespoon
1/4 cup grated Parmigiano-Reggiano
1/2 cup fresh basil
1 cup nonfat cottage cheese
2 teaspoons extra-virgin olive oil
2 tablespoons skim milk (optional)
Marinara Sauce
2 tablespoons extra-virgin olive oil
2 cloves garlic, chopped
2 cans (28-ounce each) tomato puree or crushed tomatoes
1 cup fresh basil leaves, sliced
Eggplant
1 eggplant, approximately 1¼ pounds, sliced into ½" thick rounds
3 large eggs
1 cup Italian-style breadcrumbs
1/4 cup grated Parmigiano-Reggiano cheese
1 teaspoon salt
1/2 teaspoon black pepper
1/4 cup shredded part-skim mozzarella cheese
Directions
Heat oven to 400 F.
Prepare Basil Spinach Cream:
Place chopped spinach, garlic, shallot, Parmigiano-Reggiano and basil in a food processor. Process to a paste.
With the motor running, add cottage cheese and oil. Process until smooth. Add skim milk if needed. Cook's Tip: Best when made a day ahead.
Prepare marinara:
Place olive oil in the bottom of a large saucepan. Add garlic and cook until fragrant but not dark brown. Add tomatoes and basil. Bring to a low boil and then turn to simmer to cook while you prepare the eggplant.
Prepare the eggplant:
Lightly salt the eggplant, let sit for 15 minutes to a half-hour and then pat dry. This will prevent eggplant from absorbing too much olive oil.
Scramble eggs in large dish or pie plate.
Place breadcrumbs, Parmigiano-Reggiano, salt and pepper in a large dish or pie plate. Mix well.
Dip eggplant in egg, and then breadcrumb mixture. Place on parchment-lined baking sheet.
Bake for about 20 minutes or until eggplant is golden brown. Sprinkle the rounds with mozzarella cheese.
Assemble Eggplant Stacks:
Place one slice of oven-baked eggplant on a plate, top with basil spinach cream and then another slice of eggplant. Then repeat with more basil spinach cream and another slice. Cover the stack with marinara sauce and freshly grated Parmigiano-Reggiano.
Recommended Tools