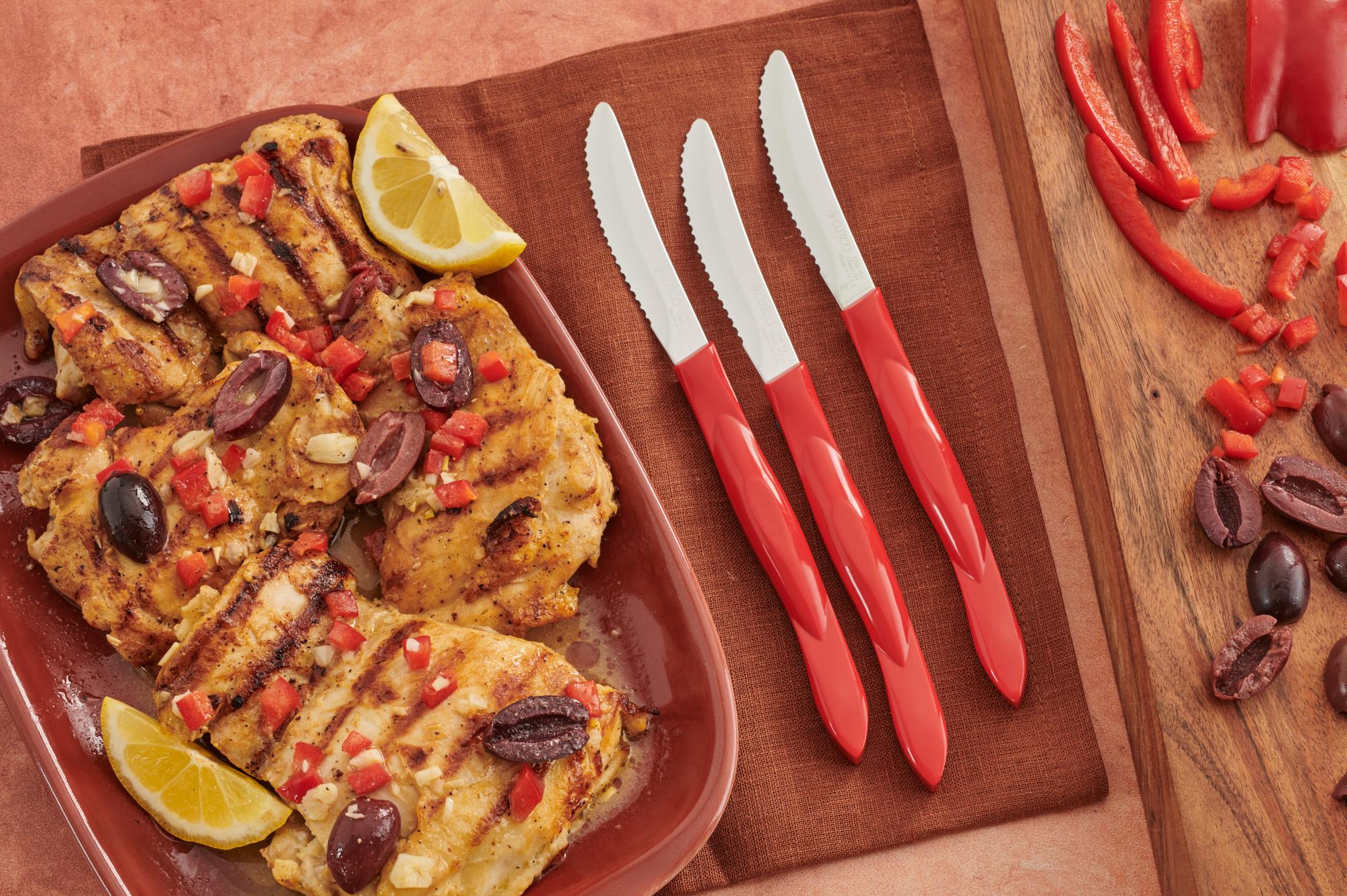 This one is for the olive-lovers out there. My husband is one of them and this recipe for Grilled Lemon Chicken With Olives is one of his favorites. It seems like each time I make it he asks me to add in even more Kalamata olives.
Making the Marinade
The recipe calls for three-quarters cup of halved Kalamata olives, but of course feel free to add more. To prepare them, use Cutco's Mini Cheese Knife. The blade length matches the size of the olives and the sharp edge easily cuts through with little effort.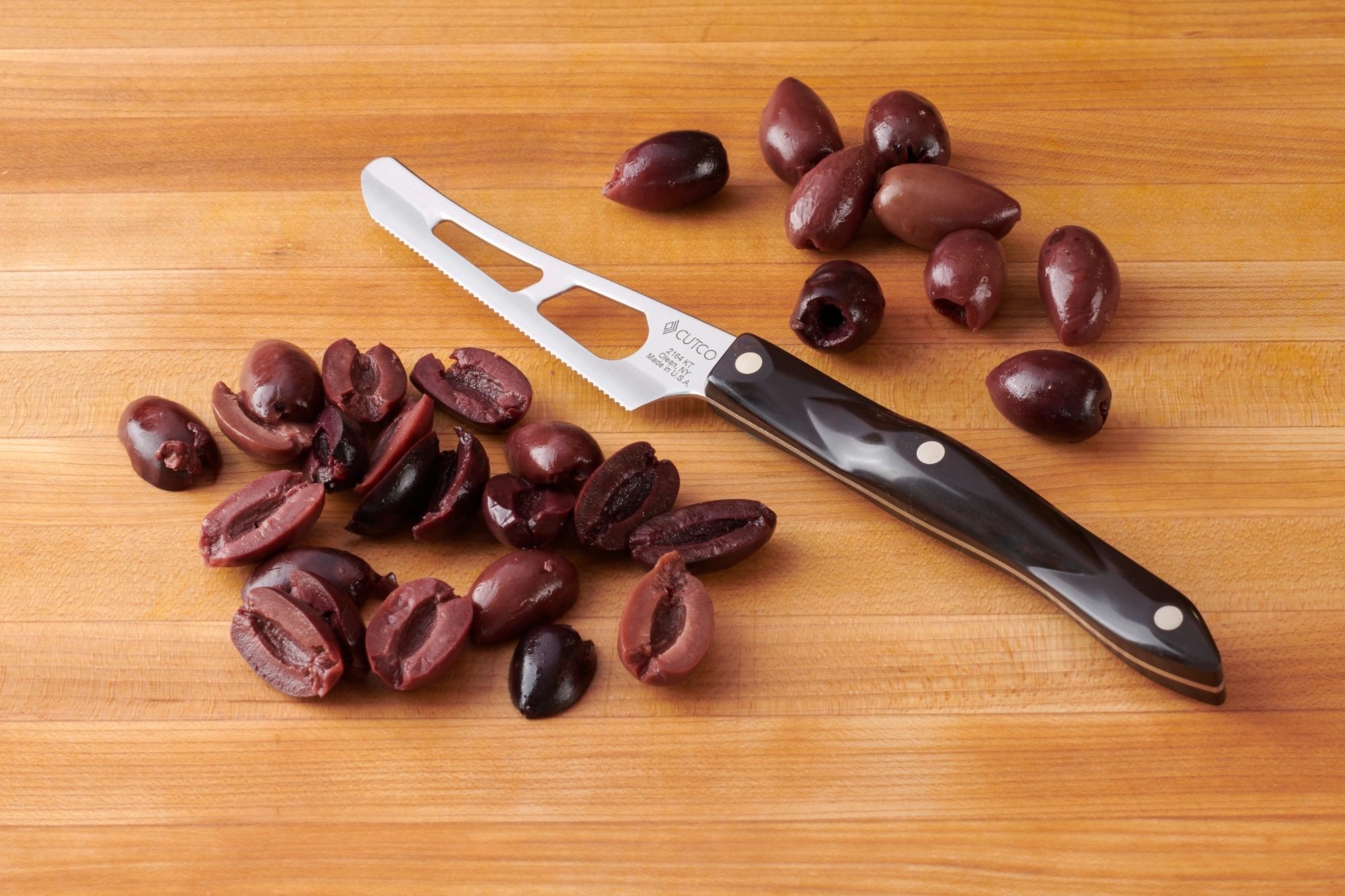 The olives will be part of the marinade, which is tangy, sharp and salty, infusing a lot of flavor into the chicken. Using Cutco's Mix-Stir, start by whisking together the fresh lemon juice, olive oil, diced red pepper, Dijon mustard, garlic, salt and pepper then stir in the Kalamata olives.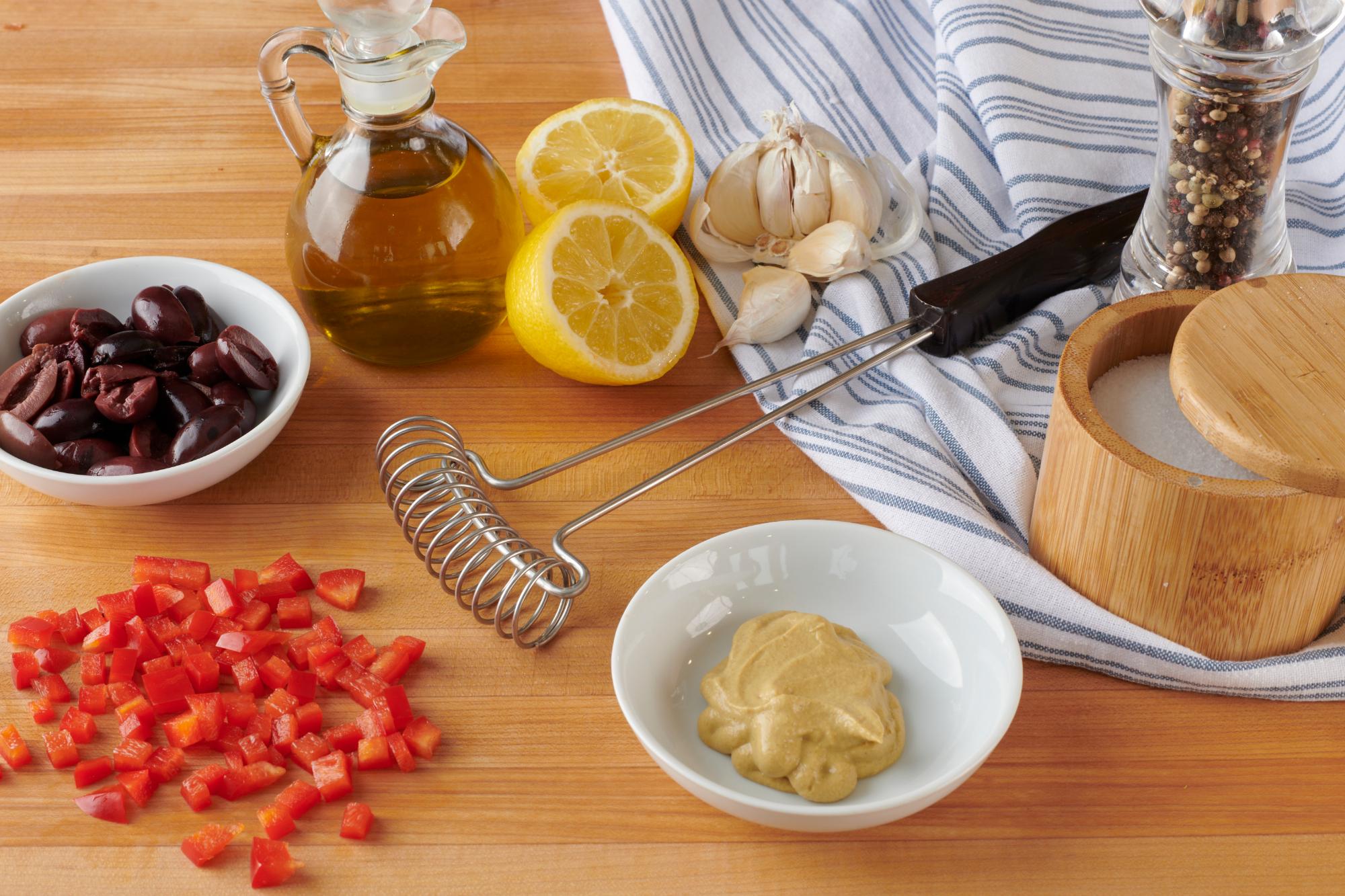 Three-quarters of the mixture will be used to marinate the chicken. Save the rest for basting and to use as a side sauce for serving. I often triple the marinade so I have extra to serve with the chicken and the leftovers.
Grilling the Chicken
Once the chicken has marinated for 15 to 20 minutes toss it on a hot grill, either outside or using a grill pan on the stove top. Make sure to toss out the marinade in the bag.
Grill three to five minutes or until the chicken easily releases from the pan. Flip, baste the chicken with some of the reserved marinade and cook about three minutes until golden brown. Turn again, baste and grill another six to eight minutes or until juices run clear when you pierce the thickest part of the chicken and internal temperature reaches 170 F.
The chicken comes out moist and full of flavor. Serve it alongside the remaining marinade and get ready for the accolades to roll in.
I usually make a double batch of this Grilled Lemon Chicken With Kalamata Olives recipe so we have plenty for leftovers, which make a great topping for a quick pasta dinner.
Oh, and my best advice for this recipe…you can never have too many olives!
Marianne Brand, chef and former restauranteur, is the director of food and beverage education at New York Kitchen in Canandaigua, a center that showcases New York State's agriculture through cooking classes, beverage pairings and other programs.
Ingredients
3/4 cup fresh lemon juice
1/3 cup olive oil
3 tablespoons finely chopped red peppers
2 tablespoons Dijon mustard
2 large garlic cloves, pasted
1 teaspoon kosher salt
1/2 teaspoon black pepper
3/4 cup Kalamata olives, pitted and halved
4 boneless skinless chicken thighs
2 tablespoons vegetable oil
Directions
In a small bowl, whisk together lemon juice, olive oil, red pepper, mustard, garlic, salt and pepper. Stir in olives. Place chicken in a zip lock bag. Add three-quarters of the marinade to the same bag. Be sure to reserve the remaining marinade for basting and serving.
Close bag and rub the marinade into the chicken for a couple minutes.
Refrigerate chicken for 15 to 20 minutes.
Preheat grill pan over medium heat. Using a paper towel, rub grill pan with vegetable oil.
Pour out the marinade in the bag to dispose.
Place chicken on the preheated grill pan and grill for 3 to 5 minutes or until it doesn't stick to the grill. Flip chicken over and baste with reserved marinade. Grill for 3 minutes or until golden.
Turn chicken, baste, and grill 6 to 8 minutes or until juices run clear when the thickest part of the chicken is pierced and internal temperature reaches 170 F.
Serve with remaining reserved marinade.
Recommended Tools