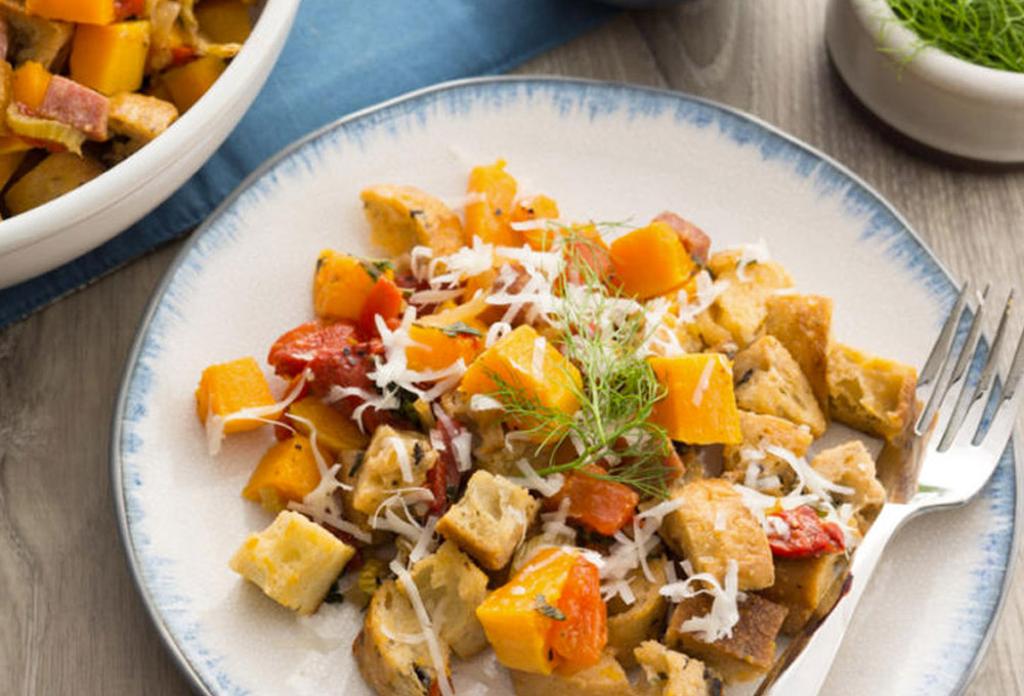 Last year, we posted a recipe for Rustic Panzanella Salad made with a variety of vegetables readily available during the spring and summer months. Things like red, green and yellow peppers and tomatoes and cucumbers. By changing some of the ingredients, this summer salad easily becomes a winter salad.
Preparing the Panzanella Ingredients
Before peeling and cutting the butternut squash, use the tip of a sharp knife to poke some holes into the skin of the squash and then microwave it for a few minutes. It will soften it just enough to make cutting it easier. Peel the squash with the Vegetable Peeler and then cut it into cubes using a large prep knife like the 7" Santoku or a Chef knife.
To cut the fennel, trim off the fennel stalks using a sharp knife. Cut the bulb in half and peel off any outer layers that are wilted and remove the core. Lay the bulb with the flat side down on the cutting board and thinly slice.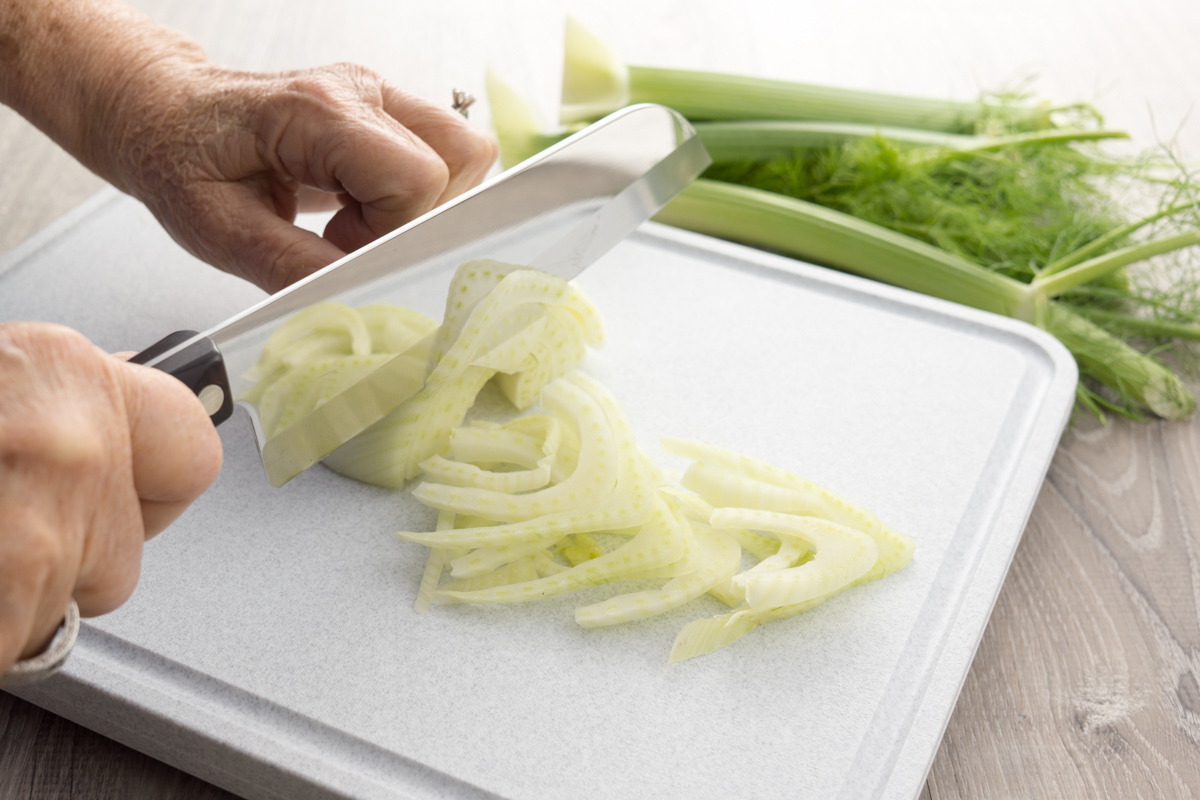 For easily cutting the roasted red peppers, the Cutco Trimmer, with its sharp Double-D edge allows you to cleanly cut through their soft texture.
Infusing Flavor
Roasting the butternut squash brings out its sweet, buttery flavor, while sautéing the fennel and celery in the drippings from the salami infuses a savory element to the dish.
If you can't find spicy salami which contains red or black peppercorns and is a little hot, you can use Genoa salami. It's tasty but without the extra kick of the spicier version.
You can use any kind of crusty bread in the salad, however, I found a loaf of olive bread in my local grocery store that added a bit of saltiness that I really liked. The whole loaf cut into cubes using the 7-3/4″ Petite Slicer will yield approximately the 4-1/2 cups you need.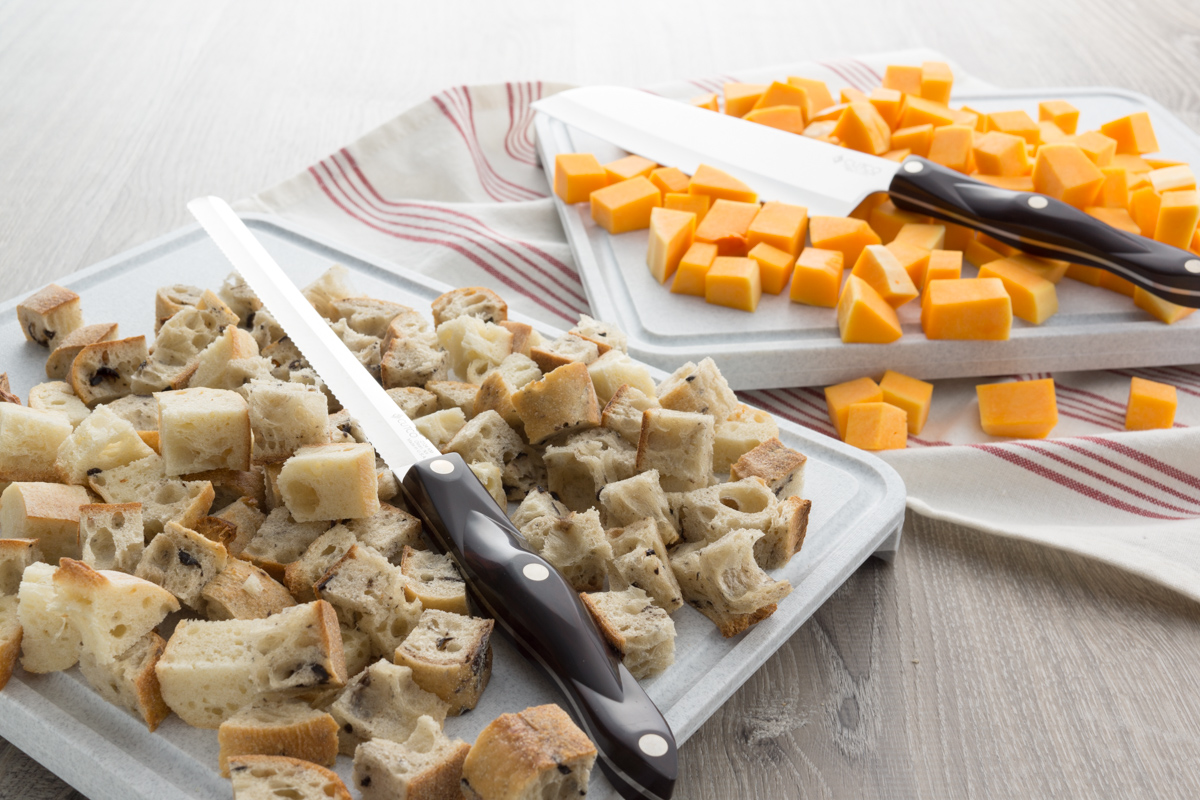 I thought this salad was really delicious. I ate a small dish and then found myself going back for another spoonful or two or three. I enjoyed the variety of tastes. It has a little of everything – meat, vegetables, bread and cheese. It's a nice change from a greens based salad.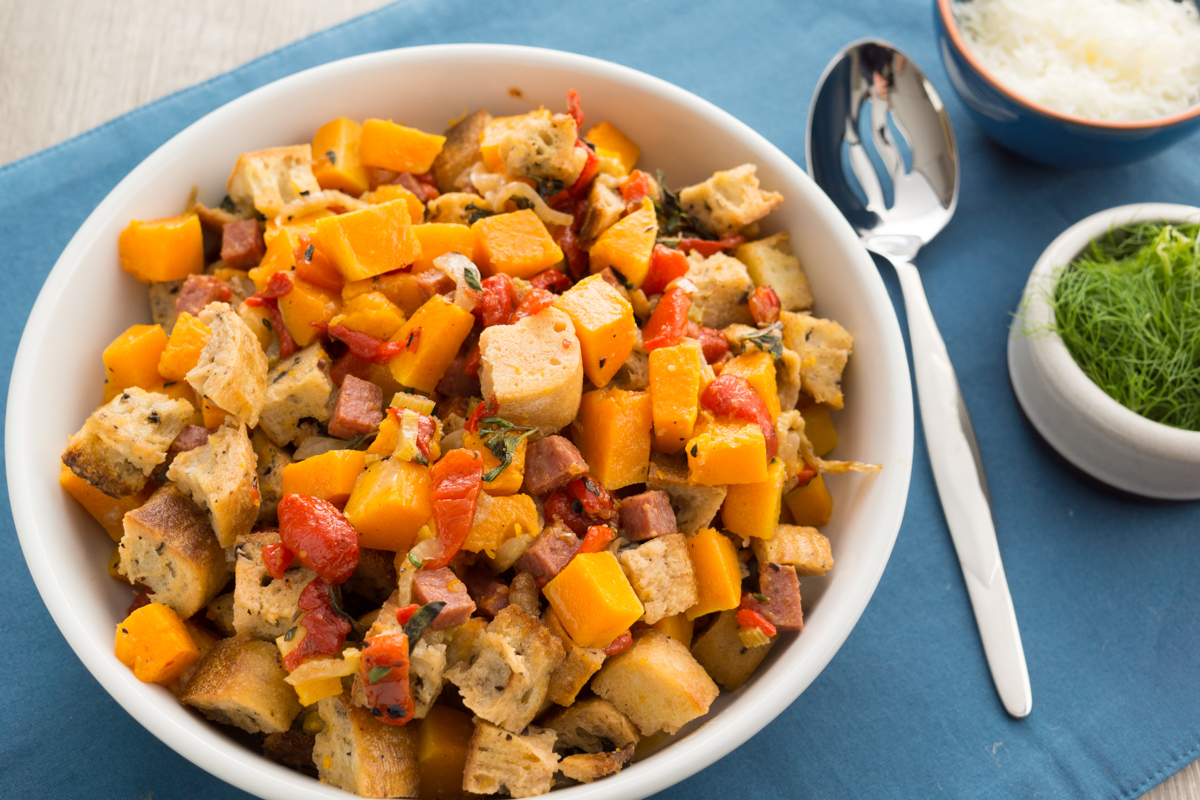 Ingredients
4 1/2 cups cubed, peeled butternut squash (about 1-1/2 pounds)
4 tablespoons olive oil, divided
Kosher salt and freshly ground pepper
4 1/2 cups cubed crusty bread
3 ounces spicy salami, cut into 1/2 inch cubes
1 small bulb fennel, halved, cored and thinly sliced, plus 1/2 cup fronds
1 stalk celery, thinly sliced
1 cup chicken broth
3 tablespoons red wine vinegar
1 12-ounce jar roasted red peppers, drained and chopped
2 tablespoons fresh oregano, roughly chopped
Shredded asiago cheese
Directions
Preheat oven to 425ºF.
Toss the squash with 1 tablespoon olive oil on a rimmed baking sheet. Season with salt and pepper. Bake about 20 minutes, tossing halfway through, until golden brown and tender. Transfer to a plate and cool.
Add the bread to the baking sheet and bake until lightly toasted, 8 to 10 minutes. Transfer to a large bowl.
Heat the remaining 3 tablespoons olive oil in a large skillet over medium heat. Add the salami and cook until lightly browned, about 5 minutes. Using a Slotted Spoon, remove to a paper towel lined plate, reserving the drippings in the skillet. Add the sliced fennel and celery to the pan and cook, stirring until softened and browned, about 10 minutes.
Add the chicken broth, vinegar, 1/2 teaspoon salt and a few grinds of pepper. Cook, stirring until the liquid is slightly reduced, about 3 minutes. Remove the skillet from the heat and stir in the peppers and oregano.
Pour the fennel mixture over the bread cubes and let sit 2 minutes.
Add the squash and salami and toss.
Top each serving with some shredded asiago cheese and fennel fronds.
Recommended Tools