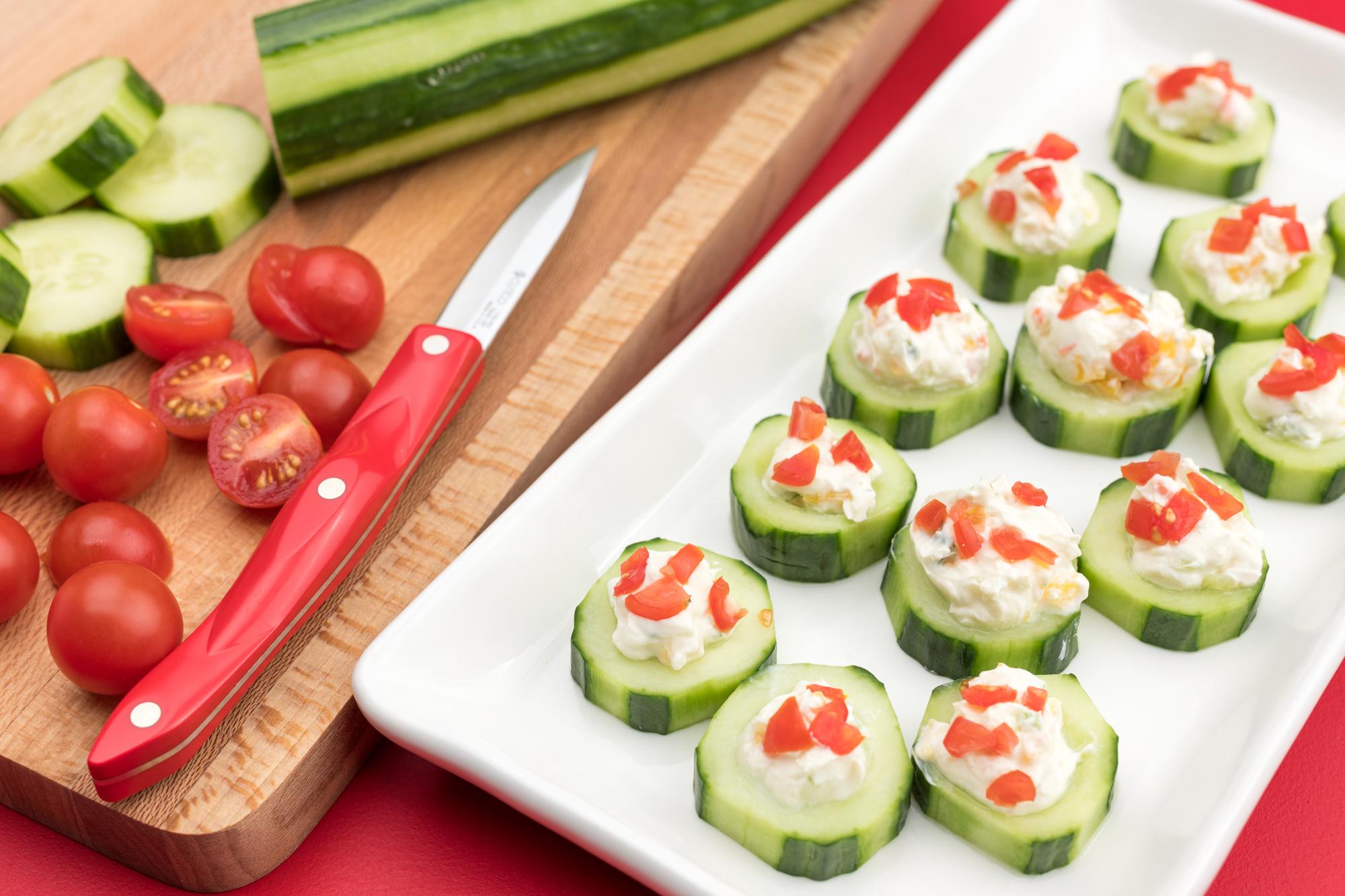 When I'm looking for an appetizer recipe, I'm always thinking, what is portable? There is nothing worse than having a table full of appetizers that require you to carry a plate, a napkin and a fork. I want something that I can grab and enjoy, while continuing with my socializing. These easy Veggie Dip Bites are exactly that, and so much more.
Think of a vegetable platter with dip, except that the dip is inside the vegetable. Now that is definitely a grab-and-go appetizer. Plus, you don't have to worry about those folks that think double dipping is fine.
You can make these Veggie Dip Bites as fancy as you want. We used the Vegetable Peeler to peel strips from the cucumber so they had a striped appearance. We then cut up the cherry tomatoes to use as a garnish for the top of the cucumber bites, giving them a perfect holiday appearance.
The 2-3/4" Paring Knife was the perfect tool to dice the tomatoes and, while we used a spoon to put the dip into the cucumber bites, I would recommend using a piping bag with a tip to pipe the dip directly into the vegetables with little mess.
Give this easy appetizer recipe a try and you may never go back to serving a vegetable platter again.
Ingredients
2 large cucumbers
8 cherry tomatoes
1 package (8 ounces) Neufchatel cheese, softened
1/2 cup finely chopped sweet yellow pepper
2 tablespoons finely chopped celery
1 tablespoon finely chopped carrot
1 teaspoon garlic salt
1/4 teaspoon onion powder
Directions
Using a Vegetable Peeler, peel decorative strips from the cucumbers. Cut cucumbers into 1/2-inch slices. Chop two of the slices and set aside. From the remaining slices, use a spoon to remove some of the seeds from the center (creating a well). Keeping a thin layer on the bottom.
Using a Paring Knife, roughly chop the cherry tomatoes and drain them on a paper towel. Set aside.
In a large bowl, mix the Neufchatel cheese, yellow pepper, celery, carrot, seasonings and chopped cucumber.
Fill the cucumbers with the cheese mixture, using a small spoon or piping bag. Garnish each with chopped tomatoes. Refrigerate for at least one hour before serving.
Recommended Tools