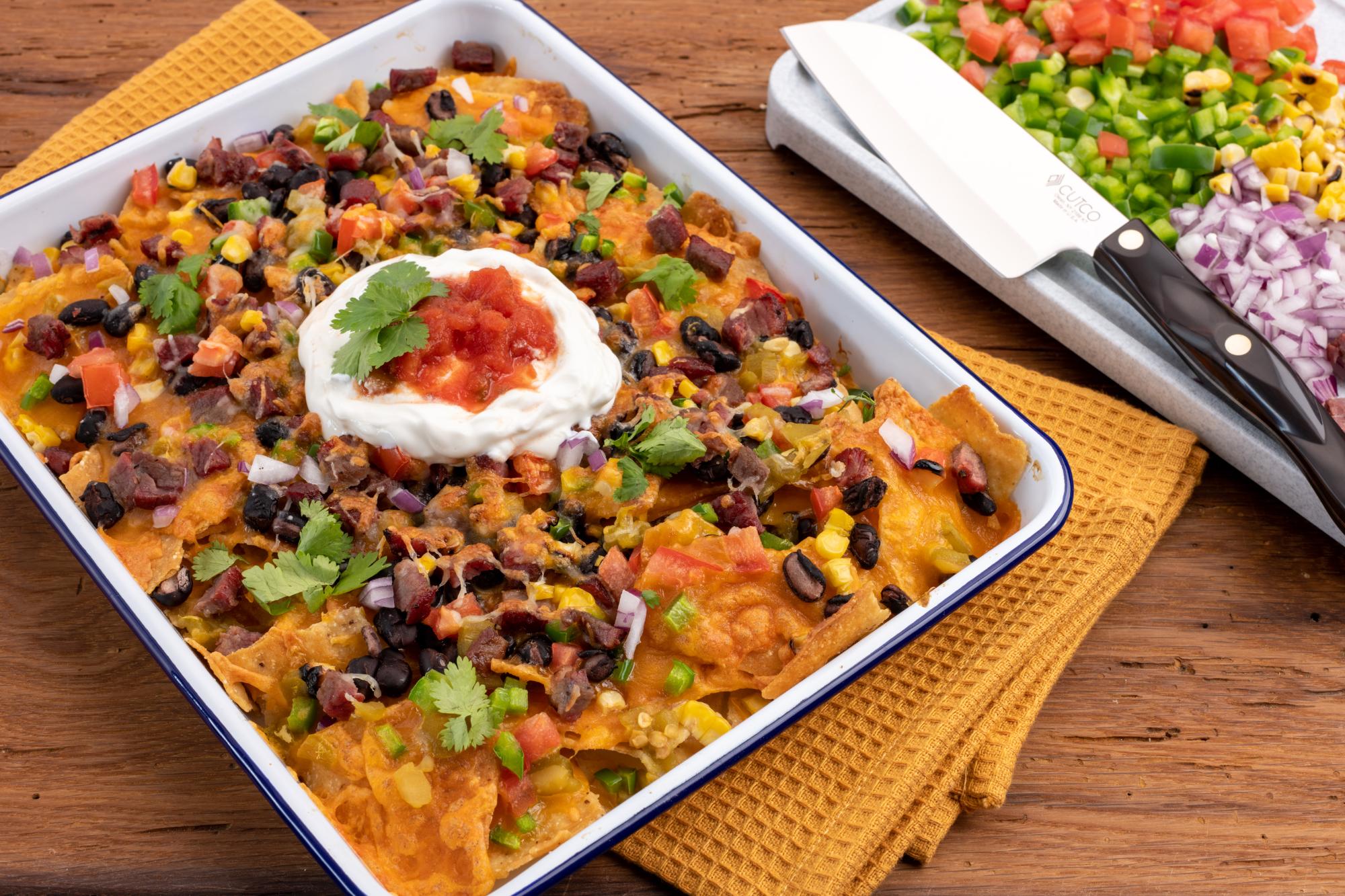 Weekend movie nights are one of my favorite ways to decompress after a long week. In our home, we usually have a feast of nachos and some cheesy kid movie to finish the week. I don't even mind the kid movie because I'm usually in my own happy little world enjoying these oh-so-tasty Tri-Tip Nachos.
Nachos just rock. They are so awesome because you can adjust them to whomever is eating them. Like spicy? Throw on those peppers. Want them extra cheesy? Load 'em up.
The most important tip I have about nachos is to toast the chips before you put on all the toppings. Browning brings out flavor and you want to layer the flavors whenever you can.
To brown the chips, spread them out in a single layer on a baking sheet. Bake at 400 F until they brown up. Watch carefully so they don't burn. Browning can take 5 to 10 minutes.
With these nachos, I love using a leftover smoked, tri-tip that I finely dice with a 7-5/8" Petite Chef knife. Adding in those tasty morsels of beef just make the nachos an experience verses a plate of chips and cheese.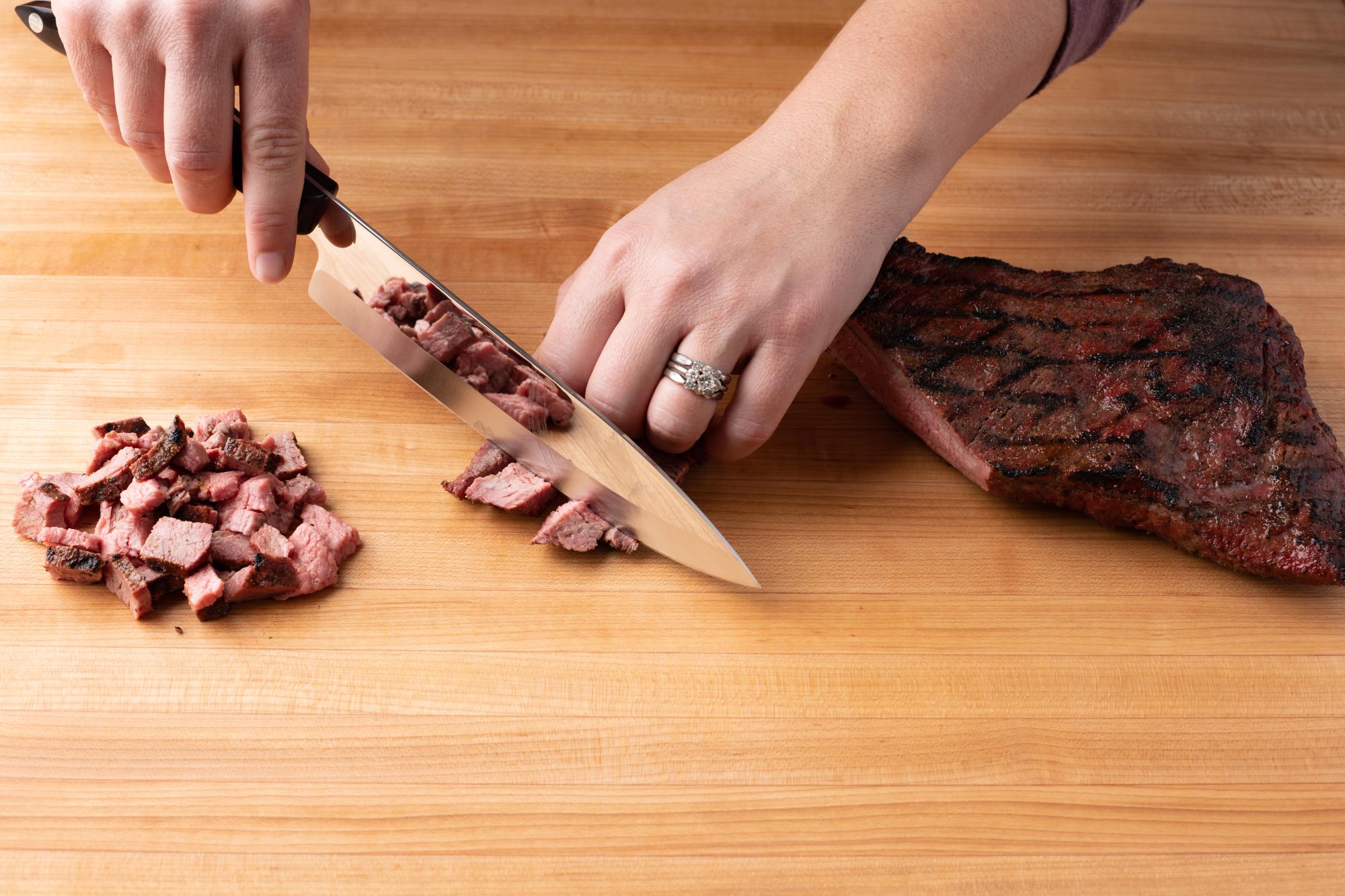 When it comes to other toppings, make it how you want it. For dicing up things like chilies, bell pepper, jalapeno and tomato, use that 7-5/8" Petite Chef or consider trying Cutco's 7" Santoku, which is equally good.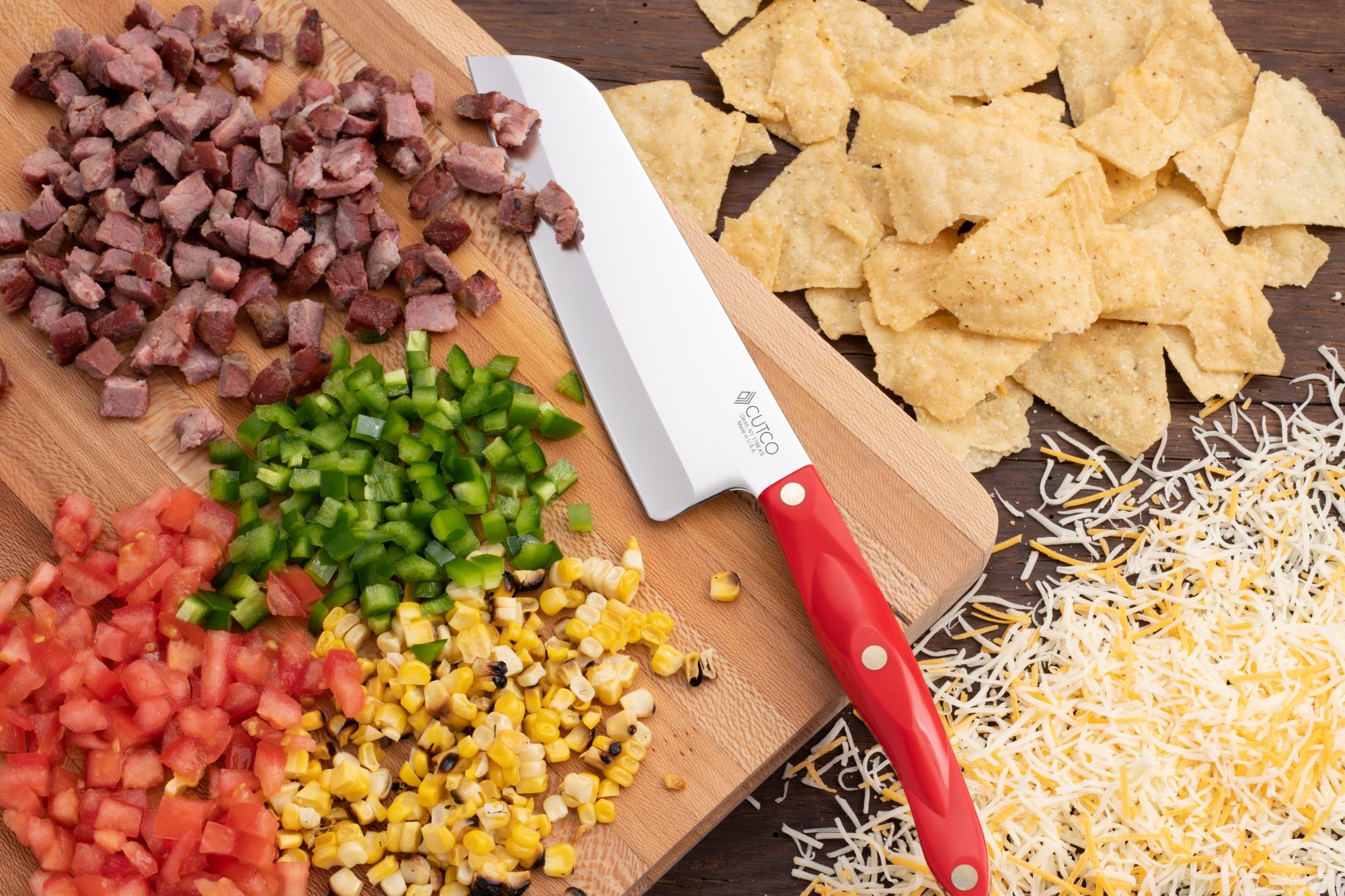 These nachos are an easy, quick lunch or dinner idea that can be made to your liking. The sky is the limit when it comes to ingredients that can be loaded on.
Ingredients
Large bag, plain tortilla chips
12 ounces of your favorite shredded cheese
12 ounces of tri-tip, pre-cooked and cubed
1 can (15.5 ounces) black beans
1 can (4 ounces) green chiles
1 bell pepper, diced
2 - 3 jalapenos, diced (optional)
1/2 cup corn
1 large tomato, diced
8 ounces sour cream
16 ounces salsa
Squeeze of a lime to finish off
Directions
Heat oven to 400 F.
Place the tortilla chips in a single layer onto a cookie sheet, place in the oven and watch closely. Take the tortilla chips out of the oven when they start to brown.
Decrease oven to 375 F.
Layer the ingredients as listed onto the tortilla chips. Bake approximately 5-10 minutes until the cheese is bubbly.
Recommended Tools