Homemade Tomato Soup With Grilled Cheese Sticks
704 days ago
Skip to recipe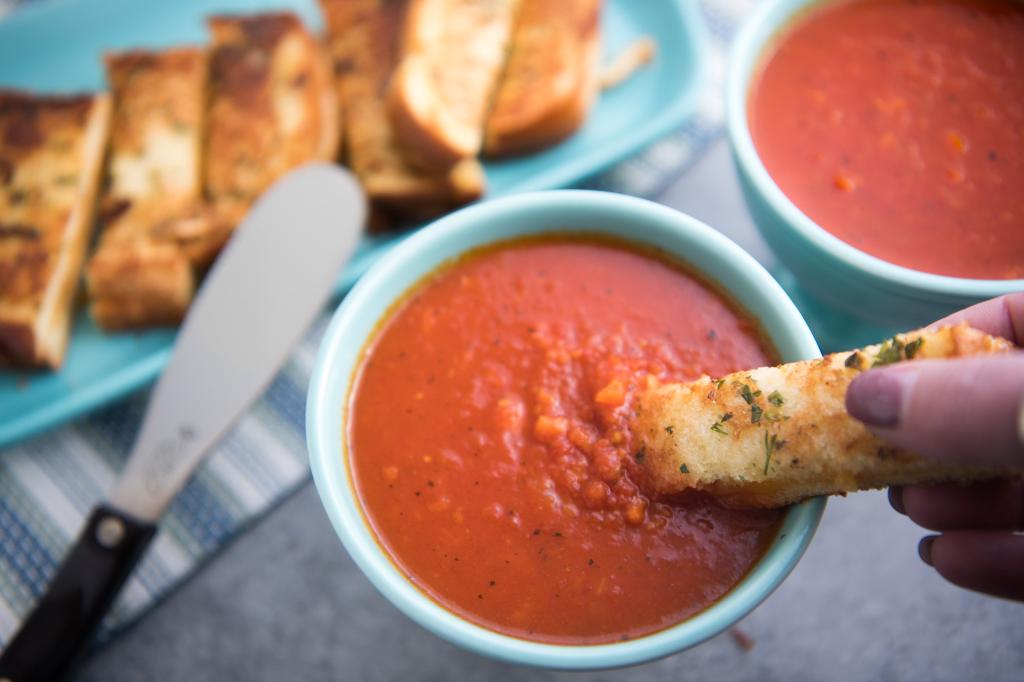 Here is a tasty, easy-to-prepare homemade tomato soup recipe that is sure to ward off the cold. Paired with grilled cheese sticks for dipping. It is the perfect comfort food combination.
This Homemade Tomato Soup and Grilled Cheese Sticks recipe tops the canned version a hundred times over, and is worth the extra effort. Although, in reality, it's pretty simple to make.
I have eaten plenty of canned tomato soup in my day and when my children were growing up, what was easier than opening up a can and serving it to them for lunch? After trying this homemade tomato soup recipe, I probably won't be eating the canned version again.
For chopping the veggies for this recipe a 7" Santoku comes in handy.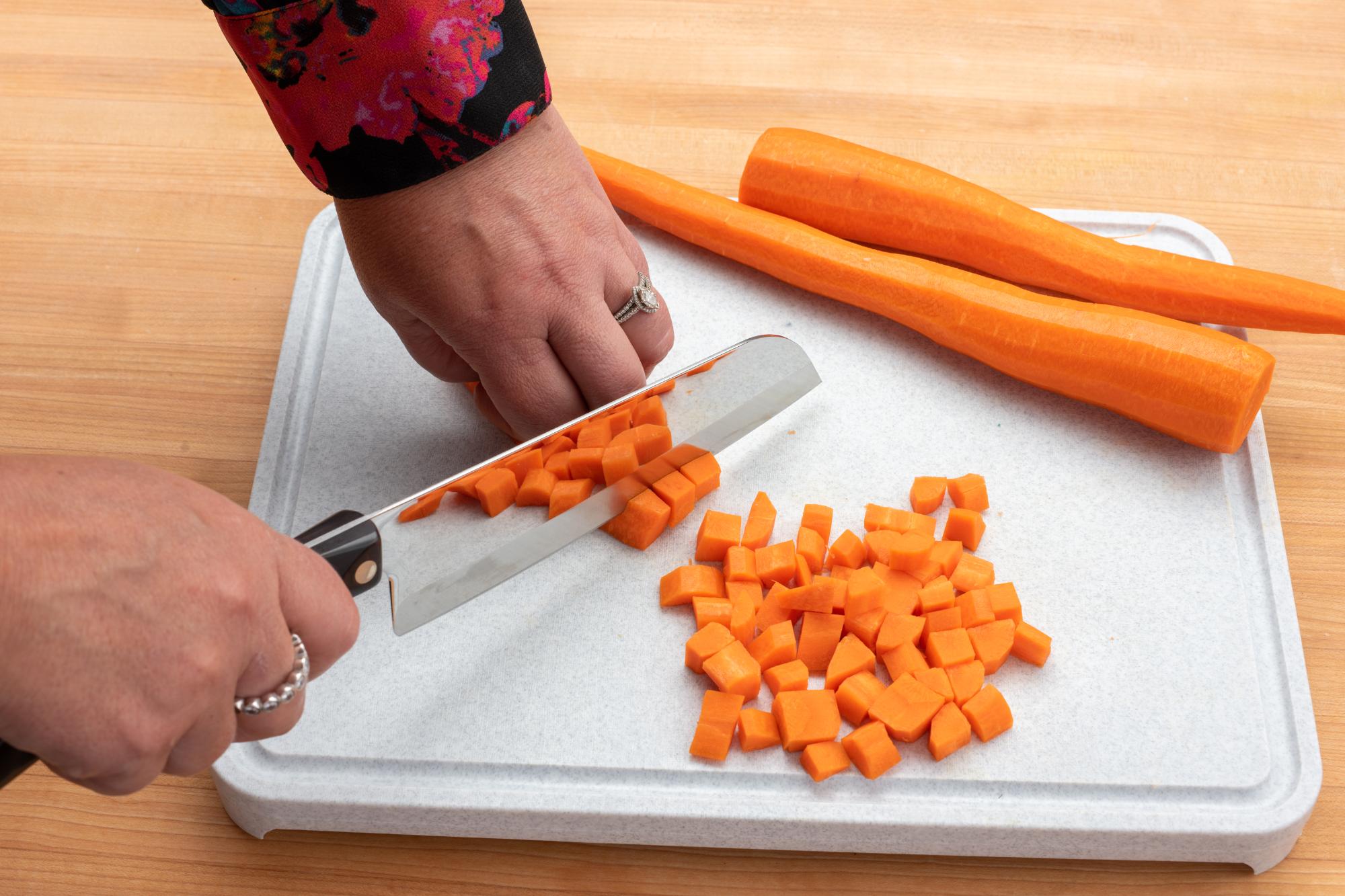 To cut the grilled cheese sticks, the Pizza Cutter works wonders. It's a great job for the kids.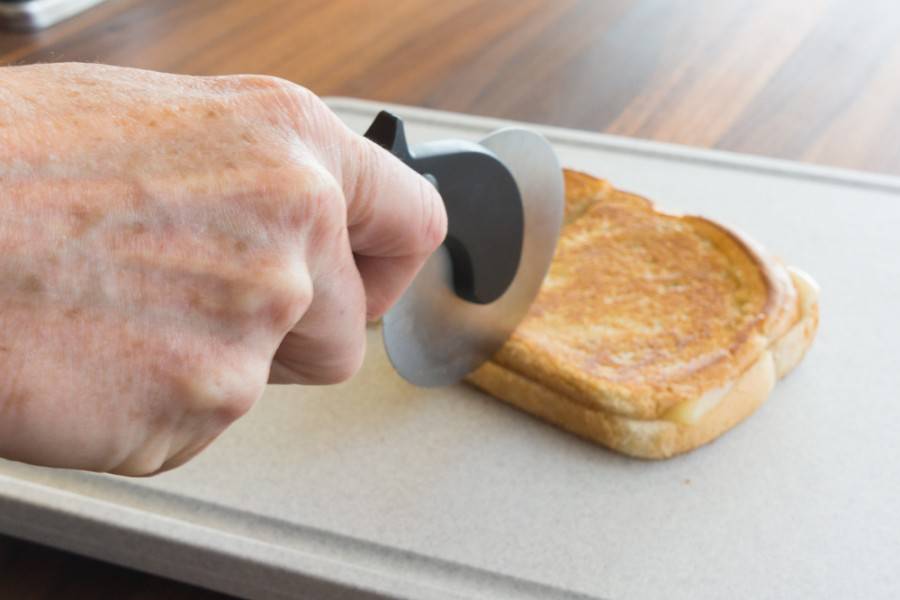 This recipe makes enough soup to feed about 16 people and can be prepared in less than an hour. To serve it to a crowd, make it ahead of time in a Dutch oven and then transfer it to a slow cooker and set the temperature on low or keep warm.
The crushed red pepper flakes add just a little kick and, if you can find them, the San Marzano tomatoes have a sweetness to them that you don't find in most other canned tomatoes. I didn't puree the soup until totally smooth, I left it just a little chunky. I also didn't add the cream, because I forgot.
The grilled cheese sticks were the perfect finishing touch. The mayo mix is a pleasant change from just buttering the bread. I used a combination of three kinds of cheddar. A New York, a Vermont and a Wisconsin. After the sandwiches are grilled and cut into strips, if you have warming tray, put the cheese sticks on it and cover with foil. This will keep the cheese melty and the bread warm without burning.
This homemade tomato soup received all positive reviews from everyone here. In fact, I just reheated some that was leftover and it was even better a day later after all the flavors had a chance to meld.
Ingredients
Tomato Soup
3 tablespoons olive oil
3 tablespoons butter
1/4 to 1/2 teaspoon crushed red pepper flakes
3 large carrots, peeled and chopped
1 large onion, chopped
2 cloves garlic, minced
2 teaspoons dried basil
3 28-ounce cans whole peeled tomatoes (preferably San Marzano)
1 32-ounce container chicken stock
2 tablespoons tomato paste
3-4 teaspoons sugar
1 teaspoon salt
1/2 teaspoon pepper
1 cup heavy whipping cream (optional)
Fresh basil leaves (optional)
Grilled Cheese Sticks
1/2 cup mayonnaise
1/2 teaspoon garlic powder
A small amount of fresh minced parsley
16 slices sandwich bread
2 cups shredded cheese (Cheddar or a mix of different cheeses)
Directions
For the Homemade Tomato Soup:
Heat oil, butter and pepper flakes in a Dutch Oven over medium heat until butter melts. Add carrots and onion, cook until softened, 8-10 minutes. Add garlic and dried basil, cook and stir 1 minute longer. Stir in tomatoes, chicken stock, tomato paste, sugar, salt and pepper.
Bring to a boil, reduce heat and simmer 20-25 minutes.
Taste and add more sugar, salt and pepper if necessary.
Remove from heat and puree in a blender. (To avoid splattering when blending hot soup, fill blender a little less than half way, remove the lid insert and cover with a towel while blending.)
If adding cream, return soup to heat and slowly stir in the cream. Cook until heated through, do not boil.
Ladle into bowls, top with fresh basil.
Serve with grilled cheese sticks.
For the Grilled Cheese Sticks:
Mix the mayo, garlic and parsley in a small bowl.
If desired, cut the crust off the bread slices.
Lightly spread 8 slices of bread with the mayo mix. Place mayo side down on a griddle. Sprinkle on the cheese.
Lightly spread the other 8 slices of bread with the mayo mix and place on top of the cheese (mayo side up).
Grill until the underside of the sandwiches are golden, flip with the Slotted Turner and grill the other side until golden. Press sandwiches with the turner to flatten a little.
Remove from griddle and cut into 4 sticks using the Pizza Cutter.
Recommended Tools