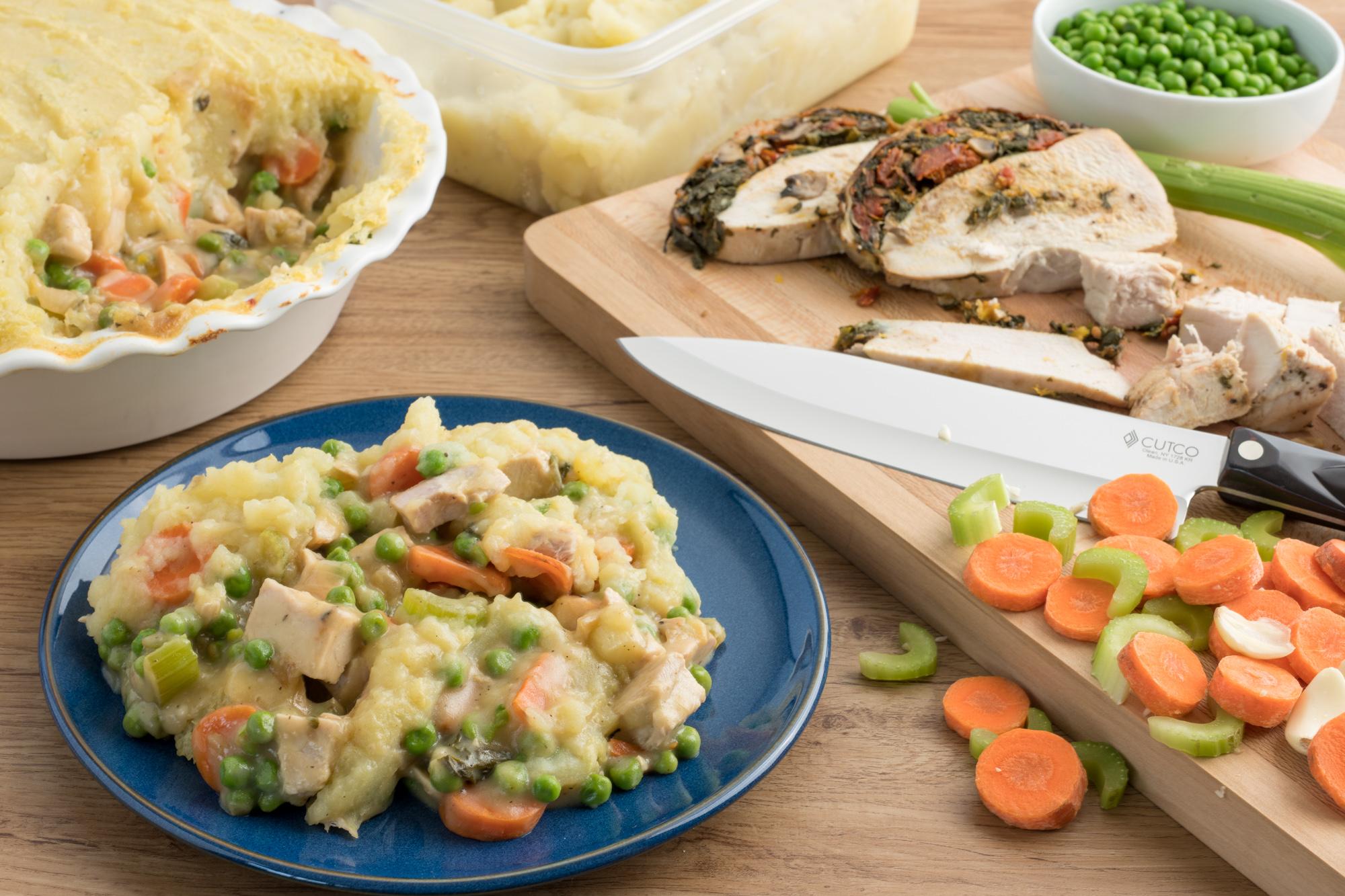 Instead of heating up all those individual leftovers, why not make another fabulous dish with them? You don't even need to wait for leftovers to make a great pot pie. Take this recipe for Thanksgiving Leftover Pot Pie and tweak it to your family's favorite ingredients anytime of the year.
While this is a Thanksgiving leftovers recipe, it does call for adding ingredients to freshen it up, however they are likely ingredients you already have on hand.
As with any recipe, it's easiest to do all of your chopping and slicing ahead of time so you're just tossing ingredients in as you go. Use a 7-5/8" Petite Chef to slice and dice the onion, celery and carrots (the combination of these is known as a mirepoix).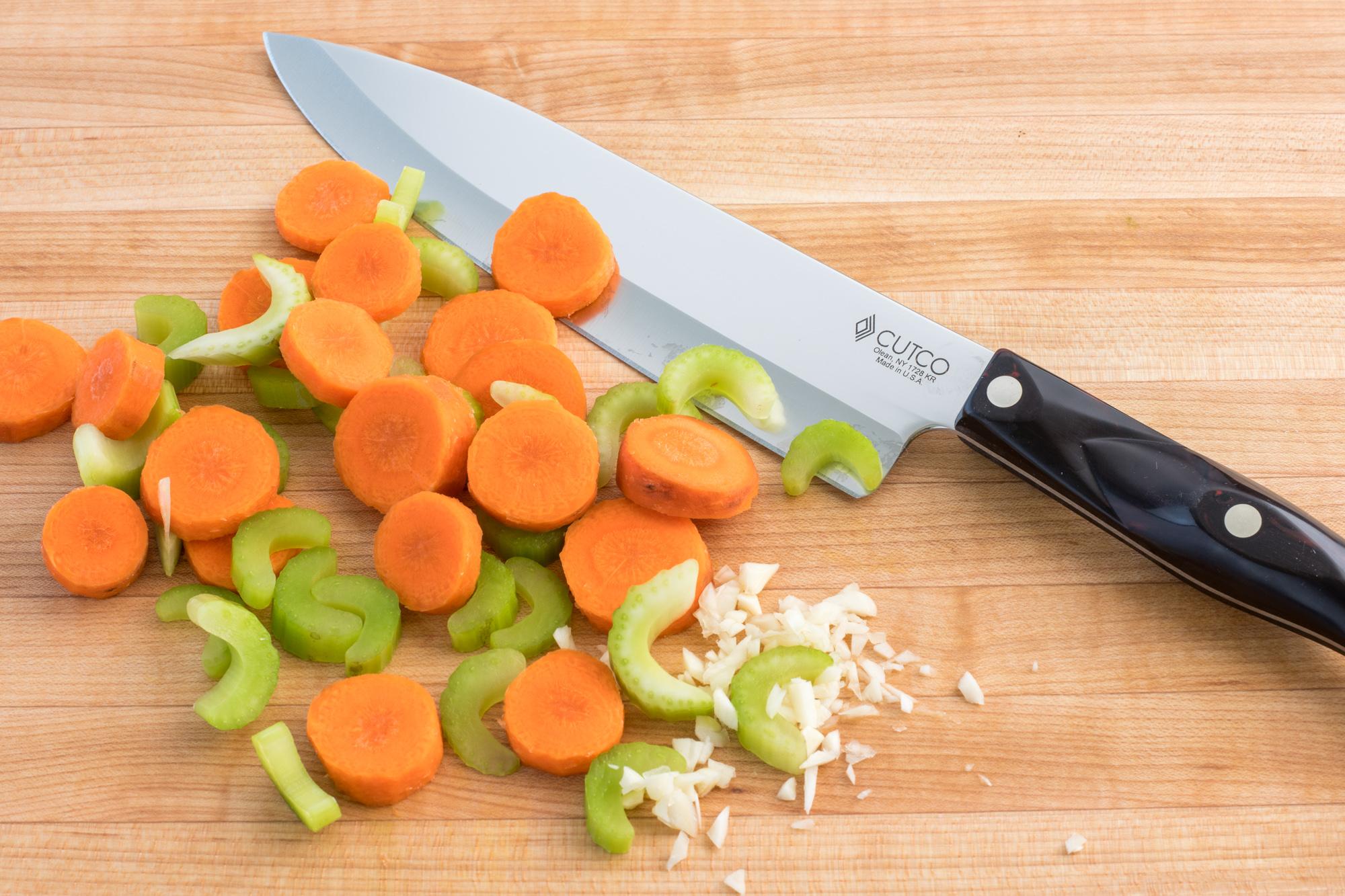 Because the turkey is already off the bone, a 6-3/4" Petite Carver is a good knife for cutting it up. It's the shorter version of Cutco's 9" Carver which is for carving a whole turkey.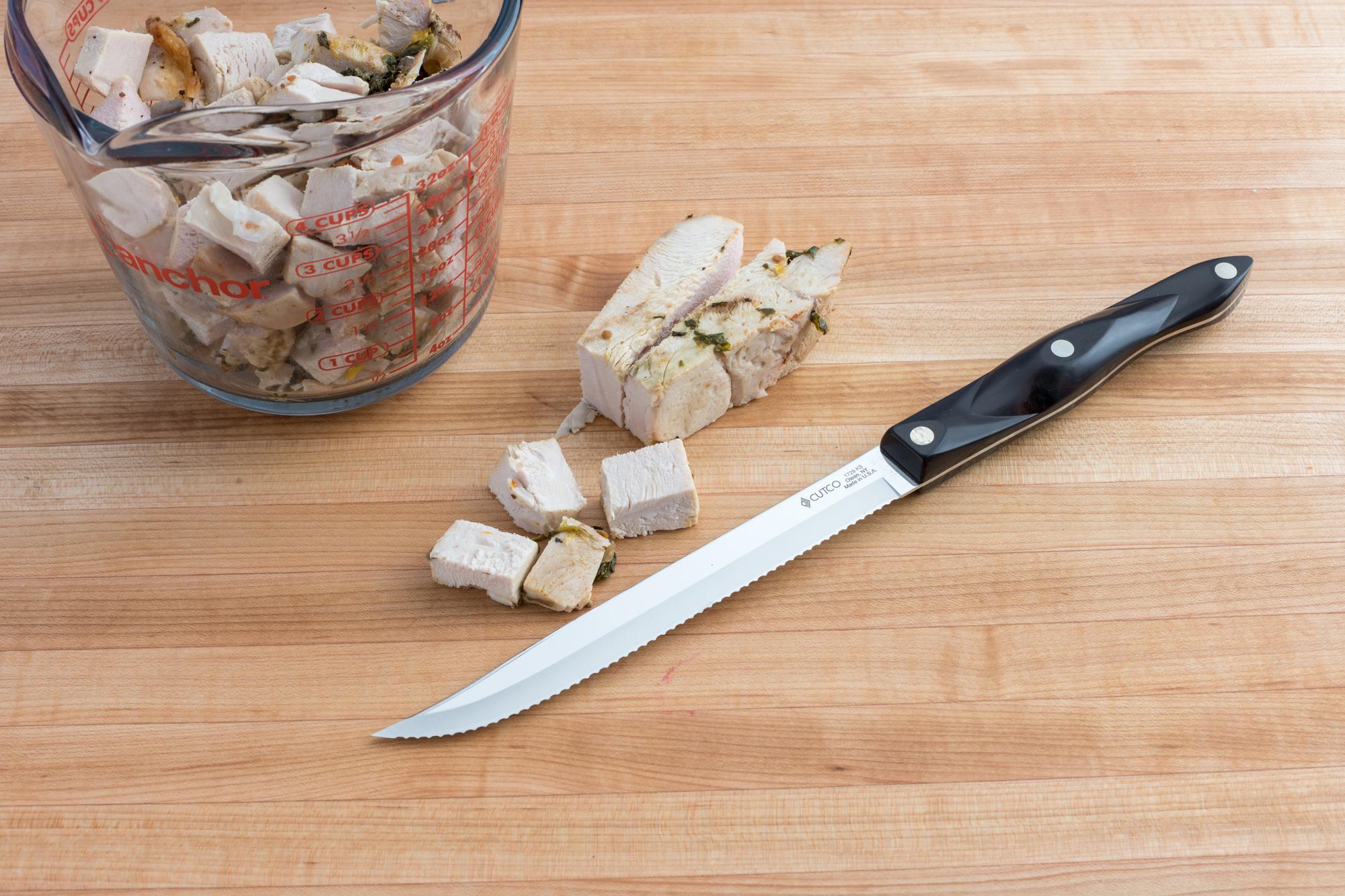 Leftovers never tasted so good.
---
Calories: 200, calories from fat: 55, total fat: 6.0 g, saturated fat: 1.6 g, trans fat: 0.0 g, cholesterol: 40 mg, sodium: 190 mg, potassium: 500 mg, total carbohydrate: 17 g, dietary fiber: 3 g, sugars: 3 g, protein: 19 g, phosphorus 175 mg
Reprinted with permission from the American Diabetes Association. Copyright 2013 by the American Diabetes Association
Thanksgiving Leftover Pot Pie
Serving size 1/8 recipe, 8 Servings
Print Recipe
Ingredients
1 teaspoon extra virgin olive oil
1/2 cup chopped onion
1 clove garlic, minced
1 cup sliced celery
1 cup carrot, sliced 1/4-inch thick
2 tablespoons trans-fat free tub margarine
1/4 cup all-purpose flour
2 cups no-salt-added chicken or turkey stock, plus additional, as needed
3 cups leftover turkey
1 cup frozen baby peas
2 tablespoons chopped Italian parsley
Fine sea salt, to taste
Freshly ground pepper, to taste
2 cups Garlic Mashed Potatoes
Directions
Heat oven to 375 F.
Heat olive oil to thinly film the bottom of a saucepan. Add onion and garlic and cook 2-3 minutes until onion begins to soften. Add celery and carrot and cook 5 minutes to soften. Set aside.
Melt margarine in a saucepan. Whisk in flour and mix well. Mixture will be dry. Gradually add 1 cup stock to saucepan. Cook 2-3 minutes until mixture begins to thicken and takes on a golden color. Add the onion, garlic, celery and carrots, along with the turkey, peas, parsley and additional stock to achieve desired consistency (some like it soupy, some like it thicker). Add salt and pepper to taste.
Place mixture in baking dish and top with mashed potatoes. Bake for approximately 25 minutes or until golden.
*Exchanges 1 starch, 2 lean meat, 1/2 fat
Recommended Tools