Taco Dip With Tomatoes, Jalapeños and Sliced Olives
494 days ago
Skip to recipe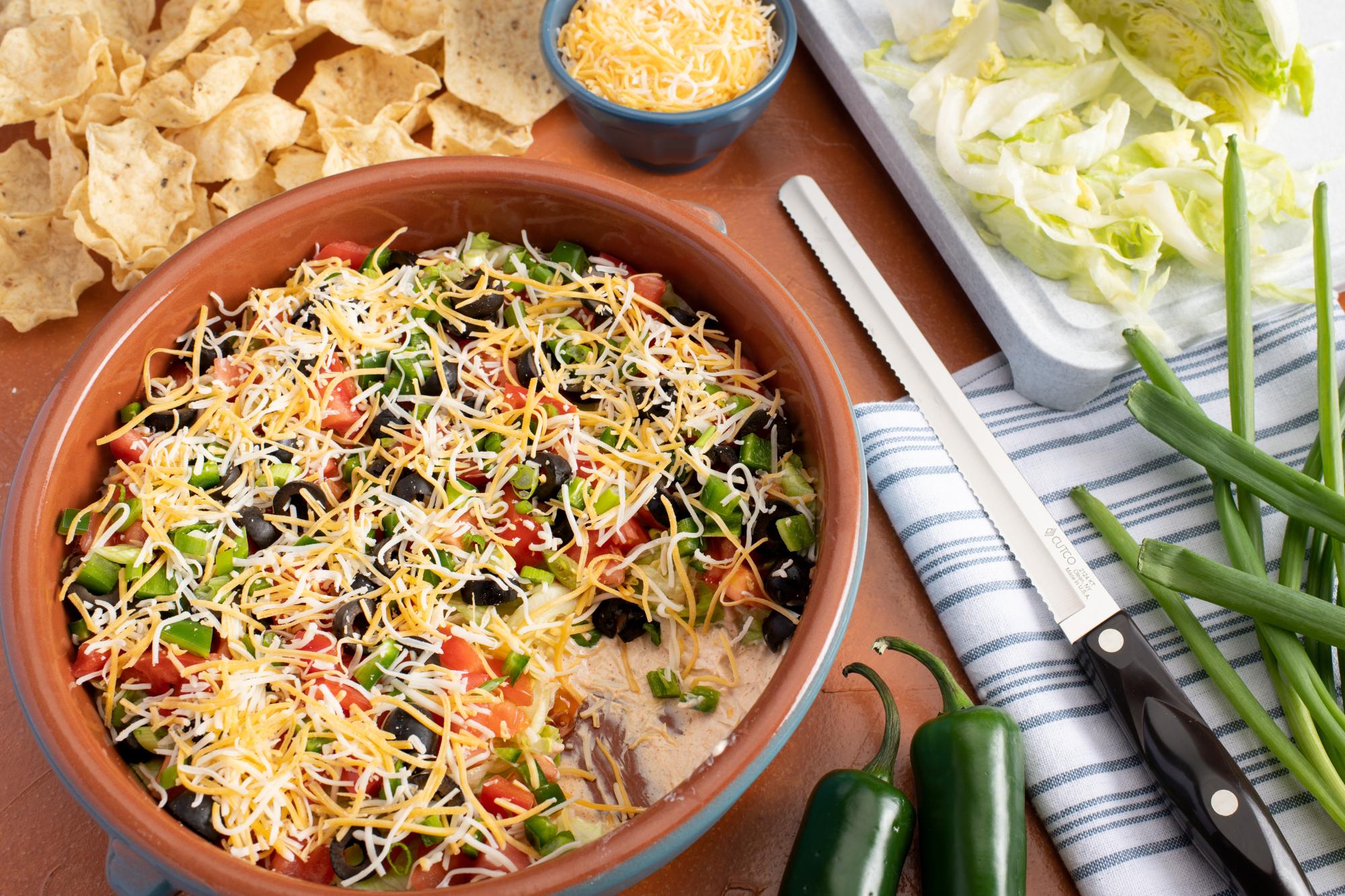 One could ask why we're putting a taco dip on our blog. It's a reasonable question when you consider how many different types of taco dips are out there, and don't we already have our favorite? The answer is simpler than you may think. Basically, we realized we didn't have a taco dip on our blog, and we were astonished. So, we put our heads together to list what we like about personal favorites and came up with this simple approach to a very common appetizer.
Taco Dip With Tomatoes, Jalapeños and Sliced Olives isn't an over-the-top dip. It's a simple appetizer you can throw together for any occasion, and it will always be appreciated. Our team wanted some heat, so we added two jalapeños to the recipe, and we all preferred the milder taste of a green onion. We chose Roma tomatoes because it's so easy to remove the seeds (and therefore will keep your dip from getting runny) and iceberg lettuce is easy to find in the grocery store.
Making the Taco Dip
In this recipe, we call for two packages of cream cheese at room temperature. It's important that the cream cheese is soft so that it will blend easily with the sour cream. Add the packet of taco seasoning and thoroughly blend together as this mixture will be the base of the dip. If you want a bit more heat, choose a taco seasoning that indicates it's either medium or hot. Spread the cream cheese mixture into a pie plate or rimmed serving bowl.
Using a 7-3/4" Petite Slicer, cut the iceberg lettuce into quarters. Using only one quarter of the lettuce, slice into thin shreds. If the lettuce slices are a bit long, turn the lettuce and cut again to get smaller pieces.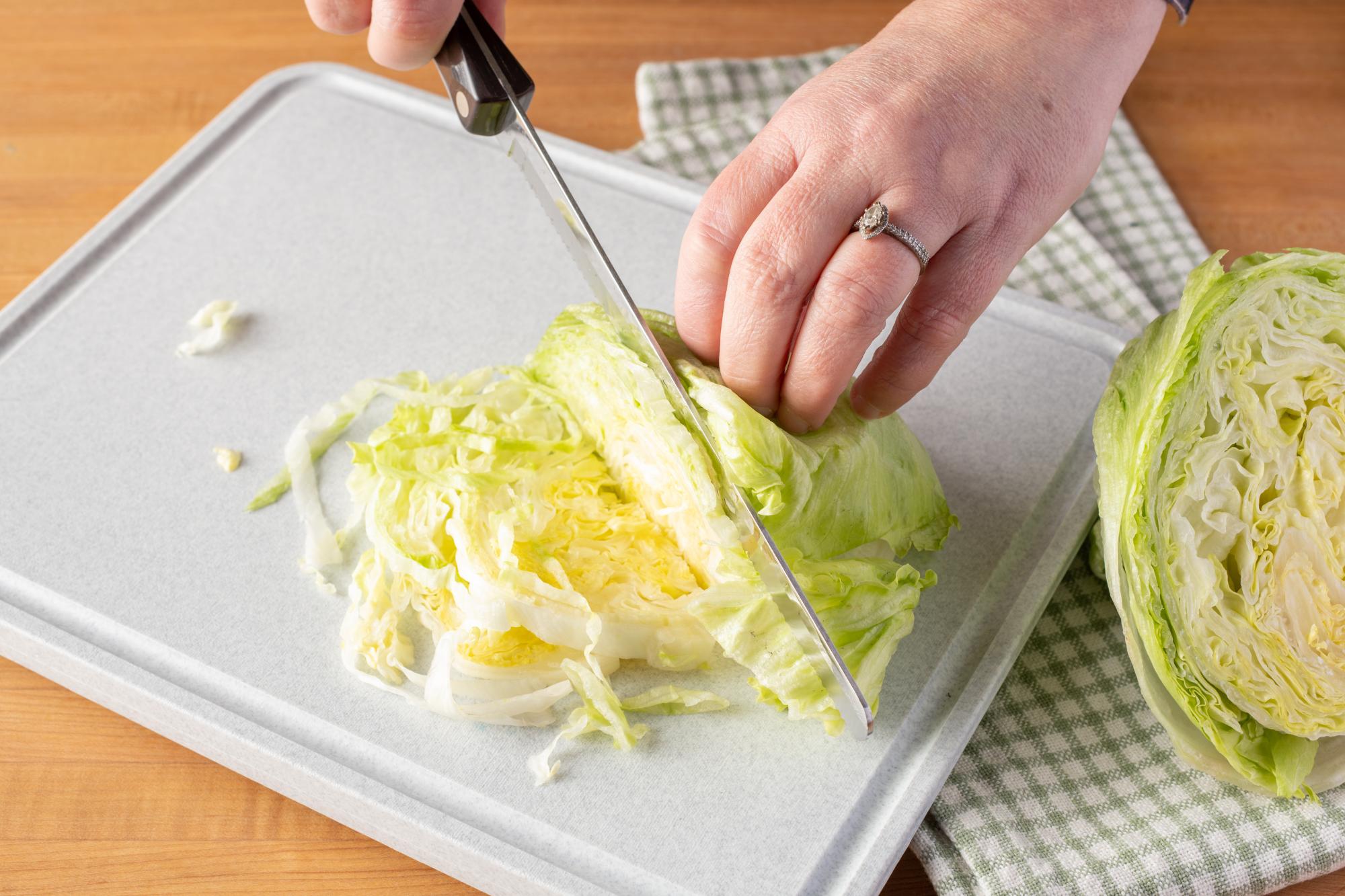 Cut the Roma tomatoes in half with a Trimmer and remove the seeds with your hands. Then use the knife to roughly chop the tomatoes into bite-size pieces.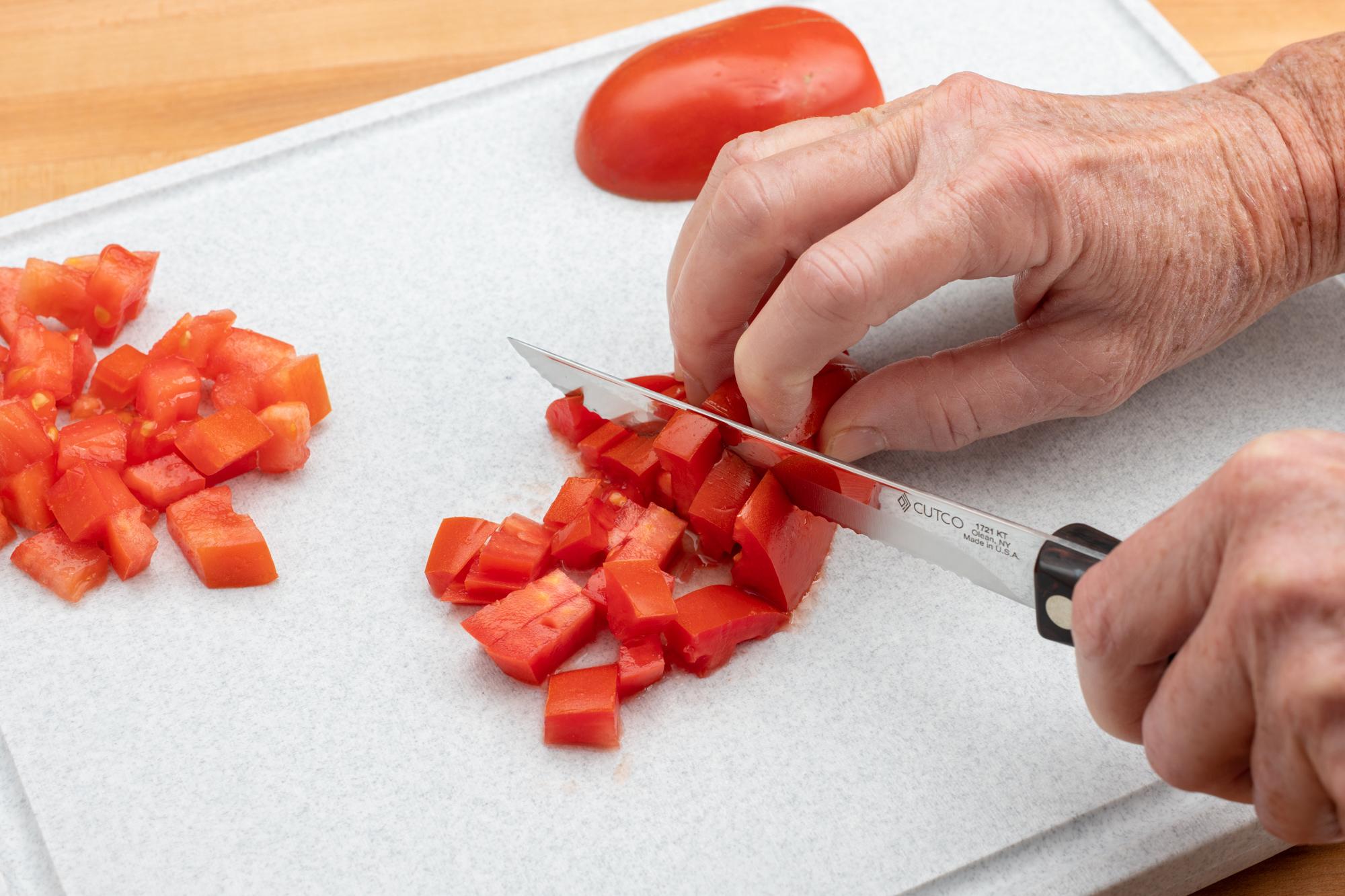 This recipe calls for jalapeños that are diced, but you can also slice them. Use a 3" Gourmet Paring Knife to cut off the stem and slice.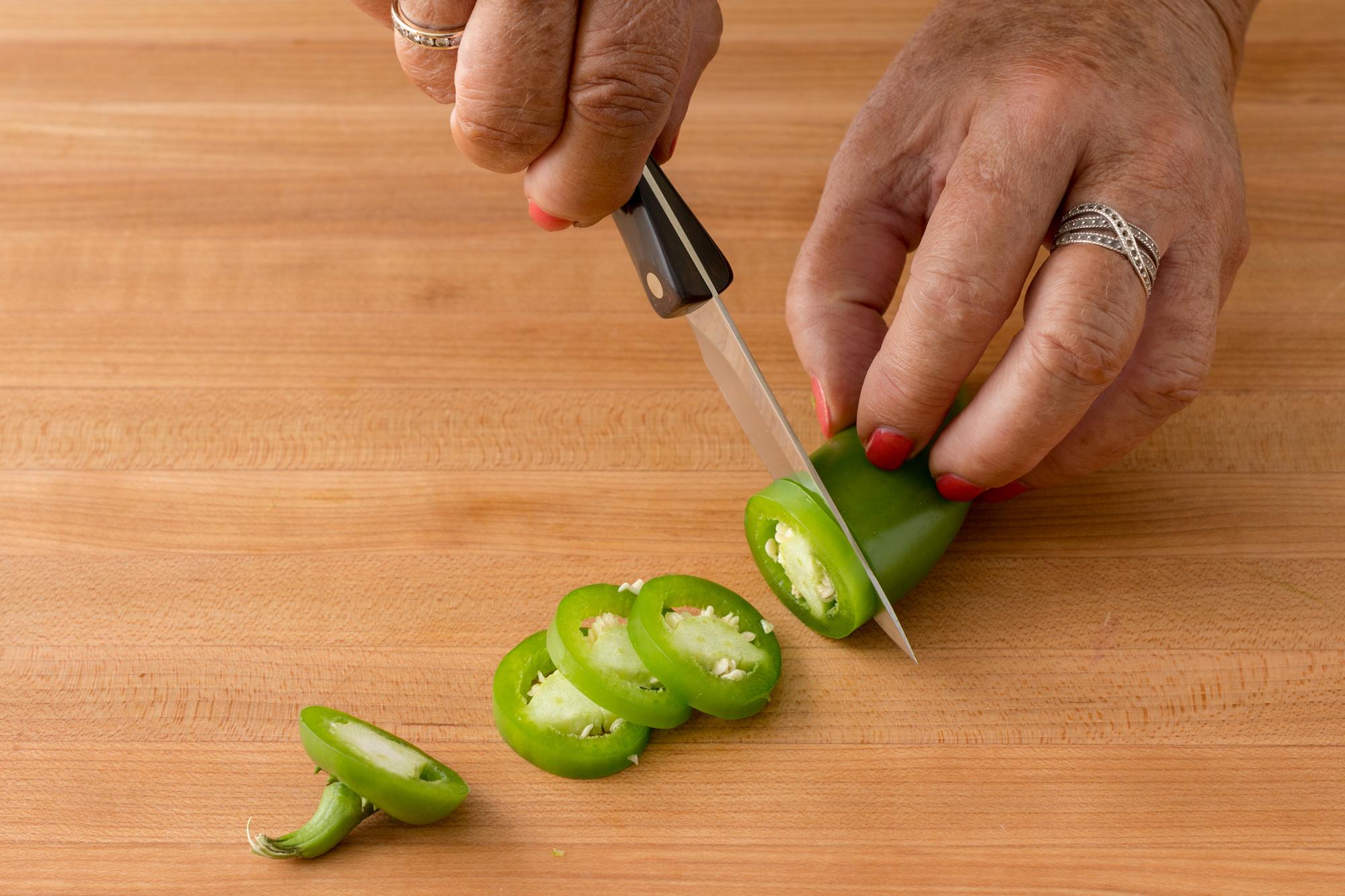 To dice, cut off the stem end of the pepper and cut it in half. Use the knife to cut out the seeds and then cut the halves into strips. Rotate the strips and cut crosswise to dice.
For tips on cutting a jalapeño, check out our handy tutorial.
To prepare the green onions, use a 7-5/8" Petite Chef knife to trim off the root end and slice the onions on the bias (using both the white and green part of the onion).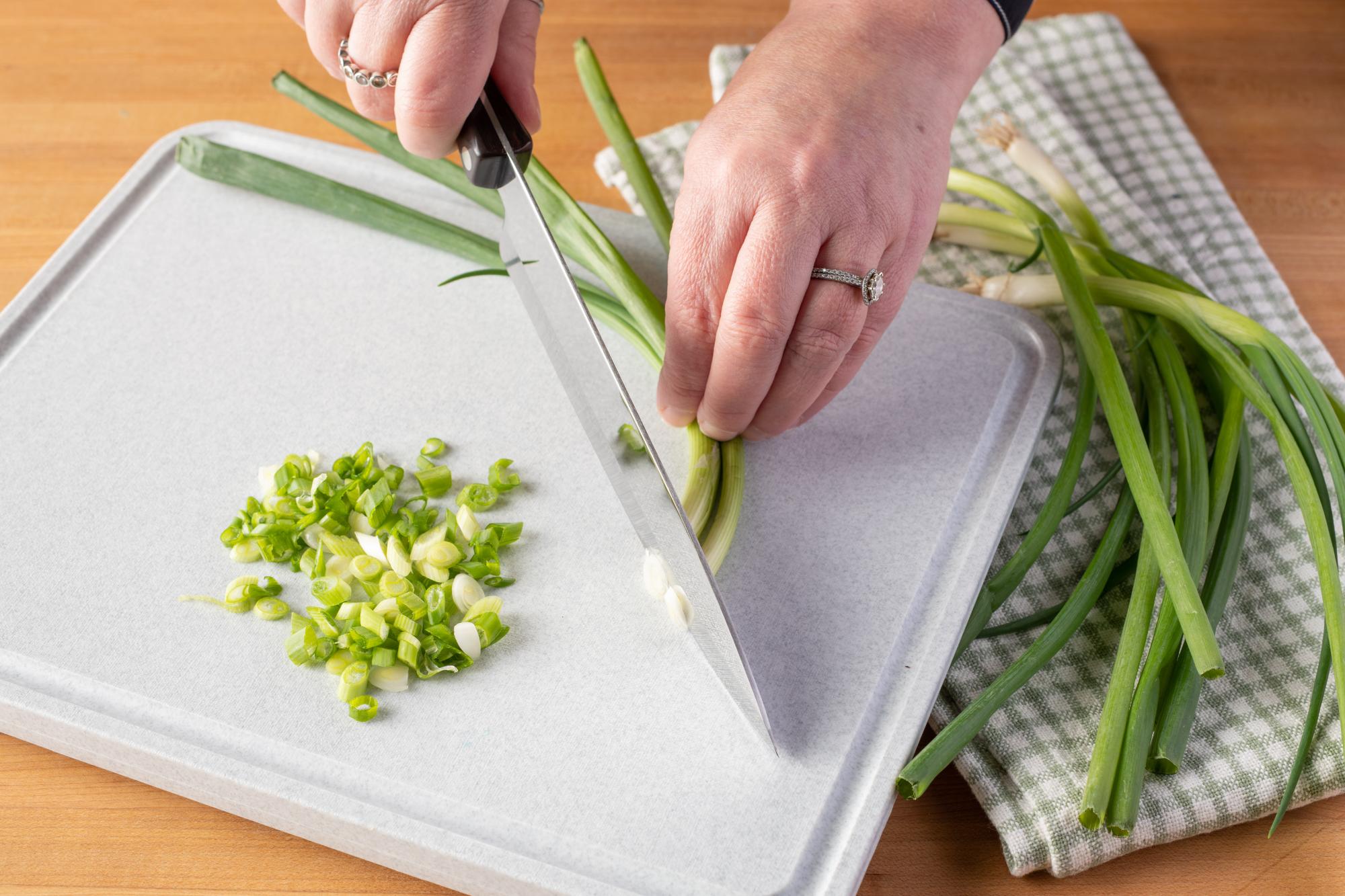 Once all your ingredients are prepped and you've spread the cream cheese mixture into the pie plate, top with the shredded lettuce. Follow this by placing the chopped tomatoes over the lettuce.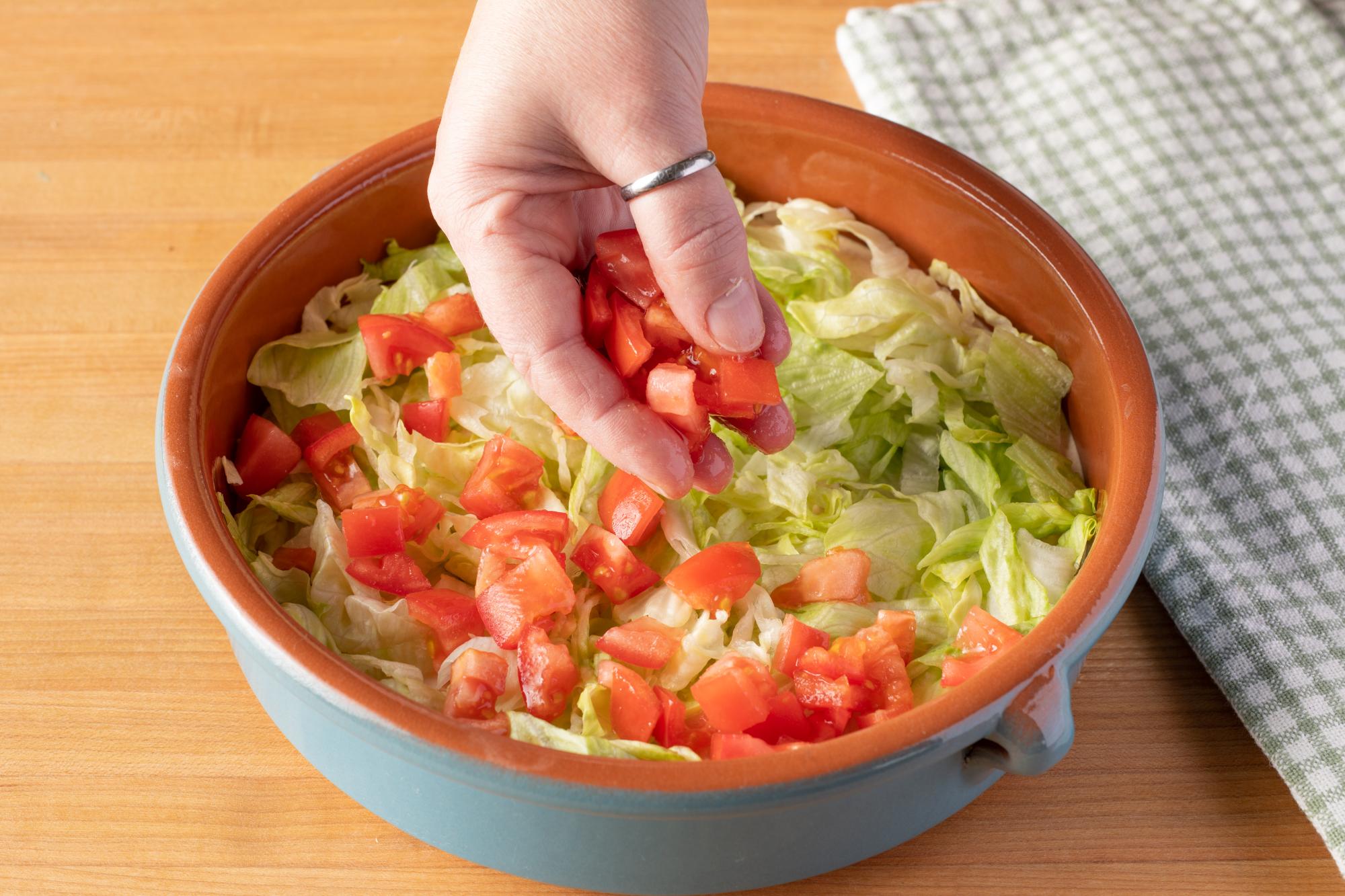 Continue layering the remaining ingredients of black olives, jalapeños and green onions, and then sprinkle the cheese over the top. The dip can either be served immediately or placed in the refrigerator to serve later. Note that if you serve the dip directly from the refrigerator, you'll want to serve it with a spoon so people can scoop a serving of dip onto a plate. The cream cheese will have firmed up, making it difficult to scoop with a tortilla chip.
Taco Dip With Tomatoes, Jalapeños and Sliced Olives is so easy and so tasty, it will become your go-to dip for any occasion. It's perfect when ripe tomatoes are in season as the flavor really pops. While we all have our favorite taco dip, give this one a try and you may just find a new favorite!
Taco Dip With Tomatoes, Jalapeños and Sliced Olives
Print Recipe
Ingredients
2 (8-ounce) packages cream cheese, room temperature
2 cups sour cream
1 packet taco seasoning
1/4 head iceberg lettuce, rinsed, dried and shredded
4 Roma tomatoes, seeds removed and chopped
1 (2.25-ounce can) black olives, drained
2 jalapeños, sliced or diced (optional)
2 green onions, sliced on bias
1 cup finely shredded Mexican cheese
Tortilla chips for serving
Directions
With an electric mixer, combine softened cream cheese, sour cream and taco seasoning until thoroughly combined.
Top the cream cheese mixture with the lettuce, tomatoes, black olives, jalapeños (you can reduce down to one if you want less heat) and green onions.
Sprinkle the dip with the shredded cheese and serve with tortilla chips.
Recommended Tools