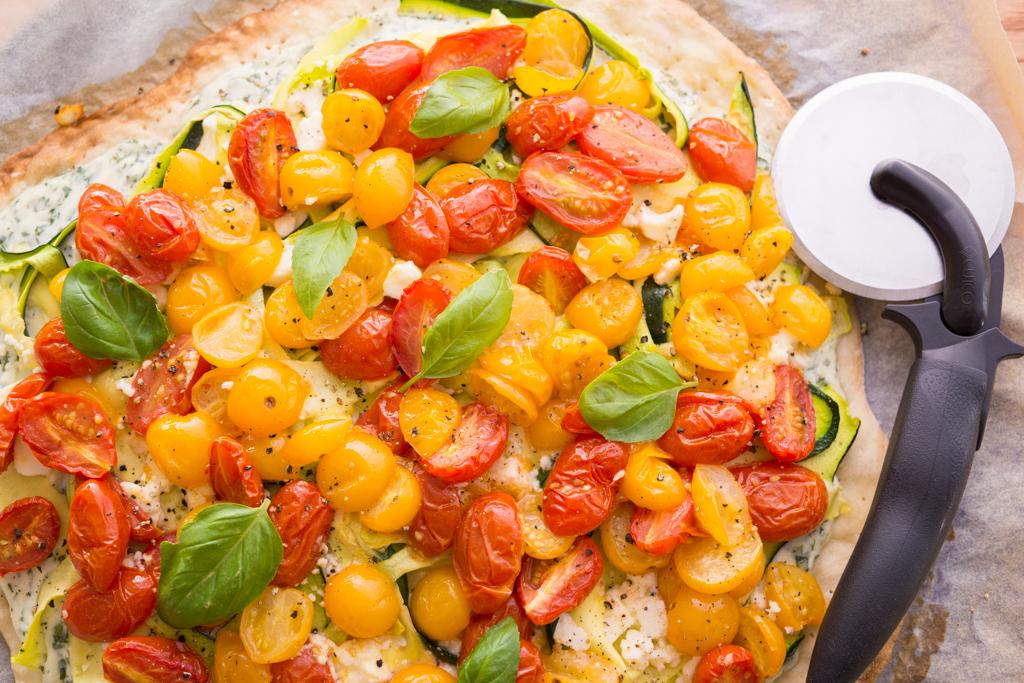 I love pizza. Hot, cold – it doesn't matter. I've even been known to eat cold pizza for breakfast.
I don't care for those crazy pies that are wrapped in bacon with a ton of cheese stuffed in the crust, or the ones with weird combinations of ingredients. However, I do like to try pizza with toppings other than the usual tomato sauce, cheese and pepperoni, like this Summertime Zucchini Ricotta Pizza.
Preparing the Ingredients
This recipe calls for thin ribbons of zucchini, which make it easier to eat when biting into the pizza. You can easily make them by running a Vegetable Peeler along the length of the squash.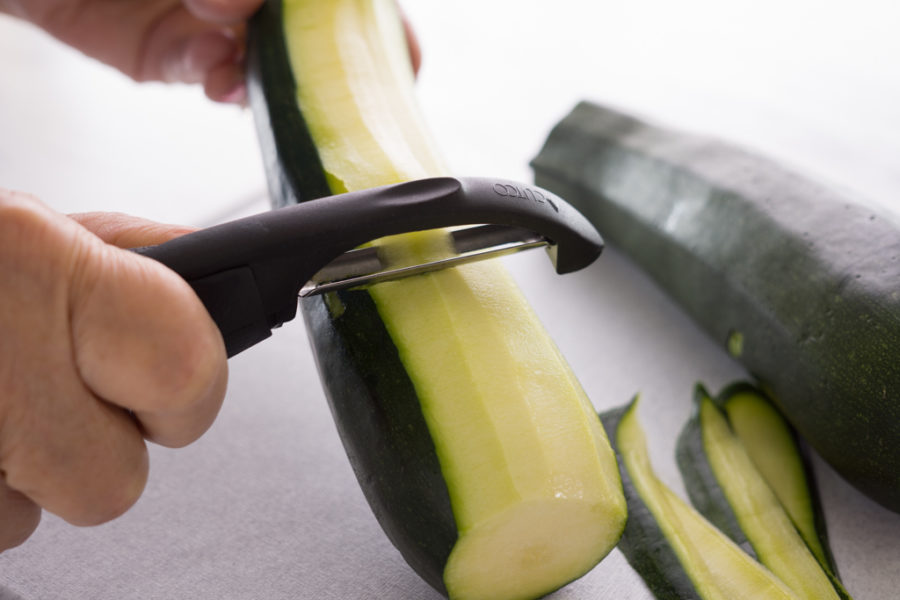 For the cherry tomatoes, the Santoku-Style Cheese Knife works great. Its sharp, small blade cuts through them with little effort.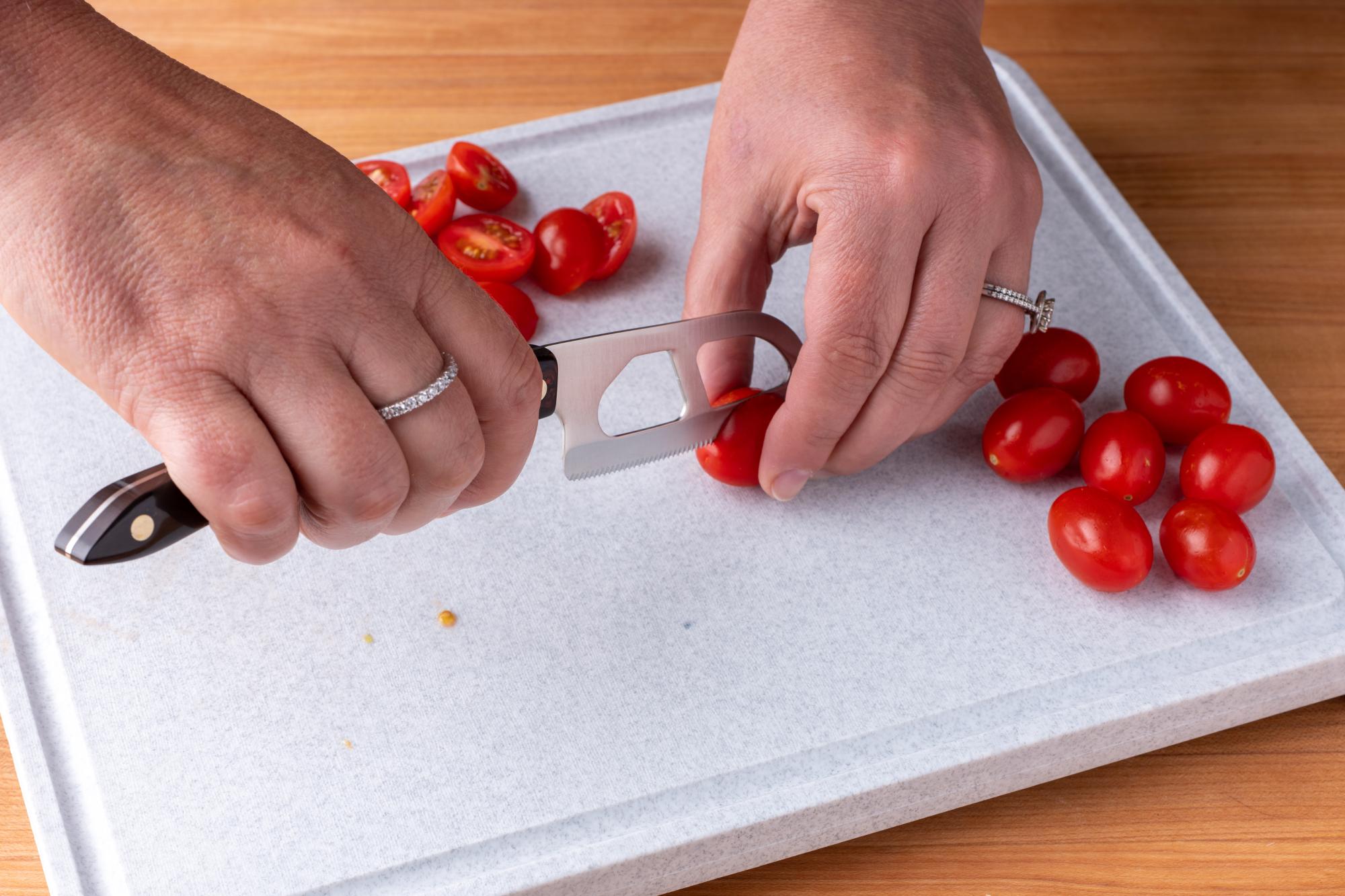 The tomatoes are roasted before they're added to the pizza where their flavor becomes more concentrated, resulting in a deep, rich caramelized taste.
Baking the Pizza
This pizza makes three trips to the oven but each cook time is short.
Prebaking the crust before adding the ricotta topping prevents it from becoming soggy. Roll the pizza dough out and pierce it several times with a fork (a technique called docking) so that the dough doesn't puff up while baking.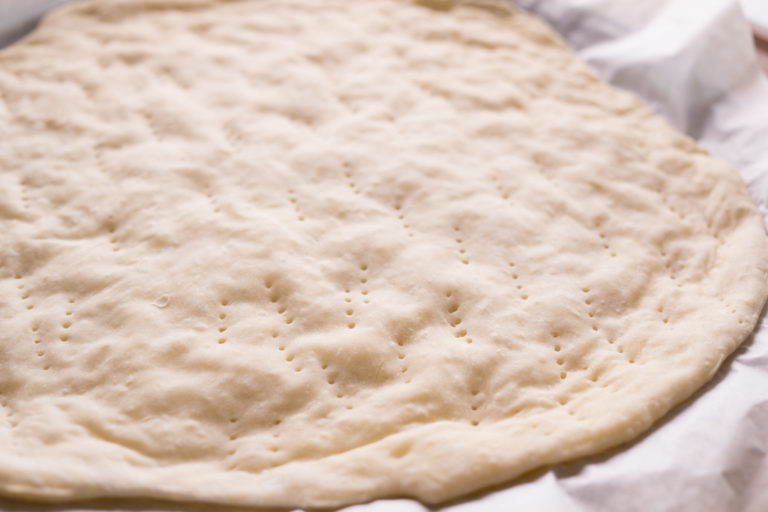 The base is is a mixture of ricotta cheese, salt, basil, mint and garlic, which is spread onto the crust after prebaking it. With the Spatula Spreader, it will take no time at all to cover the crust.
Place the ribbons of zucchini on the ricotta mixture and sprinkle the top with feta cheese then place it back in the oven. The second baking dries the ricotta slightly, crisps the zucchini and softens the cheese.
After that second trip to the oven, the pizza is removed and the roasted tomatoes are added.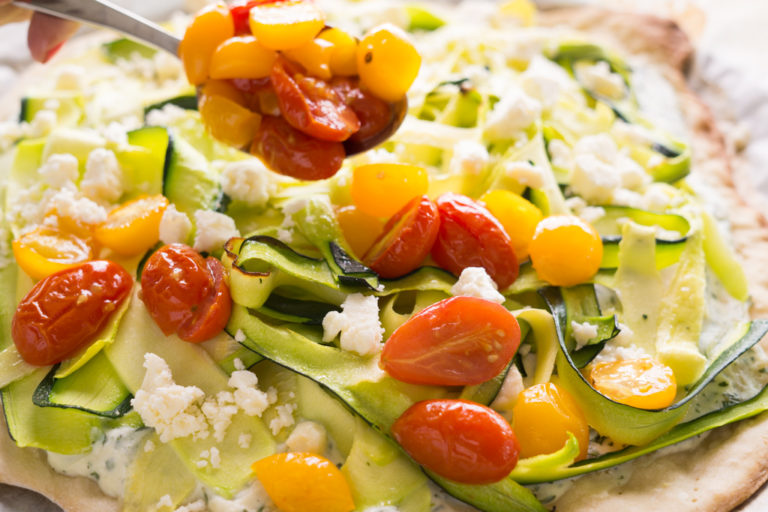 The pizza goes into the oven one final time. In total the pizza spends about 20 minutes baking, so it all move along pretty quickly.
Go ahead and experiment with toppings. Add a little crushed red pepper flakes to the ricotta mix for a kick, roast some sliced hot peppers with the tomatoes or drizzle balsamic reduction over the top of the pizza.
Now, grab a Pizza Cutter and let the flavor fun begin.
Originally published June 14, 2016.
Ingredients
1 1/2 cups red cherry tomatoes, halved
1 1/2 cups yellow cherry tomatoes, halved
1 tablespoon canola oil, divided
Salt and pepper to taste
1 12- to 13-inch pizza crust
1/4 teaspoon kosher salt
3/4 cup part-skim ricotta cheese
3 tablespoons finely chopped fresh basil
2 tablespoons finely chopped fresh mint
1 garlic clove, finely chopped
1 medium zucchini, peeled into ribbons
2 ounces crumbled feta cheese
Directions
Options for pizza crust: Homemade, refrigerated or packaged mix. Do not use pre-baked packaged crusts.
Heat oven to 450°F. Combine tomatoes and 1 1/2 teaspoons canola oil on a foil-lined baking sheet. Sprinkle lightly with salt and pepper. Bake for 10 minutes.
Place a round pizza pan in the oven and allow it heat up while you roll the dough. Roll dough into a 12- or 13-inch circle on a large piece of parchment paper. Pierce with a fork. Place on the heated pizza pan and bake for 5 minutes.
Combine 1/4 teaspoon salt, ricotta cheese, basil, mint and garlic. Spread on dough, leaving a 1/2 inch border. Combine zucchini ribbons with 1 1/2 teaspoons canola oil, arrange on pizza. Sprinkle with feta. Return to oven and bake 10 minutes. Top with tomatoes; bake for 5 minutes.
Cut into 8 wedges.
Recommended Tools