Strawberry, Raspberry and Blueberry Smoothie Bowl
513 days ago
Skip to recipe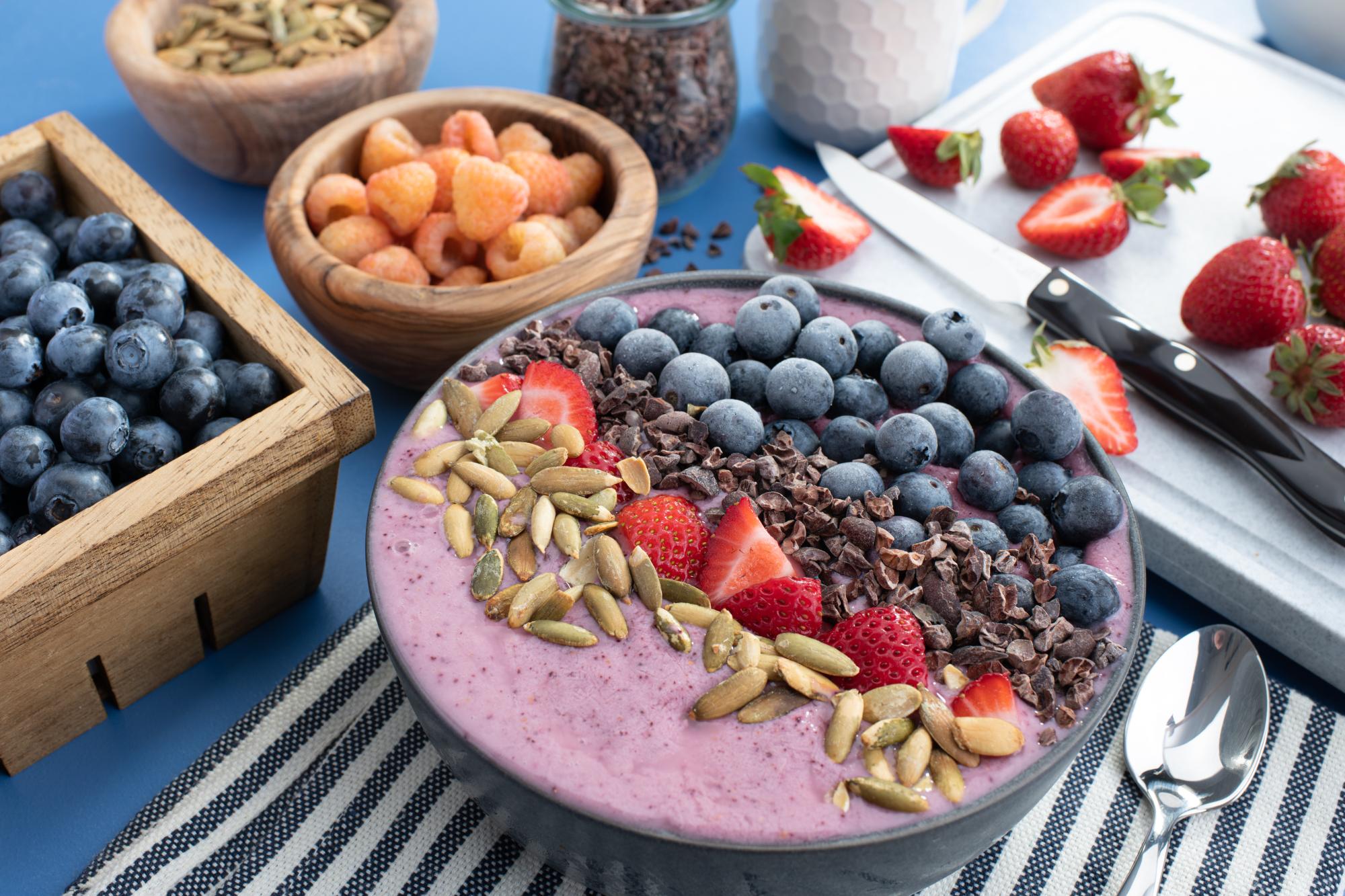 Mornings are always a hectic time and sometimes I just haven't thought about what I'm going to make for breakfast. Lately, smoothie bowls are my go-to because I can easily prep the fruit, put everything into a blender and I have a tasty and healthy breakfast.
This Strawberry, Raspberry and Blueberry Smoothie Bowl is one of my favorite recipes because I love berries. In reality, you can put together any combination you like for the recipe. I even add some protein powder to the mixture if I worked out that morning. The options are endless.
Smoothie Bowl Tips
There are a few tips and tricks to make your smoothie bowl thick and creamy. The first is to freeze some of your prepared fruit. The easiest thing to do is prep the fruit on the weekend and then freeze it in individual freezer bags or storage containers so you can put them directly into the blender when you're ready.
Another option is to add avocado (which doesn't need to be frozen). Just add a quarter or half of the avocado to the blender and what's nice, is the flavor is hidden within all of the other ingredients.
Bananas are also a great way to thicken up a smoothie bowl, although the flavor can overpower other more delicate ingredients.
Yogurt is also a great thickener for smoothie bowls. I prefer to use plain Greek yogurt as it's quite thick and doesn't alter the taste of the other ingredients.
A final tip is that if you don't plan on eating the smoothie bowl immediately, be careful with how much ice you add. The ice thickens it but will melt and make it watery if left out for too long.
Preparing the Smoothie Bowl
The hardest part of this recipe is prepping your ingredients, which takes no time at all. Using the 4" Gourmet Paring Knife, hull the strawberries and cut them in half (depending on size). This makes blending a bit easier because the fruit is smaller.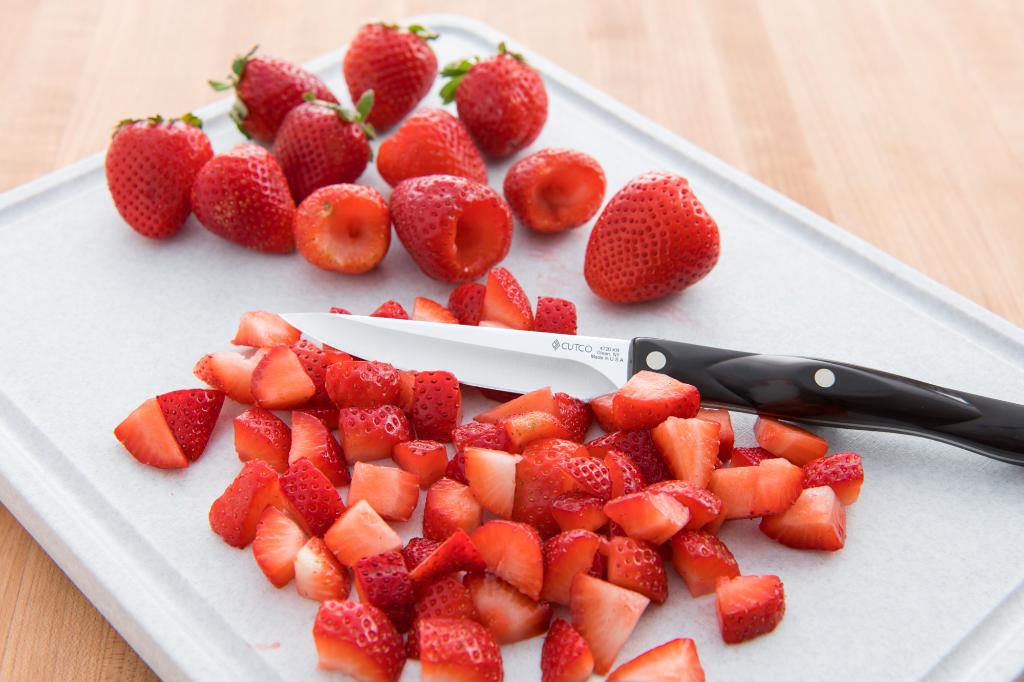 Using the same knife, cut the avocado in half and then into quarters and remove the seed. Using the knife, cut out the flesh from one quarter of the avocado and dice.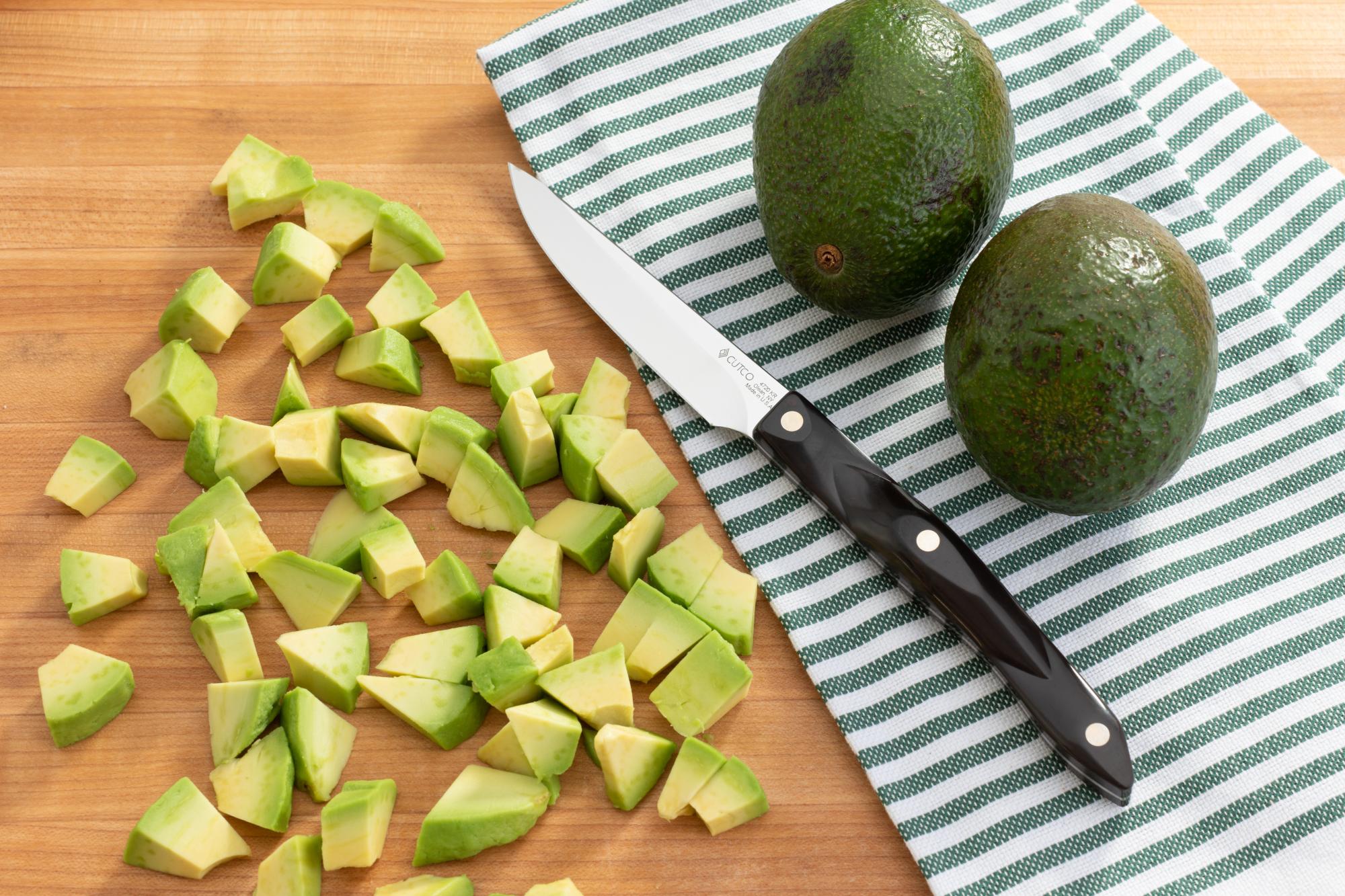 Place all of the ingredients into the blender and blend until smooth. If you need it to be thicker, simply add some more ice.
Divide the mixture between two bowls and use whatever toppings you prefer. We used some of the fruit as well as some chocolate nibs and pumpkin seeds. Adding some crunch on top is the perfect ending to this dish.
The overall flavor of this Strawberry, Raspberry and Blueberry Smoothie Bowl is light and refreshing. It's a great way to start your day with a healthy and satisfying breakfast.
Strawberry, Raspberry and Blueberry Smoothie Bowl
Print Recipe
Ingredients
1/2 cup almond milk
1 cup strawberries, hulled and cut in half
1/2 cup raspberries
1/2 cup blueberries
1/2 cup Greek yogurt
1/4 avocado, diced
1 tablespoon pure maple syrup
1/2 cup ice cubes
Toppings:
Sliced strawberries
Blueberries
Pumpkin seeds
2 tablespoons chia seeds
Shredded coconut
Directions
Place the milk, strawberries, raspberries, blueberries, Greek yogurt, avocado and maple syrup into a blender. Cover and blend until smooth. Add the ice cubes, cover, and process until smooth. Add more ice if you need to thicken the smoothie.
Divide mixture between 2 serving bowls. Add toppings and serve.
Recommended Tools