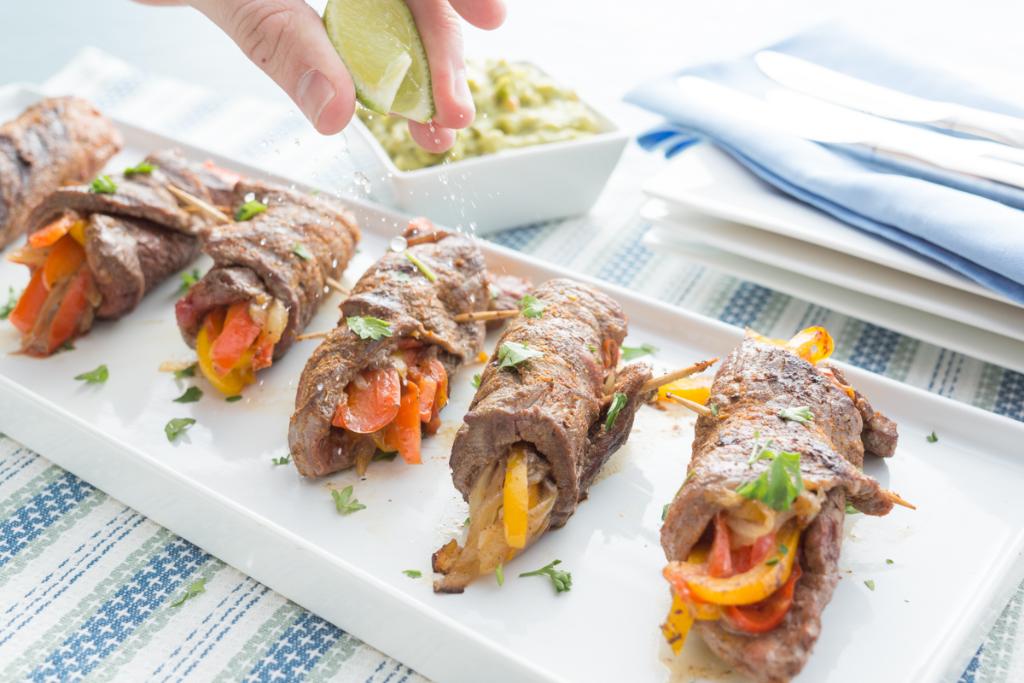 If you're trying to cut some carbs from your diet, this recipe for Fajita Roll-Ups is for you. Using thinly sliced sirloin tip steaks instead of tortillas creates a tasty low-carb version of a vegetable filled fajita.
Instead of using store-bought fajita seasoning, you can make your own with spices you probably already have in your cupboard. You'll get a double dose of this tasty seasoning from rubbing it into the steak and then sprinkling it on the onions and peppers while they cook.
Use the Boning Knife with its sharp, flexible blade to easily cut the steak into uniform strips.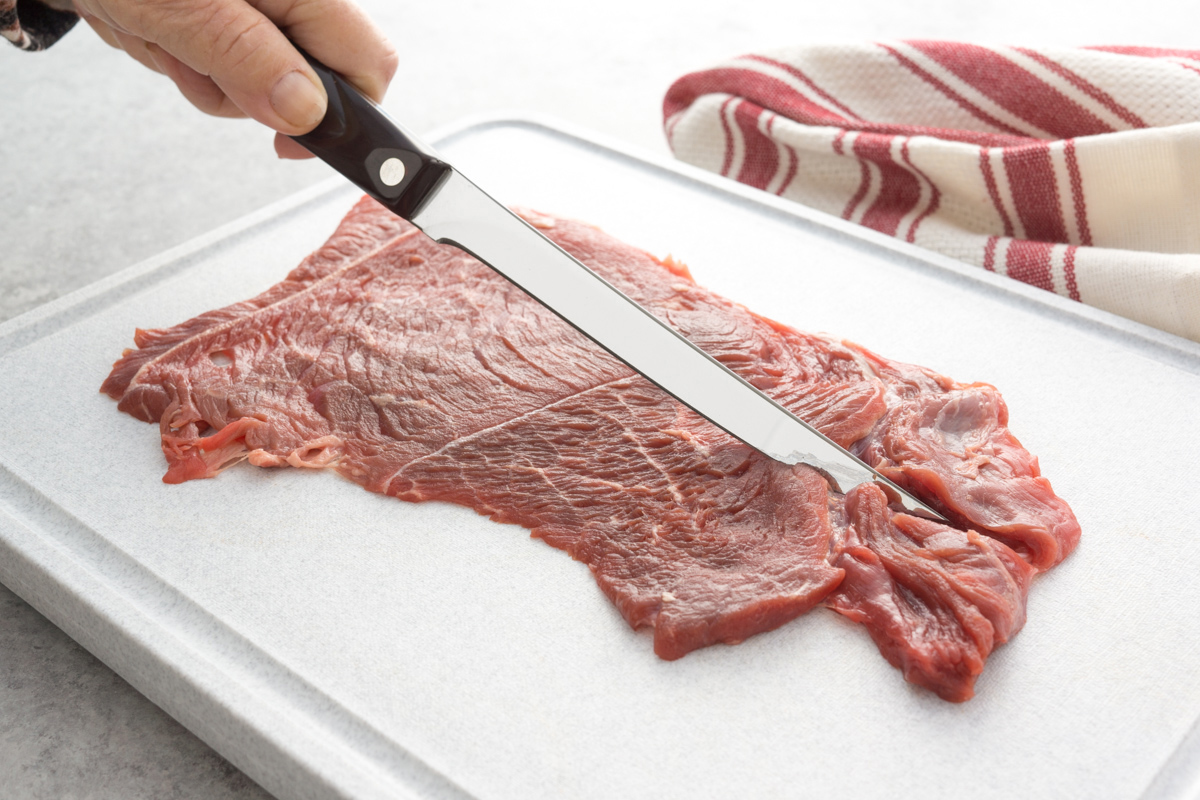 Having uniform strips allows the steak to cook more evenly. The Double D edge on the Trimmer easily slices the peppers into thin strips that cook up quickly along with the sliced onions.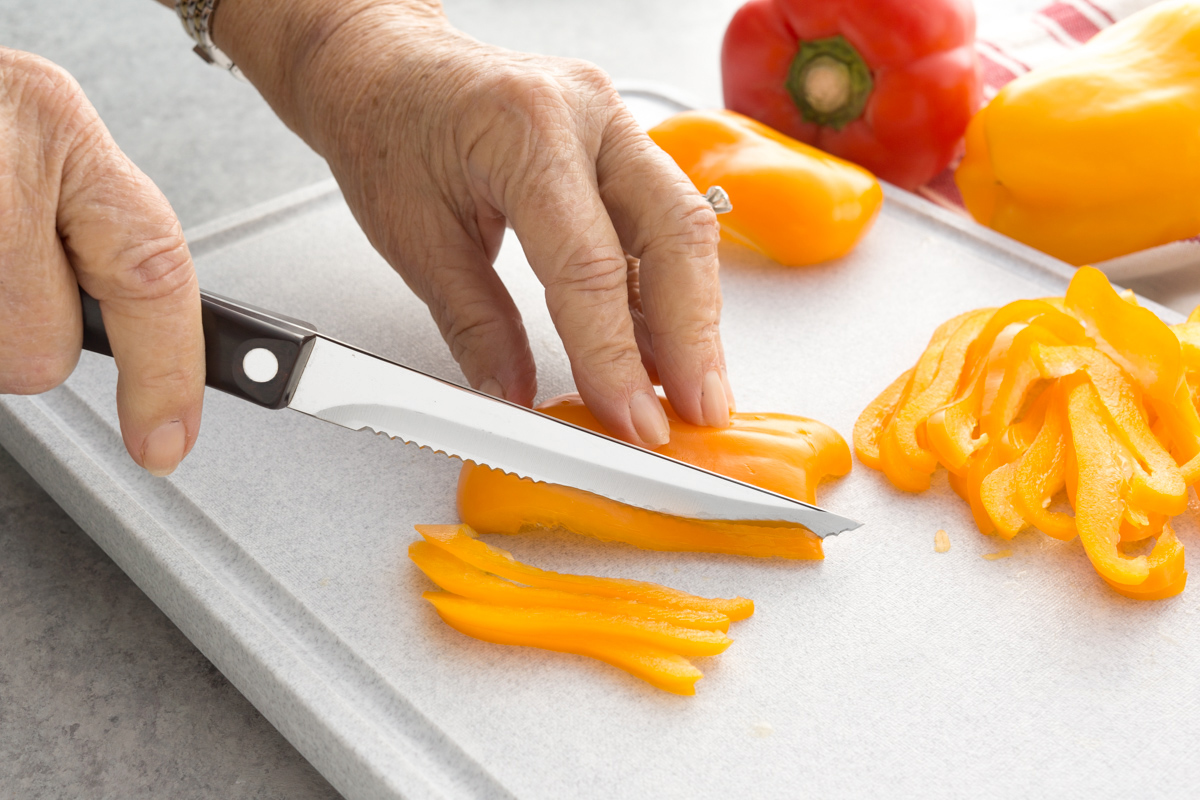 When grilling the fajitas, take care not to overcook them. Sirloin tip steak is not a prime cut of beef and has a tendency to become tough if cooked too long. Grill just a couple of minutes on each side for the best results.
Prepare the recipe as is for appetizer size portions or double it for a quick and easy weeknight meal.
Ingredients
Fajita Seasoning Mix
1 teaspoon chili powder
1 teaspoon paprika
1 teaspoon garlic powder
1 teaspoon cumin
1/2 teaspoon dried oregano
1 teaspoon sea salt
1/4 teaspoon fresh ground pepper
Fajita Roll-Ups
1 pound thinly sliced sirloin tip steak (3 or 4 pieces)
1/2 tablespoon olive oil
1 each yellow, orange and red bell pepper, cut into thin strips
1 large yellow onion, sliced thin
1 lime, juiced
Fresh chopped parsley or cilantro
Guacamole for serving (optional)
Directions
Combine all ingredients for the Fajita Seasoning and set aside. This mix can be stored in an airtight container for up to 3 months.

Cut the steak into 2-inch wide by 6-inch long strips and rub both sides with some the seasoning mix. Set aside.

Heat oil in a grill pan over medium-high heat. Add pepper strips and sliced onion, season with salt and pepper and a sprinkle of the seasoning mix. Cook for about 4 to 5 minutes or until tender. Remove from heat and cool slightly.

Top each slice of the steak with vegetables; roll up and secure with a toothpick. It's okay if the onions and peppers are sticking out the ends.

Heat the grill pan again and add the roll-ups. Cook until browned, about 2 to 3 minutes per side. Remove from heat, remove toothpicks and place on a serving platter.

Drizzle some lime juice over the roll-ups and garnish with parsley or cilantro. Serve with guacamole, if desired.

NOTE: To serve as a meal, double the entire recipe.
Recommended Tools