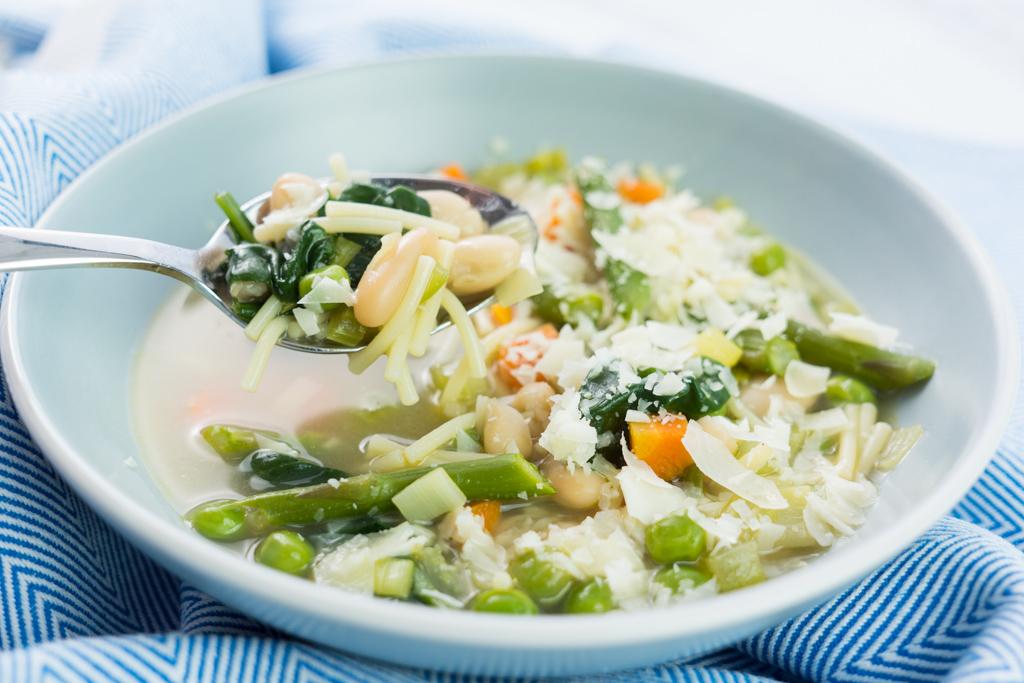 Think hot soup is only for winter? Think again. This light soup is full of good for you vegetables including fresh, tender asparagus which is plentiful this time of year. A sharp Santoku knife makes dicing the carrots, celery and leek a breeze. The cook time is short so you can have this soup on the table in about an hour.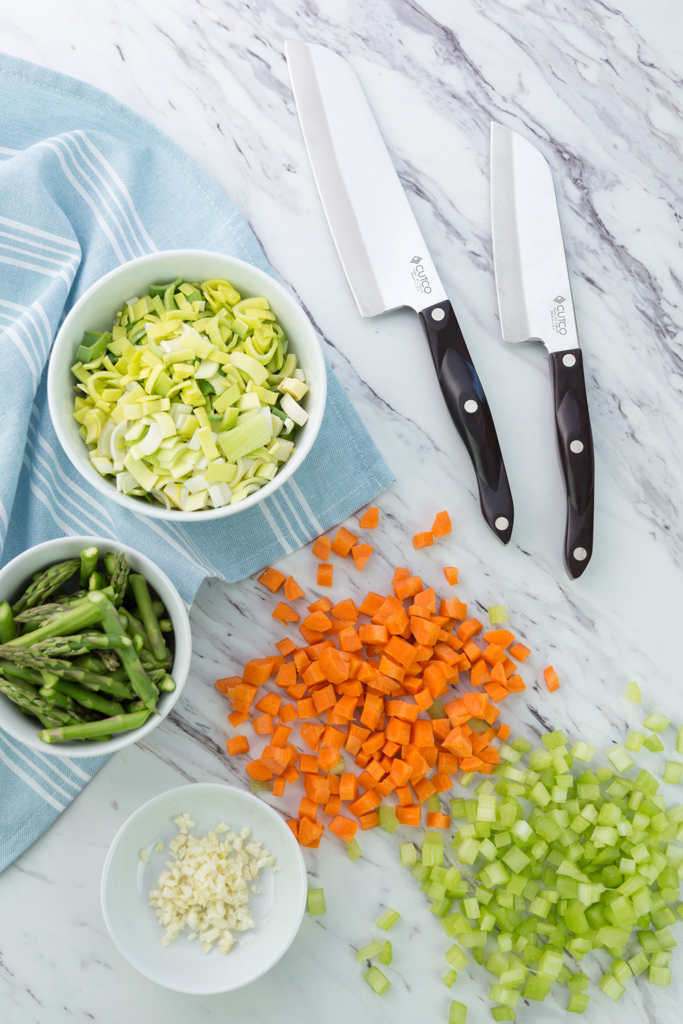 Serve it with buttery, garlic knots that you can whip up in about 20 minutes. It doesn't get much easier than this. It's a healthy, homemade dinner for the whole family.
Ingredients
2 tablespoons olive oil
2 medium carrots, diced (about 1 cup)
1 large leek, trimmed and diced (about 2 cups)
1 celery stalk, diced (about 2/3 cup)
1/2 teaspoon salt
1/2 teaspoon black pepper
1 large garlic clove, minced
6 cups unsalted chicken stock or vegetable stock
1/2 cup fideo cut spaghetti (thin, short cut pasta)
1 cup frozen green peas
1 cup asparagus cut into 1 1/2" slices*
1 15-ounce can unsalted cannellini beans, rinsed and drained
2 cups fresh baby spinach
1 teaspoon fresh thyme
1/4 cup torn fresh basil
Shaved Parmesan cheese (optional)
Directions
Heat a large pan over medium heat. Add oil; swirl to coat.
Add carrots, leek and celery; cook 5 minutes, stirring occasionally.
Add salt, pepper and garlic; cook 1 minute, stirring frequently.
Add stock; bring to a simmer over medium-high heat.
Reduce heat to medium. Add spaghetti, peas, asparagus and beans. Simmer 4 to 5 minutes. Taste. Vegetables should be crisp tender and pasta al dente.
Add spinach, thyme and basil; cook 1 minute.
Ladle into bowls and top with Parmesan cheese. *Tip: The bottom parts of asparagus spears are tough and woody. Cut that portion off and use the top end in the recipe. Save the bottom end for vegetable stock.
Recommended Tools