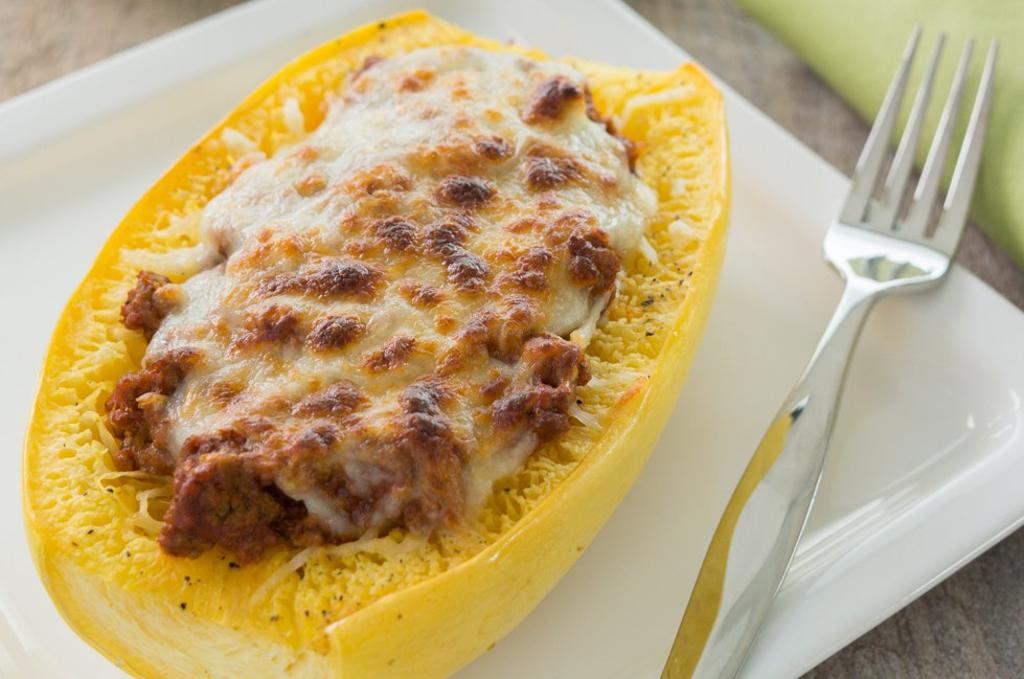 If you're looking for a cholesterol-free, fat-free and gluten-free ingredient to add to your cooking repertoire, look no further than versatile spaghetti squash. The flesh of this unique squash, when cooked, comes out in strands - like spaghetti - and can be used in many ways.
Spaghetti squash is a great healthy substitute for regular spaghetti, especially if you're watching your carb intake. Once cooked, all it takes is a fork to pull up the long strands. They can be removed from the shell and tossed with a number of different ingredients like butter and Parmesan cheese, marinara sauce, Alfredo sauce, feta cheese with Kalamata olives, tomato and basil, cooked ground beef, ground turkey, sausage and different cheeses and herbs. The combinations are endless. The strands can also be left in the shells and topped with sauces, with or without meat and cheese.
This Spaghetti Squash Lasagna is a good example of a stuffed squash recipe. The squash is roasted and then the strands are pulled up before the squash is stuffed with meat, sauce, cheese and seasonings, and put back in the oven to bake a bit longer.
The homemade sauce used in this recipe is excellent, but your favorite marinara or store-bought spaghetti sauce will also do the trick.
Learn how to easily cut a spaghetti squash, by checking out our easy step-by-step infographic. But, before you start it's a good idea to microwave the squash before cutting to make it a bit easier. Pierce the skin with a 4" Paring Knife to allow it to vent while in the microwave. Once it has softened a little, let it cool and use a Butcher Knife to cut the squash in half.
Originally published, Sept. 25, 2015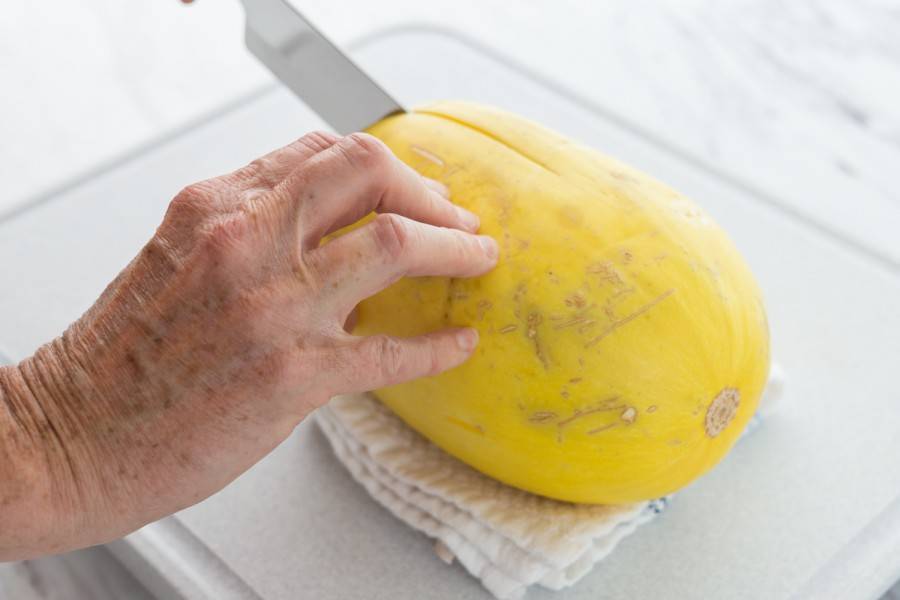 Ingredients
Recipe Ingredients
2 small spaghetti squashes, cut in half and seeded
2 tablespoons of vegetable oil, divided
Salt and pepper to taste
1 pound ground beef (option: ground turkey or Italian sausage)
1 small onion, diced
2 cloves garlic, chopped
1/4 - 1/2 teaspoon crushed red pepper flakes or to taste
1/2 teaspoon fennel seeds, crushed
1 15-ounce can crushed tomatoes
1 tablespoon tomato paste
1 teaspoon dried oregano
1 bay leaf
1/2 teaspoon paprika
1 tablespoon balsamic vinegar
Salt and pepper to taste
1 tablespoon fresh basil, chopped
Cheese filling
1 cup low fat cottage cheese or ricotta
1 tablespoon basil, chopped
Topping
1 - 1 1/2 cups shredded part skim mozzarella or a blend of shredded mozzarella and provolone cheeses.
Directions
Heat oven to 400 F. Brush the inside of each halved and seeded squash with 1 tablespoon of vegetable oil, season with salt and pepper and bake, skin side up, on a sheet pan for about 30 minutes or until tender.
Brown the ground beef in a medium skillet and set aside.
Heat 1 tablespoon of vegetable oil in a large pan, add the onion and cook 5-7 minutes. Add the garlic, red pepper flakes and fennel and cook about 1 minute. Add the hamburger, crushed tomatoes, tomato paste, oregano, bay leaf, vinegar and salt and pepper. Bring to a boil, reduce heat and simmer 15 – 20 minutes. Stir in basil and remove from heat.
To assemble, fluff up the inside of each squash half.
Fill each half with equal amounts of the cheese filling.
Spoon the meat sauce over the filling.
Sprinkle with the cheese.
Broil until cheese melts and turns a light brown, about 2 to 3 minutes. Watch carefully as the cheese can burn quickly.
Recommended Tools