Gwin's Lodge Smoked Alaskan Salmon Chowder
586 days ago
Skip to recipe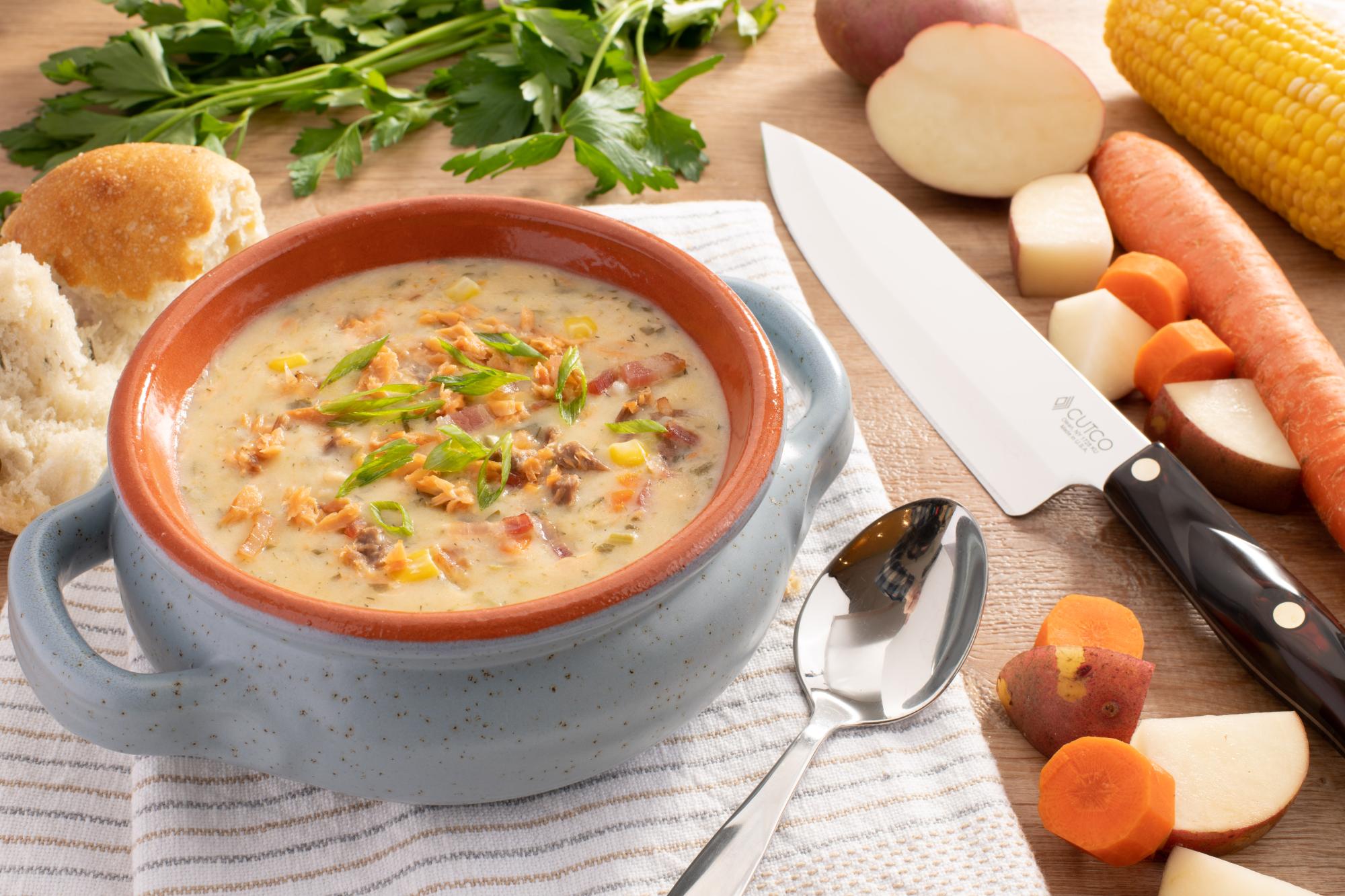 I am revisiting a trip with this recipe as it is a true favorite that I still make today at home. A few years back we visited Alaska and spent time in Seward, Kenai, Anchorage, Denali and Fairbanks. One of my favorite areas was Kenai as we had the opportunity to float down the Kenai River, where we spotted bald eagles and moose, as well as a variety of other wildlife and scenic wonders. It is a beautiful landscape, as there is so much to do and the opportunity to not do so much.
Within Kenai, we discovered Cooper Landing and the delightful Gwin's Lodge and Roadhouse. This was a great place to eat, stay and explore the area – emphasis on eat. To say that I would have eaten there every day is probably not an exaggeration. It was that good. We previously featured Gwin's Lodge Amazing Carrot Cake with Pineapple (yes it has amazing in the title for a reason) on this blog and, in fact, it's one we've made repeatedly for team members' birthdays. I figured it might make sense to feature another recipe from this restaurant, one that while I don't make often, is the stuff that dreams are made of.
So let me introduce you to Gwin's Lodge Smoked Alaskan Salmon Chowder and yes, it does say salmon chowder. When we first ordered this off the menu, it was because I like salmon and have never had a chowder that used it. I now ask myself why. The smoked salmon is delicate, yet the smoky flavor comes out in the recipe, especially when paired with the bacon. I like it because it's not overly fishy, yet holds its own against the onions, celery, carrots, green onions, parsley, dill and potatoes. When all these ingredients come together, it is a melt-in-your-mouth chowder experience. For the record, we did go back to the restaurant to order this dish a second time.
Word of warning, this salmon chowder recipe makes a lot since it is coming from a restaurant. You can always scale it down and cut the recipe in half, which will easily feed a family of four to six. For our purposes, we made the entire recipe, since the marketing team insisted. They all wanted a taste.
Prepping the Ingredients
The key to this recipe is using smoked salmon and not just a salmon filet. The smokiness adds to its success. Depending on where you purchase the salmon, you may need to remove the skin so you are left with just the flesh. Once you have that, take two forks and pull apart the salmon so it flakes.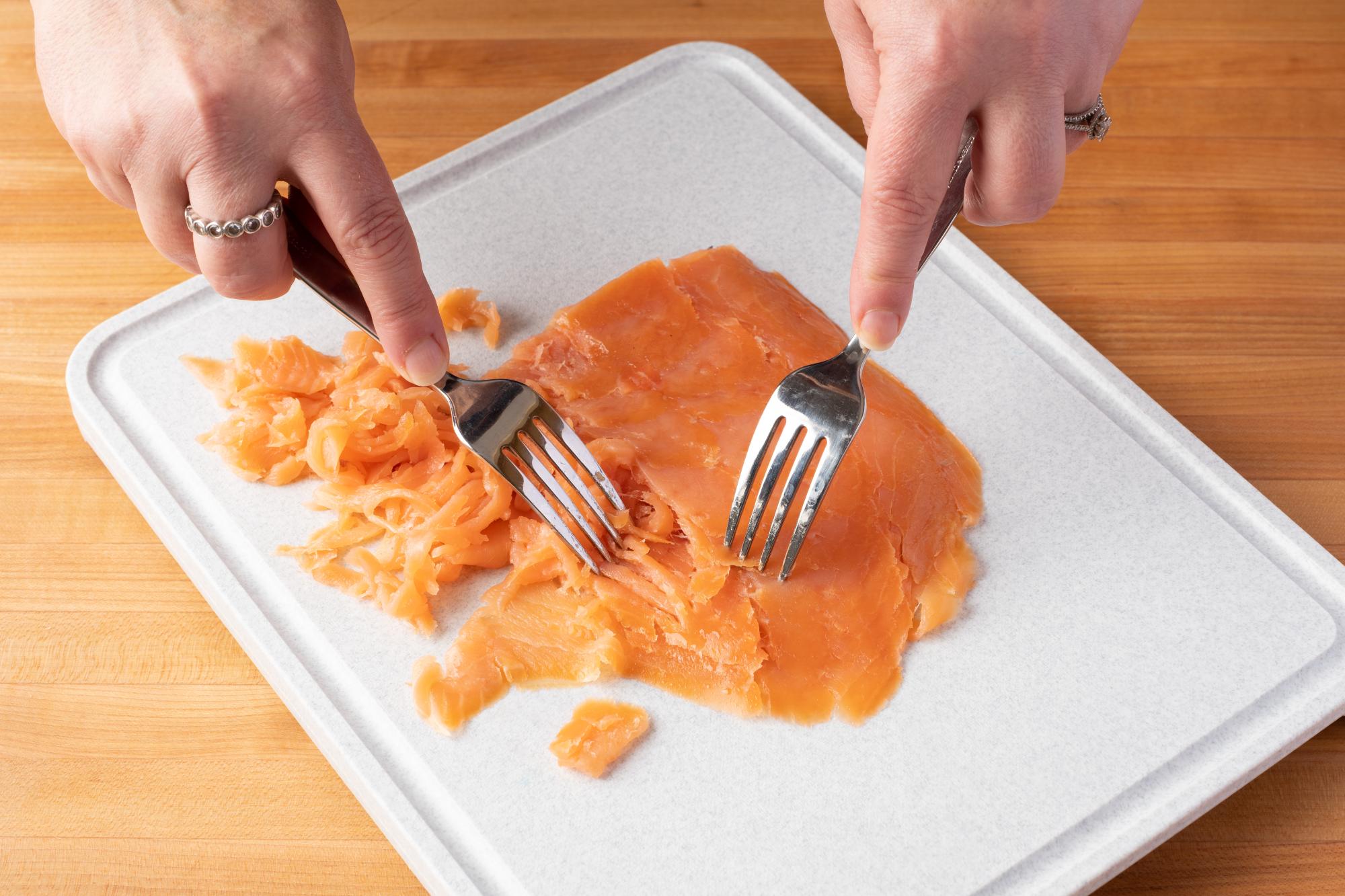 Next, prepare your mirepoix, which is a combination of minced onions, minced celery and finely chopped carrots. Use a 7-5/8" Petite Chef knife to prep these vegetables.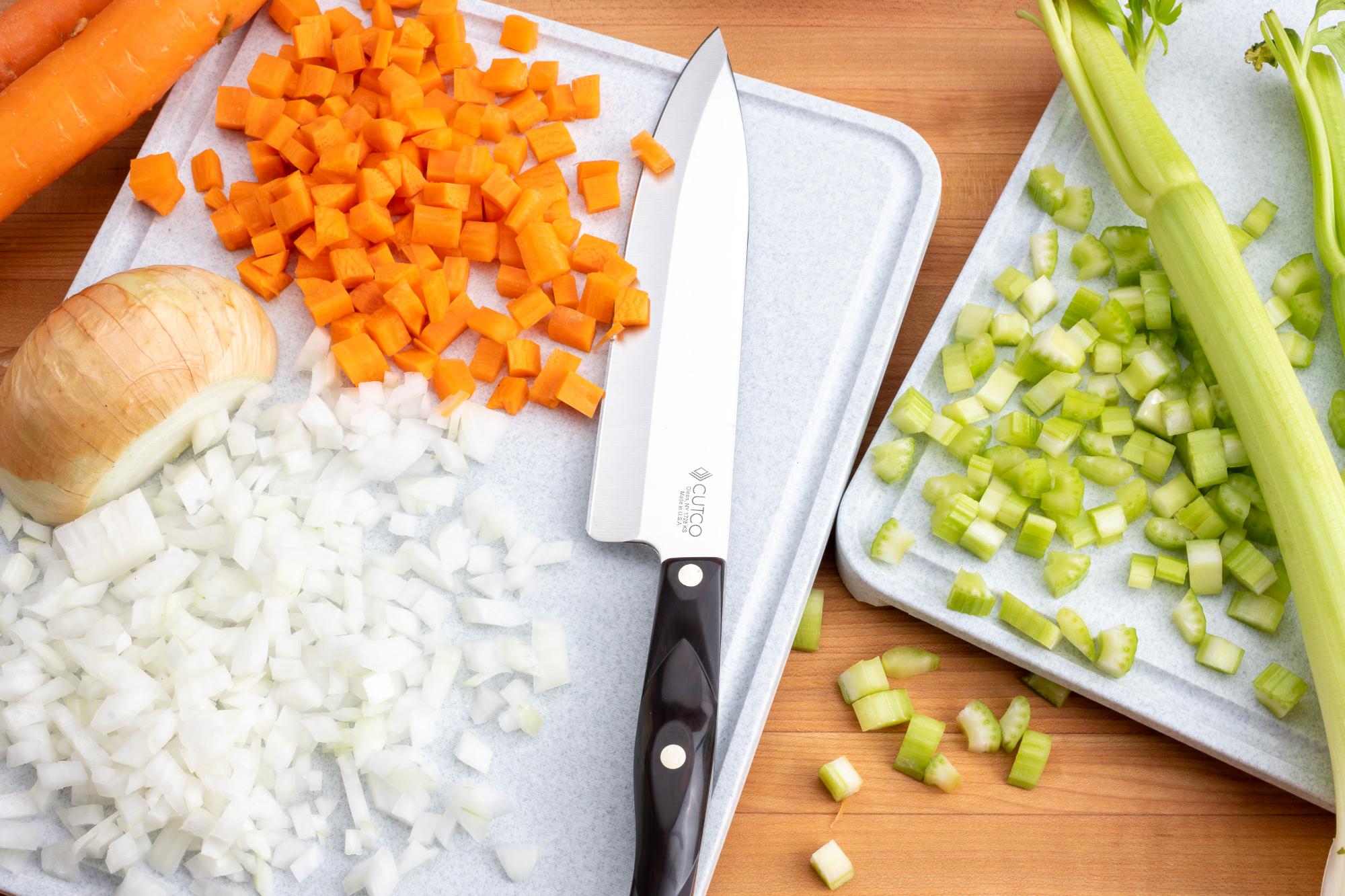 You can use the same knife to chop the raw bacon, finely dice the green onions and chop the fresh parsley.
Using a Traditional Cheese Knife, chop the red potatoes into similar size pieces. There is no need to peel the potatoes, just make sure they are clean.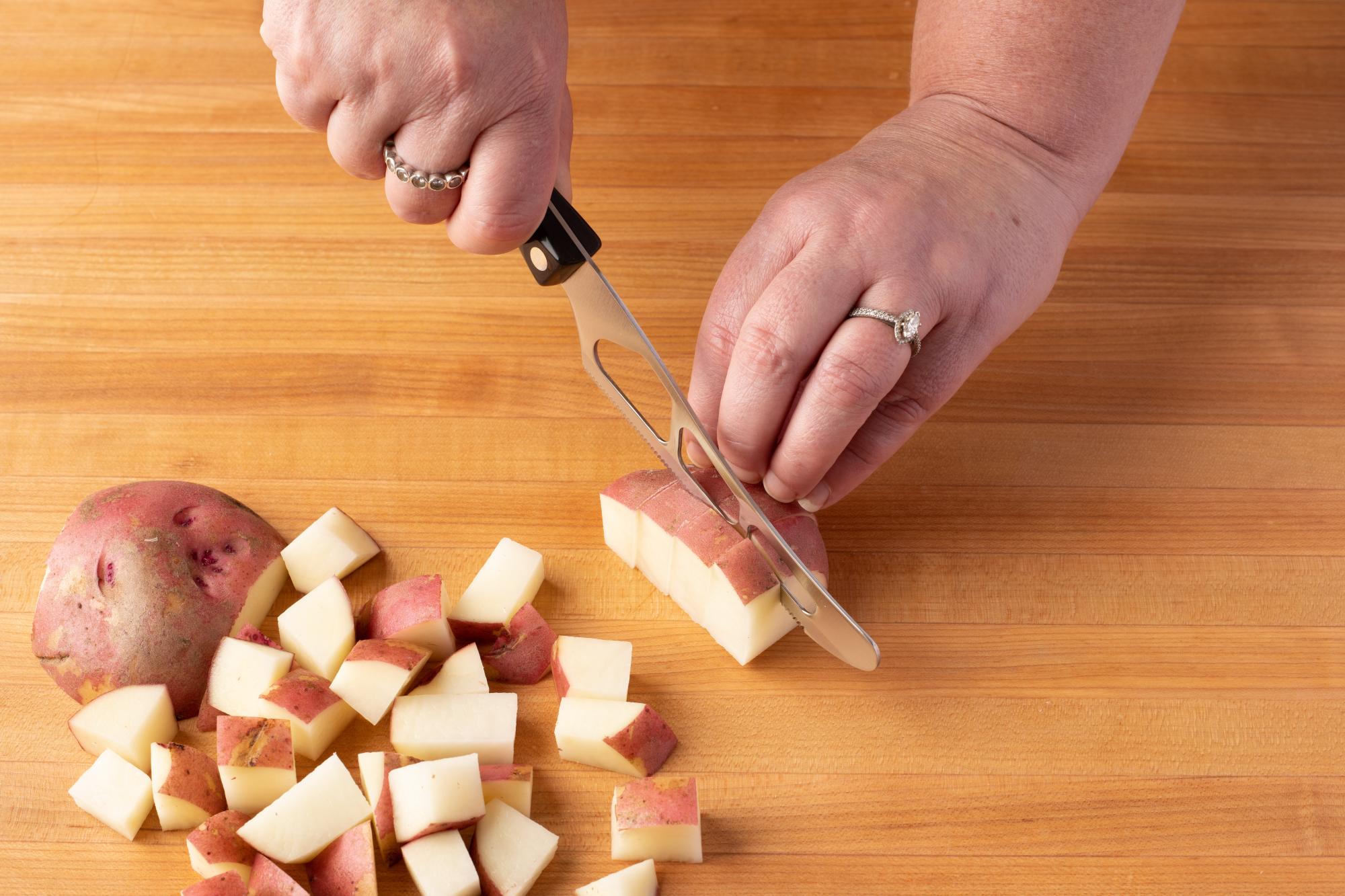 Making the Salmon Chowder
The first thing you need to make sure you have on hand is a very large pot (especially if you're cooking the entire recipe). We used Cutco's 10 Qt. Stock Pot and it worked great.
Take the chopped bacon and sauté it over medium heat, along with the onions, celery, carrots, green onions and parsley. The fat from the bacon will produce enough moisture for the other vegetables and it only sautés for four to five minutes. Add the water to the pot and cover for one minute. Then add the dill, black pepper and fish broth (we used a fish base that you add water to, to create the broth). This mixture will simmer until the carrots are tender. Add the chopped potatoes and continue to simmer until the potatoes are tender.
While the chowder is simmering, take a separate sauce pan and with the Mix-Stir, mix the butter and flour over medium heat to create a roux. A roux is a paste-like mixture that, when added to the soup, will thicken it but not change its flavor. You will know it's ready when you can take the Mix-Stir and drag it down the middle of the saucepan and the roux parts easily.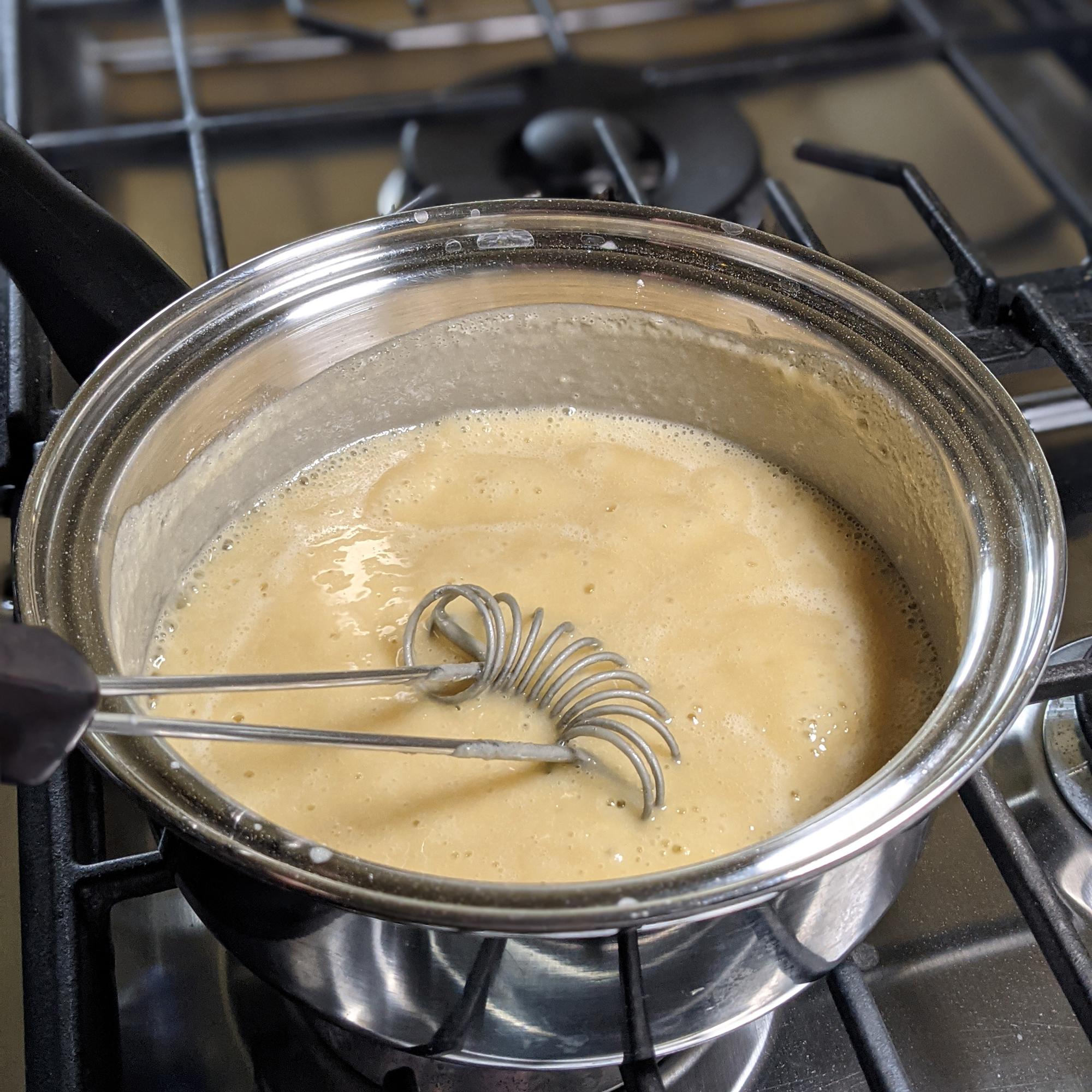 Add a few large spoonfuls of the broth to the roux to thin it out and, after mixing thoroughly, add it to the pot with the vegetables and broth. Stir constantly to incorporate and then allow the mixture to simmer for around five minutes. Add the milk and again, bring to a simmer, allowing the mixture to continue to thicken. Finally, add the white wine, lemon juice, corn (I used frozen corn that had thawed, but you could use fresh), and the flaked salmon. Continue to simmer until it reaches your desired thickness. If the chowder becomes too thick, you can add additional water to thin it down. Take off the heat, ladle into large bowls and serve with a crusty bread.
I've already mentioned how tasty this chowder is, but what I love about it is that in each spoonful there are so many flavors. The smoked salmon, cooked bacon, vegetables, potatoes, spices and more are warm and pleasing to the palate. Gwin's Lodge Smoked Alaskan Salmon Chowder is a must-try recipe that even had folks in the kitchen going back for seconds, including those that are not seafood lovers. Give it a try. You will not be disappointed.
Credit to Gwin's Lodge for this recipe
Ingredients
10 strips raw bacon, chopped
2 large onions, minced
4 stalks celery, minced
3 carrots, finely chopped
5 green onions, finely diced
3/4 bunch fresh parsley, chopped
1/2 cup water
1 1/2 tablespoons dry dill
1/3 tablespoons black pepper
6 cups fish broth (water mixed with fish base)
8 red potatoes, chopped
1 cup butter
1 cup flour
5 cups milk
3/4 cup white wine
1/4 cup lemon juice
1 1/2 cups corn kernels
1 1/2 pounds smoked salmon (sockeye preferred), flaked
Directions
Chop bacon and sauté in a large pot with onions, celery, carrots, green onions, and parsley for about 4-5 minutes over medium heat.
Slowly add in water and cover for 1 minute.
Add dill, black pepper and fish broth and simmer until carrots are tender.
Add the chopped red potatoes and simmer until tender.
In a separate saucepan, mix the butter and flour over medium heat and stir to make a roux, or paste. Before adding this mixture to the pot, add a few large spoonfuls of the hot broth to the roux for thinning and bring it to the proper temperature. Add this thinned roux to the pot with vegetables and broth. Stir thoroughly and let simmer for 5 minutes.
Add milk, stir and bring to a simmer, allowing it to thicken slightly.
Add white wine, lemon juice, corn and flaked salmon. Continue simmering, stirring frequently, until the desired thickness is obtained. A little water may be added if chowder becomes too thick.
Recommended Tools