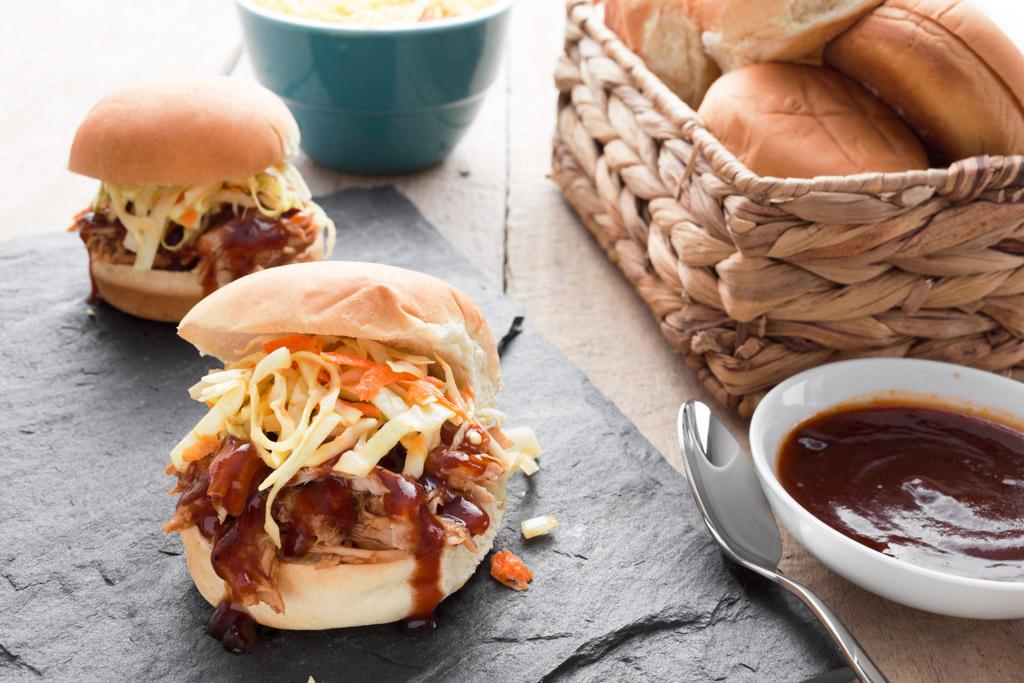 Oh, how we love our slow-cookers. This is a four-season cooking vessel that can produce easy, delicious, crowd-pleasing dishes any time of the year. This week, it's Barbecued Pulled Pork.
Talk about easy prep. This is it. Start by lining the cooker with a disposable liner for easy clean-up. Add a boneless pork loin, some spices, garlic, onion, pepper and barbecue sauce.
Let Cutco be your sous-chef and make quick work of slicing the onion and pepper with the Trimmer. If you want a little heat, add some chili powder or a pinch of cayenne pepper. In just a few hours, the pork will be fork tender, ready to shred and mouth-wateringly delicious.
When done, use the Carving Fork to hold the pork firmly on the Cutting Board and the Turning Fork with its sharp tines to easily shred it.
To serve, I used slider buns and topped the pork with coleslaw. There are all kinds of buns and rolls available so you might want to try something other than a plain roll. Try it on pretzel buns, ciabatta or Kaiser rolls.
Not only is this pulled pork great to serve at home but it's easy to transport to take to a potluck.
Ingredients
1/2 cup water
1 16-ounce bottle barbecue sauce (we used Sweet Baby Rays)
3 pounds boneless pork loin or boneless center cut roast
1 tablespoon smoked or regular paprika
1 teaspoon black pepper
2 teaspoons salt
1/8 cup brown sugar
2 cloves garlic, minced
1 tablespoon Worcestershire sauce
1 medium onion, sliced thin
1 green bell pepper, sliced thin
Directions
Put the water and half of the barbecue sauce in the bottom of the slow cooker. Stir until blended.
Add the pork and sprinkle with the paprika, black pepper, salt, brown sugar, garlic and Worcestershire sauce. Sprinkle the onion and bell pepper on and around the pork. Drizzle with the remaining barbeque sauce.
Cover and cook on high for 4 to 5 hours or on low for 8 to 10 hours or until fork tender.
Remove the pork from the slow cooker and place on a cutting board. Shred the meat using two forks. Return the shredded pork to the slow cooker and mix with the sauce. Allow to stand for 10 minutes for flavors to blend.
Serve on buns with coleslaw.
Recommended Tools