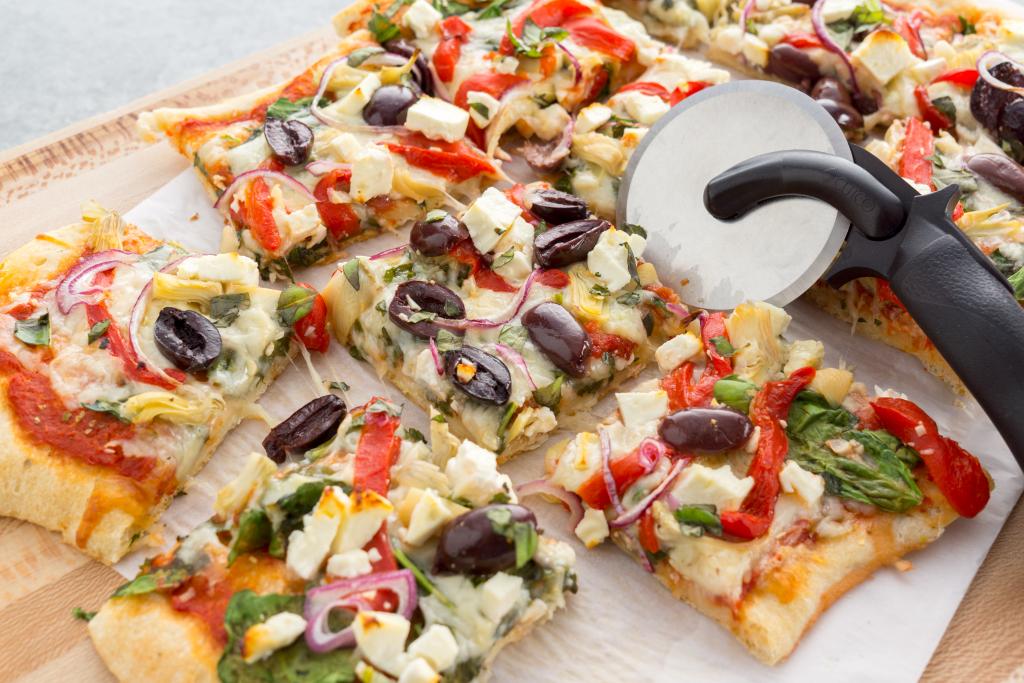 I love pizza. I've been known to eat it for breakfast and, in my mind, you can never go wrong with pizza. I'm pretty much a purist, though. I don't like a lot of crazy toppings on my pizza. No pineapple, Buffalo chicken, dill pickles, corn, fried eggs, sardines, or shrimp. Not for me.
However, this Greek Pizza recipe rated high on my list for its delicious pizza topping combos. Even though it's called Greek Pizza, it still has a touch of Italian with its crushed tomatoes and mozzarella cheese.
There are a lot of ingredients on it but they can all be sliced, cut and chopped in a matter of minutes using Cutco knives, like the Trimmer and 7" Santoku.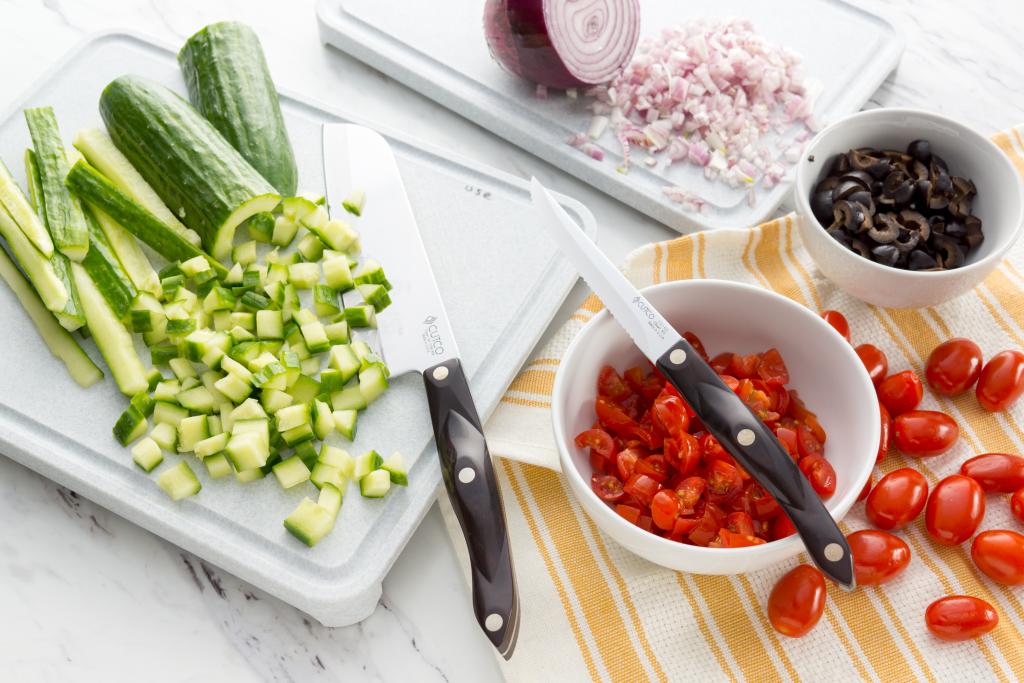 To chop the basil, stack the leaves on top of each other and cut with a 7" Santoku or 7-5/8" Petite Chef.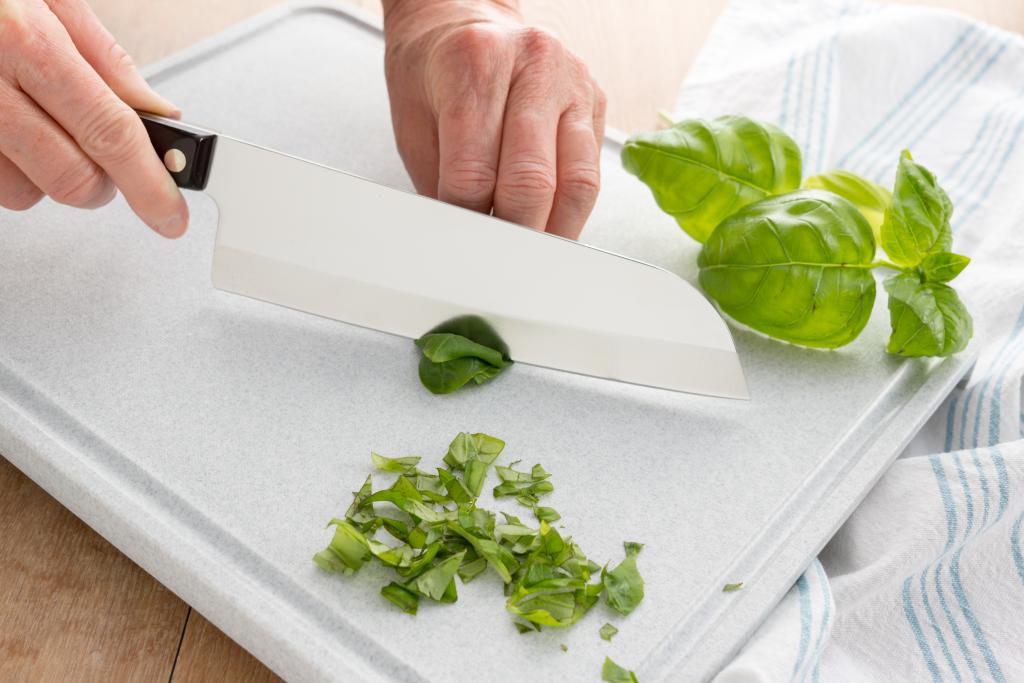 It smelled so good while it was baking, I couldn't wait to get it out of the oven so I could taste it. I used the Pizza Cutter to cleanly slice it from its top layer of melted cheese down through the crispy crust.
This pizza rated two thumbs up from everyone who tasted it, with the exception of one coworker who doesn't like olives of any kind. She carefully inspected a piece and removed the olives so she could try it and in the end, like it.
Fresh from the oven homemade pizza is better than take-out any day. Even better, you can make it exactly the way you want and have it any time you want – even for breakfast.
Ingredients
2 packages refrigerated pizza crust
1 cup crushed tomatoes (drain a 28-ounce can and measure out 1 cup of the tomatoes)
1 teaspoon dried oregano
2 cups baby spinach
1 6-ounce jar marinated artichoke hearts, drained, patted dry
1/2 cup thinly sliced red onion
1 cup thinly sliced roasted red pepper strips (from a 12-ounce jar)
2 tablespoons minced garlic
20-25 Kalamata olives, halved lengthwise (or as many as you want)
1 1/2 cups shredded mozzarella cheese
1/2 to 1 cup crumbled feta cheese
Fresh basil and red pepper flakes for garnish (optional)
Directions
Heat oven to 400 F. Place oven rack in low position. Line 2 large cookie sheets with parchment paper. Unroll dough onto the parchment in each pan.
Spread 1/2 cup crushed tomatoes over each crust. Sprinkle each lightly with 1/2 teaspoon dried oregano.

Divide the toppings evenly over the two pizzas in the following order:

· Spinach

· Artichoke hearts

· Red onion

· Red pepper strips

· Olives

· Minced garlic

· Mozzarella cheese

· Crumbled feta cheese

Bake 12 – 15 minutes or until bottom of crust is golden brown.
Garnish with fresh basil and red pepper flakes, if desired.
Recommended Tools