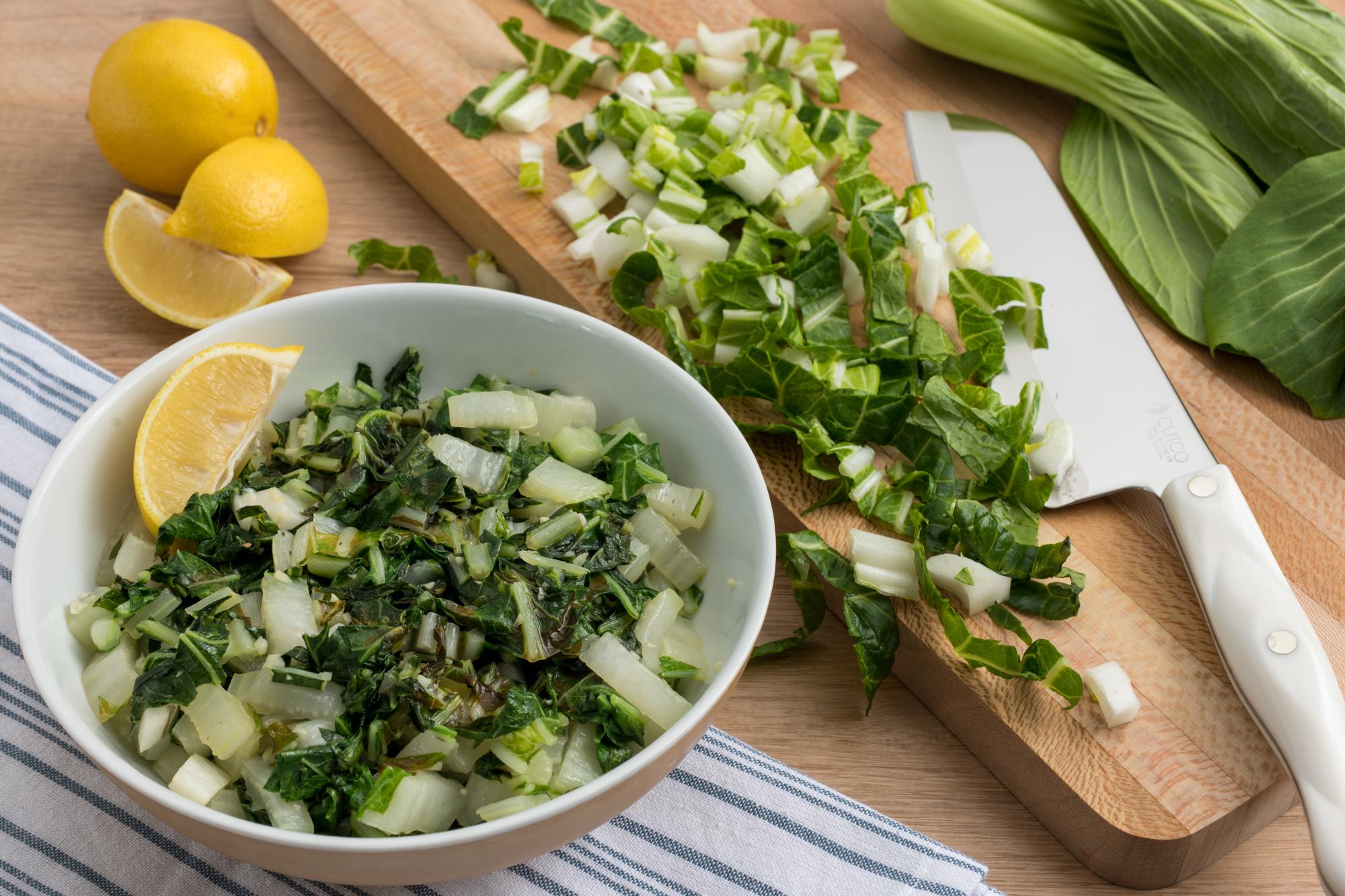 I'm always looking for a quick and easy side dish during my week, as I don't have the time to cook a major meal after a long work day. Luckily, I belong to a community-supported agriculture (CSA) farm that provides me with certified naturally grown vegetables every week. The challenge is that I never know what vegetables I will get from week to week, which is how I discovered my love for bok choy.
Quick note - regular bok choy and baby bok choy are interchangeable in recipes, the baby bok choy just has a slightly sweeter and more delicate flavor than its mature counterpart. Typically, I will throw in some baby bok choy when I'm preparing a stir-fry as it adds great flavor and some crunch from the white stems.
For this recipe I wanted the baby bok choy to be the star, so it was a quick sauté with your standard ingredients of olive oil and garlic cloves, with a surprise of added heat provided by the Sriracha sauce (you can use any hot sauce, just be gentle with the use as you don't want to overpower the delicate flavor of the baby bok choy).
Preparing baby bok choy is actually quite easy. Check out our infographic on the steps you can use to get your baby bok choy ready to go. Quick tip – always make sure to rinse this vegetable and remove the grit from the stem area.
For this sautéed baby bok choy, it really took me only ten minutes from prep to finished dish. I made sure to cut it into equal slices so it would cook evenly. I found the 7" Santoku knife perfect for this task.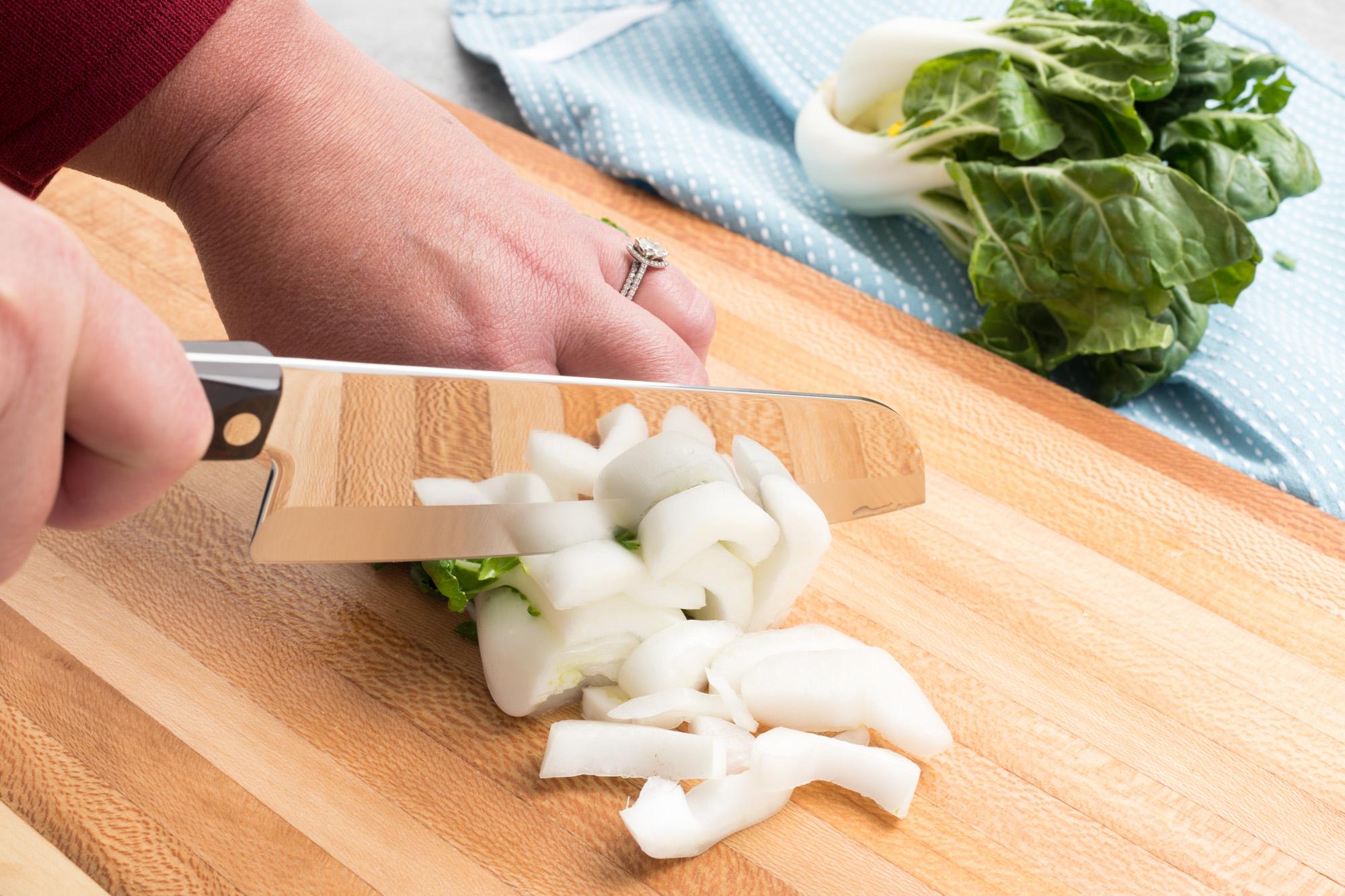 Then it was just a matter of warming up the olive oil, garlic and hot sauce and adding the baby bok choy. The hardest part of this recipe is not stirring the mixture in the skillet. You want this dish to cook evenly with all the flavors soaking in, so only flip the baby bok choy once and then put it into your serving dish.
The lemon added a nice bit of citrus to the final dish and the delicate flavor of the green leaves, combined with the slight crunch of the white stems and just a hint of heat from the hot sauce…perfection! This may become one of my go-to sides. It's quick, easy and oh so delicious. Enjoy!
Ingredients
1 pound baby bok choy, trimmed and sliced
2 tablespoons extra-virgin olive oil
2 garlic cloves, minced
Dash Sriracha sauce, more if you want extra heat
1/4 teaspoon sea salt
1 lemon, cut into wedges
Directions
Cut the ends off the baby bok choy, removing any older stalks and rinse in a bowl of water to remove any grit or dirt.
Slice the white stems and green leaves and pat dry.
Put the oil, garlic and sriracha sauce in a skillet and place over medium heat. Cook – stirring frequently until the oil starts to bubble – taking care not to brown the garlic.
Toss in the baby bok choy, spreading into one layer and season with the sea salt.
Cook without stirring for approximately 2 minutes and then flip the baby bok choy and cook for another 2-3 minutes until the white stems have begun to soften (retaining some crunch) and the green leaves have wilted.
Place on a serving dish and squeeze 2 wedges of lemon juice over the mixture, serving with the remaining lemon wedges as a garnish.
Recommended Tools