Roasted Butternut Squash with Pecans and Cranberries
Published 262 days ago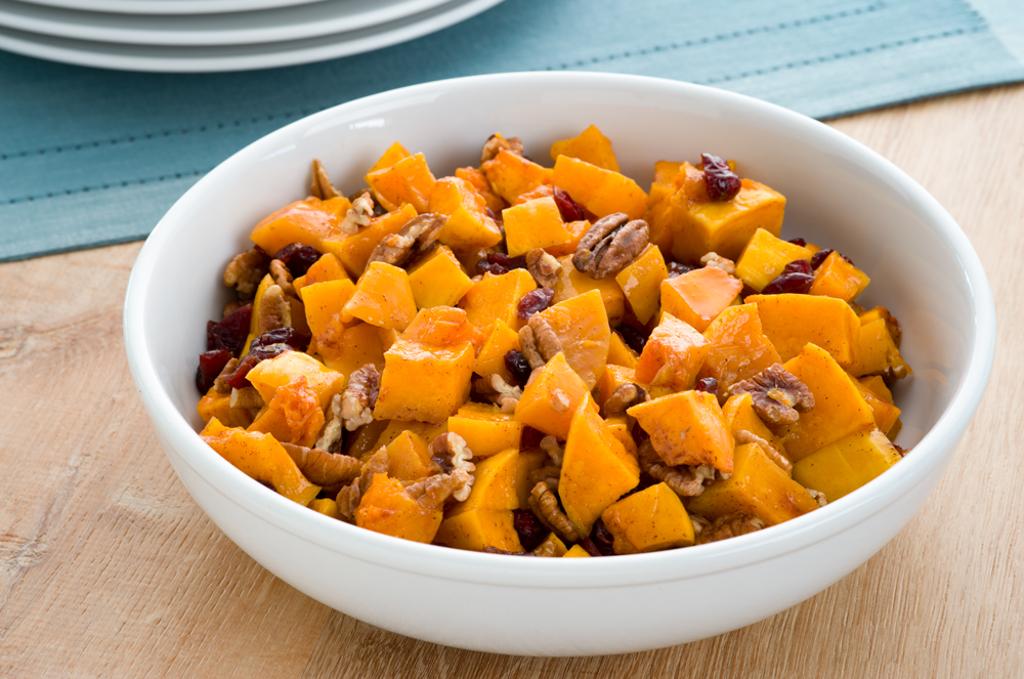 Roasted butternut squash is a fall favorite, whether you're eating it as a side dish or using it as an ingredient in other dishes. Roasting squash brings out its rich, nutty flavor, which is why is pairs so well with honey, brown sugar and nuts.
This recipe for Roasted Butternut Squash with Pecans and Cranberries is not only full of flavor, it's full of texture, too. It's a beautiful addition to any holiday meal.
Don't be intimidated by the thought of having to cut through this hearty vegetable. It's really quite easy with the right tools and techniques.
How to Cut Butternut Squash
If you want to make cutting hearty winter squash a little easier, pierce the skin with a sharp knife in several places and microwave it for 2 to 5 minutes to soften it a bit. Then, use a knife long enough and hefty enough to cut through the squash. We recommend our Vegetable Knife, but a Butcher Knife, 9-14" French Chef or 7" Santoku would also work well. The key is to use the right size of knife for what you're cutting.
Here's how:
Peel the butternut squash with a Vegetable Peeler.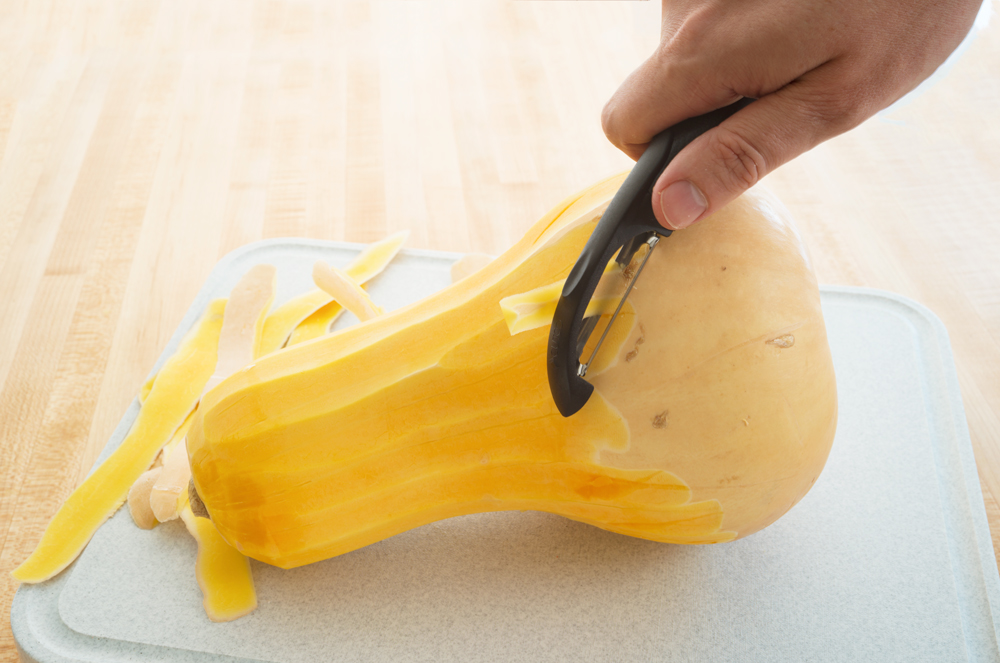 Cut a slice off each end and then cut the squash in half lengthwise.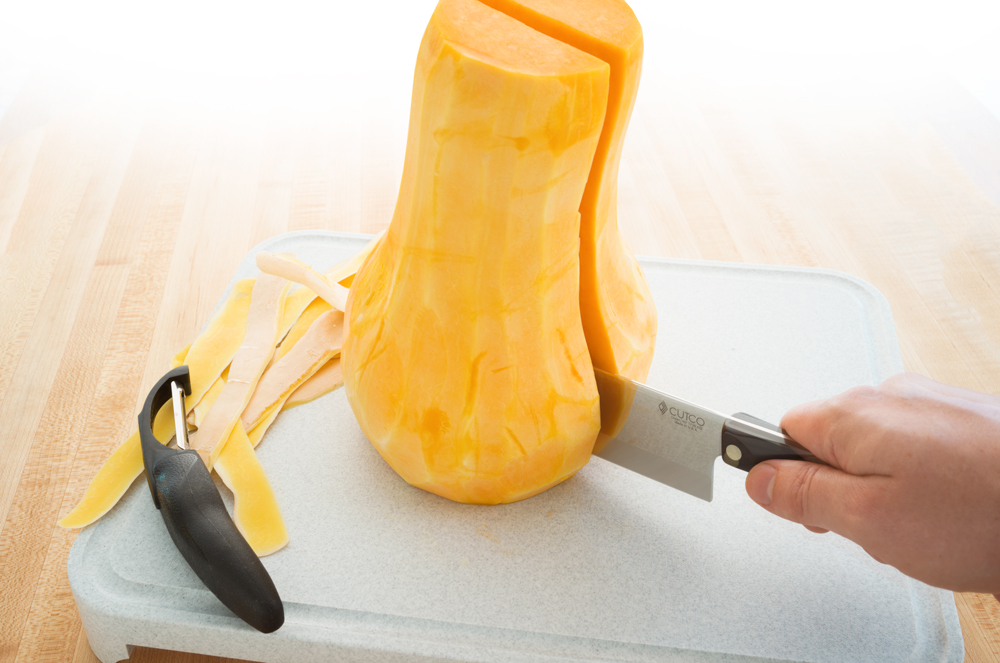 Use a spoon to remove the seeds.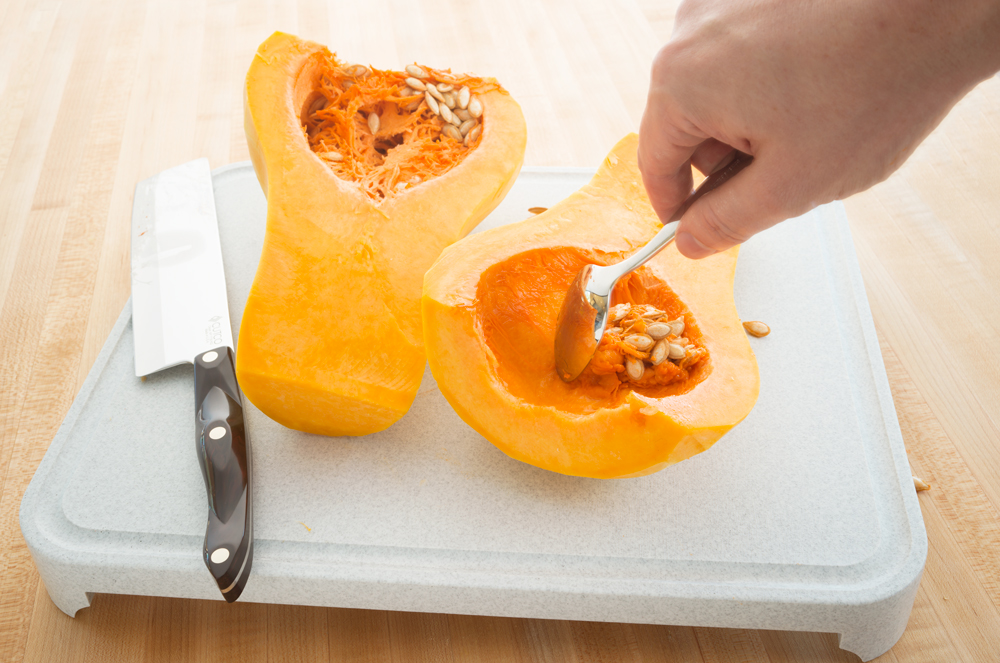 Cut the squash into uniform-sized cubes for even roasting.
For more information on how to cut butternut squash, watch our how-to video with step-by-step instructions.
Try roasted butternut squash on salads or pureed for soups, too.
Roasted Butternut Squash with Pecans and Cranberries
Print Recipe
Ingredients
1-1/2 pounds of butternut squash, peeled, seeded and cut into 1" cubes (about 4 cups)
2 tablespoons olive oil
3 tablespoons pure maple syrup
1/2 teaspoon ground cinnamon
2 cups pecan halves
1 cup dried cranberries
2 ? 4 tablespoons pure maple syrup (optional)
Directions
Preheat oven to 400°F. Line a baking sheet with foil and brush with 1 tablespoon olive oil.
Combine cubed squash, 1 tablespoon olive oil, maple syrup and cinnamon in a medium bowl. Toss to mix.
Place squash in a single layer on the baking sheet and bake for 20 – 25 minutes or until softened, turning once.
Combine squash, pecans and cranberries in a bowl and mix. If desired, additional maple syrup may be added a little at a time for more sweetness.
Recommended Tools