How to Dice a Butternut Squash
2628 days ago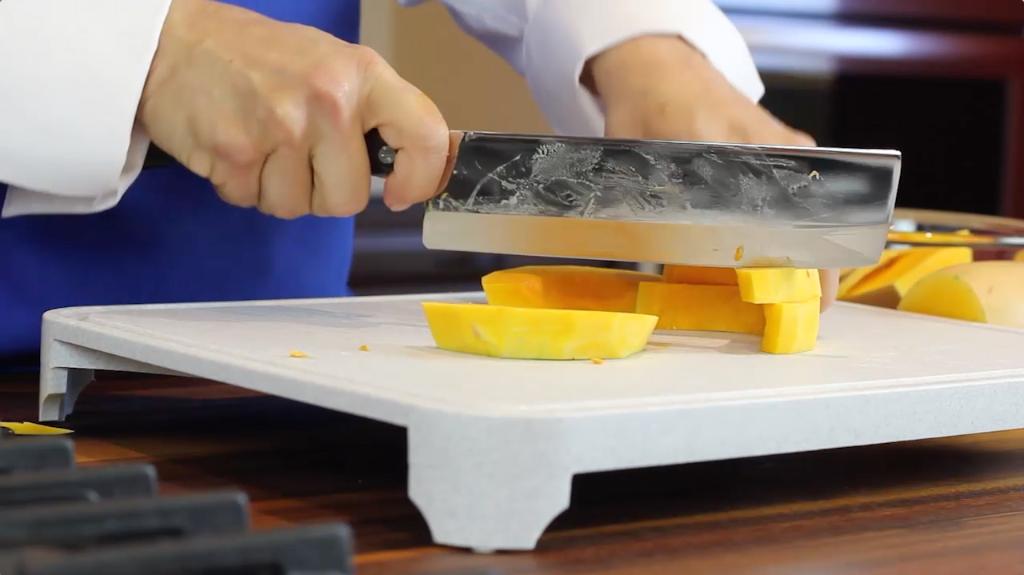 Butternut squash is delicious, but cutting it can be a challenge. The odd shape and tough exterior can make cutting through it difficult and it can be downright dangerous if not done properly. So, learning how to dice butternut squash is a knife skill worth paying attention to.
I think what I like best about this technique for cutting butternut squash is that you peel it after the neck has been cut off. That way, the pieces can rest flat on the cutting board while you use a paring knife or a vegetable peeler to peel it.
You'll definitely need a sharp, hefty knife for this job. We recommend a Vegetable Knife, which has a sharp blade that's substantial enough to power through butternut squash. It's also well-balanced and comfortable to hold for better maneuverability.
Don't throw away the seeds from the squash when you're prepping it. Clean them up as best you can and pat them dry. Toss them with a little olive oil and salt. Spread them out on a baking sheet and roast in a 275F oven for about 15 minutes or until they just start to brown. They're a delicious and healthy snack.
When selecting a butternut squash look for one that's a dark beige color with no green spots. It should also feel heavy for its size and sound hollow when you tap it.
Follow these step-by-step instructions for cutting a butternut squash for easy and safe prep.
How to Dice Butternut Squash
Use a Vegetable Knife to trim off both ends of the butternut squash.
Cut the neck of the squash off crosswise where it meets the rounded part.
Rest the rounded half flat on the cutting board and cut in half.
Use a spoon to scoop out the seeds in the center of the halves.
With the halves standing up flat on the cutting board, use a 4" Paring Knife to peel the skin,
Lay the halves cut-side down and cut slices about 1/2 - to 1-inch thick.
Stack slices and cut crosswise to dice.
Slice the neck. To dice, stack the slices. Slice and then rotate to cut crosswise to dice.