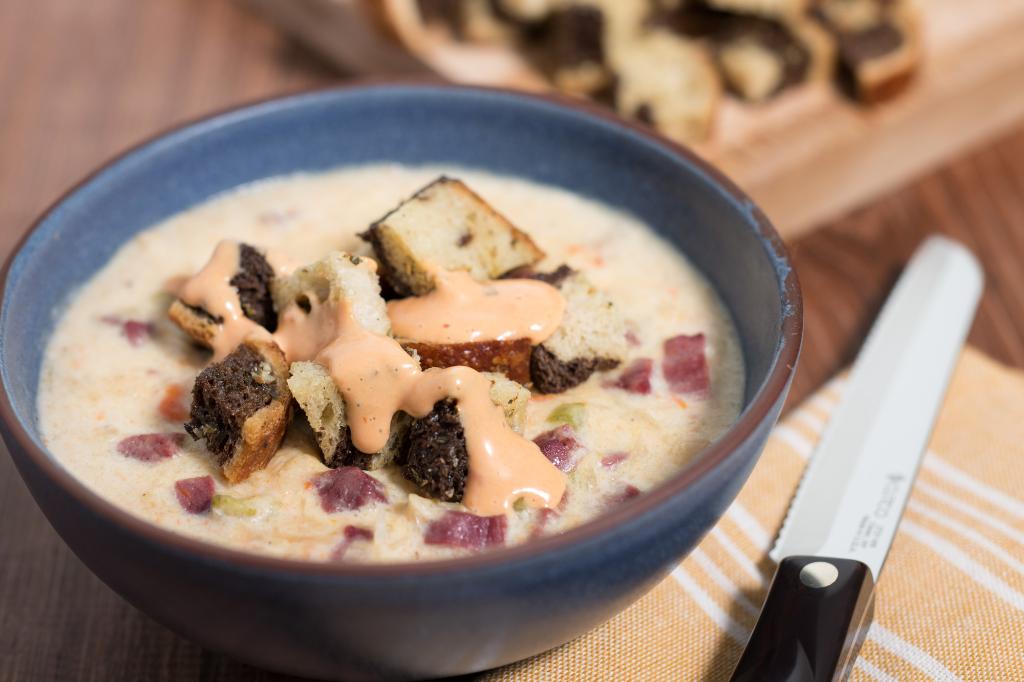 Soups are always popular, especially this time of year when the cold weather seems to drag on. Coming to the rescue is this Reuben Soup With Rye Croutons. It is a steaming, comforting bowl offering the same delicious flavors as the popular sandwich.
Preparing the Reuben Soup
On a cold day, I get as much enjoyment from making this soup as eating it. It all begins with making a mirepoix, which is diced onions, carrots and celery. The 5" Petite Santoku knife is what I like to use for cutting all three.
For chopping up the corned beef, use the Santoku-Style Trimmer. It easily slices through the delicate meat. To protect your knife, when scraping the corned beef from the cutting board to the pan, use the backside of your knife or a Basting Spoon. Never scrape cut food from a cutting board with the sharp edge of a knife, it could damage the blade.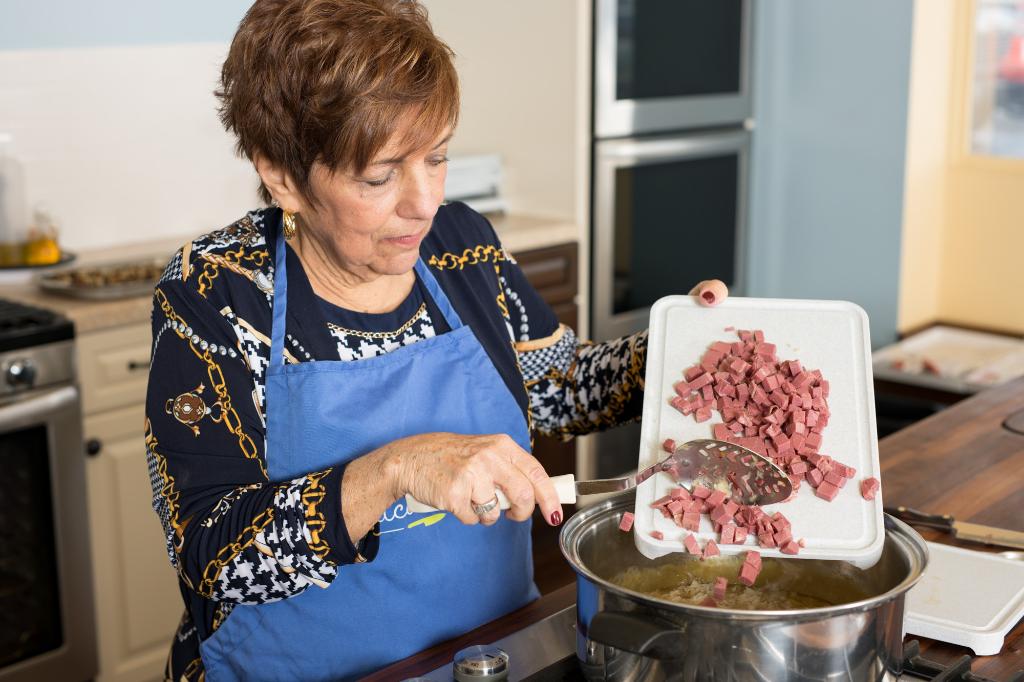 Another handy tool for this recipe is the 7-3/4" Petite Slicer for smoothly cubing the rye bread for the homemade croutons.
The Reuben Soup Flavors
With St. Patrick's Day upcoming and the likelihood that the weather will still be on the cold side, this is perfect to serve for the holiday or any day for that matter. Soup is always a good choice when looking to have a warm and comforting meal. This Reuben Soup captures the deliciousness of corned beef and cabbage in a light creamy broth mixed with sautéed vegetables. Melting cheese into the soup at the end of cooking adds to its deliciousness.
The homemade croutons are what really take it over the top. They are crisp on the outside and soft on the inside and provide the perfect finishing touch.
This was a hit with everyone here. There was a little leftover and one member of the team reheated it for lunch. He said it was just as good as when it was first made.
Ingredients
Soup
1/2 cup onion, chopped
1/2 cup celery, diced (about 2 stalks)
1/2 cup carrots, diced (1 large)
3 tablespoons butter
1 clove garlic, minced
1 cup chicken stock
1 cup beef broth
1/2 teaspoon baking soda
2 tablespoons cornstarch
2 tablespoons water
1 cup sauerkraut, rinsed, drained and chopped
2 cups half and half
2 cups corned beef, chopped
1/2 cup Swiss cheese, shredded
1/2 cup Gruyere cheese, shredded
Salt and pepper to taste
Homemade rye croutons
Rye Croutons
Spray butter
6 slices day old marbled rye, rye or pumpernickel bread
1/4 cup melted butter
1 clove garlic, minced
2 teaspoons dried oregano
Sea salt
Directions
For the soup:
Sauté onion, celery and carrots in butter until tender. Add minced garlic and cook 1-2 minutes more.
Add chicken stock, beef broth and baking soda.
In small bowl, combine cornstarch and water; add to pan.
Bring to a boil and boil for 2 minutes, stirring occasionally.
Reduce heat.
Add sauerkraut, half and half, and corned beef.
Simmer and stir 15 minutes.
Add cheeses, heat until cheeses melt.
Season to taste with salt and pepper.
Garnish with rye croutons.
For the croutons:
Heat oven to 375 degrees F. Spray a cookie sheet with spray butter or rub with butter to coat.
Trim the crust on the bread or leave on, whatever your preference. Cut the bread into cubes.
Mix the melted butter, garlic and oregano. Drizzle over the bread and toss.
Bake for 5 minutes, turn cubes over. Continue this process every 5 minutes until bread is a golden brown (about 20 minutes).
Remove from oven and sprinkle with sea salt. Cool and store in an air tight container. Use within one week.
Recommended Tools