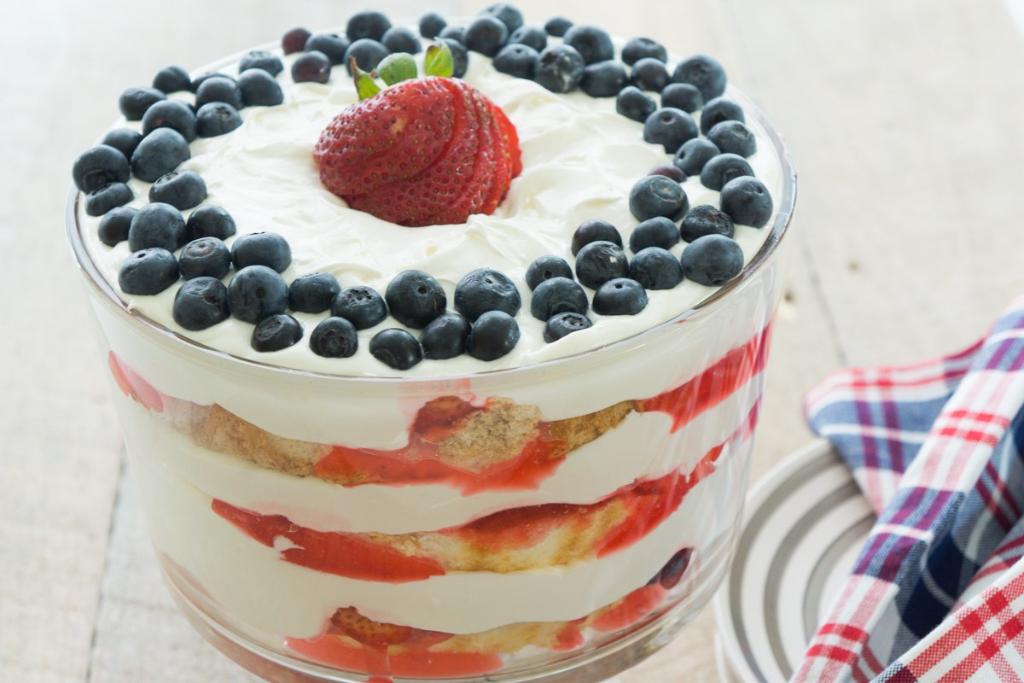 The Fourth of July is big in our area with barbecues, picnics, parades, concerts and spectacular firework displays. There's even a rodeo complete with cowboys, bull riding and roping. Not to mention all the delicious summer treats, like this Red, White and Blue Fruit Trifle.
This is the perfect time to take cooking and entertaining outdoors. Around here, we're all about bringing a dish to pass when sharing the day with family and friends. There's always an interesting array of dishes from appetizers to desserts. It's a great opportunity to try something you've never had before as well as share your recipe.
A little tip: Bring copies of your recipe with you and place them next to your dish.
To slice the delicate angel food cake into layers, use the 9-3/4" Slicer. This bread knife will make a clean cut without ripping or tearing for a perfect presentation. Another handy tool to have by your side for the fruit trifle is the 4" Gourmet Paring Knife for preparing the strawberries.
This Red, White and Blue Fruit Trifle is the perfect end to the meal. The angel food cake makes it light, the custard is sweet and creamy and the fruit glaze is delicious. Be prepared to leave with an empty bowl.
Ingredients
For the Custard
1 8 ounce package cream cheese, softened
1 14 ounce can sweetened condensed milk
1 12 ounce container frozen whipped topping, thawed
For the Glaze
1 cup sugar
3 tablespoons cornstarch
3 tablespoons strawberry gelatin
1 cup water
2 cups fresh strawberries, sliced in half
1 cup fresh blueberries, divided
3 whole strawberries
Directions
Using the Cutco Slicer, cut the cake horizontally into 3 equal layers. Set aside.
Using an electric mixer, mix the cream cheese and condensed milk together until smooth. Fold in the whipped topping. Set aside. In a medium saucepan, stir the sugar, cornstarch and gelatin together, add water. Cook and stir over medium heat until thick. Remove from heat and cool completely. Fold in strawberries and 1/2 cup of blueberries.
To assemble: Place 1 layer of the cake in a trifle bowl or a large clear glass bowl. Top with a layer of the glaze mixture, followed by a layer of the custard mixture.
Repeat layers two more times. Top with the whole strawberries and the remainder of the blueberries.
Chill well before serving.