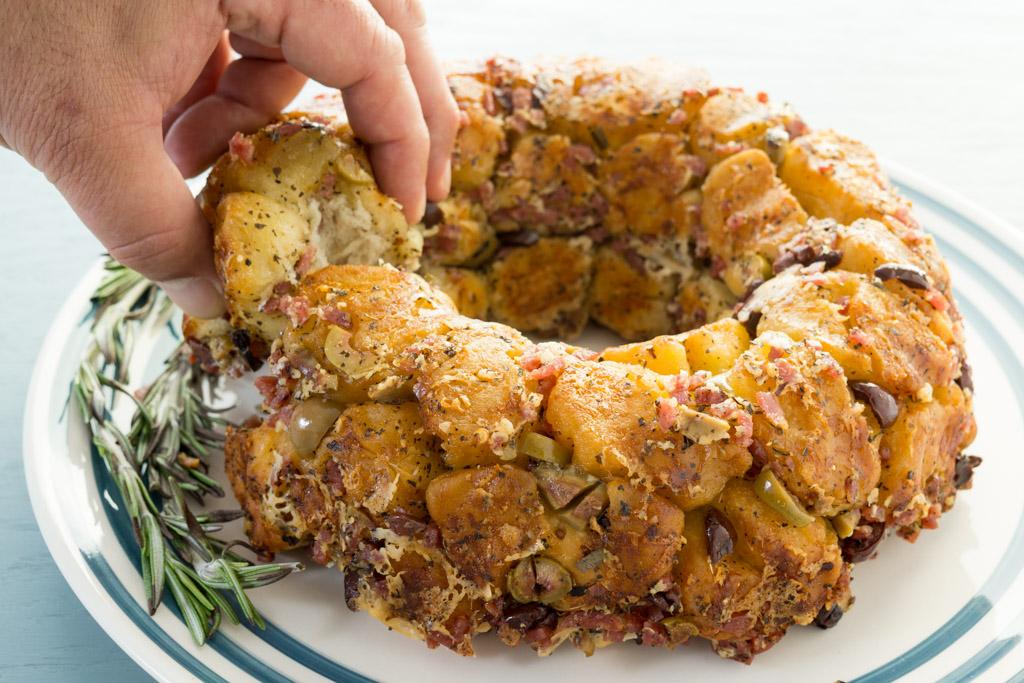 It's hard to believe that this year is drawing to a close. As I wind down from all of the holiday decorating and baking, I'm looking for recipes that still offer a festive flair, but are easy to make. A pull-apart bread recipe is a terrific choice. It's great for the holidays, but also anytime you're in need of a quick treat.
Our Pull-Apart Parmesan Monkey Bread recipe is filled with chopped soppressata (an Italian dry, hard salami), salty mixed olives and a generous amount of Parmesan cheese. The pull-apart bread smelled so good while it was baking, I couldn't wait to get it out of the oven and taste it, and it did not disappoint.
For chopping up the soppressata I recommend using the Hardy Slicer. It's sharp, hefty blade powers through the dense salami with ease. If you can't find soppressata or just don't care for it, you can use regular hard salami or pepperoni.
To chop the olives and mince the basil, give the 5" Petite Santoku knife a try. This knife is one of my favorites, because of its smaller size. It's got the same sharp, straight-edge blade as the 7" Santoku, but is easier to handle when cutting smaller foods.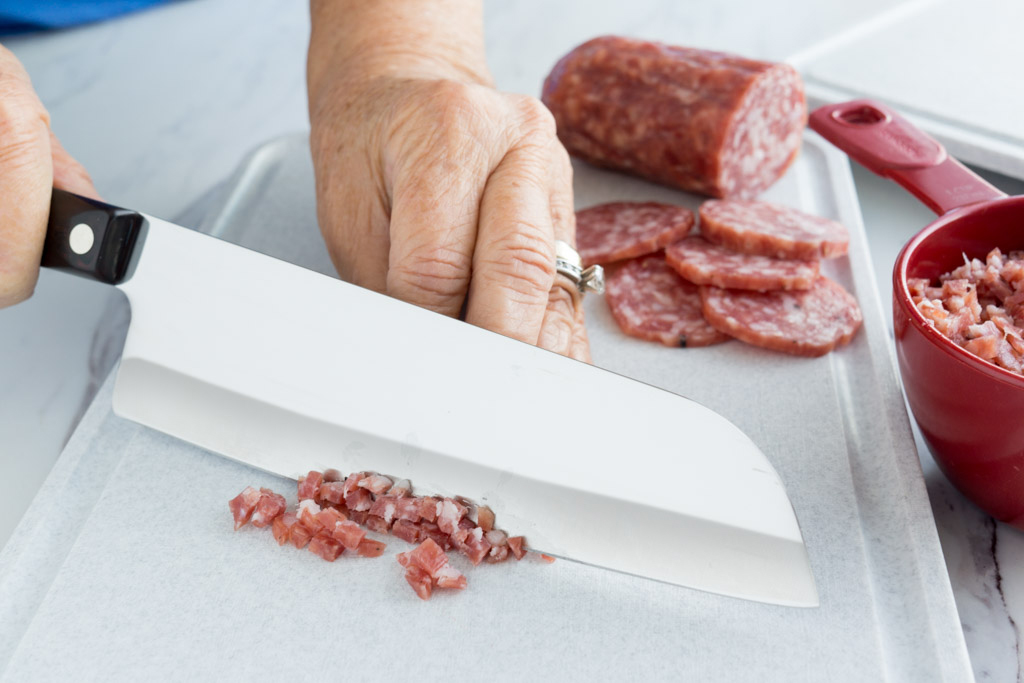 Not only is pull-apart bread delicious, it is fun to eat. Once baked, you just pull a piece off and eat it as is or dip it into some warm marinara sauce. This is a good recipe to enlist the help of the kids. They can help roll the dough into balls and place in the Bundt pan.
This recipe is versatile enough to swap out one ingredient for another. In fact, you can also check out our recipe for a sweet pull-apart bread made with maple, bacon and walnuts. That recipe is so good, you may want to change its name from pull-apart bread to "I can't stop eating this" bread.
In researching this recipe I found it interesting that monkey bread originated in Hungary. It's known there as arany galuska (golden dumpling). In the United States it is commonly referred to as pull-apart bread or bubble bread (I kind of like that name).
Bake up a pan full of this savory pull-apart bread goodness and your holidays will be complete!
What is your favorite pull-apart bread recipe?
Originally published Dec. 28, 2016
Ingredients
3 cans plain refrigerated biscuit dough (10 biscuits per can)
1 1/4 cups grated Parmesan cheese
1 cup finely chopped soppressata (Italian dry salami), hard salami or pepperoni
1/2 cup extra virgin olive oil
1/2 cup mixed olives, pitted and chopped
1/2 cup fresh basil leaves, minced
1/2 teaspoon red chili flakes (can also use red pepper flakes or crushed red pepper)
Kosher salt and freshly ground black pepper
Directions
Heat oven to 350 F. Spray a 12 cup Bundt pan with cooking spray.
Separate the biscuits. Cut in half and roll each into a ball.
Add the dough balls, cheese, soppressata, olive oil, olives, basil, chili flakes and some salt and pepper to a bowl and fold together until fully combined. Put mixture into pan.
Bake about 30 minutes until top is golden brown. Let rest for 10 minutes before removing from pan. Flip pan over onto serving platter, pull apart and enjoy.
Recommended Tools