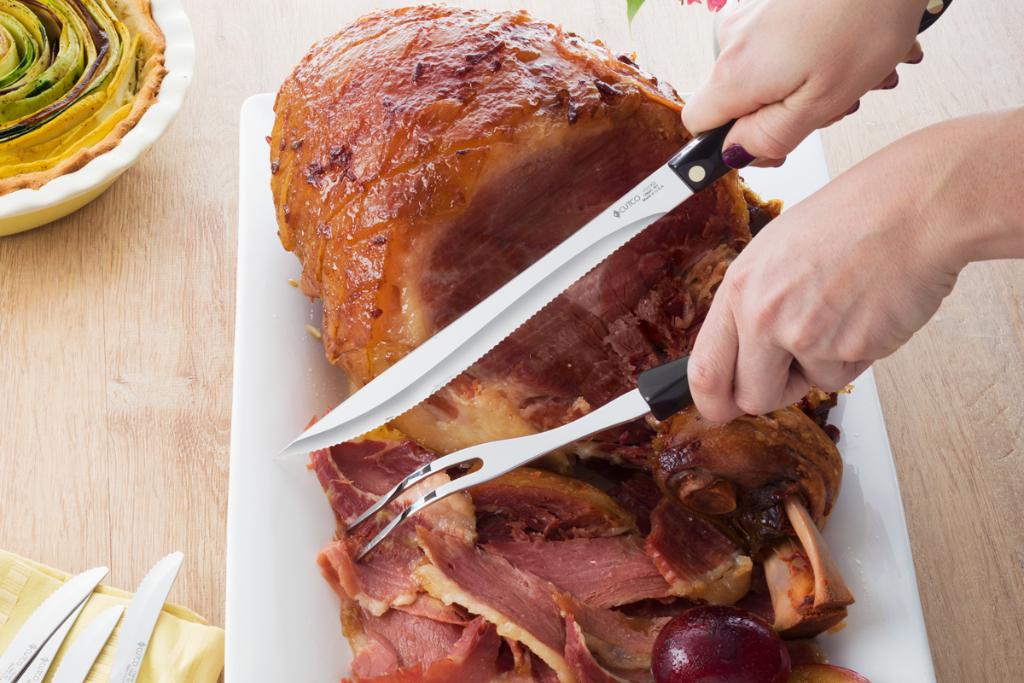 Ham is such a versatile meat. You can bake it and then slice and serve it with side dishes for a delicious family meal. You can also slice it thin to pile high on bread or rolls for a satisfying sandwich or cut it into cubes to incorporate into a breakfast casserole or a creamy soup.
Baked ham is often covered with pineapple rings, studded with whole cloves and glazed with a brown sugar and pineapple juice glaze. But, here's a different baked ham recipe to try – Plum-Glazed Ham. This sweet yet slightly tangy glaze adds an unexpected flavor to the ham. This recipe also features an orange juice-based glaze that is drizzled over the plums for another layer of flavor, which really brings everything together. Use the Mix-Stir to whisk together the ingredients for both glazes.
Score the ham using the 6-3/4" Petite Carver and use the Trimmer to easily cut the plums in half.
Once the Plum-Glazed Ham is baked to perfection, place it on the largest Cutco cutting board and, using the Carving Set, slice it into generous portions. Use the Carving Fork to hold the ham in place and then use the 9" Carver (carving knife) to slice it, using long, sweeping strokes.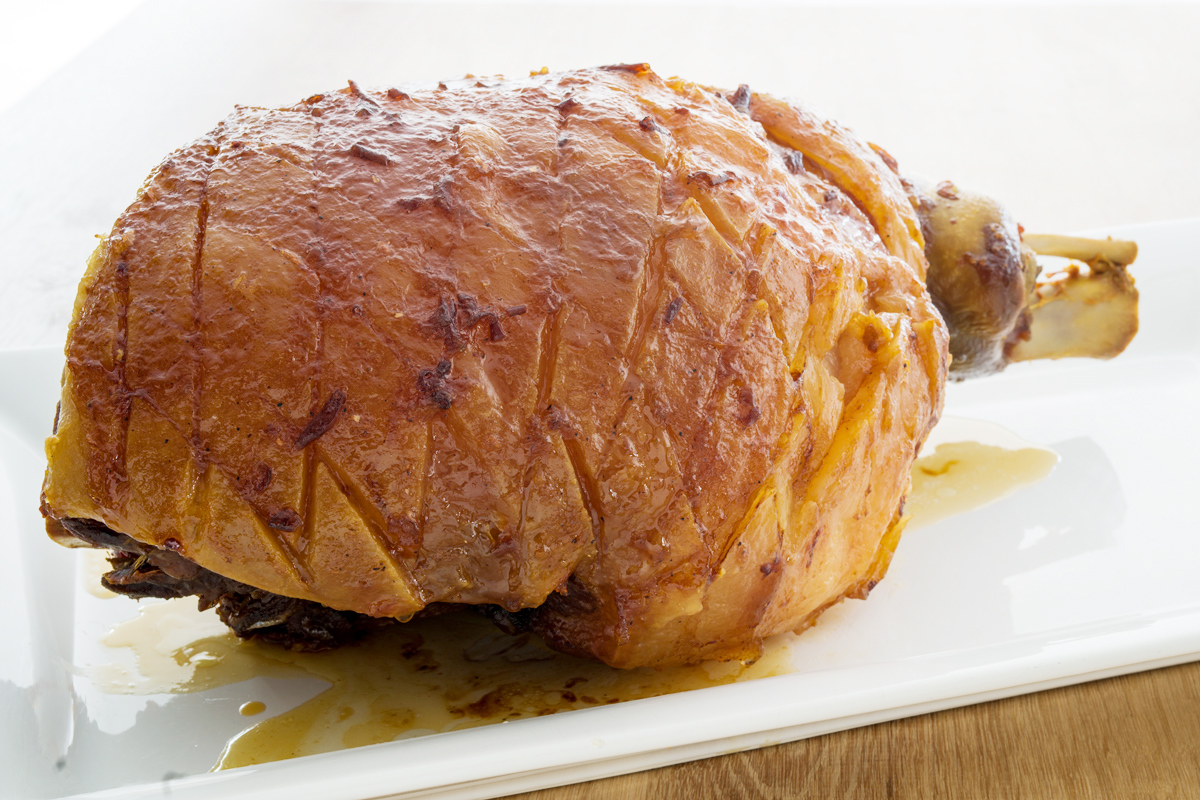 Arrange the ham slices and plums on a large platter and spoon any glaze left in the pan over both. There will be lots of oohs and aahs when you place this beauty on the table.
When it's time to use the leftovers from this Plum-Glazed Ham, we've got you covered with these delicious recipes.
Easy, Creamy Ham and Potato Chowder
Ingredients
2 12-ounce jars plum preserves
2 tablespoons fresh lime juice
1 tablespoon grated lime peel
1 tablespoon Dijon mustard
2 tablespoons grated fresh gingerroot
3/4 teaspoon pepper
1 bone-in fully cooked ham (5-7 pounds)
1/2 cup orange juice
2 tablespoons packed brown sugar
1/2 teaspoon ground cinnamon
1/8 teaspoon ground ginger
1/8 teaspoon ground cloves
4 plums, halved and pitted
Directions
Preheat oven to 325ºF.

Make the plum glaze: Combine the plum preserves, lime juice, grated lime peel, mustard, gingerroot and pepper together in a saucepan. Bring to a boil, stirring constantly. Remove from the heat and set aside.

Place the ham on a rack in a shallow roasting pan. Score the surface, making diamond shapes 1/2 inch deep. Spoon half of the plum glaze over the ham; cover and bake for 1 1/2 hours.

Remove the ham from the pan and discard the pan drippings. Return the ham to the pan.

Make the orange glaze: Whisk the orange juice, brown sugar, cinnamon, ginger and cloves together in a bowl. Place the plums, cut side down, around the ham. Drizzle over the plums.

Bake, uncovered, 30 minutes longer or until a meat thermometer reads 140 degrees, basting twice with the remaining plum glaze.
Recommended Tools