Phyllo Pastry With Plums, Ricotta and Goat Cheese
484 days ago
Skip to recipe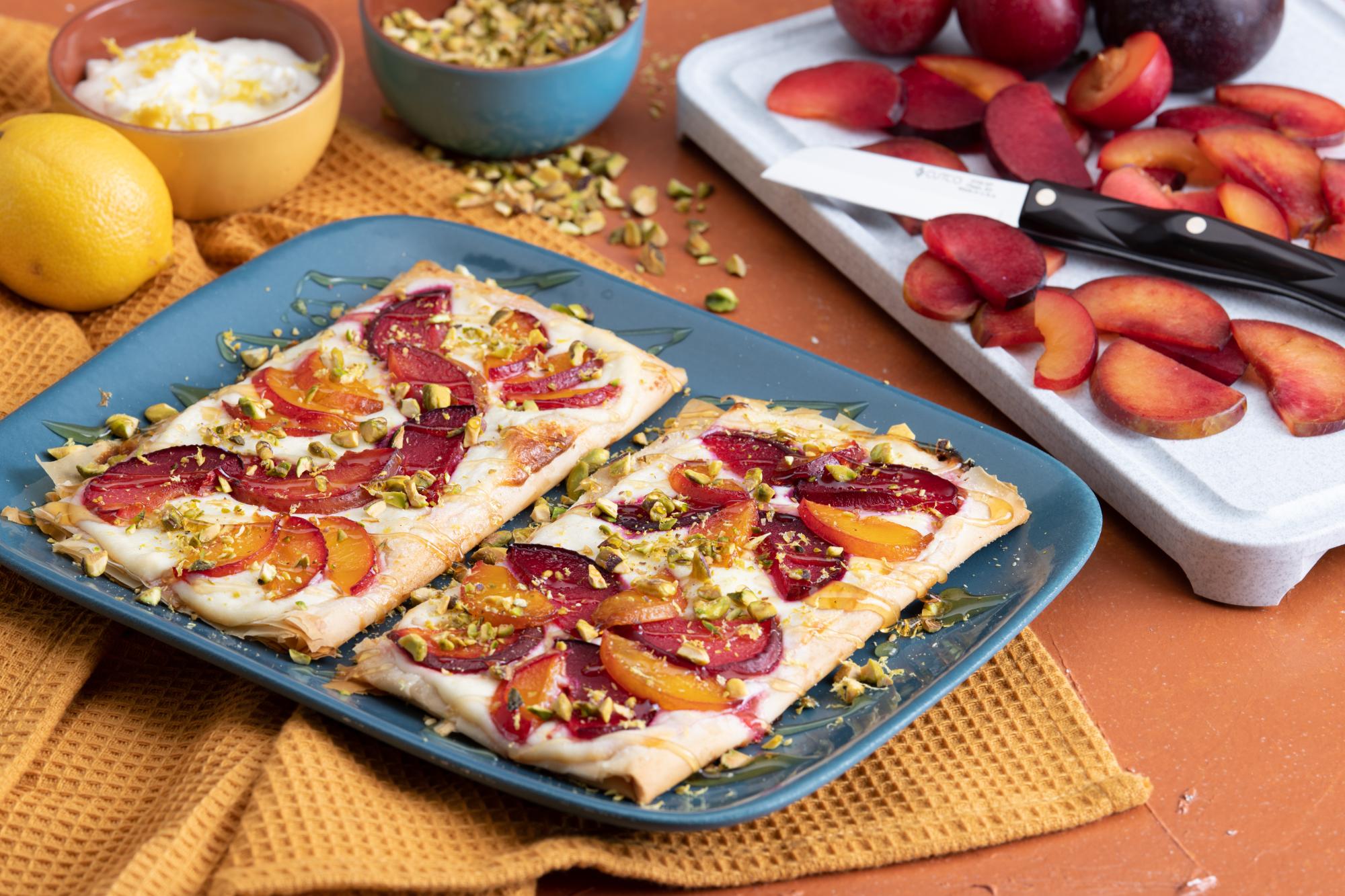 Phyllo dough is a bit of a mystery to me. I have a good friend who regularly makes baklava and has no problem working with this delicate dough. I, on the other hand, struggle to keep each sheet in one piece. So why not tackle my fear and work on a recipe using phyllo dough and some of my other favorite ingredients.
Phyllo Pastry With Plums, Ricotta and Goat Cheese is that recipe and honestly, if the phyllo dough cracks a bit, it's not a problem. The plums lend a delicate fruit flavor to this dessert, while the pistachios add crunch and the warm honey balances it all out with some sweetness. What pushes this over the top is the filling. The tang of the goat cheese combined with the smooth ricotta cheese, lemon and sugar was so good we were stealing spoonfuls from the bowl.
Prepping the Ingredients
This recipe calls for the zest of one lemon. If you don't have a zester, you can always use your Cutco to perform this task. Use a Vegetable Peeler to peel off thin strips of the skin, avoiding the bitter pith. Julienne the strips using a 5" Petite Santoku knife, then turn the strips and cut them into smaller pieces and finally mince the zest. Check out our Make Lemon Zest without a Zester blog post for detailed instructions.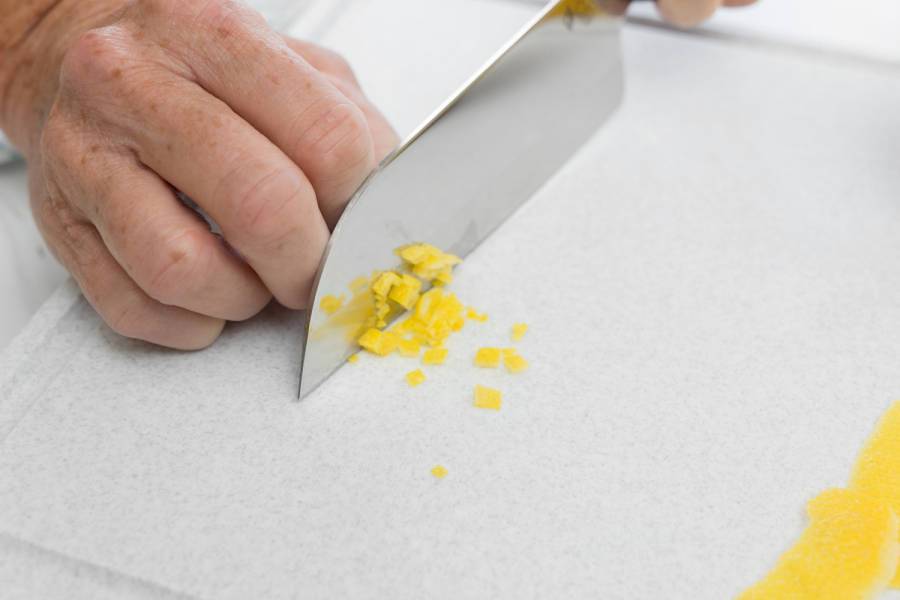 Using a 4" Gourmet Paring Knife, cut the plums in half, remove the pit and then thinly slice each half of the plum.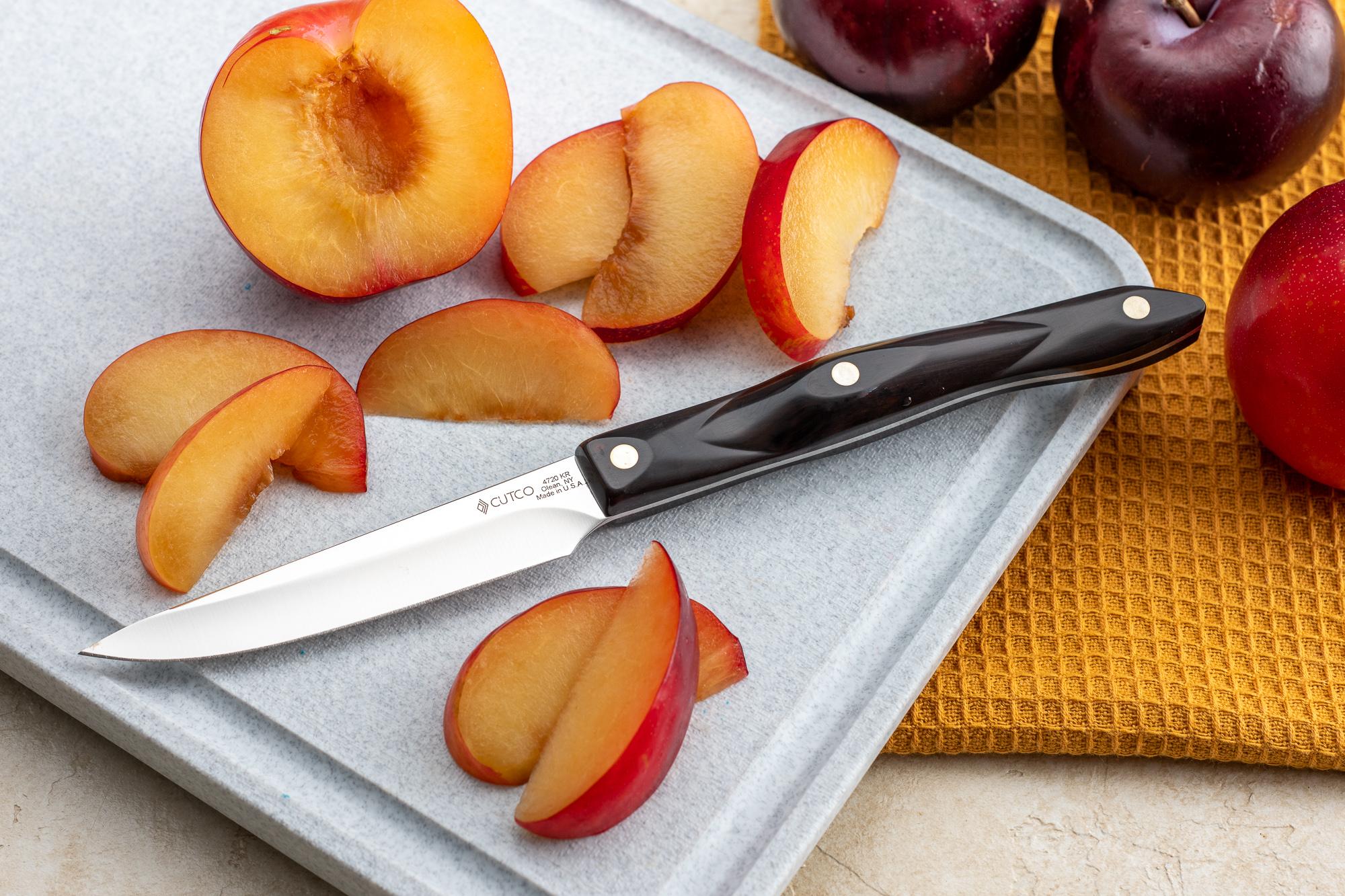 To prepare the phyllo dough, take two sheets and lay them on a flat surface. Brush the dough with butter (don't be afraid to use too much) and then fold the sheets in half. Brush with butter and fold those sheets in half, then brush again with butter. Fold the sheets again and brush one more time with butter. You should end up with a 4-by-6-inch rectangle.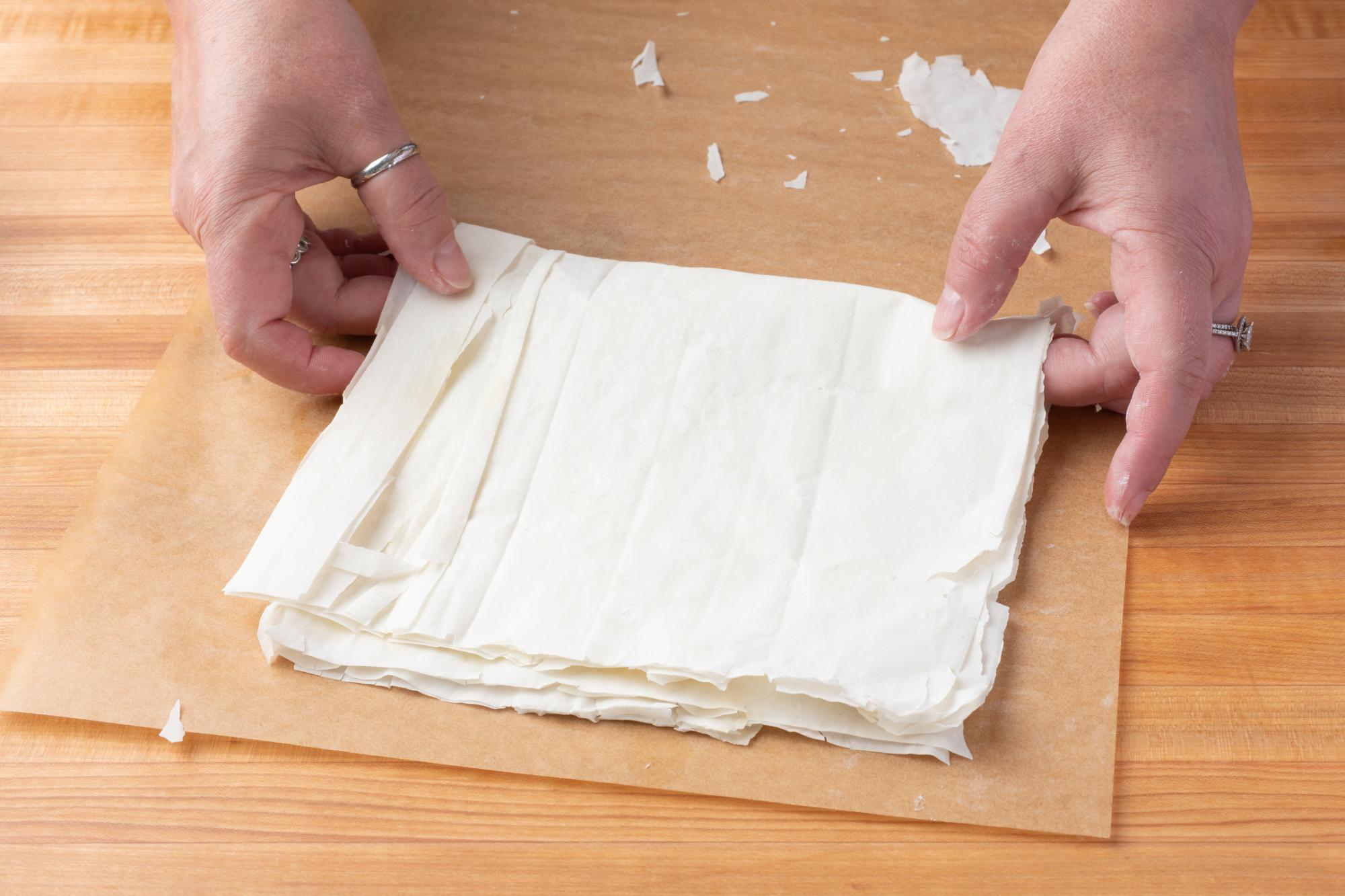 Making the Pastry
The rest of this recipe comes together quite easily. Mix the filling ingredients and ensure that everything is thoroughly combined. Delicately spread the filling over each phyllo dough packet and then top each pastry with your plums. Have fun with how you place the plums, making flower designs or whatever catches your eye. Sprinkle the pastries with sugar and bake.
When the phyllo dough is golden and crisp, remove the pastries from the oven and top with pistachios and the warm honey. We recommend serving these pastries at room temperature. The pastries are large enough to cut in half and finish with 12 servings.
Phyllo Pastry With Plums, Ricotta and Goat Cheese was such a surprising dessert. I didn't expect the creaminess of the filling to pair so perfectly with the plums, pistachios and honey but it was amazing. And the phyllo dough worked out. I recommend giving this dessert a try. It is fun to make and delicious to eat!
Phyllo Pastry With Plums, Ricotta and Goat Cheese
Print Recipe
Ingredients
For the filling:
1/2 cup ricotta, at room temperature
1/2 cup goat cheese, at room temperature
Zest of 1 lemon
1 tablespoon lemon juice
1/4 teaspoon vanilla extract
2 1/2 tablespoons sugar
For the pastries:
12 sheets phyllo dough
1 1/2 sticks (12 tablespoons) unsalted butter, melted
6 plums, pit removed and thinly sliced
Granulated sugar for sprinkling
1/3 cup pistachios, roughly chopped
1/3 cup warm honey, for drizzling
Directions
Heat oven to 375 F.
In a large bowl, mix the ricotta, goat cheese, lemon zest and juice, vanilla extract and sugar until thoroughly combined. Set aside.
Take two sheets of phyllo dough and lay on a flat surface. Brush the top sheet lightly with butter. Fold the two phyllo sheets in half and brush the top with butter. Fold in half again and brush the top with butter. Fold once more and brush again with butter. You should end up with a 4-by-6-inch rectangle. Repeat this process with remaining 10 sheets of phyllo, using approximately 2 tablespoons butter per pastry. Lay pastry packages on a parchment-lined baking sheet.
Spread each pastry sheet with the ricotta and goat cheese filling, distributing evenly. Top each pastry with sliced plums (enough to cover the filling but not overlapping) and sprinkle 1 teaspoon sugar over each pastry.
Place the baking sheet into the oven and bake for 15 minutes or until golden and crisp. Remove from oven, sprinkle with chopped pistachios and drizzle lightly with honey. Serve at room temperature.
If desired, cut pastries in half to make 12 small servings.
Recommended Tools