One Pan Turkey Dinner: Thanksgiving for Two
1979 days ago
Skip to recipe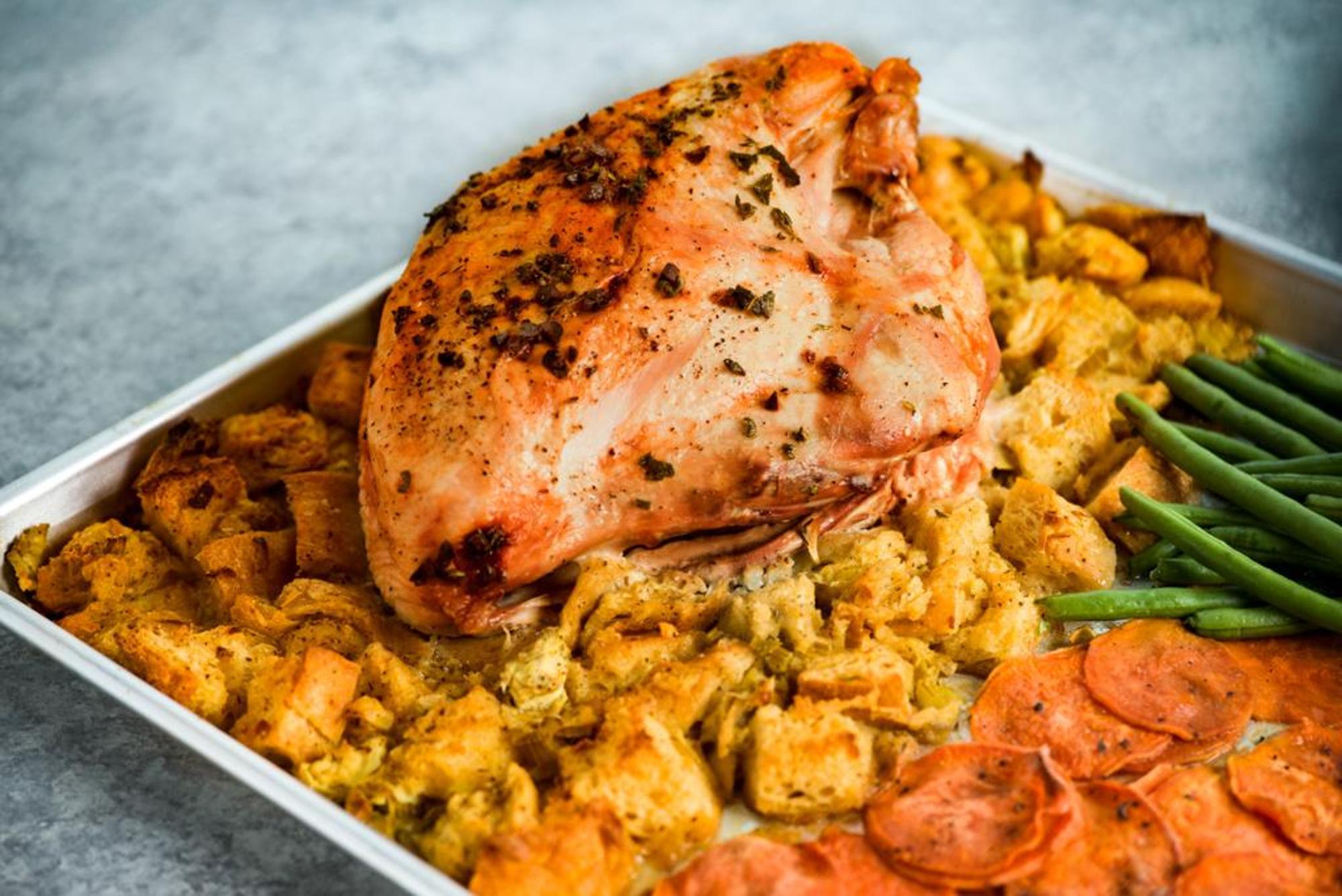 Maybe you're an empty-nester, a newlywed couple far from home or hosting a small get-together. This all-in-one recipe for One Pan Turkey Dinner is the perfect meal to feed two people, with leftovers, or as many as four people.
What's great about this recipe is that everything is cooked all on one pan. A turkey breast is roasted on top of sourdough bread stuffing, and alongside are sweet potatoes and green beans.
Preparing the Turkey Dinner
Cube the bread for the stuffing with a sharp bread knife, like Cutco's 7-3/4" Petite Slicer. Make sure the knife is long enough to make long, sweeping slices across the bread.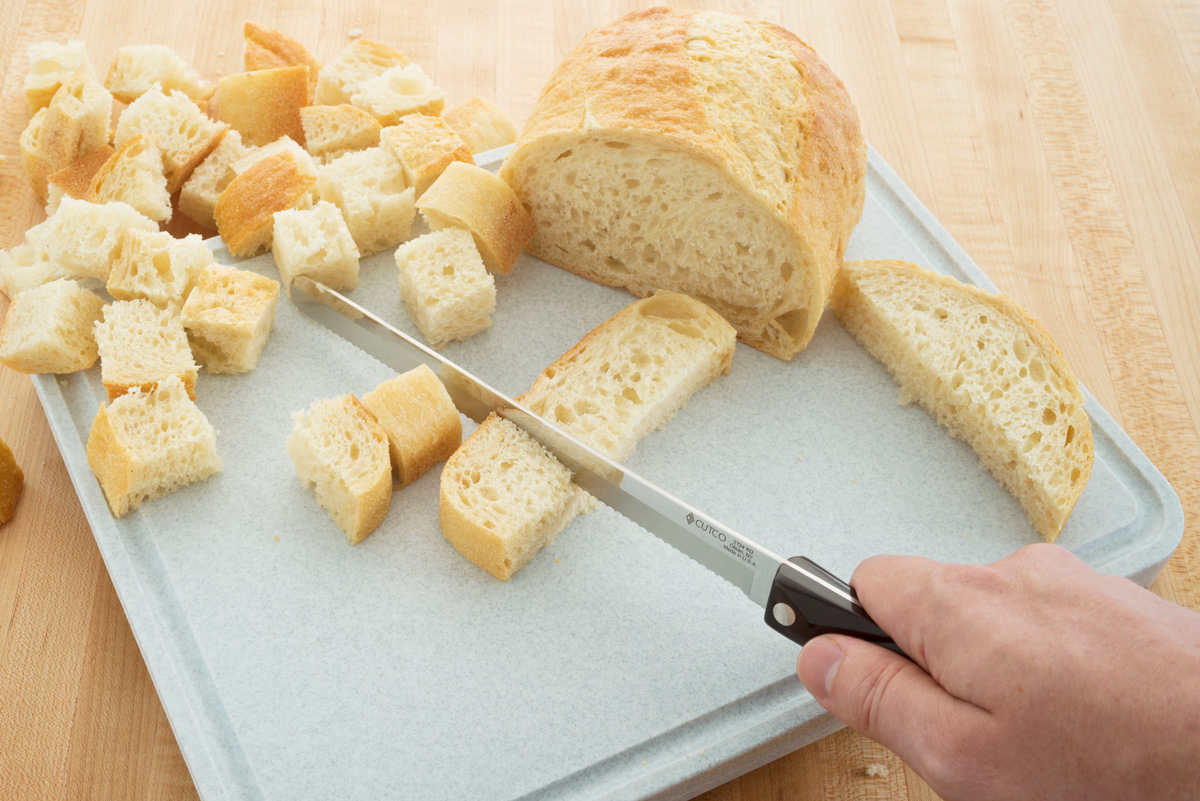 To slice the sweet potatoes, use a Vegetable Knife. Its sharp hefty blade helps power through the tough potatoes.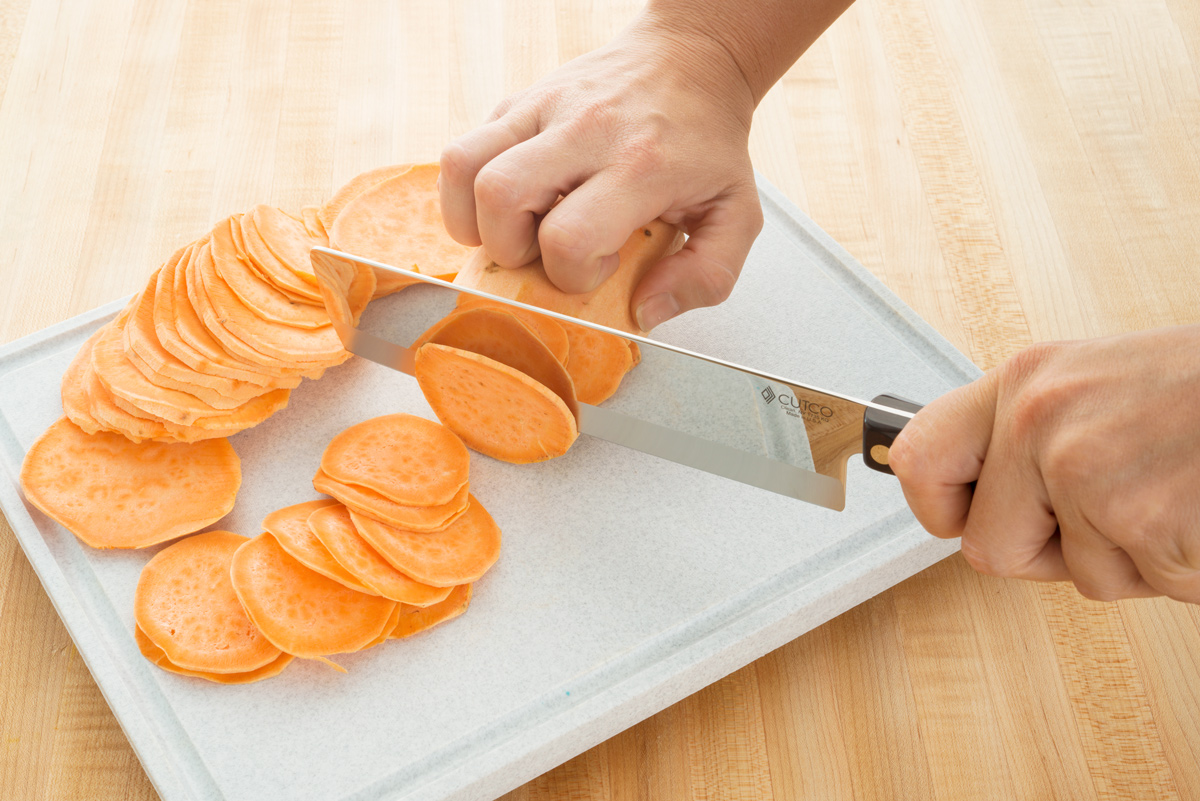 For the light work of trimming the beans, use a sharp paring knife that's easy to maneuver. The 3" Gourmet Paring Knife works well.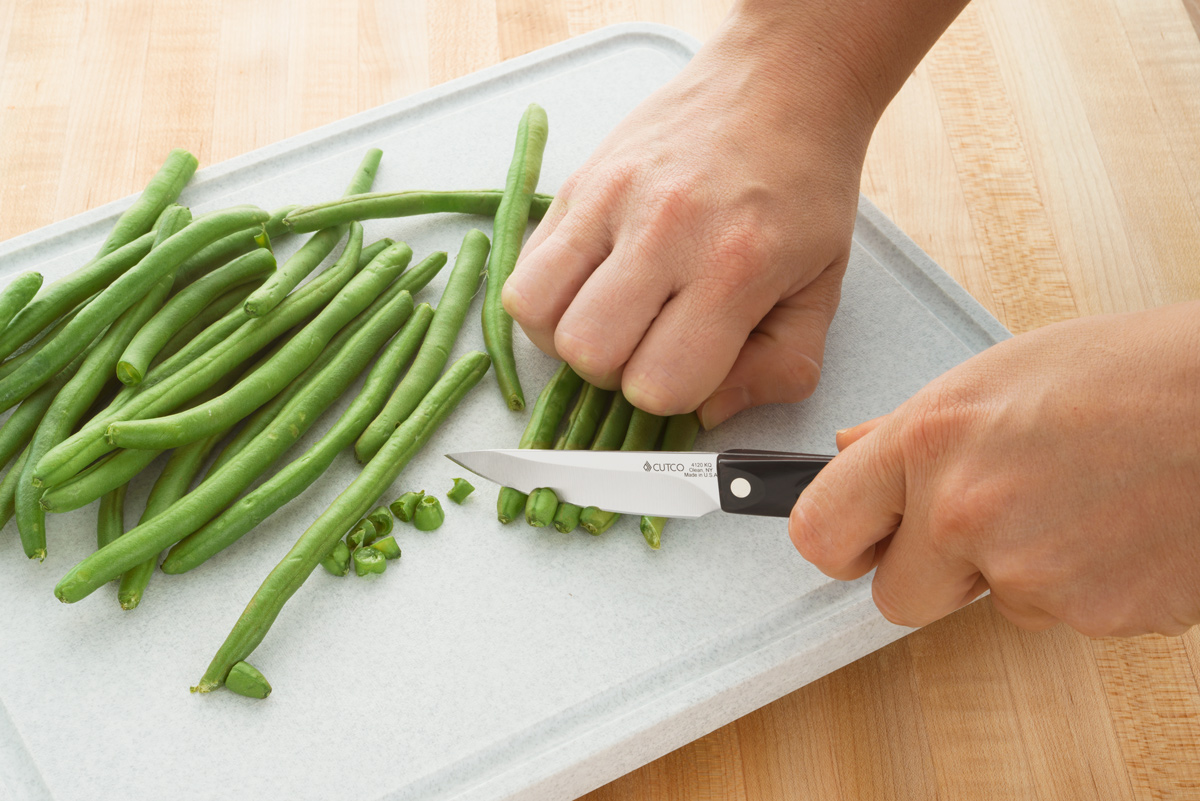 Serving Thanksgiving Dinner
When the turkey is done, add some cranberry sauce and a basket of warm rolls. No one will ever guess how easily you pulled off serving this traditional Thanksgiving dinner.
This turkey recipe does require a bit of planning so everything finishes cooking at the same time. Make sure your turkey breast is around two pounds. Anything smaller will end up overcooked and anything larger undercooked.
You can prep everything ahead of time and when dinnertime rolls around, add the ingredients to the foil-lined sheet pan per the recipe instructions, pop the pan in the oven, set the timer and enjoy a cocktail while you wait.
Ingredients
Stuffing
1 pound loaf sourdough bread, cut into 1-inch cubes
1 cup chicken stock
1/2 cup heavy cream
1 stalk celery, finely chopped
1 small carrot, finely chopped
2 cloves garlic, minced
1/2 yellow onion, finely chopped
1/2 granny smith apple, cored and finely chopped
2 tablespoons minced fresh parsley
1 tablespoon dried sage
2 teaspoons fresh lemon juice
1 tablespoon kosher salt
1/2 teaspoon freshly ground pepper
2 eggs, lightly beaten
Turkey
4 tablespoons unsalted butter, melted
1 teaspoon minced sage
1 teaspoon minced thyme leaves
2 garlic cloves, minced
1 2-pound turkey breast, skin on
Kosher salt and freshly ground pepper to taste
Sweet Potatoes
4 tablespoons brown butter*
2 medium sweet potatoes (about 1 pound), peeled and thinly sliced
2 tablespoons dark brown sugar
1 teaspoon minced sage
Kosher salt and freshly ground pepper to taste
Directions
For the Stuffing: Preheat oven to 375°F. Line a baking sheet with foil. Mix all the stuffing ingredients in a large bowl until well incorporated. Let soak for 15 minutes. Spread in an even layer over the left half of a large baking sheet. Make a well in the center for the turkey.
For the Turkey: Mix the melted butter, sage, thyme and minced garlic together. Season the turkey breast well with salt and pepper. Place the turkey breast in the center of the stuffing and rub with the butter mixture.
For the Sweet Potatoes: *For brown butter: Slice 2 sticks unsalted butter and place in a saucepan over medium heat. Heat, stirring often until it begins turns an amber color, about 4-6 minutes. Remove from heat and cool. One cup (2 sticks or 1/2 pound butter) will yield 3/4 cup brown butter. In a medium bowl, toss all the sweet potato ingredients together to coat. Spread the potatoes on the top half of the right side of the baking sheet, overlapping like a gratin. Roast for 30 minutes.
For the Green Beans: Kosher salt and freshly ground black pepper to taste Toss all the green beans ingredients in a medium bowl. After the sweet potatoes have roasted for 30 minutes, place the beans in an even layer on the remaining quarter of the baking sheet (bottom right side). Cook until tender and the turkey breast reads 155°F on an instant read thermometer, approximately another 20-30 minutes.
Remove the pan from the oven, tent with foil and allow to rest for 15 minutes.
Carve the turkey breast and serve with stuffing, potatoes and green beans.
Recommended Tools