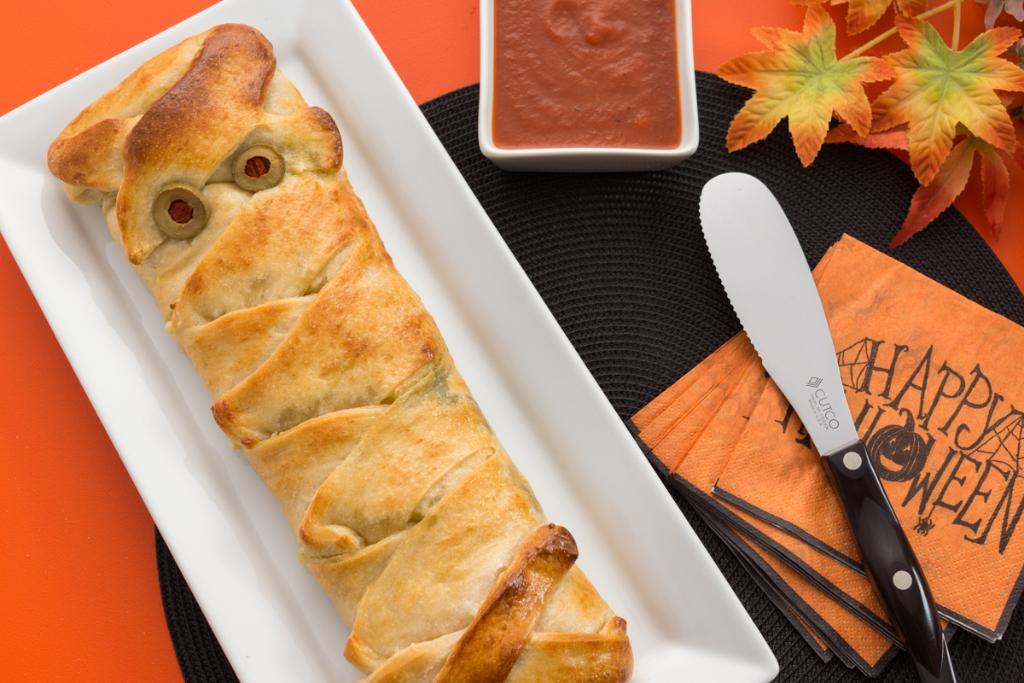 It's Halloween time and, next to Christmas, it's the biggest decorating, partying and get-together holiday of the year. I go for cutesy Halloween. I don't like the bloody, scary, or eerie stuff. You can keep the spiders, snakes, ghouls and Frankenstein-like stuff. I'll take the carved pumpkins, cute cats with witch's hats and anything else that doesn't make my hair stand on end.
So when we met to discuss what might be a good Halloween recipe, there were a lot of things that were off the table. First choice was pumpkin cheese balls which turned out to be not a good choice.
My coworkers took great joy in watching me squirm as they suggested bread dough snakes, bloody deviled eggs, witches fingers and other stomach-turning foods which I could barely look at let alone cook.
We finally settled on a calzone stuffed with spinach and cheese that looked like a mummy. That, I can live with. Most calzones are filled with pepperoni and cheese so this is a nice change from the usual although you could easily change the filling ingredients.
Making the Calzone
This calzone can be assembled in no-time. Simply pop open a can of refrigerated pizza crust and press it out on a baking sheet. Spread the crust with store-bought pesto using the smooth edge of the Spatula Spreader. Chop a shallot with the 5" Petite Santoku. A quick sauté of the shallot and the spinach and you're ready to complete assembling this tasty treat. Once assembled, use the Pizza Cutter to make cuts along each side of the dough and crisscross to achieve the mummy look. Add the olive "eyes" and bake to a golden brown. Grab the Spatula Spreader again, with its Double-D® edge, to slice and serve this cute Halloween treat.
Our Kitchen Fail
Remember those cheese balls I mentioned? These were tiny cheese balls with pimento stuffed green olives inside. To say these were not very good is an understatement. As home cooks, I'm sure you can all relate. I like cheese but these contained more cheese than any person could handle at one time. Not only was there a cheese mixture wrapped around the olive, the cheese ball was rolled in more cheese. Cheese on top of cheese is not a good combination.
Then there was cutting sliced black olives for the eyes and noses on the tiny pumpkins. Do you know how many tiny triangles you have to cut for 32 pumpkins? Too many. Then there were the celery stems. Thank goodness for Cutco knives that made these tedious tasks go pretty quickly. There were no positive comments from my coworkers but we did have a lot of laughs about how, not in a good way, cheesy there were.
Ingredients
1 can refrigerated pizza crust
1 tablespoon olive oil
1 shallot, diced
1 7-ounce bag baby spinach
1/2 cup jarred pesto
1/2 cup shredded mozzarella cheese
1/4 cup crumbled feta cheese
1 green olive with pimento, cut in half (for the eyes)
1 egg, beaten
2 cups marinara sauce or your favorite tomato sauce for dipping
Directions
Preheat oven to 400°F.
Line a baking sheet with parchment paper or spray with cooking spray. Unroll dough and starting from center, press out dough to form 15x9-inch rectangle.
Heat the olive oil in a large skillet over medium heat. Add the shallot and sauté until slightly browned. Add the spinach and sauté until wilted. Remove from heat and allow to cool for a few minutes.
Spread the pesto down center of dough to within 2 1/2 inches of long sides and within 1/2-inch of short sides. Top with the spinach mixture, mozzarella and feta cheese.
With a Pizza Cutter, make cuts 2 inches apart on long sides of dough to within 1/2 inch of filling. Alternately cross strips over filling.
Pinch edges to seal. Brush egg over dough. Place the olives at top of dough to look like eyes.
Bake 15-20 minutes or until golden brown. Let stand 5 minutes before slicing. Cut crosswise into slices and serve with marinara sauce for dipping.
Recommended Tools