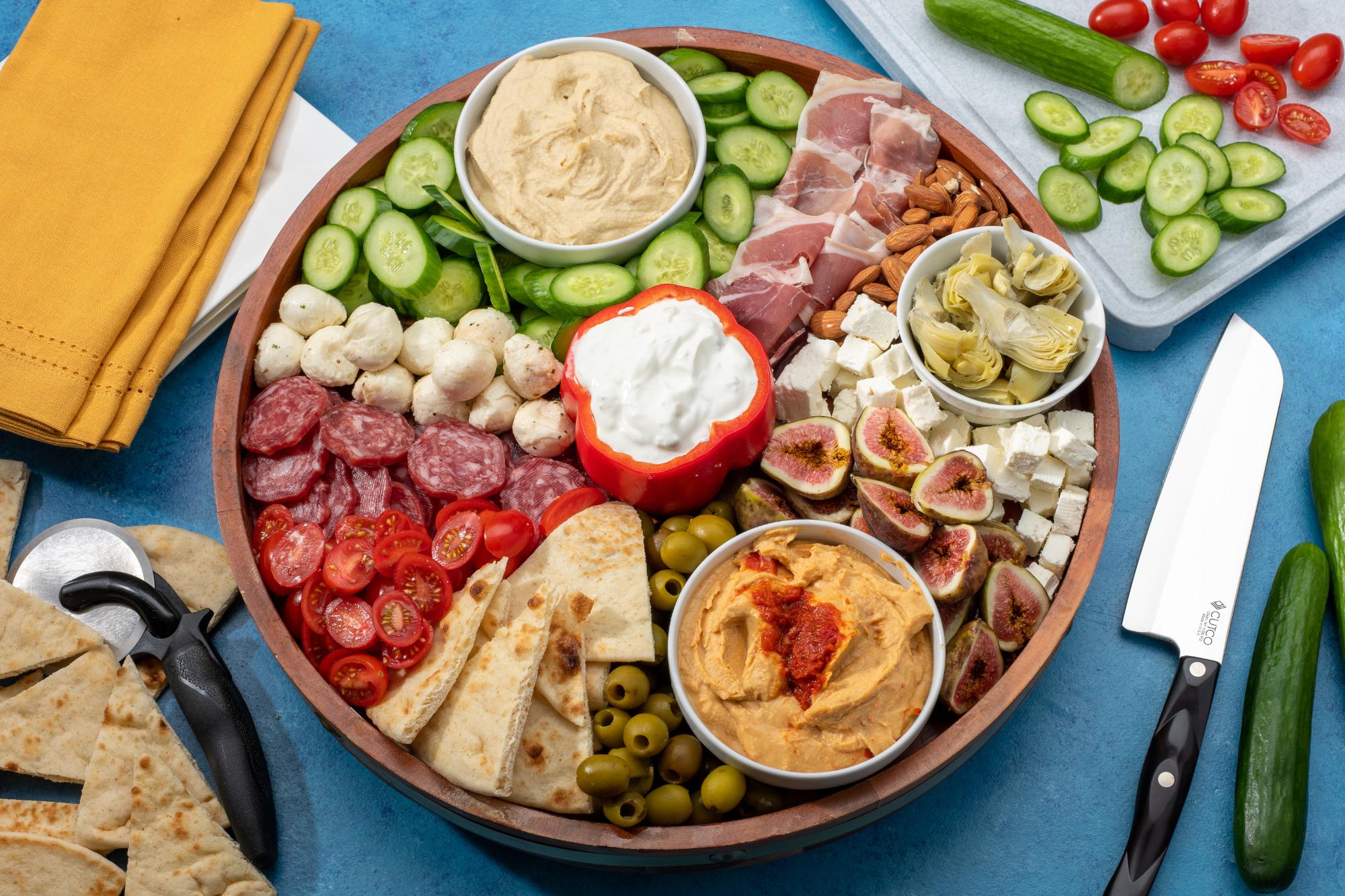 Have I mentioned before that I could make a meal out of appetizers? And why not? Appetizers come in so many varieties and you can honestly find many that are quite easy to prepare. Now, how about combining all of that into one platter, like a mezze platter? Yes, please!
This Easy Mediterranean Mezze Platter is a wonderful meal to enjoy with your family and to take the time to appreciate each other's company while grazing on amazing food. Mezze platter comes from the Mediterranean region and it essentially means many appetizers put together to make an entire, easy meal.
Our recipe is more of a guide rather than a set list of ingredients. If you don't like cucumbers, substitute some carrots or grilled eggplant. Not a fan of almonds – how about some walnuts? Figs not your thing – try some prosciutto wrapped dates. You get the idea. You can tailor this platter to your taste preferences. The key here is to make this easy. If you want to make your own homemade hummus (like our Creamy Butternut Squash Hummus), go ahead, however what we did is purchase two varieties of hummus from our local grocery store and it was absolutely perfect. In my book, you shouldn't be tired from the food prep by dinner time.
The other wonderful thing about this dish is that it is absolutely colorful and beautiful to look at. Based on what you choose to serve, you have a dish that is pleasing to the eye as well as the stomach. As I mentioned, this is meant to be a meal of many appetizers. You want to ensure you have proteins, fats, vegetables and enough items that make up a full meal.
We chose the focal point of our mezze platter to be a red bell pepper that we cut the top off of and removed the seeds. The 7" Santoku knife made quick work of this job and we were then able to fill the pepper with our tzatziki sauce.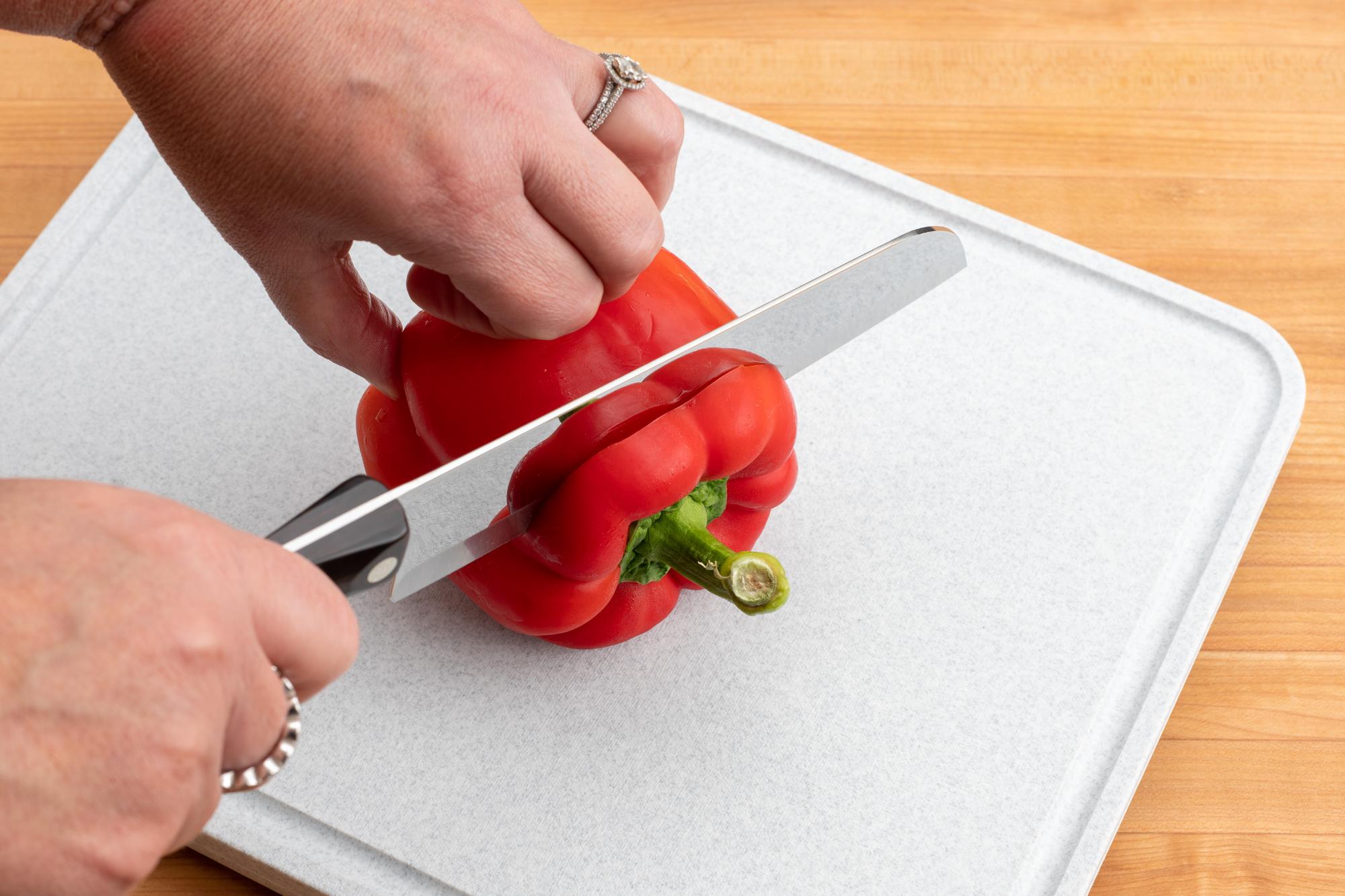 Since we want this platter to have bite-size elements, we halved our cherry tomatoes, which you may not have to do depending on their size. We used the Trimmer to cut these in half and then set aside.
For the mini cucumbers, we again used the 7" Santoku knife to cut slices on the diagonal. You don't have to do this. You can simply cut disks, but we thought the diagonal approach made the overall presentation nicer.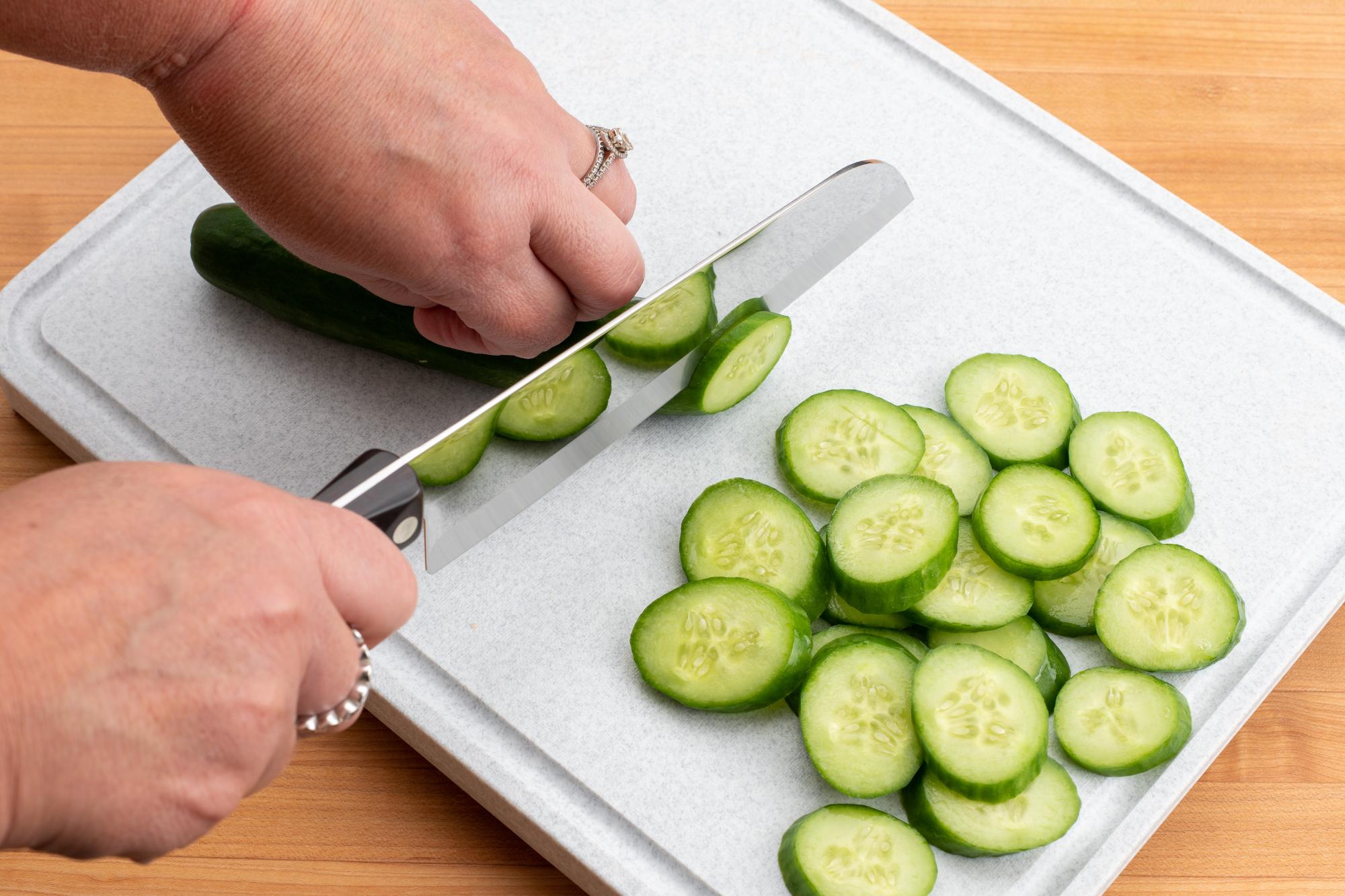 We chose to use figs for our mezze platter and here's our tip when looking for the perfect fig. Find one that is soft and smells sweet. Figs do not ripen once they are picked so if they're firm that's not what you're looking for. To cut them in half, we used the Santoku-Style Cheese Knife, which easily cut through the fruit without damaging the skin.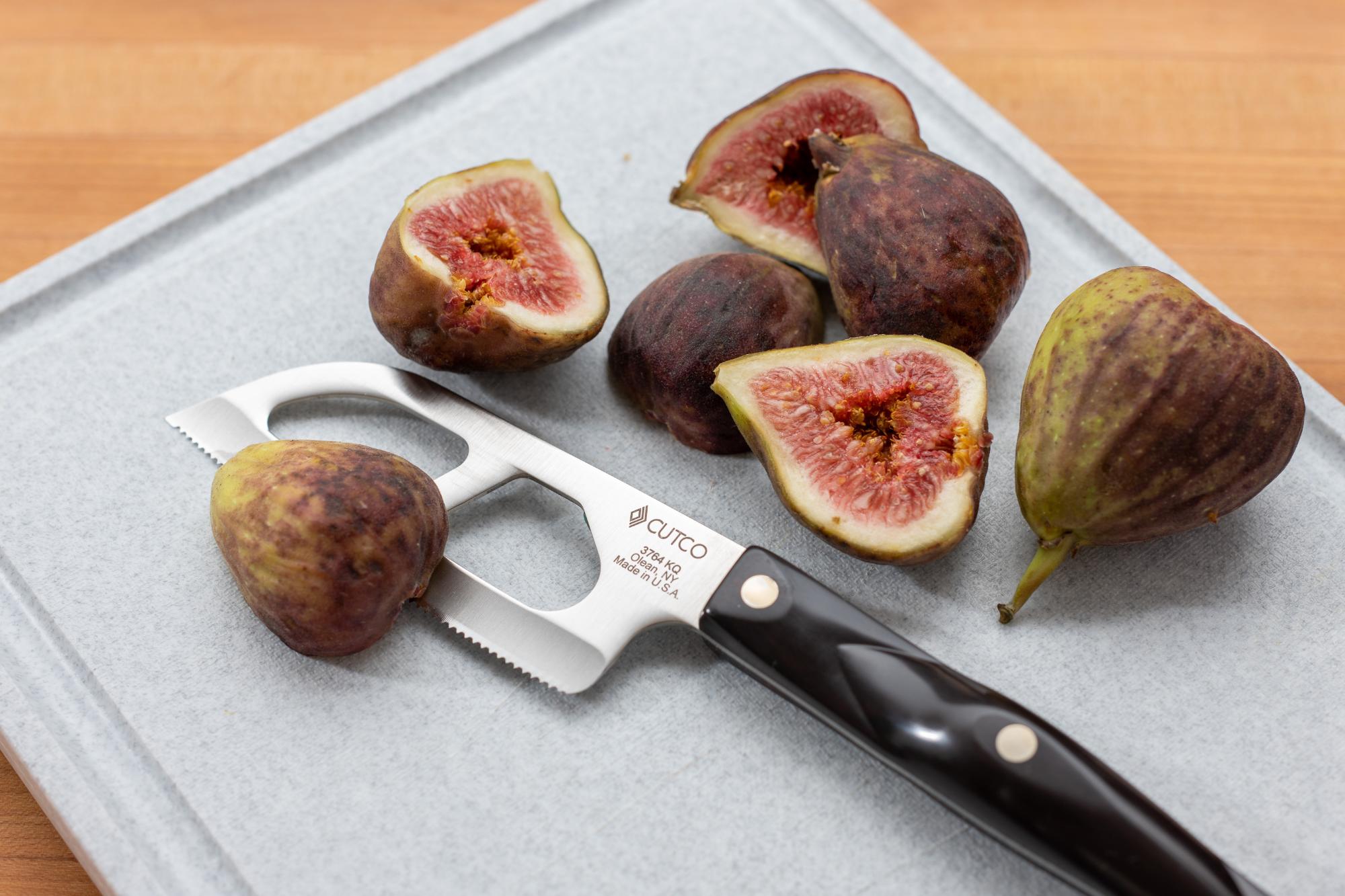 For the bread on this mezze platter, we chose pitas as they allow for easy scooping and stacking. The Pizza Cutter was the perfect tool to cut our pita bread into eight triangles. You can slice them as big or as small as you like.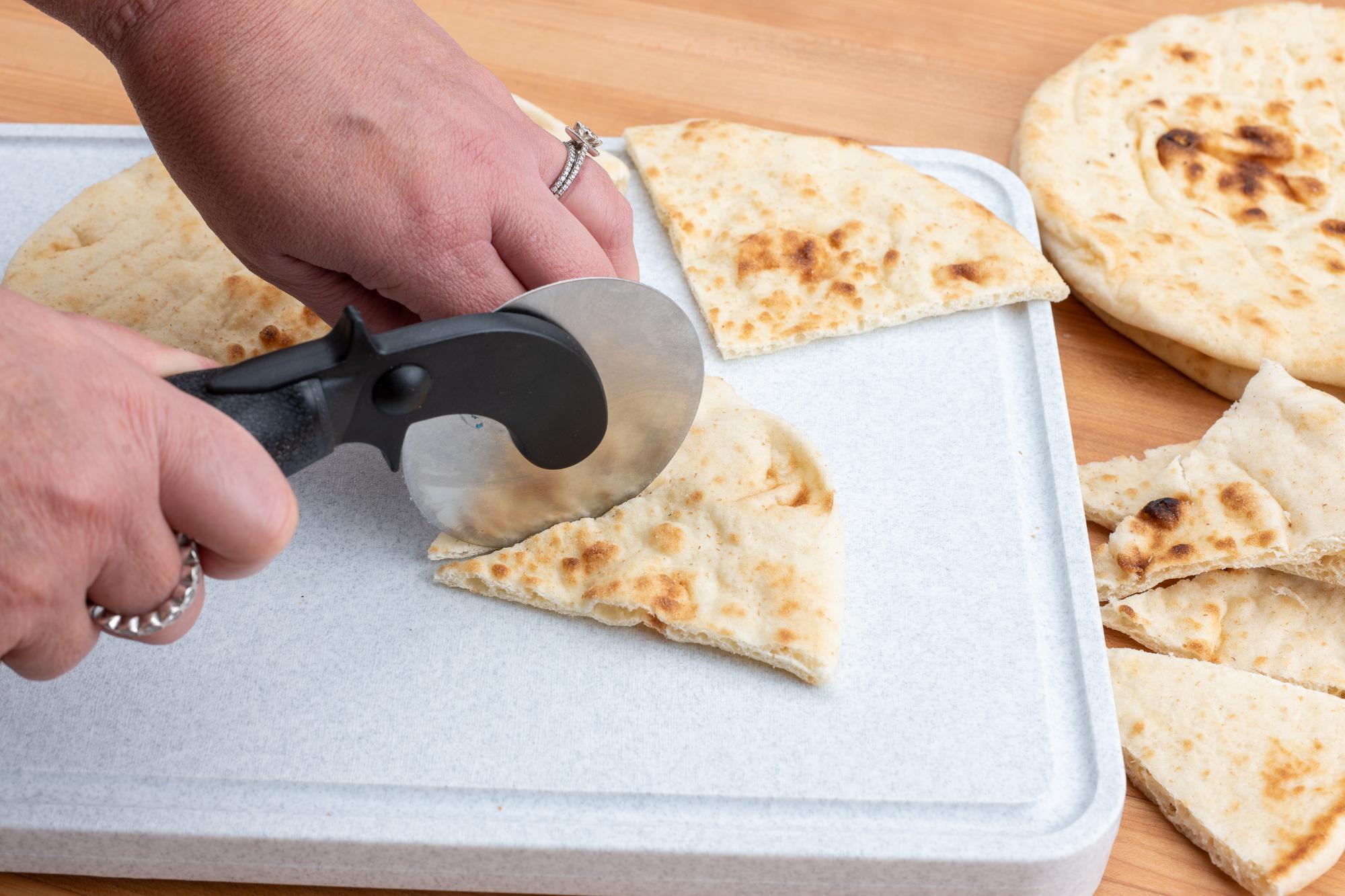 After cutting up all of our ingredients, it was then a matter of arranging them on our platter. It doesn't really matter where you put the food and nothing needs to be perfectly symmetric. Have fun with it and use a Large Cutting Board or large ceramic platter, whatever you have on hand, to serve. You'll notice that there is no cooking involved with this dish. This Easy Mediterranean Mezze Platter is just that – easy!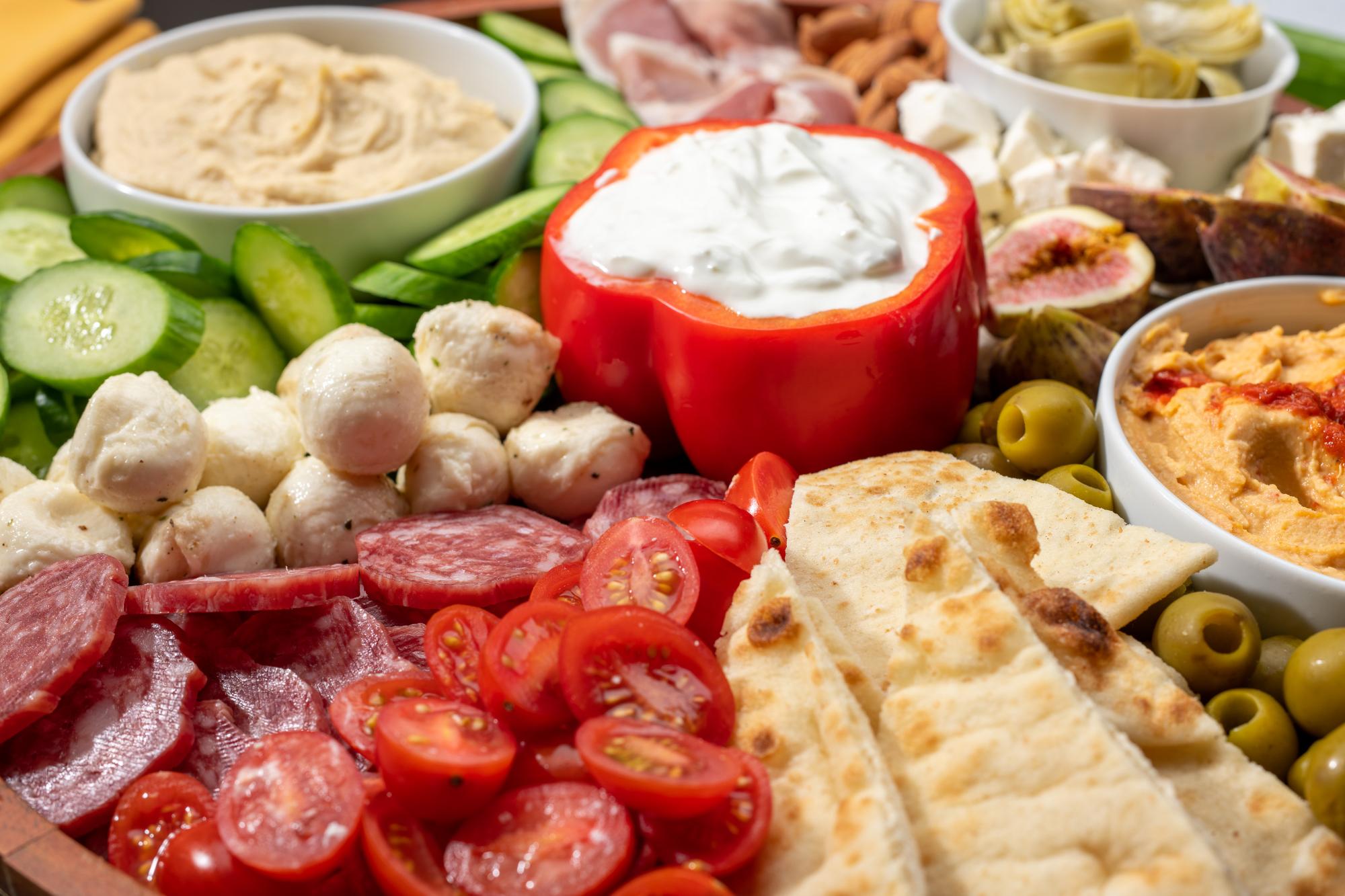 Once we had finished photographing the dish for the blog, everyone in the kitchen grabbed a plate and started creating their own meal. There was a great deal of laughter and conversation – exactly what this meal is meant to do. We hope you have as much fun creating your mezze platter as we did.
Ingredients
1 cup tzatziki sauce
1/2 bell pepper, any color, cored and cut in half
10-ounce tub traditional creamy hummus
10-ounce tub roasted red pepper hummus
1 cup cherry tomatoes, halved
6 baby cucumbers, sliced on the diagonal
1 cup pitted green olives
1 15-ounce can marinated artichoke hearts
6 ounces feta cheese, cubed
1 cup fresh mozzarella balls
3 ounces prosciutto di Parma
3 ounces sopresetta, cut into disks
6 fresh figs, halved
1 cup raw almonds
Pita bread, cut into triangles
Directions
Use a large serving platter to present your mezze platter.
Place the tzatziki sauce inside the halved bell pepper and place this in the center of your large serving platter.
Scoop the two kinds of hummus onto opposite sides of the platter.
Arrange the rest of your ingredients on the platter in whatever design you prefer.
This dish can be prepared ahead of time. Just cover and refrigerate it, taking it out a few minutes before serving.