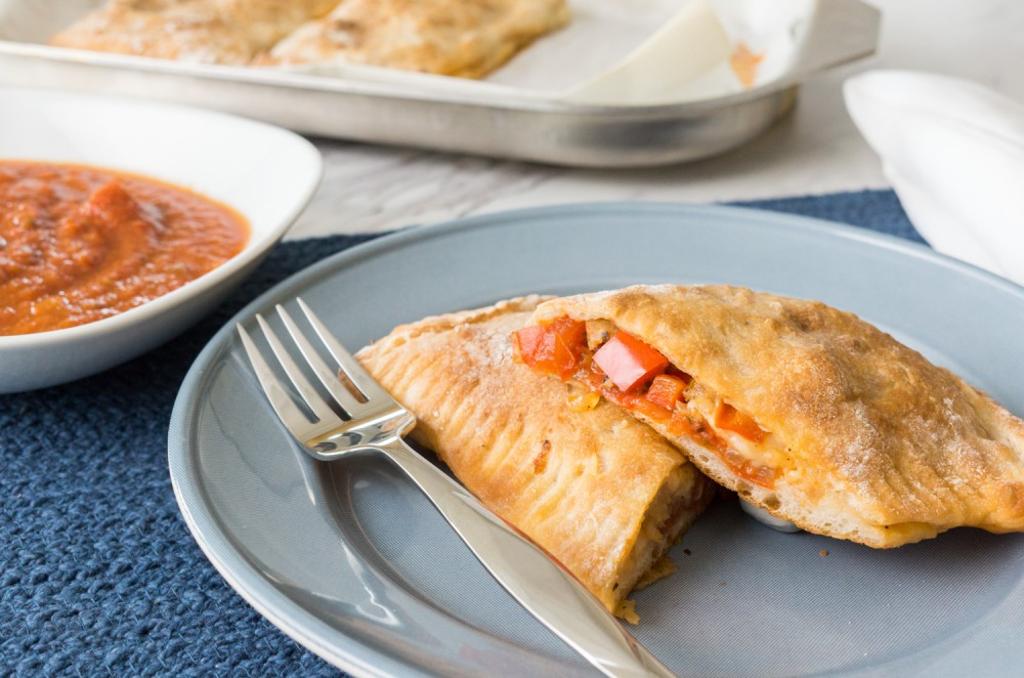 Where has the summer gone? It seems like just yesterday we were talking about Memorial Day celebrations and now Labor Day is just around the corner. After a very rainy spring in our area, the summer has been glorious. There's still plenty of good weather ahead (I love Fall) but the laid back days of summer are fading. My grandchildren, who live in Ohio, returned to school last Monday.
With everything we all have on our plates, it's always helpful to find something to make our day to day routines a little less hectic. These make-ahead sausage and vegetable calzones are great for a busy family.
They have a nice combination of flavors and to make it your own, you can swap out the sausage for lean ground beef or chicken sausage and use a different kind of cheese. These kid-friendly gems don't take very long to assemble and will keep in the freezer up to two months. After a long day, grab one from the freezer, reheat, make a nice green salad with Italian dressing and you have a complete dinner for the entire family.
Ingredients
1-1/2 pounds refrigerated fresh pizza dough or 2 cans of refrigerated pizza crust
3 tablespoons extra virgin olive oil, divided
1 tablespoon tomato paste
2 teaspoons minced garlic
4 cups chopped seeded tomatoes
1-1/2 teaspoons sugar
1/4 cup chopped fresh basil
2 teaspoons chopped fresh or 1/2 teaspoon dried oregano
8 ounces mild turkey Italian sausage links, casings removed
1 cup chopped onion
2 cups diced red bell pepper
1/8 teaspoon kosher salt
1/4 teaspoon freshly ground black pepper
1/4 cup yellow cornmeal
1 cup shredded mozzarella cheese
Cooking spray
Directions
Preheat oven to 450°F.
If using fresh pizza dough, let stand, covered at room temperature 1 hour. Heat 2 tablespoons olive oil in a medium saucepan over medium heat. Stir in tomato paste and garlic; cook 1 minute. Add tomatoes and sugar; cook 10 minutes, stirring occasionally. Stir in basil and oregano. Keep warm.
Heat 1-1/2 teaspoons olive oil in a large nonstick skillet over medium heat. Add sausage; cook about 6 minutes or until browned, stirring to crumble. Put the sausage in a bowl. Add the remaining 1-1/2 teaspoons oil to the pan. Add onion, bell pepper, salt and pepper; cook 5 minutes. Add this mixture to the sausage.
Line 2 baking pans with parchment paper and sprinkle with cornmeal. Divide the dough into eight portions. On a lightly floured surface, roll each portion into a 6 inch round.
Top with 2 tablespoons of sauce, leaving a 1/2 inch border, top with sausage mixture and cheese.
Fold dough over filling, crimp edges with a fork to seal.
Place on baking sheets and spray with cooking spray. If serving immediately, bake for 25 minutes. Top with additional sauce and serve.
If freezing for later, bake 15 minutes, allow to cool, wrap individually in foil and seal in a resealable freezer bag. To reheat, bake unwrapped at 400°For 20 minutes or until browned. You can also freeze any remaining sauce in a small resealable bag. Thaw in the microwave and reheat.
Recommended Tools