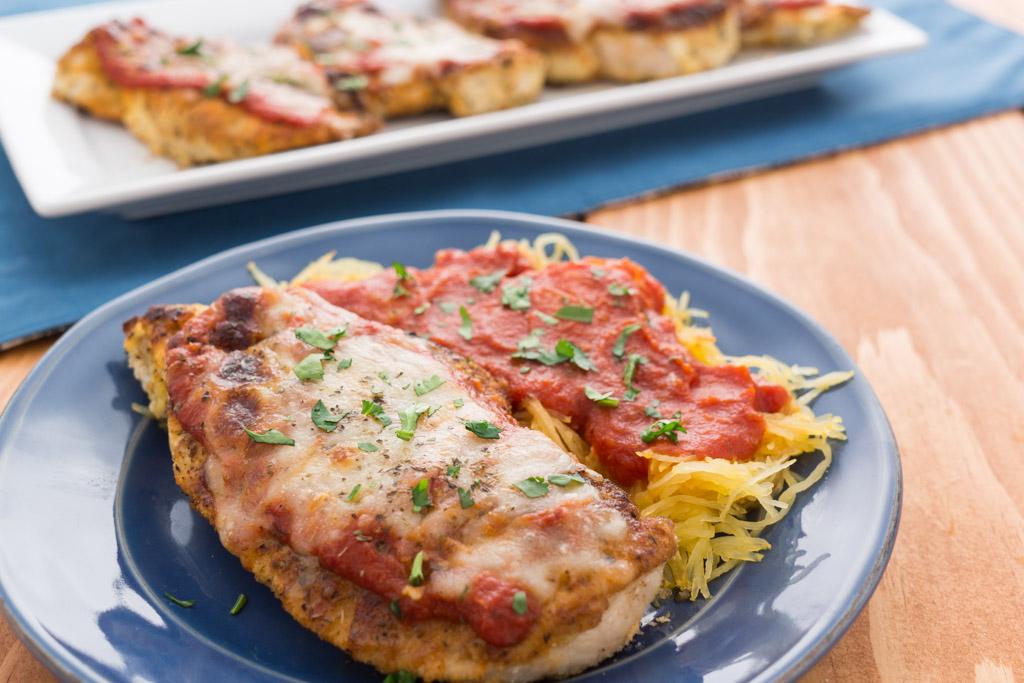 When I think comfort foods, I think pasta. But as a dietitian, I'm always encouraging my patients to limit carbohydrates.
Consuming a diet high in carbohydrates sets you up for a ride on the blood sugar roller coaster. This will cause cravings, low energy levels, and can lead to weight gain. Unfortunately, the American diet is very carb heavy.
The majority of our meals are based around breads, pastas, cereals, milk products and processed snack foods. This new year, aim to get the majority of your carbohydrates from fruits and vegetables instead.
This healthy, grain-free chicken Parmesan swaps out both the spaghetti and the breadcrumb coating. Spaghetti squash is the perfect substitute for traditional spaghetti, and coconut flour adds a sweet and nutty flavor to your chicken. This is a family favorite that is not only delicious, but also guilt free.
Nutrition Info: Per serving (6 servings) Calories: 478kcal, Fat: 27.4, Protein: 48g, Carb: 8.2, Fiber: 1.3g, Sugar: 4.7g, Sodium: 351mg
Ingredients
1/3 cup coconut oil
2 eggs
1/2 cup coconut flour
1 tablespoon onion powder
1 tablespoon garlic powder
1 tablespoon Italian seasoning
Salt and pepper, to taste
2 pounds of boneless, skinless chicken breasts (3-4 chicken breasts)
1 cup shredded mozzarella cheese
3/4-1 cup marinara sauce
1 small spaghetti squash, roasted
Directions
Place coconut oil in a frying pan. Heat to medium heat.
Crack eggs into a bowl and whisk with a fork.
Mix coconut flour, onion powder, garlic powder, Italian seasoning and salt and pepper into a separate bowl.
Dip each chicken breast in egg mixture and coat well. Then dip into the dry mixture, coating well.
Pan fry each chicken breast on medium heat for 3-4 minutes each side.
Place chicken breasts on a baking sheet and distribute the cheese evenly on to each breast. Top with a scoop of marinara sauce, and sprinkle Italian seasoning on top.
Place in the oven on low broil, for 3 minutes or until the cheese is melted. Serve alongside roasted spaghetti squash tossed in marinara.
Recommended Tools