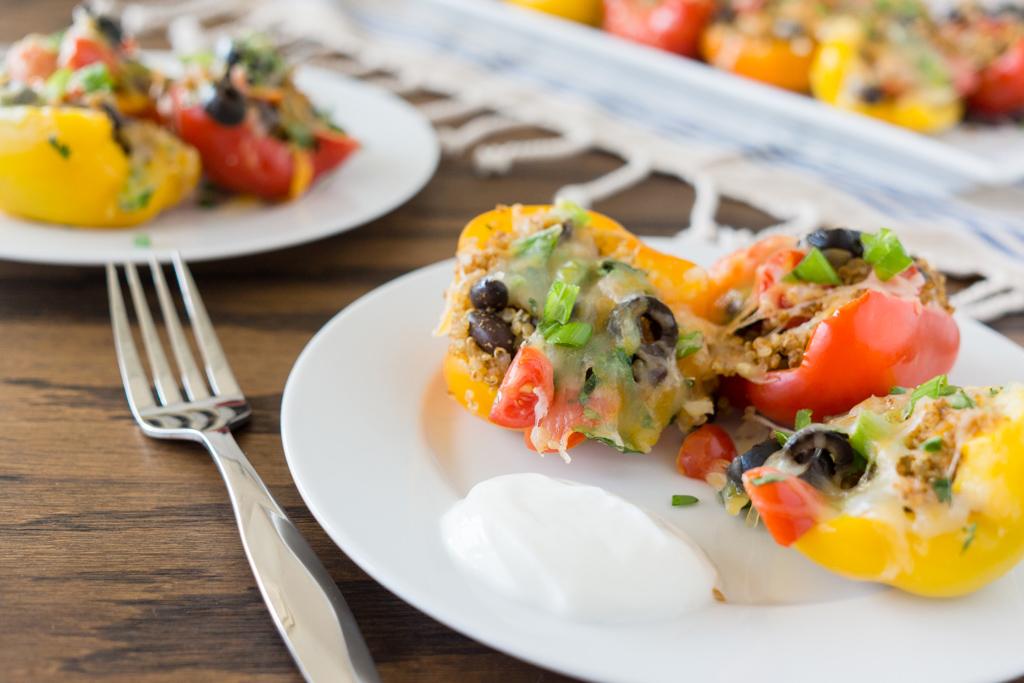 Getting kids to eat their vegetables can be tough. Using fresh ingredients and some of their favorite flavors just might get them to give them a try. We asked Erin Burch, of Erin Burch Nutrition, who has two small children of her own to create a recipe for us that kids can't resist.
If you're looking for a quick, colorful, veggie-packed lunch your kids will love, then these Quinoa Stuffed Mini Bell Pepper Nachos are a must try.
Sweet mini bell peppers stand in for tortilla chips for a healthy and delicious, kid-pleasing twist. Not only are they super simple to mix up, but kids will love adding on their favorite toppings.
There's also no need to heat up your oven on a hot summer day. A few minutes under the broiler and these nutrient-packed nachos are ready.
Per serving (8 per recipe): 226kcal, 4.9g fat, 2.0g sat fat, 8mg cholesterol, 91mg sodium, 6.7g fiber, 12.2g protein
Ingredients
Base ingredients:
1 pound mini bell peppers
1 cup black beans
1 tablespoon cumin
1/2 tablespoon chili powder
1 cup cooked quinoa, cooked
Assorted toppings:
Olives, sliced
Green onions, sliced
Cilantro, minced
Tomatoes, chopped
Shredded Mexican cheese
Plain Greek yogurt
Directions
Slice peppers in half using a chef knife and scoop out seeds.
Stir in beans, cumin and chili powder to quinoa.
Stuff each pepper half with quinoa and bean mixture.
Add desired toppings, except Greek yogurt, to the stuffed peppers.
Place stuffed peppers filling side up on a baking sheet lined with parchment paper.
Place in the oven under a heated broiler, for 3-5 minutes or until cheese melts.
Top each pepper with Greek yogurt if desired. Serve warm
Recommended Tools