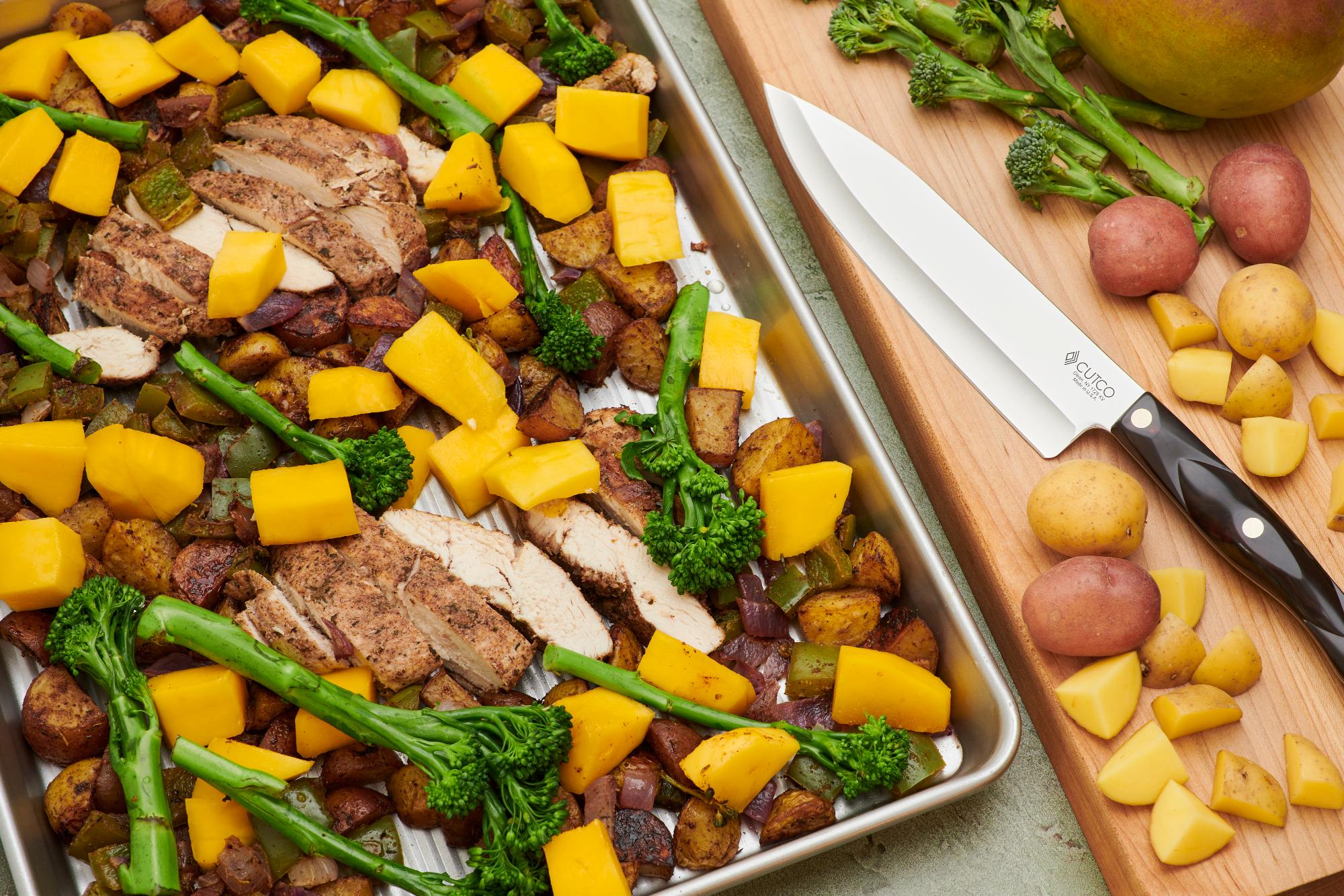 I'm always looking for ways to incorporate more flavors into my cooking. I want my kids to experience different cuisines and authentic foods that are not typical to our standard family meals. This recipe for Jerk Chicken Sheet Pan Dinner introduces Jamaican flavor and is quick and easy to prepare.
The Jamaican Rub
Don't be intimidated by making your own Jamaican rub, since you likely already have the ingredients in your spice cupboard. Your whole family will love this recipe and I think it will quickly be added to your regular meal rotation.
All it takes to make it is to mix together dried thyme, allspice, brown sugar, pepper, garlic salt, onion powder, smoked paprika, cinnamon and cayenne.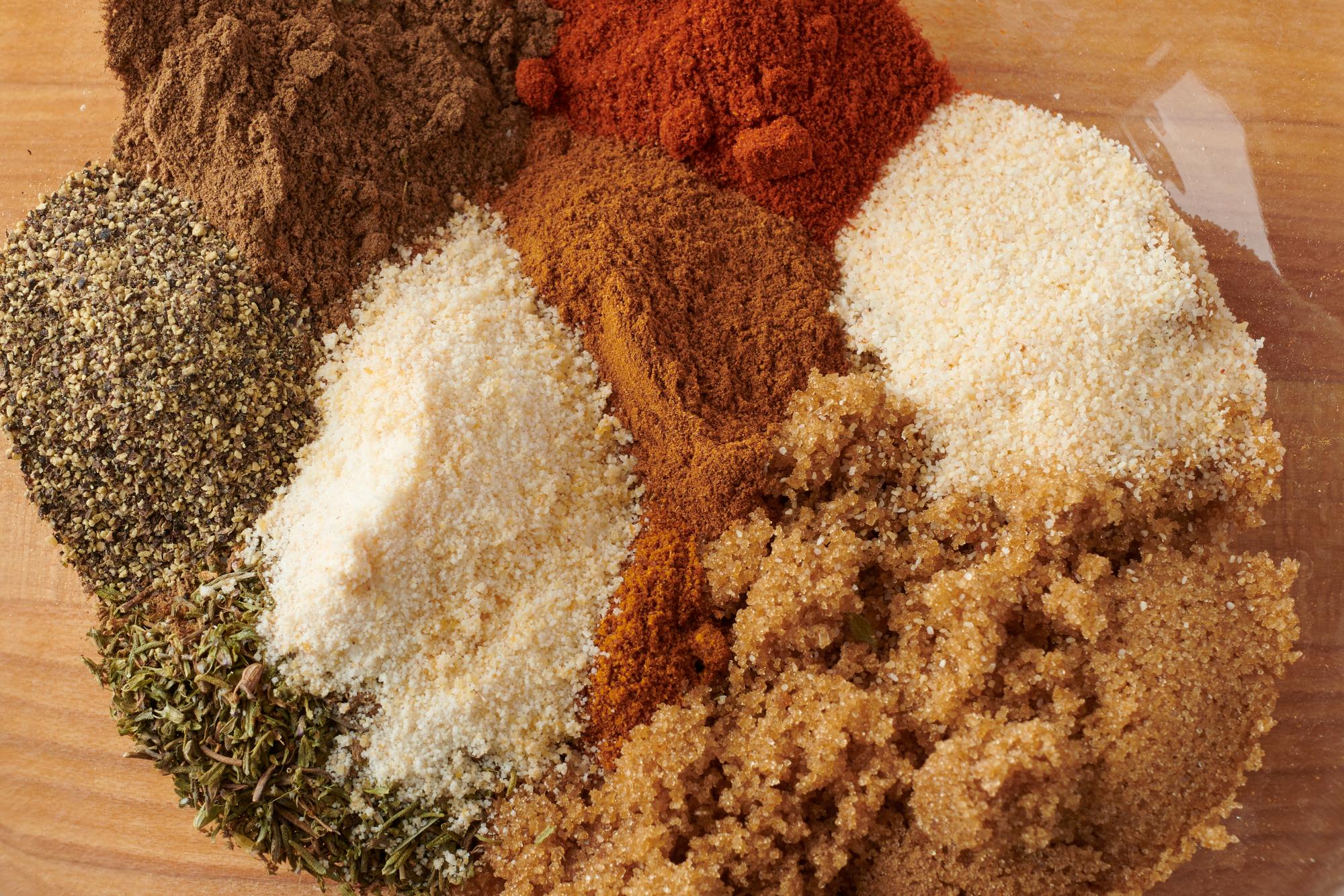 I love the flavors of the Jamaican rub, as it offers a sweet and slightly spicy flavor. You can make it as hot as you wish, based on your family's preferences.
Preparing the Dinner
The prep work for this Jerk Chicken Sheet Pan Dinner takes no time at all. Rough chop the baby potatoes with a Traditional Cheese Knife.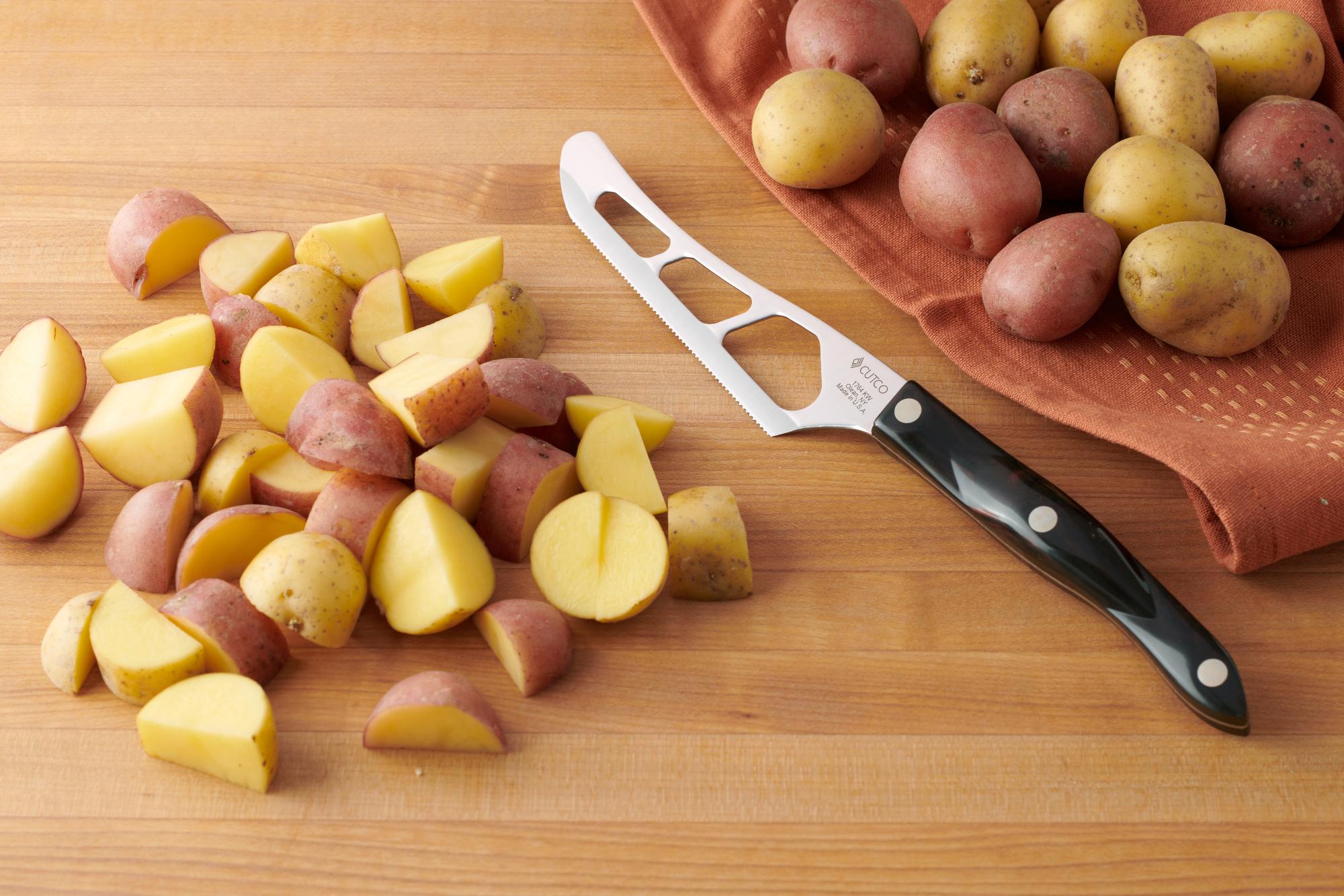 The holes along the blade of the cheese knife prevent starchy foods like potatoes from sticking to it.
For cutting the bell pepper, red onion and broccolini, the 7-5/8″ Petite Chef easily gets the job done.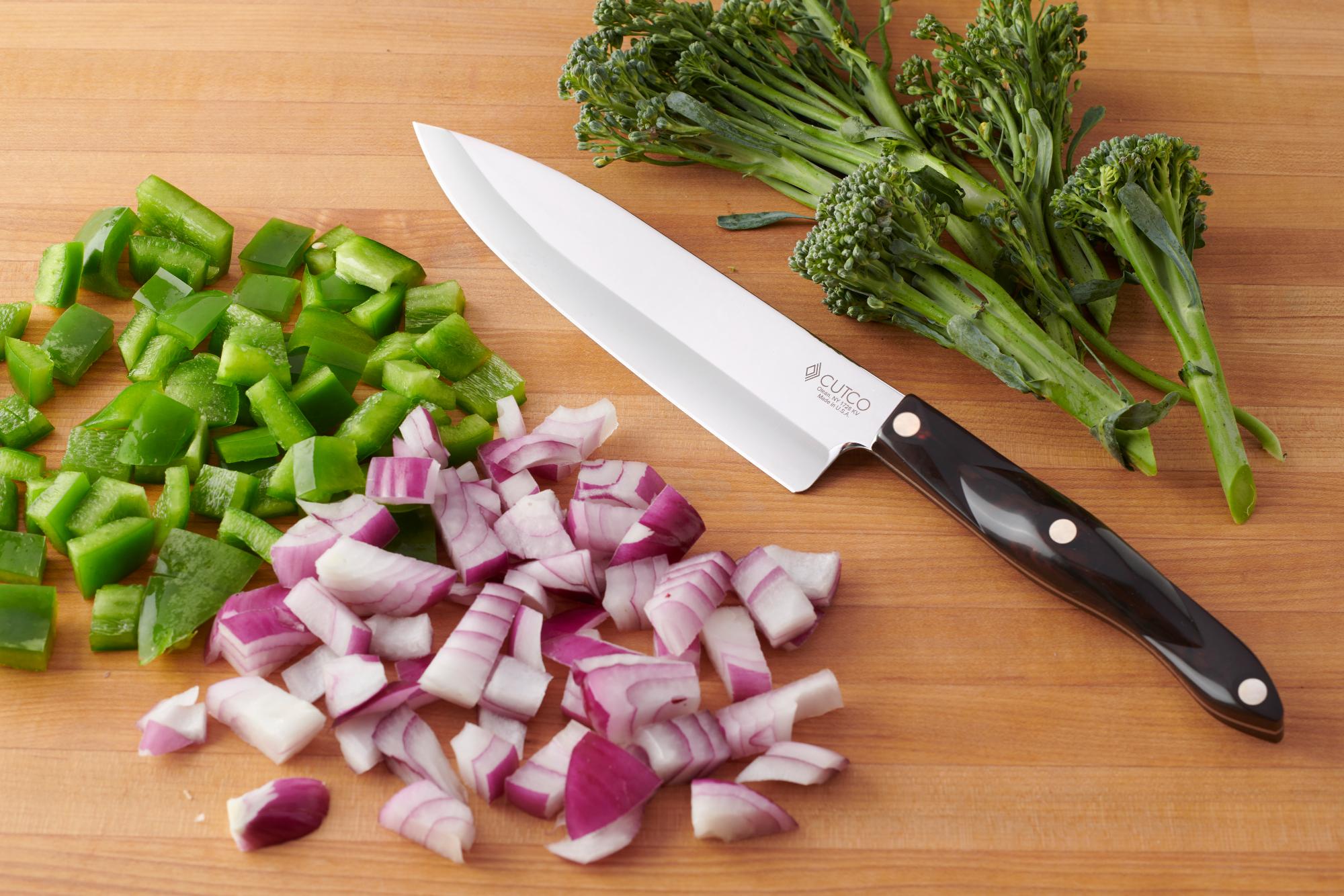 When putting this all together be sure your chicken breasts are all relatively the same size and your vegetables are chopped up to the same size, so they cook evenly.
While everything is cooking, chop up a mango using a Trimmer.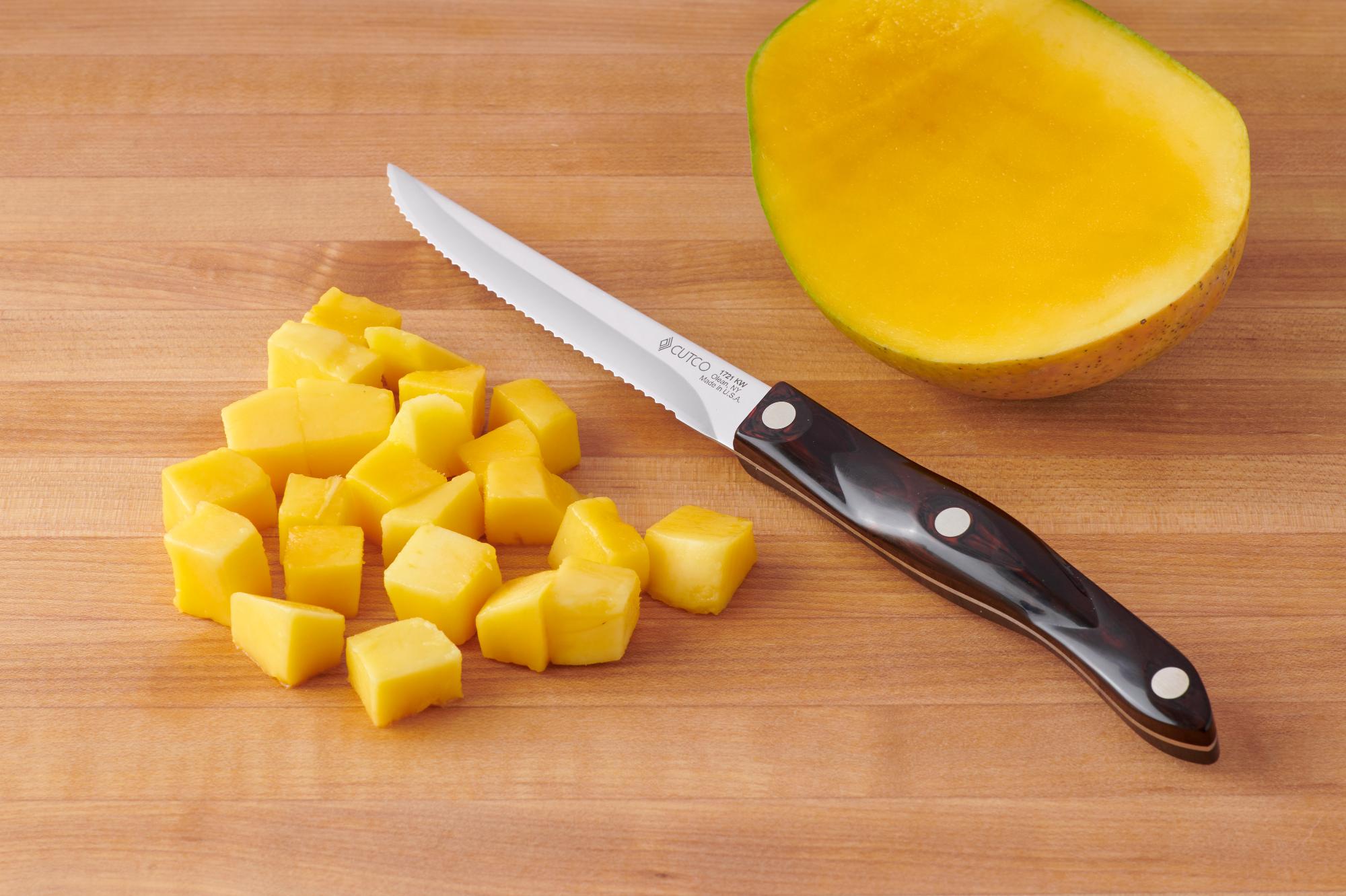 Once everything is cooked, serve the chicken and vegetables alongside the fresh mango for a completely unique meal.
Like any sheet pan dinner, I love how quick and easy it is to prepare. Not only is there little to no mess, but I'm also not slaving away in the kitchen. I can throw the pans in and let the oven do the work.
Nutrition per serving: 386 calories, 7.5 g total fat, 0.8 g saturated fat, 72 mg cholesterol, 74 mg sodium, 55.1 g total carbohydrates, 7.5 g fiber, 28.6 g protein
Ingredients
For the Jamaican rub:
1 tablespoon dried thyme
1 tablespoon ground allspice
2 tablespoons brown sugar
1 teaspoon pepper
1 tablespoon garlic salt
1 teaspoon onion powder
1 teaspoon smoked paprika
1 teaspoon cinnamon
1/8 teaspoon cayenne
For the sheet pan:
3 tablespoons olive oil, divided
2 large chicken breasts
4 cups baby potatoes, rough chopped
6 ounces broccolini
2 bell peppers, rough chopped
1 red onion, rough chopped
2 mangoes, chopped
Directions
Heat oven to 425 F. Line two baking sheets with parchment and set aside.
Mix the rub ingredients together.
In a medium-sized bowl, toss the chicken with 1 tablespoon of olive oil and 1 1/2 tablespoons of the rub. Make sure they are evenly coated, then arrange on one of the baking sheets.
In a separate medium-sized bowl, toss the potatoes with 1 tablespoon olive oil and 2 tablespoons of rub. Arrange on the baking sheet around the chicken.
Bake for 10 minutes. Flip the chicken and return to the oven for 15 minutes.
Toss the broccolini, peppers and onion in 1 tablespoon of olive oil and 2 tablespoons of the rub. Arrange on the second sheet pan and bake for 15 minutes.
While sheet pans are cooking, chop the mango.
Allow the chicken to rest for 5 minutes before serving with the mango.
Recommended Tools