How to Shred Lettuce With a Knife
1451 days ago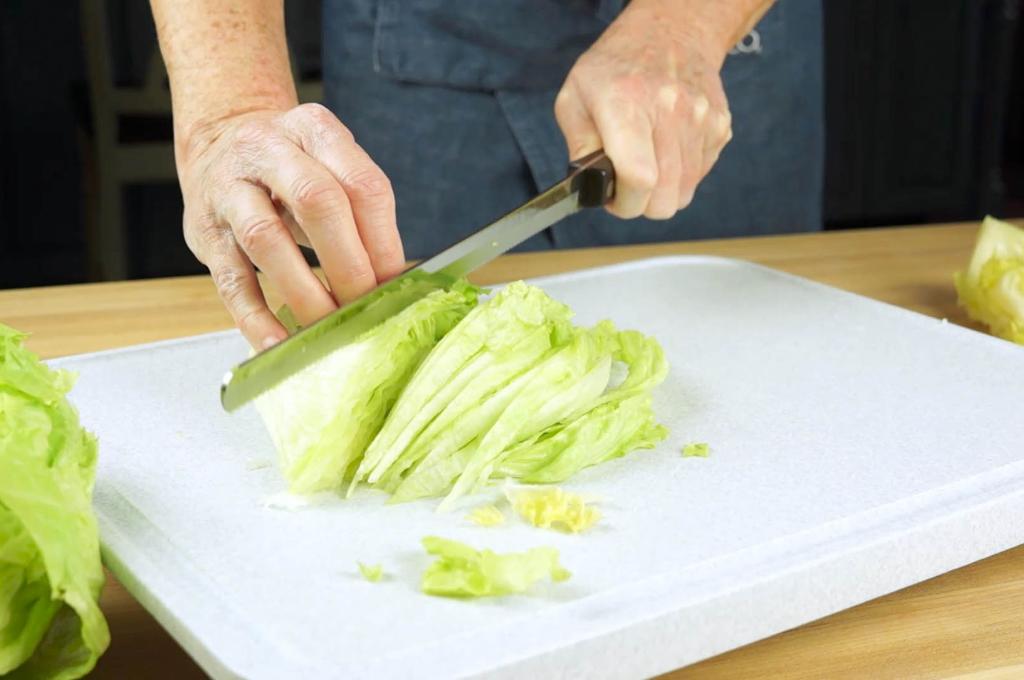 When you're in need of thin slices of lettuce for layering into tacos, making salads or tossing into burrito bowls the best way to achieve it is with a sharp knife. To shred lettuce, choose a knife that can cleanly cut through the delicate layers without ripping or tearing.
Cutco's 9-3/4" Slicer is a good choice. Its sharp Double-D® edge is designed to cleanly and easily move through delicate foods, like lettuce. Similarly, the 7-3/4" Petite Slicer, with its shorter blade, would work well on small- to medium- size heads of lettuce. While these knives are traditionally bread knives or meat knives, they work really great for this purpose.
In my opinion, thinly sliced lettuce is easier to eat because it's more uniform. No more having to use a Table Knife to cut your salad into bite-sized pieces – you can easily eat shredded lettuce by the forkful. Also, when biting into a taco, there's nothing worse than having a whole leaf of lettuce fall out, taking valuable taco ingredients with it and making a mess. Shredded lettuce allows you easily bite through it for a mess-free taco.
There are some people who claim that cutting lettuce with a knife will cause the lettuce to brown. However, the act of simply exposing the vegetable to oxygen is what causes the discoloration. The browning would happen weather you cut the lettuce with a knife or rip it by hand.
Before you shred lettuce, wash the lettuce and dry it well and then store it in a sealable plastic bag lined with a couple of dry paper towels.
How to Shred Lettuce
Using a 9-3/4" Slicer (bread knife), slice off the root end of the head of lettuce.
Rest the head of lettuce flat on the cutting board and slice in half.
Rotate the head a quarter, turn and slice in half again to create quarters.
Remove the core from each quarter.
Lay a quarter flat on the cutting board and thinly slice lengthwise to shred (for shorter shreds cut crosswise).
Repeat with the other quarters.