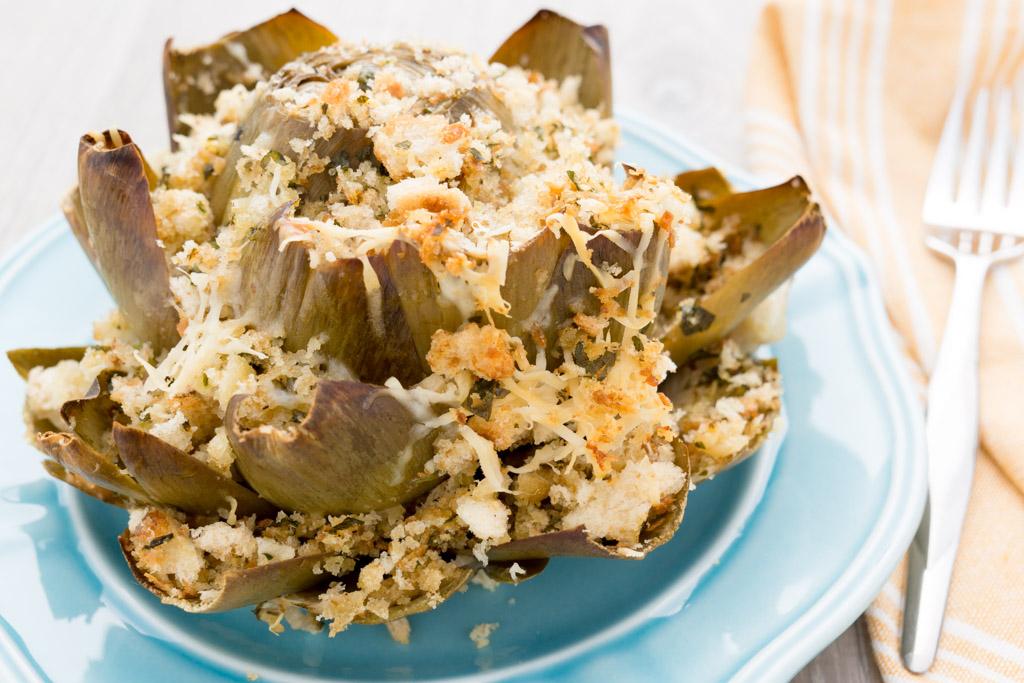 When I was growing up, my mother always made stuffed artichokes in the spring when she could easily find them in our local grocery store. I remember her using a box grater to make bread crumbs and grate the cheese. She would spend a good part of the day making what was considered an Italian delicacy back in the day.
My dad loved them and so did I. As a kid, I thought they were fun to eat. Pulling those artichoke leaves off with my fingers and then pulling them through my teeth to remove the delicious, soft bread-stuffed flesh was heavenly.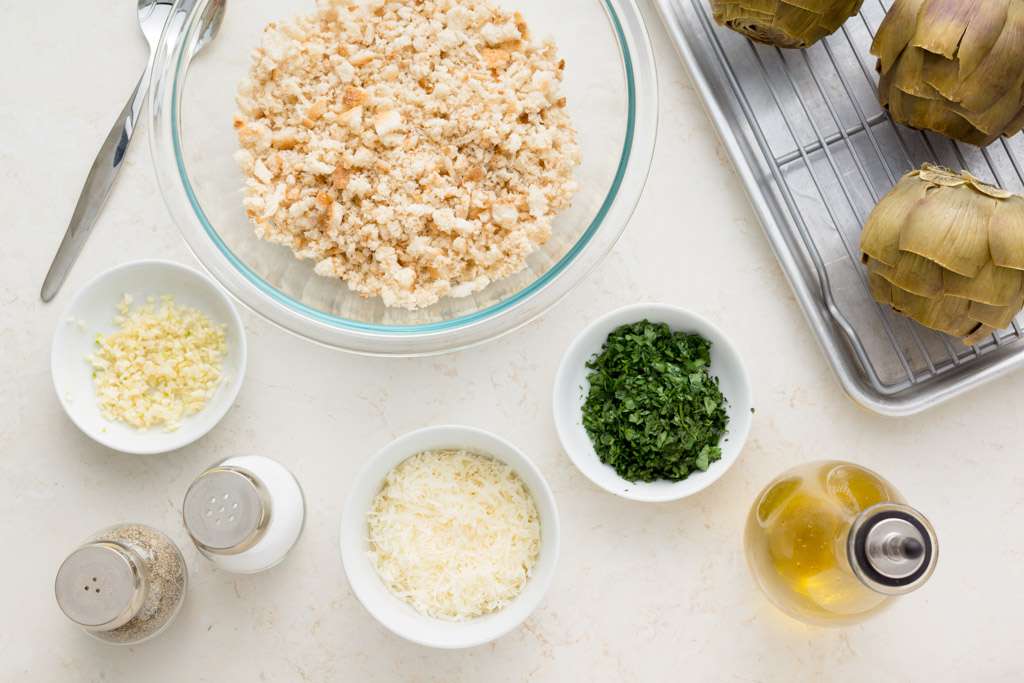 Even after I was married, she still made them – a lot of them. She would call my sister-in-law and me and say "stop by and pick up your artichokes." That was always a happy day. As I've said before, nothing is as good as the original but I have to say these are almost as good as hers.
How to Prep Artichokes for Stuffing
To prepare the artichokes, use a knife that's hefty and sharp, like the Gourmet Prep Knife or Hardy Slicer, to cut off the tough stem so the artichoke sits flat. Then use the same knife to trim off the top.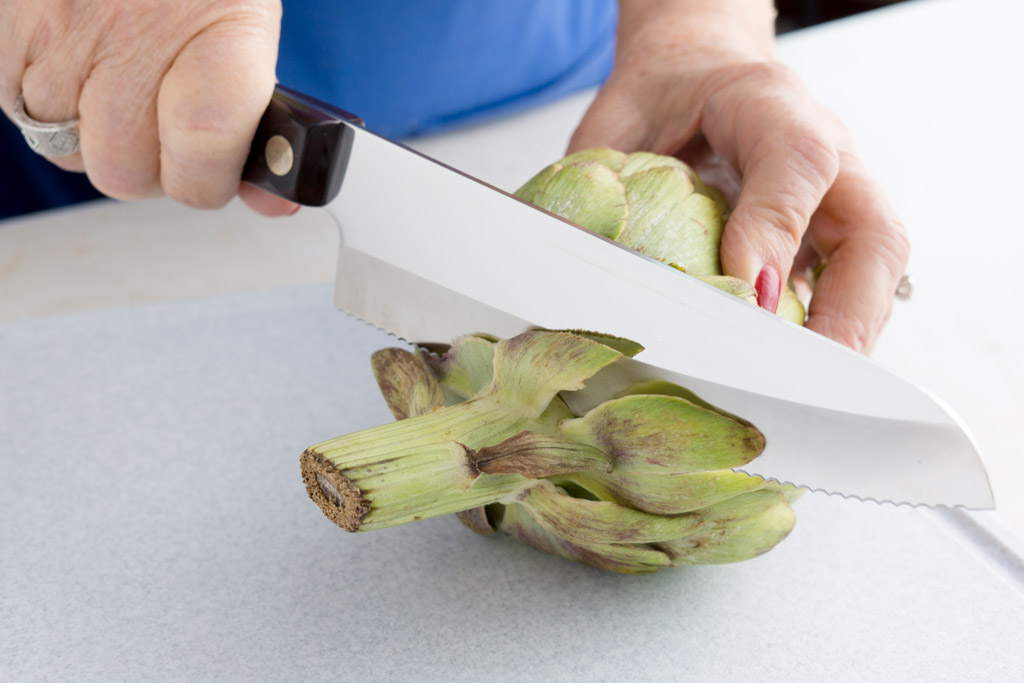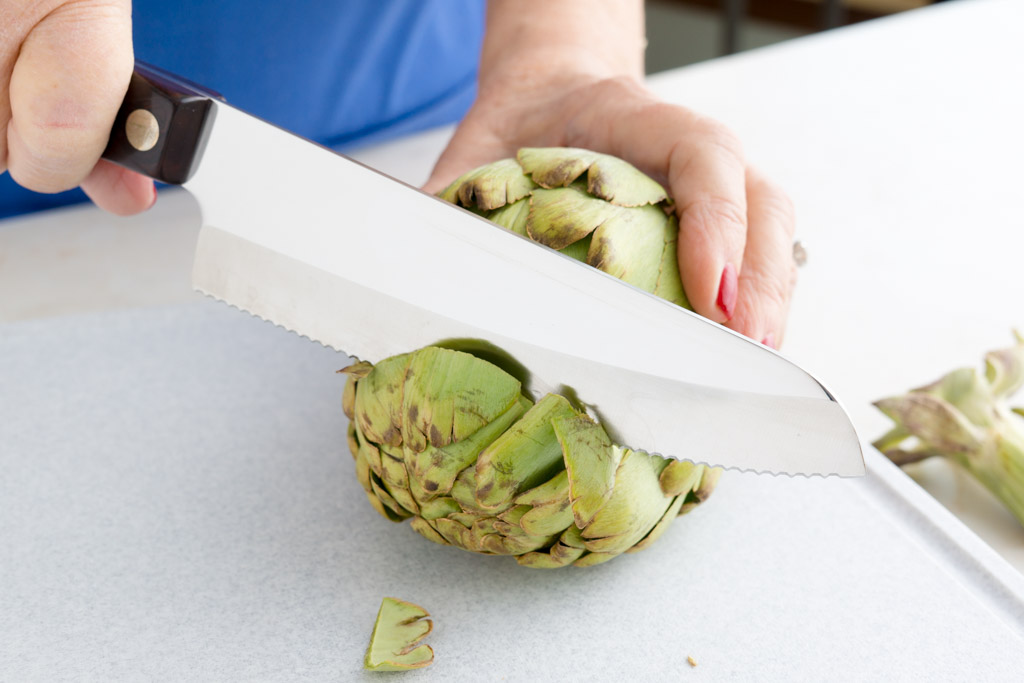 Use kitchen shears, like the Super Shears, to snip the tips off each leaf. Rub half a lemon anywhere you cut the artichokes to prevent browning.
For complete step-by-step instructions on how to cut an artichoke, check out our handy infographic in our Learning Center.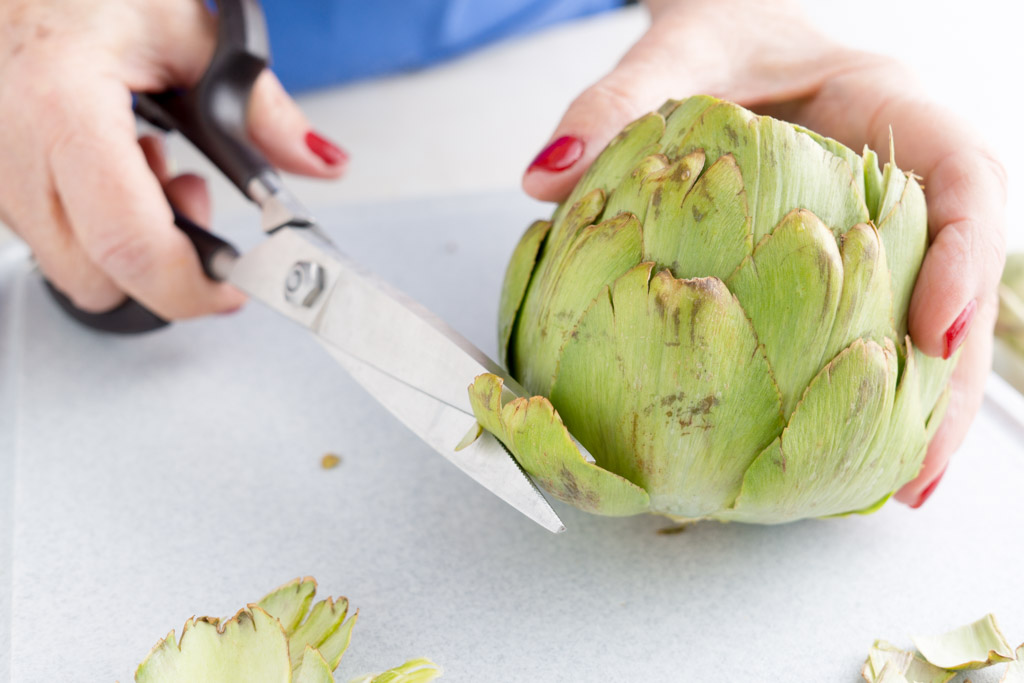 Ingredients
4 medium artichokes, trimmed (see above)
1 fresh lemon, cut in half
3 cups of fresh breadcrumbs (use about 1/2 loaf of soft Italian bread)
3 tablespoons of fresh chopped parsley
3 cloves of garlic, minced
1/2 cup freshly grated Parmesan cheese plus additional for sprinkling
6 tablespoons extra virgin olive oil, plus additional for drizzling
Salt and pepper to taste
Directions
Prep the artichokes as described above.
Place the artichokes in a sauce pan or any pan that can fit the artichokes nice and snug, cover them with water, add a generous pinch of salt, the lemon halves and bring to a boil. Simmer for 30 minutes, remove them from the water, place them on their side on a cooling rack (over a baking sheet) and allow them to drain and cool completely. NOTE: Save the water from the sauce pan.
Preheat the oven to 375 degrees F.
Slice the Italian bread into cubes and using a blender or food processor, pulse into crumbs. Toast the breadcrumbs in a dry skillet for a few minutes or until they dry out a bit and develop a little color.
Mix the toasted bread crumbs, parsley, garlic, Parmesan cheese, olive oil and salt and pepper together in a bowl.
Lightly stuff the leaves of the artichoke, making sure you stuff as many as you can without packing too tight.
Place the stuffed artichokes in a baking pan that fits them tightly. Sprinkle each with a little more Parmesan cheese and drizzle with olive oil. Pour the reserved water in the bottom of the pan, adding more if necessary, to a depth of about 3/4 of an inch. Cover the pan with aluminum foil and bake for 30 minutes. Remove the foil and bake for an additional 10 minutes. Allow them to cool a bit and serve.
Optional: Spoon a little of the lemon infused water from the pan over the top of the artichoke.
To eat, pull the leaves off one by one and scrap the flesh and stuffing from the bottom of the leaf with your teeth. Discard the outer more woody part of the leaf after the flesh is removed.
Recommended Tools